Missouri Attorney General Launches Investigation Into Trans Center For 'Harming Hundreds Of Children'
Missouri's attorney general announced Thursday that he has launched a multi-agency investigation into the Pediatric Transgender Center at St. Louis Children's Hospital after a whistleblower alleged that the facility's practices are seriously harming children.
Missouri Attorney General Andrew Bailey said that his office launched the probe into the "shocking allegations" from whistleblower Jamie Reed, a self-described "queer" leftist woman who worked as a case manager at the facility.
The attorney general's office said that they received a sworn affidavit from the whistleblower and documents that support her claims.
"As Attorney General, I want Missouri to be the safest state in the nation for children," said Bailey. "We have received disturbing allegations that individuals at the Transgender Center at St. Louis Children's Hospital have been harming hundreds of children each year, including by using experimental drugs on them. We take this evidence seriously and are thoroughly investigating to make sure children are not harmed by individuals who may be more concerned with a radical social agenda than the health of children."
Reed said that she left the clinic last November because she could "no longer participate in what was happening there."
Some of the most explosive claims included in Reed's affidavit include:
"On several occasions, the doctors have continued prescribing medical transition even when a parent stated that they were revoking consent."
"The Center does not require children to continue with mental health care after they prescribe cross-sex hormones or puberty blockers and even continues those medications when the patients directly report worsening mental health after initiating those medications "
"I have seen puberty blockers worsen the mental health outcomes of children. Children who have not contemplated suicide before being put on puberty blockers have attempted suicide after."
"It is my belief that the Center does not track these outcomes because they do not want to have to report them to new patients and because they do not want to discontinue cross-sex hormone prescriptions. The Center never discontinues cross-sex hormones, no matter the outcome."
"During my time at the Center, I personally witnessed Center healthcare providers lie to the public and to parents of patients about the treatment, or lack of treatment, and the effects of treatment provided to children at the Center."
"Doctors at the Center also have publicly claimed that they do not do any gender transition surgeries on minors. … This was a lie. The Center regularly refers minors for gender transition surgery. The Center routinely gives out the names and contact information of surgeons to those under the age of 18. At least one gender transition surgery was performed by Dr. Allison Snyder-Warwick at St. Louis Children's Hospital in the last few years."
"The Center tells the public and parents of patients that the point of puberty blockers is to give children time to figure out their gender identity. But the Center does not use puberty blockers for this purpose. Instead, the Center uses puberty blockers just until children are old enough to be put on cross-sex hormones. Doctors at the Center always prescribe cross-sex hormones for children who have been taking puberty blockers."
"The Center tells the public and parents that it makes individualized decisions. That is not true. Doctors at the Center believe that every child who meets four basic criteria—age or puberty stage, therapist letter, parental consent, and a one-hour visit with a doctor—is a good candidate for irreversible medical intervention. When a child meets these four simple criteria, the doctors always decide to move forward with puberty blockers or cross-sex hormones. There were no objective medical test or criteria or individualized assessments."
"One doctor at the Center, Dr. Chris Lewis, is giving patients a drug called Bicalutamide. The drug has a legitimate use for treating pancreatic cancer, but it has a side effect of causing breasts to grow, and it can poison the liver. There are no clinical studies for using this drug for gender transitions, and there are no established standards of care for using this drug."
"I know of at least one patient at the Center who was advised by the renal department to stop taking Bicalutamide because the child was experiencing liver damage. The child's parent reported this to the Center through the patient's online self-reporting medical chart (MyChart). The parent said they were not the type to sue, but 'this could be a huge PR problem for you.'"
"Children come into the clinic using pronouns of inanimate objects like 'mushroom,' 'rock,' or 'helicopter.' Children come into the clinic saying they want hormones because they do not want to be gay. Children come in changing their identities on a day-to-day basis. Children come in under clear pressure by a parent to identify in a way inconsistent with the child's actual identity. In all these cases, the doctors decide to issue puberty blockers or cross-sex hormones."
"In one case where a girl was placed on cross-sex hormones, I found out later that the girl desired cross-sex hormones only because she wanted to avoid becoming pregnant. There was no need for this girl to be prescribed cross-sex hormones. What she needed was basic sex education and maybe contraception. An adequate assessment before prescribing hormones would have revealed this fact. But because the doctors automatically prescribe cross-sex hormones or puberty blockers for children meeting the bare minimum criteria, this girl was unnecessarily placed on drugs that cause irreversible change to the body."
"On another occasion, a patient had their breasts removed. This surgery was performed at St. Louis Children's Hospital. Three months later, the patient contacted the surgeon and asked for their breasts to be 'put back on.' Had a requisite and adequate assessment been performed before the procedure, the doctors could have prevented this patient from undergoing irreversible surgical change."
"It is my belief that the Center does not track these outcomes because they do not want to have to report them to new patients and because they do not want to discontinue cross-sex hormone prescriptions. The Center never discontinues cross-sex hormones, no matter the outcome."
"In just a two-year period from 2020 to 2022, the Center initiated medical transition for more than 600 children. About 74% of these children were assigned female at birth. These procedures were paid for mostly by private insurance, but during this time, it is my understanding that the Center also billed the cost for these procedures to state and federal publicly funded insurance programs."
"I have personally witnessed staff say they were uncomfortable with how the Center has told them they have to code bills sent to publicly funded insurance programs. I have witnessed staff directly ask the providers for clarification on billing questions and have providers dismiss the concerns and work to have the patients have this care covered as the priority."

⬇️ Top Picks for You ⬇️
Biden Dog Bites Another Secret Service Agent; 11th Incident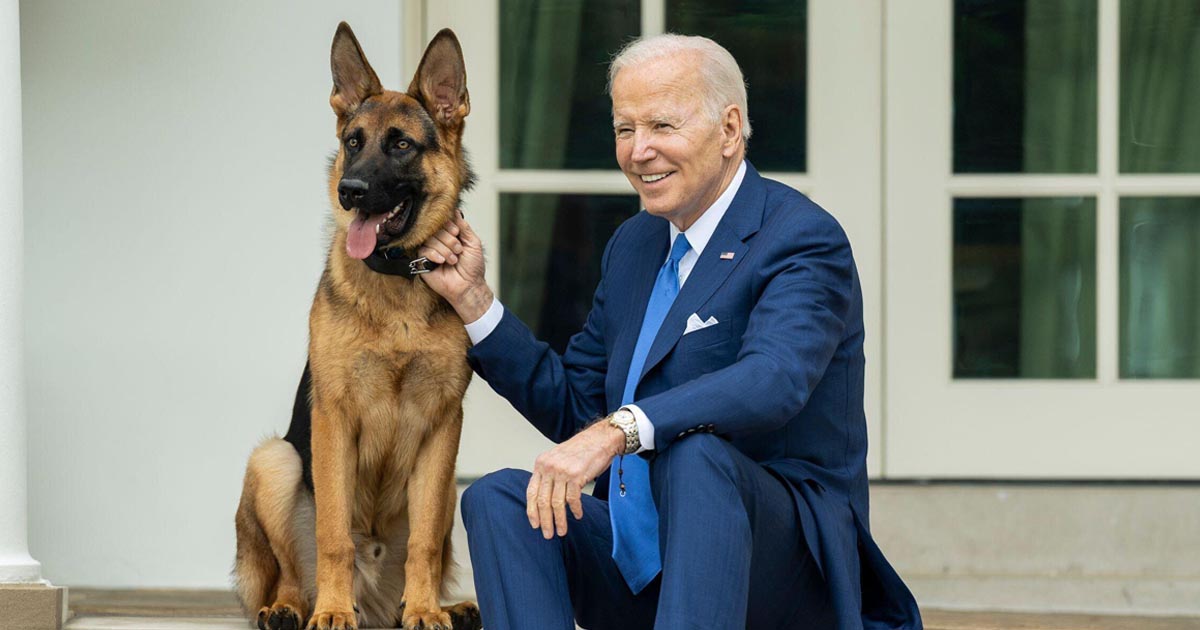 President Joe Biden's younger dog, Commander, bit another US Secret Service agent at the White House Monday evening, CNN has learned, the 11th known biting incident involving the 2-year-old German Shepherd.
"Yesterday around 8 p.m., a Secret Service Uniformed Division police officer came in contact with a First Family pet and was bitten. The officer was treated by medical personnel on complex," USSS chief of communications Anthony Guglielmi told CNN in a statement.
The injured officer spoke with Secret Service Uniformed Division Chief Alfonso M. Dyson Sr. on Tuesday and is doing OK, Guglielmi said.
Commander has been involved in at least 11 biting incidents at the White House and in Delaware, according to CNN reporting and US Secret Service email correspondence, including a November 2022 incident where an officer was hospitalized after the dog clamped down on their arms and thighs.
White House officials said in July that the Bidens were working through new training and leashing protocols for the family pet following the incidents.
Asked by CNN whether the new training had taken place or if any further action would be sought, Elizabeth Alexander, communications director for the first lady, said in a statement that "the First Family continues to work on ways to help Commander handle the often unpredictable nature of the White House grounds."
"The President and First Lady are incredibly grateful to the Secret Service and Executive Residence staff for all they do to keep them, their family, and the country safe," she continued.
Another of Biden's dogs, Major, was involved in biting incidents at the White House. The German Shepherd later moved out of the White House, and Commander arrived at the White House in 2021.
The July email correspondence, obtained through Freedom of Information Act requests by the conservative group Judicial Watch, reflected 10 incidents.
In one incident in October, first lady Dr. Jill Biden "couldn't regain control" of the dog as it charged a member of Secret Service staff.
"I believe it's only a matter of time before an agent/officer is attacked or bit," the staff member warned in an email.
While Secret Service agents are not responsible for the handling of the first family's pets, they can come into frequent contact with the animals.
"This isn't a Secret Service thing. This is a this is a workplace safety issue," CNN contributor and former USSS agent Jonathan Wackrow told CNN.
"There's uniqueness here where it's the residence of the president of the United States, but it's also the workplace for hundreds, thousands of people. And you can't bring a hazard into the workplace. And that's what is essentially happening with this dog. One time you can say it's an accident, but now multiple incidents, it's a serious issue," he added.
Wackrow called it a "significant hazard" for agents on duty at the White House residence.
"I'm sure that the Bidens love the dog. I'm sure that it's a member of the family like every dog is, but you're creating a significant hazard to those who support you – support the office of the president," he said.