A Michigan mom whose two sons died of fentanyl overdoses has slammed President Biden as "despicable" after he laughed off the false claim that his administration was to blame for their deaths.
Rebecca Kiessling, whose sons Caleb, 20, and Kyler, 18, died in July 2020 after taking fentanyl-laced Percocet pills, took aim at Biden on Wednesday night after he used her family's story to knock GOP Rep. Marjorie Taylor Greene's suggestion he was responsible for the fatalities.
"This is how you speak about the death of my sons? Because a congresswoman misspoke? You mock the loss of my sons?" Kiessling said in a scathing video posted on Facebook.
Kiessling had testified before the House Homeland Security Committee on Tuesday about the loss of her sons, telling Congress that more should be done to stop fentanyl imports.
Greene (R-Ga.) quickly seized on Kiessling's testimony, suggesting that the brothers might still be alive if the Biden administration had secured the border and stopped the flow of drugs into the US.
Biden, 80, poked fun at Greene on Wednesday night, chuckling as he told a gathering of House Democrats in Baltimore that the boys died under the Trump administration.
"I've read she was very specific recently saying that a mom, a poor mother who lost two kids to fentanyl, that I killed her sons. Well, the interesting thing: That fentanyl they took came during the last administration," the president said, adding a "heh-heh" as one or two audience members murmured in disapproval of Greene.
A furious Kiessling said she was "shocked" at Biden's reaction and demanded an apology from the commander-in-chief.
"How dare you. What is the matter with you? Almost every Democrat on the committee offered condolences, they at least had the decency to do that," she said in the video. "You can't even do that? You have to mock my pain?"
While Kiessling acknowledged that her sons died six months before Biden was elected, she slammed the government's handling of the fentanyl crisis ever since.
"What about the 22% increase in fentanyl deaths since you became president?" Kiessling asked.
"That represents tens of thousands of US citizens who died under your watch, an increase in tens of thousands. That represents double that number of the parents who are suffering.
"You're going to keep laughing? About those who did die under your watch? Do we have to bring them in so you can look them in the eyes and laugh?"
She added that she wished Biden would show "some serious concern for the lives lost" — and that his behavior speaks volumes and "tells you where his heart is."
Apart from Kiessling's scathing criticism, shocked critics also lashed out at Biden's tone-deaf clap-back.
"@POTUS needs to apologize for this immediately. No person, let alone the president of the United States, laughs when speaking about a mother who lost two sons to fentanyl poisoning," Sen. Mike Lee (R-Utah) tweeted.
The official House Republican Twitter account reacted with a single word: "DISGUSTING."
"Biden just laughed while talking about a Mom whose kid was killed with Fentanyl. This is so incredibly inappropriate and vile," conservative podcaster Robby Starbuck added.
The Republican National Committee's Jake Schneider also weighed in, tweeting: "Truly the lowest bar possible for Biden — what a disgusting person. Losing children to fentanyl trafficking is never, ever funny. Just vile."

⬇️ Top Picks for You ⬇️
Trump Suggests Manhattan DA Bragg 'Dropped' Case Against Him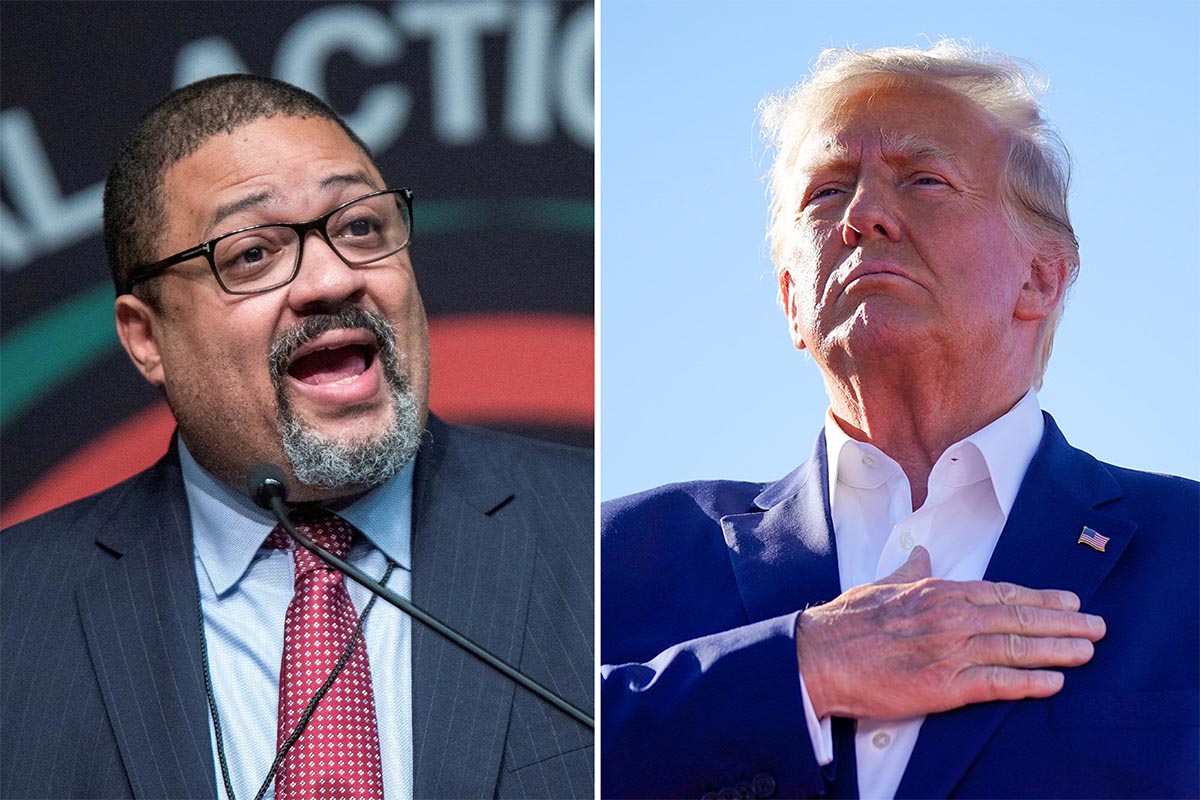 Former President Donald Trump is now suggesting Manhattan District Attorney Alvin Bragg may have dropped his case against him, about a week after he claimed he would be arrested.
After a rally in Waco, Texas, on Saturday, Trump told reporters on his plane, "I think they've already dropped the case … they have absolutely nothing." Trump did not provide evidence for his assertion Saturday.
"It's a fake case. Some fake cases, they have absolutely nothing," the former president said. Trump also reiterated his criticism of Michael Cohen, a former Trump lawyer who has testified against him in the Manhattan grand jury case and previously served time in federal prison on tax fraud and other charges.
Trump also denied mainstream media reports that suggested he was trying to incite violence with his Truth Social posts that criticized Bragg's investigation: "No, I don't like violence and I'm not for violence. But a lot of people are upset."
On Truth Social, the former president made a similar statement regarding his belief Bragg's case is "DEAD." He wrote that the "Witch Hunt against me is DEAD, no evidence at all, & it has been conclusively proven that I did nothing wrong." He dismissed Cohen as a "disbarred lawyer & convicted Felon."
Last week, an attorney in Trump's circle, Robert Costello, told media outlets that he testified before the grand jury and sought to denigrate Cohen's testimony against the 45th president in the investigation, which reportedly is connected to so-called hush money payments that were given to adult performer Stormy Daniels during the 2016 presidential campaign. A lawyer for Cohen, when reached for comment, declined to issue a statement, although Cohen told MSNBC last week that Costello never represented him and disputed his testimony.
Bragg's has not returned a request for comment, and The Epoch Times cannot verify the authenticity of Trump's claims. Previous Epoch Times requests for comment from the DA's office have gone unanswered.
Over the past week, Bragg's office has issued one public statement on the case, and that came in response to a House Republican letter seeking testimony and information about the DA's case or whether his office would arrest Trump. A letter sent by his general counsel said that it was Trump who created a "false expectation" he would be indicted last week, although he provided no other details.
Responding to the House GOP's letter, Bragg's counsel wrote that it "only came after Donald Trump created a false expectation that he would be arrested the next day, and his lawyers reportedly urged you to intervene. Neither fact is a legitimate basis for congressional inquiry."
During the Waco rally, Trump declared that his "enemies are desperate to stop us" and that "our opponents have done everything they can to crush our spirit and to break our will," and that the Manhattan district attorney was investigating him "for something that is not a crime, not a misdemeanor, not an affair."
He added: "But they failed. They've only made us stronger. And 2024 is the final battle, it's going to be the big one. You put me back in the White House, their reign will be over and America will be a free nation once again."
Trump did not make any direct references in his speech to Waco's history, telling the crowd of thousands that he told Lt. Gov Dan Patrick he wanted to hold his rally in a place with overwhelming support, not "one of those 50-50 areas," and said he told Texas officials, "Let's go right into the heart of it."
At several points, Trump criticized Florida Gov. Ron DeSantis, who, despite not announcing it, has long been expected to run for president in 2024 and is seen as Trump's strongest potential challenger for the GOP nomination. Trump called his onetime ally disloyal and said he was "dropping like a rock" in the polls.
In addition to the Manhattan case, Trump is also facing an investigation in Georgia as well as federal investigations into his handling of allegedly classified documents and possible obstruction, as well as statements he made on Jan. 6, 2021. The former president has denied wrongdoing in those instances.