An MSNBC anchor revealed in a recent segment that she was hospitalized with heart inflammation in December, leading her to miss work for about a month.
Yasmin Vossoughian said that the health scare started on Dec. 20 when she started to experience chest pains that "waxed and waned over a period of 10 days." Those pains "continued to get worse" over the coming days, she added.
The anchor, who hosts a weekend program on the left-wing network, said she went to urgent care on Dec. 30 and was told she had acid reflux. A day later, she woke up with severe chest pains and pain in her left shoulder, leading her to believe she was suffering from a heart attack.
Vossoiughian, 44, said she went to the emergency room. Doctors diagnosed her with pericarditis, or inflammation of the lining of the heart. They claimed it was caused by "a literal common cold," she said.
She added that she doesn't smoke, she runs several miles per week, does yoga, doesn't eat meat, and drinks occasionally. "I'm a pretty healthy person," she said.
After she was admitted to the hospital, she spent several days there before she was released on Jan. 4, Vossoiughian said.
"But that was not the end … three days later, I was readmitted when I felt a flutter in my heart like a butterfly," she said. Doctors then informed her that she developed myocarditis, inflammation of the heart muscle, and she spent another five days in the hospital.
Vossoiughian then said that it was "just the cold that was doing … all the inflammation in and around my heart."
Speculation
With Vossoiughian's confirmation that she suffered pericarditis and myocarditis, there was widespread speculation on social media that it may have been caused by a COVID-19 vaccine or booster. The MSNBC host did not make mention of COVID-19 or vaccines during her segment, and she said her doctors blamed it on the common cold virus.
Both pericarditis and myocarditis are considered side effects of mRNA vaccines manufactured by Pfizer and Moderna, according to the Food and Drug Administration and Centers for Disease Control and Prevention.
But, according to Johns Hopkins University, while rare, myocarditis can be caused "by an infection in the body," including the common cold, influenza, and COVID-19. Bacterial, fungal, and parasitic infections can also lead to myocardial inflammation.
The Myocarditis Foundation, meanwhile, says that "viral infections are the leading cause of myocarditis," but it notes that "a wide range of infections, diseases, and substances may cause this condition."
And the UK National Health Service says that "pericarditis often follows a viral infection, such as a sore throat or cold."
In 2021, Vossoiughian wrote on social media that she was fully vaccinated for COVID-19. "We are both vaccinated…that was confirmed before this pic!" she said in April of that year. Comcast's NBCUniversal also mandated that its employees, including those working at MSNBC, get the vaccine before returning to the office in early 2022.
Later in the segment, the MSNBC host brought on her physician, Dr. Greg Katz, a cardiologist at NYU Langone Hospital, for an interview. Vossoiughian asked him about anecdotal claims that more and more people are now suffering from pericarditis and myocarditis.
"Could be the season is more virus heavy, maybe our immune systems are different because we've been masking and social distancing," Katz claimed, adding that "nobody knows why this is."

⬇️ Top Picks for You ⬇️
Biden Dog Bites Another Secret Service Agent; 11th Incident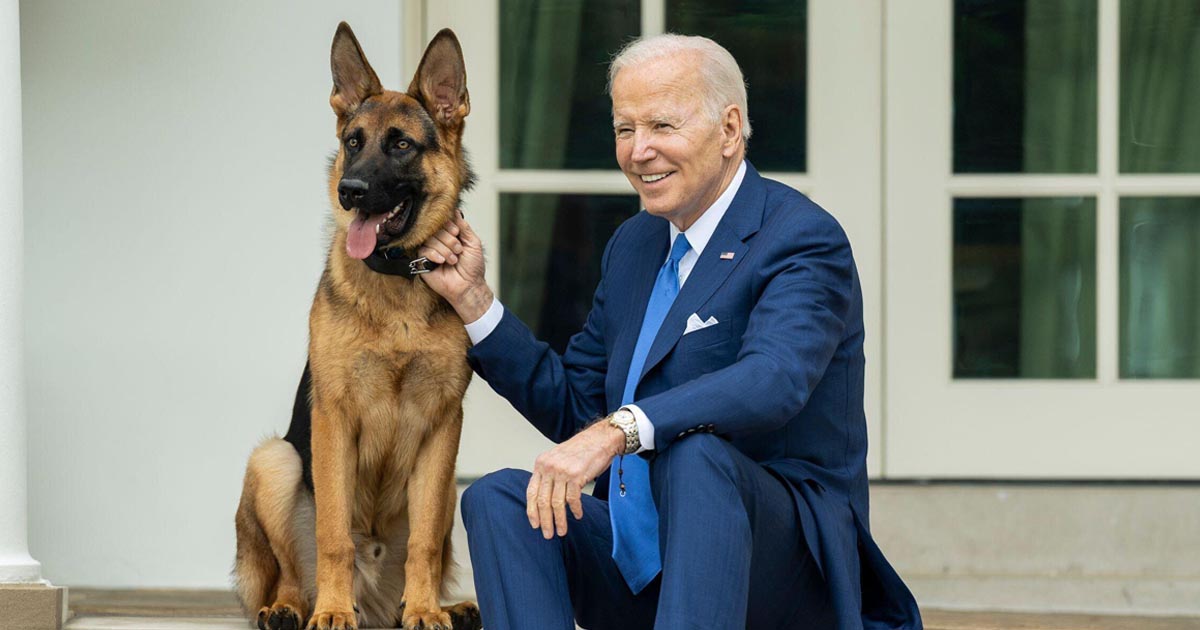 President Joe Biden's younger dog, Commander, bit another US Secret Service agent at the White House Monday evening, CNN has learned, the 11th known biting incident involving the 2-year-old German Shepherd.
"Yesterday around 8 p.m., a Secret Service Uniformed Division police officer came in contact with a First Family pet and was bitten. The officer was treated by medical personnel on complex," USSS chief of communications Anthony Guglielmi told CNN in a statement.
The injured officer spoke with Secret Service Uniformed Division Chief Alfonso M. Dyson Sr. on Tuesday and is doing OK, Guglielmi said.
Commander has been involved in at least 11 biting incidents at the White House and in Delaware, according to CNN reporting and US Secret Service email correspondence, including a November 2022 incident where an officer was hospitalized after the dog clamped down on their arms and thighs.
White House officials said in July that the Bidens were working through new training and leashing protocols for the family pet following the incidents.
Asked by CNN whether the new training had taken place or if any further action would be sought, Elizabeth Alexander, communications director for the first lady, said in a statement that "the First Family continues to work on ways to help Commander handle the often unpredictable nature of the White House grounds."
"The President and First Lady are incredibly grateful to the Secret Service and Executive Residence staff for all they do to keep them, their family, and the country safe," she continued.
Another of Biden's dogs, Major, was involved in biting incidents at the White House. The German Shepherd later moved out of the White House, and Commander arrived at the White House in 2021.
The July email correspondence, obtained through Freedom of Information Act requests by the conservative group Judicial Watch, reflected 10 incidents.
In one incident in October, first lady Dr. Jill Biden "couldn't regain control" of the dog as it charged a member of Secret Service staff.
"I believe it's only a matter of time before an agent/officer is attacked or bit," the staff member warned in an email.
While Secret Service agents are not responsible for the handling of the first family's pets, they can come into frequent contact with the animals.
"This isn't a Secret Service thing. This is a this is a workplace safety issue," CNN contributor and former USSS agent Jonathan Wackrow told CNN.
"There's uniqueness here where it's the residence of the president of the United States, but it's also the workplace for hundreds, thousands of people. And you can't bring a hazard into the workplace. And that's what is essentially happening with this dog. One time you can say it's an accident, but now multiple incidents, it's a serious issue," he added.
Wackrow called it a "significant hazard" for agents on duty at the White House residence.
"I'm sure that the Bidens love the dog. I'm sure that it's a member of the family like every dog is, but you're creating a significant hazard to those who support you – support the office of the president," he said.