Elon Musk, owner of the platform X, formerly known as Twitter, has threatened to ban the Anti-Defamation League (ADL) from his platform, adding that he had "no choice" but to file a defamation lawsuit against the advocacy group, which previously called for a pause on ad spending on the social network.
The group alleges Mr Musk has failed to clamp down on hate speech on the social media platform since his takeover last year, allowing disinformation to proliferate – something Mr Musk strongly denies.
Since the acquisition, The @ADL has been trying to kill this platform by falsely accusing it & me of being anti-Semitic

— Elon Musk (@elonmusk) September 4, 2023
Further, it was revealed that the ADL has put pressure on X to deplatform popular anti-woke account Libs of TikTok, which is run by a conservative Jewish woman, Chaya Raichik.
Dear Elon,

Please consider releasing all communications and providing full transparency on the ADL & all other organizations who have pushed to censor certain accounts on Twitter/X.

Sincerely,

Thousands of users who have been suspended, throttled, silenced, and shadowbanned. pic.twitter.com/ZcvoBSvR84

— Libs of TikTok (@libsoftiktok) September 4, 2023
A #BanTheADL began circulating on the social media platform after a meeting last Thursday between ADL CEO Jonathan Greenblatt and X's new CEO Linda Yaccarino.
"I had a very frank + productive conversation with @LindayaX yesterday about @X, what works and what doesn't, and where it needs to go to address hate effectively on the platform. I appreciated her reaching out and I'm hopeful the service will improve. @ADL will be vigilant," Greenblatt posted after the meeting.
The hashtag was condemned by Israel's foreign ministry. Additionally, as MEE reports, while this recent campaign has been amplified by so-called 'far-right' social media accounts (translation: non-mainstream-narrative-spewers), progressive organizations and Palestinian activists have for years raised concerns about the ADL and its efforts to undermine social justice movements in the US.
News of the potential lawsuit comes after news broke that X is still down around 60% in US ad revenue as the ADL continues to put pressure on its advertisers to avoid the social media platform.
"I don't see any scenario where they're responsible for less than 10pc of the value destruction, so [around] $4bn."
Our US advertising revenue is still down 60%, primarily due to pressure on advertisers by @ADL (that's what advertisers tell us), so they almost succeeded in killing X/Twitter!

— Elon Musk (@elonmusk) September 4, 2023
In November, the pressure group Stop Hate for Profit, which includes the ADL, called on advertisers "to pause their spending globally" and claimed "hate speech and disinformation have proliferated" on the app since Mr Musk's takeover.
Advertisers avoid controversy, so all that is needed for ADL to crush our US & European ad revenue is to make unfounded accusations. They have much less power in Asia, so our ad revenue there is still strong.

This "controversy" causes advertisers to "pause", but that pause is…

— Elon Musk (@elonmusk) September 4, 2023
It wouldn't be the first time the ADL was sued for defamation…
Interesting.

In our case, they would potentially be on the hook for destroying half the value of the company, so roughly $22 billion.

— Elon Musk (@elonmusk) September 4, 2023
Musk also shared an article questioning the ADL's bias.
Interesting article https://t.co/zwdB7FRZzX

— Elon Musk (@elonmusk) September 5, 2023
Musk also suggested that X will expose – Twitter-Files-esque – the ADL's requests to ban and censor X accounts it deems anti-Semitic next week, prompting a hashtag for #TheADLFiles…
"A giant data dump would clear the air."
BREAKING: Elon suggests he will release all the data relating to the ADL and other organizations pushing to censor and silence X accounts 👀

We need a full list of which organizations pushed for censorship and which accounts were affected!

THINGS ARE ABOUT TO GET WILD pic.twitter.com/SdHmWf9A7T

— Libs of TikTok (@libsoftiktok) September 4, 2023
Musk made it very clear where he stands…
To be super clear, I'm pro free speech, but against anti-Semitism of any kind

— Elon Musk (@elonmusk) September 4, 2023
…and does no one remember what he told David Faber about his attitude to 'being able to say what he likes'.
And finally, here is ADL CEO Jonathan Greenblatt in 2016 sounding an awful lot like Elon Musk on free speech advocacy…
Wow! As recently as 2016 Jonathan Greenblatt sounded like @elonmusk on free speech.

He claimed his only concern was violent threats, but as soon as the ADL got an in to the big tech companies they disregarded free speech and began pushing the most extreme censorship.#BanTheADL pic.twitter.com/Eyb2sVutmi

— Keith Woods (@KeithWoodsYT) September 4, 2023

⬇️ Top Picks for You ⬇️
Venezuela Is Preparing to Invade Oil-Rich Neighbor Guyana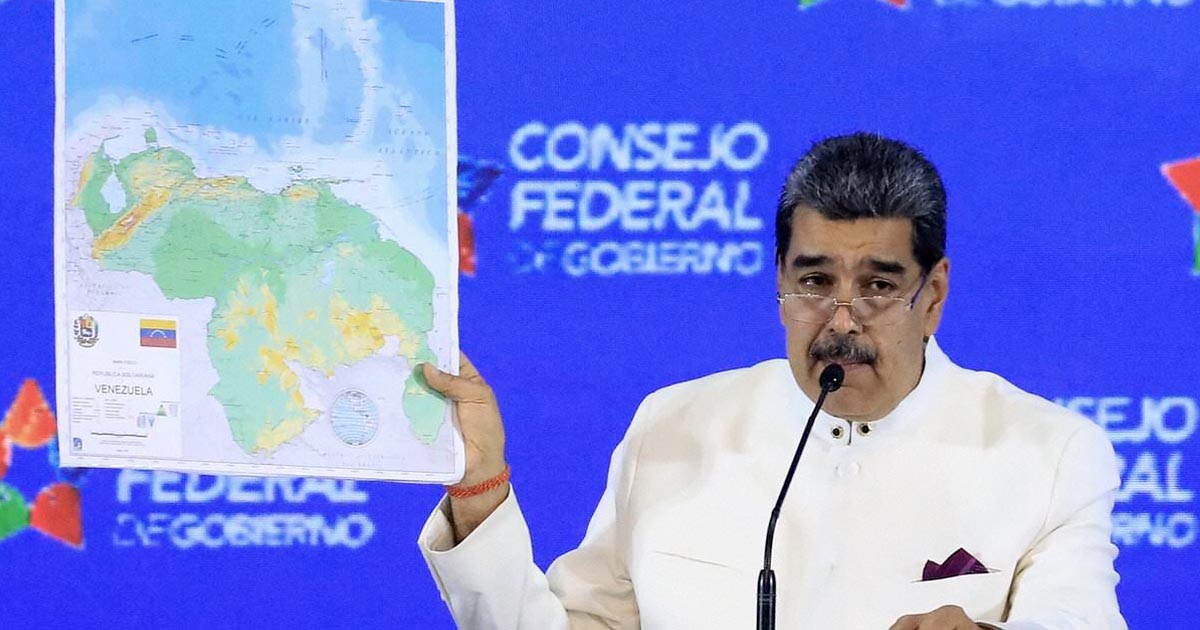 Venezuela's president on Tuesday published a new map of the region showing two thirds of neighboring Guyana 'reclaimed' by Caracas and ordered the state-owned energy companies to 'immediately' begin exploration in the area, as fears rose that Nicolas Maduro could start a war.
Venezuela has claimed Guyana's Esequiba region for over 100 years – ever since the border of the present-day country was drawn up, in 1899. But on Sunday, with his own popularity falling in the face of a newly-unified opposition, Maduro organized a 'referendum' on whether to pursue Venezuela's claim to the territory.
Voters were asked if they agreed with creating a Venezuelan state in the Esequiba region, providing its population with Venezuelan citizenship, and 'incorporating that state into the map of Venezuelan territory.'
The Maduro-controlled Venezuelan National Electoral Council said voters chose 'yes' more than 95 percent of the time on each of five questions on the ballot, and on Tuesday Maduro published his new map.
He has appointed a general, Alexis Rodríguez Cabello, as head of the region and on Tuesday dispatched him to the town of Tumeremo, a remote mining town in the jungle, 120 miles from the border.
Esequiba, about the size of Florida, is rich in minerals and accounts for two thirds of the territory of Guyana – an English speaking nation, which gained its independence from Britain in 1966. Guyana is the only English-speaking country in South America.
Venezuela protested an oil tender announced by Guyana in September, arguing that the offshore areas are subject to dispute and the companies awarded the fields will not have the rights to explore them.
Guyana has denounced Sunday's referendum as pretext to annex the land: in the days running up to it, the Venezuelan defense minister Vladimir Padrino Lopez, known for his ties to his counterparts in Russia and Iran, posted a video of Venezuela troops on parade, waving flags saying 'Guyana Esequiba', colored in the Venezuelan flag.
President Irfaan Ali called the move by Maduro 'reckless' and said his country plans to alert both regional and world leaders of Maduro's attempt to disrupt the peace in the hemisphere.
'It is unfortunate that President Maduro would choose the road of defying an international court order. This speaks volumes about the way in which President Maduro prefers to operate and also points to the fact that he's unconcerned about the peace and security of this region,' he told The Miami Herald.
'The order of the [U.N. court] made it very clear that Venezuela cannot act or take any action that would disrupt the status quo and the status quo is that Guyana exercises governance and control of Essequibo,' he said.
He added that he is seeking the support of the United Nations Security Council, the United States, the Caribbean Community, the Organization of American States and other countries to ensure Guyana's territory is 'not violated.'
'We once again call on Venezuela to retract from this reckless, adventurous move and to allow international law and the ruling of the [U.N. court] to guide our action,' Ali added.
El pueblo y su #FANB están movilizados, decididos e imperturbables a recuperar nuestra Guayana Esequiba, nos mueve el amor infinito a la patria y a cada milímetro del sagrado territorio venezolano, el cual defenderemos por todas las vías y por todos los medios que estén a nuestro… pic.twitter.com/B60slT8xSs

— Vladimir Padrino L. (@vladimirpadrino) November 29, 2023
Guyana has appealed to the International Court of Justice, the United Nations' top court, which on Friday ordered Venezuela not to take any action to change the status quo until the panel can rule on the two countries' competing claims. Any decision could take years.
Meanwhile, Guyana is nervously eyeing its giant neighbor to the north.
Venezuela's military, backed by Russia, Iran and Cuba, massively outnumbers tiny Guyana's: the Venezuelan military counts 123,000 active personnel versus only 3,400 for Guyana, according to an analysis in Brazil's Folha de Sao Paulo newspaper.
Guyana is also dwarfed by Venezuela in weaponry, with Venezuela having 514 armored vehicles compared to only six owned by Guyana.
Such an attack would draw a strong international response, with the lead likely played by Brazil, which borders both Venezuela and Guyana and whose military is significantly larger and more professional than either country's.
At the end of November, Brazil's defense ministry said it 'has intensified defensive actions' along its northern border.
'The Ministry of Defense has been monitoring the situation. Defensive actions have been intensified in the northern border region of the country, promoting a greater military presence,' it said in a statement.