'Mutilating Children for Profit': California Teenager Sues Doctors Over Breast-Removal Surgery at Age 13
A California teenager has started to sue the doctors who at age 13 cut off her breasts in a medical gender change she now bitterly regrets, in America's latest blockbuster trans lawsuit.
The 18-year-old, who is referred to as Layla Jane, says she should never have been put through the 'torment' of testosterone hormones at age 12 and puberty blockers and surgery the next year.
She is one of a growing number of detransitioners, as they are known, who come to regret their procedures and sue the doctors they accuse of pushing them into irreversible treatments instead of counselling.
'I don't think I should have been allowed to change my sex before I could legally consent to have sex,' Layla said on Fox News.
'I don't think I'm better off for the experience, and I think transition just completely added fuel to the fire that was my pre-existing conditions.'
According to legal papers, Layla experienced moodiness, anxiety, gender confusion and anger issues as a child. At age 11 learned about radical transgender ideology and went online to learn more about the new trend.
She self-diagnosed that she was a boy and believed transitioning would solve her mental health problems.
According to the suit, doctors at the Permanente Medical Group and Kaiser Foundation Hospitals rushed her on to cross-sex hormones and a double mastectomy without properly assessing her mental health problems.
Her evaluations lasted only 30 minutes and 75 minutes, records show.
Legal papers identify the carers as Susanne Watson, a psychiatrist in Oakland, San Francisco-based plastic surgeon Winnie Tong, and Lisa Taylor, a pediatric endocrinologist in Oakland.
They are accused of 'intentional, malicious, and oppressive concealment of important information and false representations' that saw Layla pushed into the procedures.
It's claimed they presented Layla Jane and her parents with a terrifying choice: 'Would you rather have a live son, or a dead daughter?' — language that echoes complaints from other detransitioners across the US.
'These are decisions I will have to live with for the rest of my life,' Layla said in a statement.
'I'm ready to join the growing group of detransitioners so that no other child has to go through the torment I went through at the hands of doctors I should have been able to trust.'
Layla speaks with a voice deeper than is usual for a young woman — which is understood to be the result of taking the male hormone testosterone for several years. She started to detransition at age 17.
Her lawyer, Harmeet Dhillon, a conservative activist and CEO of the Center for American Liberty, said Kaiser has emerged as a 'repeat player in the growing field of permanently mutilating children for profit.'
Dhillon also represents Chloe Cole, another California 18-year-old detransitioner who last month sued Kaiser for removing her breasts when she was 15 and pumping her with puberty blockers.
'Layla's medical providers grossly and recklessly breached the standard of care in this case, and others,' said Dhillon.
'We look forward to holding them liable for what they did, and together we seek to deter this assembly-line, insensitive, and destructive treatment of children with these woke, unscientific, and barbaric practices.'
Layla seeks unspecified financial damages. The company has 90 days to reply before she formally files her lawsuit, according to a 19-page legal complaint.
Kaiser spokesman Marc Brown did not comment on the case, but said its doctors 'practice compassionate, evidence-based medicine founded on sound research and best medical practices.'
'When adolescent patients, with parental support, seek gender-affirming care, the patient's care team carefully evaluates their treatment options,' Brown told DailyMail.com.
'The care decisions always rest with the patient and their parents, and, in every case, we respect the patients' and their families' informed decisions about their personal health.'
Gender-affirming care, as it is known, covers everything from puberty blockers to cross-sex hormones and, in rare cases for trans children under 18, surgery. Several medical associations say such healthcare saves lives among a suicide-prone group.
But opponents of trans ideology say sex is determined at birth and cannot be changed, that medical advisory groups have been hijacked by trans ideologues and that politicians must intervene to stop parents, doctors, or therapists from permanently harming children.
Many are alarmed by the sharp uptick in teenage girls with autism and other mental health woes asking for sex-change drugs in recent years, and of new studies linking puberty blockers to weaker bones and osteoporosis.
Whether to allow drugs and surgery for trans-identifying children has become a frontline in America's culture wars, with more Republican bills aimed at banning gender-affirming care in 2023 than in any year to date.
Dhillon says she receives 'thousands of calls from people all over the country' who want to sue healthcare providers for bungled trans care, but that 'unfortunately, most are beyond the statute of limitations.'
A recent YouGov survey of 1,000 adults across red and blue states found that Americans were largely against gender-affirming procedures for children.
Some 61 percent said rejected giving puberty blockers to 12-year-olds, while 21 percent said it was acceptable. They also deemed cross-sex hormones and breast surgeries unacceptable by similar margins.

⬇️ Top Picks for You ⬇️
Watch Live: First Biden Impeachment Inquiry Hearing Begins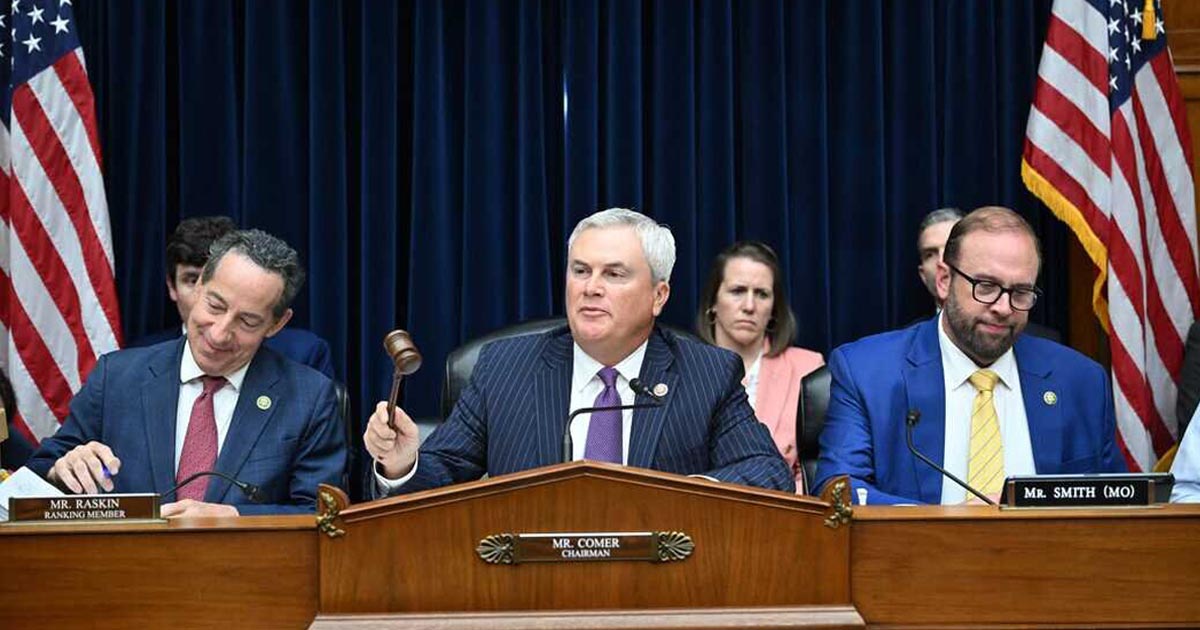 House Republicans are holding the first hearing in the impeachment inquiry of President Joe Biden.
According to the office of House Oversight Committee Chairman James Comer, R-Ky., the hearing "will examine the value of an impeachment inquiry," and will present all evidence to date uncovered by the committee in its investigation into the Biden family finances.
The witnesses who will testify at the hearing include:
Bruce Dubinsky, a forensic accountant with decades of experience in financial investigations and consulting, and who the committee says has testified in over 80 trials, including trials that involved financial fraud
Former Assistant Attorney General Eileen O'Connor, who served in the U.S. Department of Justice Tax Division
Law professor Jonathan Turley, who testified in the Clinton and Trump impeachments, will also testify
President Biden has denied any involvement in his son Hunter's business dealings. The White House has dismissed today's hearing as an "evidence-free" probe and a "political stunt."
Watch Live:
Key Moments
https://twitter.com/KanekoaTheGreat/status/1707411686716735906?ref_src=twsrc%5Etfw%7Ctwcamp%5Etweetembed%7Ctwterm%5E1707411686716735906%7Ctwgr%5Efb08cfeb6c6e7d2fdb35114f6d1859ce9c84df2a%7Ctwcon%5Es1_c10&ref_url=https%3A%2F%2Fwww.zerohedge.com%2Fpolitical%2F100s-pages-newly-released-memos-spark-fresh-corruption-charges-ahead-1st-biden
https://twitter.com/KanekoaTheGreat/status/1707402334274560454?ref_src=twsrc%5Etfw%7Ctwcamp%5Etweetembed%7Ctwterm%5E1707402334274560454%7Ctwgr%5Efb08cfeb6c6e7d2fdb35114f6d1859ce9c84df2a%7Ctwcon%5Es1_c10&ref_url=https%3A%2F%2Fwww.zerohedge.com%2Fpolitical%2F100s-pages-newly-released-memos-spark-fresh-corruption-charges-ahead-1st-biden
Early into the session, impeachment witness Jonathan Turley suggested that while the current evidence does support launching the impeachment inquiry, it does not currently support articles of impeachment, rather, it's something that the impeachment inquiry must establish.
Republican witness Jonathan Turley: "I do not believe that the current evidence would support articles of impeachment" pic.twitter.com/4wxDYJFrEd

— Biden-Harris HQ (@BidenHQ) September 28, 2023
Mountains of evidence released by House Republicans on the Ways and Means Committee today point to a decade and more of influence peddling and financial fraud involving President Joe Biden, his son Hunter, and brother, James, and multiple business associates.
These documents will be reviewed on Thursday in the first special impeachment inquiry hearing of the House Oversight and Accountability Committee.
Newly revealed materials confirm that Hunter Biden was traveling the world to sell influence and access to the Biden "brand," meaning his father, Joe Biden.
Hunter has even referred to access to his father as "the keys" to "my family's only asset."
In just the last day, we have discovered:
A $250K wire for Hunter Biden in 2019 from China with Joe Biden's address as the beneficiary.
The wires were from Wang Xin and Jonathan Li, the latter of whom ran a Chinese private equity fund (BHR) which Hunter was listed as being on the board of directors. Hunter also arranged for a meeting between Li and Joe Biden while Joe was VP, while Joe allegedly gave Li's son a letter of recommendation.
Emails showing a U.S Attorney would not allow FBI agents to investigate the Bidens for FARA violations.
One document confirmed rumors that at one point the FBI and IRS investigated Hunter Biden for possible violations of the Foreign Agent Registration Act (FARA), a federal law requiring disclosure of any lobbying activities on behalf of foreign powers. "Please focus on FARA evidence only," Delaware Assistant U.S. Attorney Lesley Wolf emailed agents in August 2020 concerning a possible search warrant application.
Test message showing that James Biden suggested it was normal for Joe Biden to be involved in his son's business.
In an affidavit to the committee, Ziegler suggested agents believed there was evidence in a series of WhatsApp encrypted text messages that Joe Biden was involved in the CEFC business deal and others before it, but the FBI's interview with James Biden was constructed to avoid asking those questions.
To back up the claim, Ziegler attached a summary of one text messages between James Biden and Hunter Biden from 2018. "This can work, you need a safe harbor. I can work with you father alone !! We as usual just need several months of his help for this to work. Let's talk about it. It makes perfect sense to me. This is difficult to fully vet without talking," the uncle wrote Hunter Biden.
A memo showing that Burisma received Joe Biden's talking points from lobbyists ahead of his trip to Ukraine.
Ukrainian energy firm Burisma Holdings received Joe Biden's planned talking points ahead of his December 2015 trip to Ukraine, according to a newly released memo from lobbying firm Blue Star Strategies.
Blue Star Strategies sent the memo to Burisma on Dec. 2, 2015, after an apparent call with "senior administration officials" and detailed then-Vice President Joe Biden's messaging strategy for his trip to Ukraine, the memo shows.
And finally, and perhaps most damningly, as Kyle Becker highlighted, Hunter Biden signed off on a Burisma memo to the Ukrainian prosecutor who replaced Viktor Shokin that warned not to continue further investigations.
"Moreover it is imperative that allegations of criminal activity made to the media about Burisma and/or Nikolay Zlochevsky come to an end."

Is that enough "evidence" for the "there is no evidence" misinformation-spreaders to fold?
We highly doubt it… but tomorrow's hearing will give us a glimpse at the Democrats' plan…
Democrats are staring at a mountain of emails, text messages, bank records, AF2 logs, White House visitor logs, FBI docs, whistleblower statements & witness testimony and insist there's no "smoking gun."

This is the same shameless party that impeached Trump. TWICE.

Not only…

— Kyle Becker (@kylenabecker) September 27, 2023
While the proceedings will initially convene in that committee's hearing room in the Rayburn House Office Building, the inquiry – authorized Sept. 12 by Speaker of the House Kevin McCarthy (R-Calif.) – is being led by oversight panel chairman Rep. James Comer (R-Ky.), House Judiciary Committee Chairman Jim Jordan (R-Ohio) and House Ways and Means Committee Chairman Jason Smith (R-Mo.).
As Mark Tapscott detailed earlier via The Epoch Times, Republicans have portrayed the initial hearing as merely a summary or review of the evidence obtained to date, but Mr. Comer announced Sept. 26 that his panel received in response to subpoenas two previously unknown wire transfers to Hunter Biden from Chinese businessmen with numerous links to the Chinese Communist Party (CCP).
"On July 26, 2019, Hunter Biden received a $10,000 wire from Wang Xin. On August 2, 2019, Hunter Biden received a $250,000 wire from Jonathan Li and Tan Ling. Both wires originated in Beijing and Joe Biden's Wilmington, Delaware, home is listed as the beneficiary address for both wires," Mr. Comer said in a statement. The transfers directly contradict claims by the President and Hunter Biden's lawyer that no funds were received from China.
In addition, Mr. Comer pointed out that "evidence shows Joe Biden developed a familiar relationship with Jonathan Li during his vice presidency and prior to these payments to Hunter Biden. Devon Archer, a Biden business associate, described [to the oversight committee in closed-door testimony] how Joe Biden met with Jonathan Li in Beijing, China, had a phone call with him, and later wrote college recommendation letters for his children."
Then on Sept. 27, Mr. Smith's panel made public 700 pages of additional evidence provided by two IRS whistleblowers who were deeply involved in the government's long-running investigation of Hunter Biden's failure to pay taxes on income he received in 2014 and 2015.
The Ways and Means panel made the new evidence public following a closed-door executive session in which all 18 Democrats opposed the release.
The new materials made public by Mr. Smith indicated the Biden family received at least $19 million in income from entities in at least 23 countries around the world which was channeled through 20 shell companies.
The income was ultimately received directly or indirectly by multiple members of the Biden family, including the president while he was vice president.
The materials also included numerous references in emails and telephone messages to the senior Biden playing an active role in what Mr. Smith described to reporters during a Capitol Hill news conference following the executive session as "a complex and lucrative enterprise operated by the Biden family to enrich themselves to the tune of at least $20 million, with much of Hunter Biden's share going unreported for taxes."
Mr. Smith further claimed the new evidence makes clear that "then Vice President Joe Biden's political power and influence was 'the brand' that Hunter Biden was selling all over the world. Even more alarming, the Biden family foreign influence peddling operation suggests an effort to sway U.S. policy decisions."
The tranche of materials includes an August 2020 email from Lesley Wolf, a U.S. Department of Justice (DOJ) attorney helping to oversee the investigation of Mr. Biden, telling investigators to redraft a search warrant to remove mention of "political figure 1."
That was a reference to then-presidential candidate Joe Biden, according to Rep. Jason Smith (R-Mo.), chairman of the panel.
"It's about a two-tiered system of justice. If Joe Biden's name had been Smith or Jones or Johnson, he would not have been excluded from this search warrant. But he was. And we wouldn't know that if the whistleblowers had not come forward," Rep. David Kustoff (R-Tenn.), a former U.S. attorney and member of the committee, told reporters.
The backgrounds of the witnesses for the hearing suggest the impeachment inquiry's summary of evidence will focus on three major areas.
Witness Bruce Dubinski is a Florida-based forensic accountant who specializes in cases involving white-collar crime and financial fraud.
He has testified as an expert witness in multiple federal and state bench and jury trials.
Republican leaders of the impeachment inquiry have repeatedly described their efforts as "following the money," and they have pointed to more than 170 Suspicious Activity Reports (SARs) from financial institutions to the Department of Treasury concerning the movement of funds among the 20 Biden shell companies as evidence of money laundering in an attempt to conceal the sources of income to the family.
Mr. Dubinski is expected to shed additional light on the significance of the SARs and how the funds flowed from foreign sources to the shell companies and then to members of the Biden family, including several grandchildren.
Former Assistant Attorney General Eileen O'Connor will be the second witness providing testimony to the impeachment inquiry. She oversaw the Tax Division of the Department of Justice during the presidency of George W. Bush from 2001 to 2007.
Ms. O'Connor has since specialized in civil and criminal tax disputes, from the administrative investigative phases through trial litigation and appellate processes. Committee members will likely quiz her closely on issues and evidence related to the government's investigation of Hunter Biden's failure to report income and pay taxes on it.
She will also be questioned about the significance of the failed plea deal rejected in July by a federal judge that would have enabled the president's son to plead guilty to two tax misdemeanors and a felony gun charge, and which would have granted him immunity from all future prosecutions.
Professor Jonathan Turley of the George Washington University Law School will be the third witness. Mr. Turley is a constitutional law authority who frequently testifies before committees of both chambers in Congress, including during the first impeachment hearings of the 117th Congress against President Donald Trump.
A Fox News Contributor, Mr. Turley is a frequent commenter on controversial legal and political developments in the nation's capital, and he has also served as a legal analyst for CBS News and NBC News on high-profile controversies. Committee members will likely seek his insights on constitutional issues related to impeachable activities and federal ethics laws and regulations.
Democrats condemn the impeachment inquiry as a waste of time, especially coming with only hours until the federal government could be forced to shut down if Congress has not adopted a 2024 budget by midnight Saturday, the end of the current fiscal year.
Rep. Richard Neal (D-Mass.), the Ranking Member of the Ways and Means Committee, issued a statement following the closed executive session in which he labeled the hearing "a distraction from my colleagues' inability to govern and from their inability to fund the government. Amid their chaos, they've failed to convince their own colleagues of the necessity of their political stunt, let alone the American people."
The Massachusetts Democrat, who preceded Mr. Smith as Chairman, added that "millions of women and children are at risk of losing their food assistance because of my colleagues' disinterest in governing. How are we supposed to tell our constituents that Fox News hits were more important than their next meal? Or what are we supposed to say to the 2.2 million American workers who may go without a paycheck when Republicans shut down the government? For this Republican majority, regardless of evidence, all roads lead to impeachment. It's a sad day for the Congress and for the American people."
Finally, The Daily Caller reports that an email obtained by a CNN producer showed Hunter Biden expected all of the "stuff" regarding his criminal wrongdoings to disappear once his father, then-presidential candidate Joe Biden, became president, according to documents the House Ways and Means Committee released.
Justin T. Cole, the Office of Communications Director for the Internal Revenue Service (IRS), notified the agency's chief and deputy chief a CNN producer reached out about their investigation into Hunter's tax and gun crimes, according to an email the Ways and Means committee released. Cole apparently said the CNN producer possessed an email from Hunter saying he believed he would be off the hook once his father became president and that he was unwilling to accept a plea deal.
"Producer has an email from Hunter saying he expected all of this "stuff" to go away when his dad becomes President," Cole wrote.