'My Pronouns Are Kiss My A**': Roseanne Barr Releases First Stand-Up Special in Nearly 20 Years
Comedienne Roseanne Barr, making a comeback on the comedy stage in a new TV special, railed against woke agendas and cancel culture.
Barr was fired from the reboot of her hit sitcom "Roseanne" in 2018 — which boasted the highest ratings of a new TV series in years — after posting a tweet about powerful Obama White House advisor Valerie Jarrett that stated, "muslim brotherhood & planet of the apes had a baby=vj." Barr later apologized, saying, "I apologize to Valerie Jarrett and to all Americans. I am truly sorry for making a bad joke about her politics and her looks. I should have known better. Forgive me — my joke was in bad taste," but ABC still fired her.
"Roseanne Barr: Cancel This!," which is Barr's first new TV stand-up special in nearly two decades, features her back to her no-holds-barred comedy, pronouncing, "My pronouns are, kiss my ass."
Barr, 70, takes on the trend of asking children what their gender is, quipping, "What is my gender, mom? What is my gender? Your gender is, get a job. That's your gender."
"What are they thinking? Ask a — what is a woman?" she continues. "They don't know that? That one they're asking all the time. What is a woman? I'll tell you what a woman is. A woman is me. That's what a woman is, okay? A woman is someone who cleans up everybody else's s***. That's what a woman is."
"A woman is somebody whose boobs hang down to her knees with a prolapsed uterus from giving birth to five ungrateful little privileged b*******s that have never had to work for anything in their whole damn life," she jokes.
Barr, who supported former President Trump, said in 2019 that her support may have been a factor in ABC's decision to fire her. "All of Hollywood, they just hate him and they hate those of us who like him. There is no way around it," she said. "So, yeah, I think they took me off because I liked him and I like him because I'm a Jew and he likes Israel."
This week, she discussed her 2018 firing with The Los Angeles Times. "It was a witch-burning. And it was terrifying," she recalled. "I would die many times. I guess you would call it the dark night of the soul. I felt like the devil himself was coming against me to try to tear me apart, to punish me for believing in God."
"They didn't do it to anyone else in Hollywood, although they always throw in Dave Chappelle and Louis C.K.," she continued. "Well, Louis C.K. did lose everything, but he committed an actual [offense]. And Dave Chappelle was protected by Netflix. … I'm the only person who's lost everything, whose life's work was stolen, stolen by people who I thought loved me. And there was silence."
She said that she forgave those involved and believed that everyone that had happened was part of God's plan.
"I don't think they'll ever stop trying to come after me, particularly now that I am getting the last laugh on their a**. That's why I'm coming back. I never would have that last laugh unless I'm strong enough to stand on two feet, and although I do have to wear adult diapers while doing it, I am not ever going to stop making fun of power and its arrogance, and I don't give a f*** what color it is. I'll be there. Make the most f***ing fun of it that I can before I croak," she concluded.

⬇️ Top Picks for You ⬇️
Biden Dog Bites Another Secret Service Agent; 11th Incident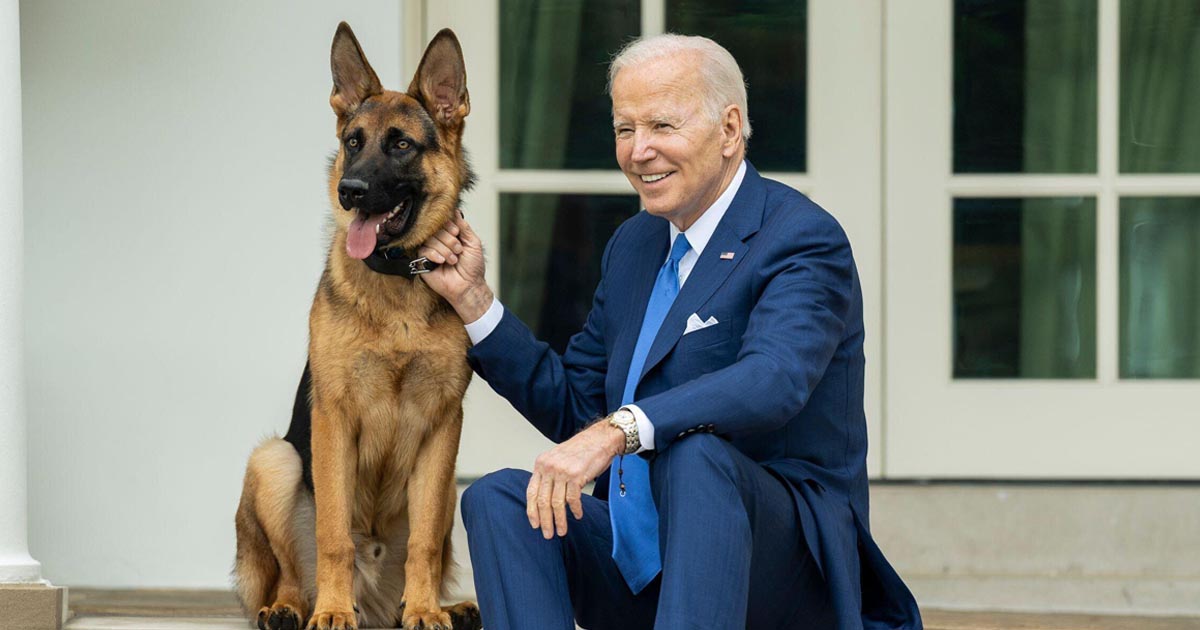 President Joe Biden's younger dog, Commander, bit another US Secret Service agent at the White House Monday evening, CNN has learned, the 11th known biting incident involving the 2-year-old German Shepherd.
"Yesterday around 8 p.m., a Secret Service Uniformed Division police officer came in contact with a First Family pet and was bitten. The officer was treated by medical personnel on complex," USSS chief of communications Anthony Guglielmi told CNN in a statement.
The injured officer spoke with Secret Service Uniformed Division Chief Alfonso M. Dyson Sr. on Tuesday and is doing OK, Guglielmi said.
Commander has been involved in at least 11 biting incidents at the White House and in Delaware, according to CNN reporting and US Secret Service email correspondence, including a November 2022 incident where an officer was hospitalized after the dog clamped down on their arms and thighs.
White House officials said in July that the Bidens were working through new training and leashing protocols for the family pet following the incidents.
Asked by CNN whether the new training had taken place or if any further action would be sought, Elizabeth Alexander, communications director for the first lady, said in a statement that "the First Family continues to work on ways to help Commander handle the often unpredictable nature of the White House grounds."
"The President and First Lady are incredibly grateful to the Secret Service and Executive Residence staff for all they do to keep them, their family, and the country safe," she continued.
Another of Biden's dogs, Major, was involved in biting incidents at the White House. The German Shepherd later moved out of the White House, and Commander arrived at the White House in 2021.
The July email correspondence, obtained through Freedom of Information Act requests by the conservative group Judicial Watch, reflected 10 incidents.
In one incident in October, first lady Dr. Jill Biden "couldn't regain control" of the dog as it charged a member of Secret Service staff.
"I believe it's only a matter of time before an agent/officer is attacked or bit," the staff member warned in an email.
While Secret Service agents are not responsible for the handling of the first family's pets, they can come into frequent contact with the animals.
"This isn't a Secret Service thing. This is a this is a workplace safety issue," CNN contributor and former USSS agent Jonathan Wackrow told CNN.
"There's uniqueness here where it's the residence of the president of the United States, but it's also the workplace for hundreds, thousands of people. And you can't bring a hazard into the workplace. And that's what is essentially happening with this dog. One time you can say it's an accident, but now multiple incidents, it's a serious issue," he added.
Wackrow called it a "significant hazard" for agents on duty at the White House residence.
"I'm sure that the Bidens love the dog. I'm sure that it's a member of the family like every dog is, but you're creating a significant hazard to those who support you – support the office of the president," he said.