Vice President Kamala Harris is failing to impress Americans in a way not seen with her predecessors ever since Al Gore was in the White House.
A poll conducted this month shows 32% of registered voters have a positive view of the Democrat while 49% have a negative view of her. The resulting net-negative rating of -17 is "the lowest for any vice president in the poll's history," NBC News reported on Monday. It also noted that 39% have a "very negative" view of Harris.
Showing its math for judging this the worst rating in more than two decades, the news outlet looked back at surveys dating back to 1995. The only other president to have a negative split, Mike Pence, was at 34% positive and 38% negative in October 2019 for a -4 rating. President Joe Biden barely made it into positive territory. In December 2010, his rating as vice president was 34% positive and 33% negative, creating a +1 split.
Dick Cheney fared better in May 2003 with a +23 split arising from a 47% positive rating and a 24% negative rating. The furthest back in time that NBC News looked was March 1995, when Gore scored a 42% positive rating and 27% negative rating, resulting in a +15 split.
Harris, a former attorney general of California and U.S. senator, is the first woman to be vice president, as well as the first black American and first South Asian American to hold the office.
During her time in the White House, Harris has struggled to shake the view by critics that she did not take seriously her role as leader of the Biden administration's efforts to tackle the migration challenge at the U.S.-Mexico border. Her public speaking appearances have become fodder for mockery thanks to a constant flow of "word salads."
When Biden announced his 2024 re-election campaign in April, he chose to stick with Harris as his running mate despite her poor approval ratings. Axios reported around that time that the White House and Biden's campaign had been working to revamp her image as officials feared she would be a drag on the ticket.
Defenders of Harris, including former White House chief of staff Ron Klain and late-night host Jimmy Kimmel, have argued racism and sexism have been major factors in the vice president's unpopularity. In late April, Sen. Chris Coons (D-DE) said Harris is "ready to be president should that ever happen," adding, "I know our president has great confidence in her, and so do I."
The new poll from NBC News also found growing anxiety concerning Biden's fitness to serve, as more than two-thirds of registered voters — 68% — said they have moderate to major concerns about him "not having the necessary mental and physical health" to be president. And only 43% said they approve of Biden's job performance while 53% disapprove.
Still, a hypothetical general election rematch envisioned by the survey showed Biden ahead with 49% support over former President Donald Trump, who generally leads GOP primary polls, with 45% support. The survey also looked at a match-up between Biden and Florida Governor Ron DeSantis, showing a 47%-47% tie in the general election.
"A majority of Americans have deep, deep concerns about Biden's physical and mental state; Kamala Harris is the least liked Vice President in the poll's history; and notwithstanding both, Biden/Harris would still beat Trump," conservative radio host Erick Erickson said about the poll. "All the GOP has to do is avoid Trump, and many of them won't let him go."

⬇️ Top Picks for You ⬇️
5 Top Moments from the fiery DeSantis-Newsom Debate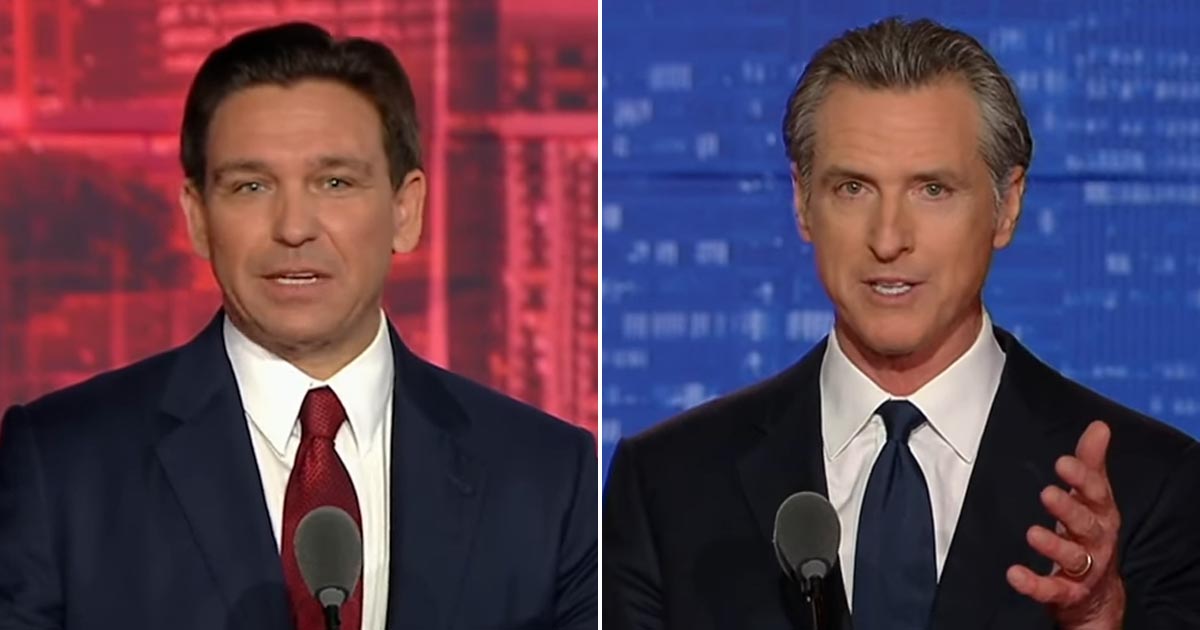 Florida Gov. Ron DeSantis (R) and California Gov. Gavin Newsom (D) went head-to-head in a Fox News debate Thursday as the governors — one a current presidential contender and the other seen as a future White House prospect — clashed over their records and policy.
During the fiery 90-minute debate, moderated by Sean Hannity and branded as "The Great Red vs. Blue State Debate," DeSantis and Newsom took jabs at each other over how they handled key issues including the COVID-19 pandemic, crime and abortion, at times reverting to personal attacks such as calling each other bullies.
The debate came against the backdrop of DeSantis's presidential campaign; the Florida governor was initially seen as a threat to Donald Trump but is now lagging in polls behind not only the former president but also former U.N. Ambassador Nikki Haley.
Meanwhile, Newsom has been widely floated as a presidential hopeful; while he has said he's not interested in challenging President Biden next year, the Fox News debate has only helped elevate his national profile and fueled further speculation over his plans.
Here are five takeaways from the DeSantis-Newsom debate:
Newsom shows his strengths
Though Newsom often found himself on the defense in a hostile media environment, the California Democrat managed to keep his calm throughout, easily batting away attacks while also lobbing many of his own at DeSantis.
In one such instance, DeSantis went after Newsom over his COVID-19 policies, saying that in California "you had Disney closed inexplicably for over a year" and that Newsom was "a lock-down governor."
Newsom quickly fired back.
"Let's talk about your record on COVID," Newsom said. "You pass an emergency declaration before the state of California did. You closed down your beaches, your bars, your restaurants. It's a fact. You had quarantines — you had quarantines, you had checkpoints all over the state of Florida. By the way, I didn't say that. Donald Trump laid you out on this."
"He followed science. He followed Fauci," Newsom added of DeSantis, to which the Florida governor said, "that's not true."
Throughout the debate, Newsom was confident and good-humored, rarely seeming fazed when being attacked by DeSantis or pressed by Hannity, a self-proclaimed conservative.
His debate performance will likely bolster his image as an extremely polished, media-savvy politician who nonetheless knows how to throw a punch when necessary.
DeSantis does a decent job — with help from Hannity
DeSantis went into the debate with arguably more at stake than Newsom, since he's currently running in the GOP presidential primary.
Ultimately, the Florida governor delivered a decent performance, frequently demonstrating his research of the topics at hand and even at times displaying visual aids — including a map of what he said was human excrement in San Francisco — to knock Newsom.
He also landed a couple memorable blows, such as when he labeled Newsom a "liberal bully" or when he mocked his opponent for what he said was Newsom's "shadow campaign" for the Democratic nomination for president in 2024.
Still, the "red state vs. blue state" debate also felt at times like a two-on-one match-up.
Hannity, during his introduction for the debate, acknowledged his well-known reputation for boosting Republican candidates for office and conservative causes, though he emphasized that he wanted to be a referee in the debate, not a participant.
Throughout the night, many of the moderator's questions began with an infographic or chart displayed on the screen for viewers, most of which painted California in a less favorable light than Florida on issues of homelessness, the economy and migration.
Newsom on several occasions pushed back directly on Hannity's line of questioning, DeSantis's characterizations of the statistics and argued his state was in a stronger position than conservative critics routinely suggested.
By contrast, Hannity gave little pushback to most of DeSantis's answers or his attacks on the California governor.
The debate was raucous
Hannity repeatedly said Thursday night that he wanted to let the event "breathe," resulting in a free-flowing — and at times raucous — debate.
DeSantis and Newsom frequently talked over each other, to the point when they were sometimes unintelligible. They lobbed attacks at each other throughout the night and often interrupted each other.
Hannity, for his part, worked hard to interject or move on to a new topic whenever it got chaotic. At one point, he begged the two governors not to "turn me into a hall monitor."
The lack of an in-person audience allowed the two participants to go after each other more freely, as there was no need for either governor to hold for applause or raise his voice over shouting spectators.
Before one early commercial break, Newsom finished an answer to a question on his handling of the coronavirus pandemic by looking into the camera and saying, "more to come on this," as the outro music signified a break was imminent.
DeSantis joked that Newsom would be setting up "the next segment, I guess."
"I'm not a potted plant," an apparently frustrated Hannity joked later during the debate, as the two governors bickered back and forth.
Adding to the sense of chaos was a moment near the end in which it seemed like the debate was being abruptly extended. Hannity asked the two men on stage if they'd like to continue debating past the pre-planned 10:30 p.m. end time.
"I don't know why we don't do another half hour; I've got all night," Newsom said.
"I think it's been fun and it's more entertaining than … I'm sorry to the guests I've invited," Hannity said, before sending the broadcast to what would be its final commercial break.
Once the network returned, Hannity said both candidates "had other commitments" and welcomed in a post-debate panel to provide analysis on the debate.
Biden is GOP boogeyman
DeSantis sought to make President Biden a frequent boogeyman during the debate, tying Newsom to the president, who continues to suffer underwater approval ratings.
"I'll give Gavin credit. He did at least admit in his first answer, he's joined at the hip with Biden and Harris," DeSantis said at one point. "He thinks Biden and Harris have done a great job. He thinks the economy is working because of their policies for Americans and they are not."
"And so, what California represents is the Biden-Harris agenda on steroids. They would love nothing more than to get four more years to be able to take the California model nationally. That would be disastrous for working people in this country," he added.
Unsurprisingly, Newsom found himself as chief defender of the Biden-Harris administration during the debate, while trying to paint a stark contrast between Democrats and the Republican Party.
"I'm here to tell the truth about the Biden-Harris record, and also compare and contrast Ron DeSantis's record and the Republican Party's record as a point of contrast that's as different as daylight and darkness," Newsom said.
It's not the first time Newsom has positioned himself as a surrogate for the Biden campaign — he played a similar role during the second GOP debate in Simi Valley, Calif. The move strategically helped demonstrate his loyalty to the Biden campaign while also elevating his own national profile amid rumors that he might run for the White House himself.
But the frequent mention of Biden also emphasized the extent to which Republicans like DeSantis believe the president is an albatross for Democrats heading into 2024.
Needle is unlikely to move much for either man
While sparks flew during the Fox News debate, it's unlikely to change much for either governor.
For DeSantis, he's still struggling to catch up to Trump in the 2024 GOP primary as all signs increasingly point to the former president once again winning the nomination.
He has notched key endorsements from Iowa Gov. Kim Reynolds (R) and influential Evangelical leader Bob Vander Plaats, but still faces steep hurdles in polling out of the early primary states of New Hampshire and South Carolina, where he's polling behind Haley.
For Newsom, the debate has boosted his national profile, though it's hardly the first time the California Democrat has sought to position himself front and center in the public eye. It's also unlikely to change the minds of the many conservatives watching the debate in an already hyper-partisan political environment.
Still, both men came out of the event being praised by their respective sides — a sign that the event served some purpose for them.