Nebraska Gov. Jim Pillen (R) is warning against a ballot initiative that would give voters the option to enshrine the supposed "right" to abortion in the state Constitution.
A coalition of left-wing groups called Protect Our Rights officially launched its effort this week and must collect roughly 125,000 valid signatures by summer 2024 for the amendment to appear on the ballot next year. The proposed amendment would declare a fundamental "right" to abortion until "fetal viability" — which is generally considered to be between 22 and 24 weeks gestation — or to protect the life or health of the pregnant woman. Under the petition language, a patient's healthcare practitioner would determine fetal viability.
In response to news of the launch Wednesday, Gov. Pillen said:
This flawed initiative would radically expand abortion in Nebraska, resulting in the deaths of thousands of babies in mothers' wombs. Its vague and deceptive language could throw open the doors to brutal late-term abortions, putting abortion providers in charge of judging whether, for example, a 39-week-old pre-born baby can be aborted.
"That is totally out of step with the pro-life principles of the overwhelming majority of Nebraskans, whose representatives last session passed a strong and reasonable 12-week abortion ban with common sense exceptions for cases of rape, incest, and life of the mother," he stated, adding:
I was proud to sign that bill into law and I will continue to fight to save as many babies' lives as possible from abortion, including by working to defeat this initiative. We will continue to support moms and help them choose life and love. I look forward to standing shoulder to shoulder with pro-life leaders across Nebraska to defend life in our state.
After the fall of Roe, which had invented a federal "right" to abortion in the Constitution, abortion was returned to individual states and their elected representatives, changing the nature of the struggle between the pro-life movement and the abortion industry. Pro-abortion organizations and activists, backed by the affiliates of large left-wing organizations such as Planned Parenthood and the ACLU, have stealthily turned to ballot measures in the hopes of shoring up and even growing the abortion complex in the shift from federal to state power.
And so far, their plan is working — every single abortion-related ballot measure since the fall of Roe has been successful. During the 2022 special elections, Kansans rejected a ballot measure that would have established that the state Constitution does not include a right to abortion. During the 2022 midterms, voters in California, Michigan, and Vermont codified abortion into their Constitutions. At the same time, voters in Montana rejected a ballot measure that would have given rights to babies born alive in botched abortions. Voters in Kentucky also rejected an amendment similar to the one in Kansas. On November 7, Ohioans also voted to codify the supposed "right" to abortion in their state Constitutions via Issue 1.
Ballot measures are particularly effective as an offensive weapon because they are basically irreversible: they change a state constitution, take precedence over laws passed by state legislatures, and can only be overturned by another ballot measure.
These measures are propped up by national left-wing organizations with deep pockets, out-of-state dark money groups, and billionaires with eugenicist leanings, oftentimes outspending pro-life organizations by double or triple.
Emboldened by their success with amendments, pro-abortion activists are seeking to introduce ballot measures in several other states going into 2024 besides Nebraska, including Arizona, Colorado, Florida, Maryland, Missouri, Nevada, New York, and South Dakota.
In the aftermath of 2022 and Ohio, pro-life organizations say they are reevaluating how they want to tackle the issue moving forward — especially as they gear up to face a tsunami of ballot measures in 2024. These organizations, which cut their teeth for 50 years while working toward the overturn of Roe, are ultimately faced with the challenge of becoming as strategic and well-funded as their opponents while refusing to compromise on the view that human life begins at conception and is worthy of protection until natural death.
"The pro-life movement must adapt to win. We have to throw out the old playbook and dive headfirst into a strategy that can win the hearts and minds of the American people and translate into electoral victory," Lila Rose, founder and president of Live Action, said in a statement via email following the loss in Ohio. "That strategy starts with fully embracing and educating on the truth. Human life is valuable and must be legally protected. Human life begins at fertilization. Abortion is a murderous act of violence. Embracing the truth with courage is the first step towards the next political victory."

⬇️ Top Picks for You ⬇️
Biden Got Recurring $1,380 Payment from Hunter's Firm Starting in 2018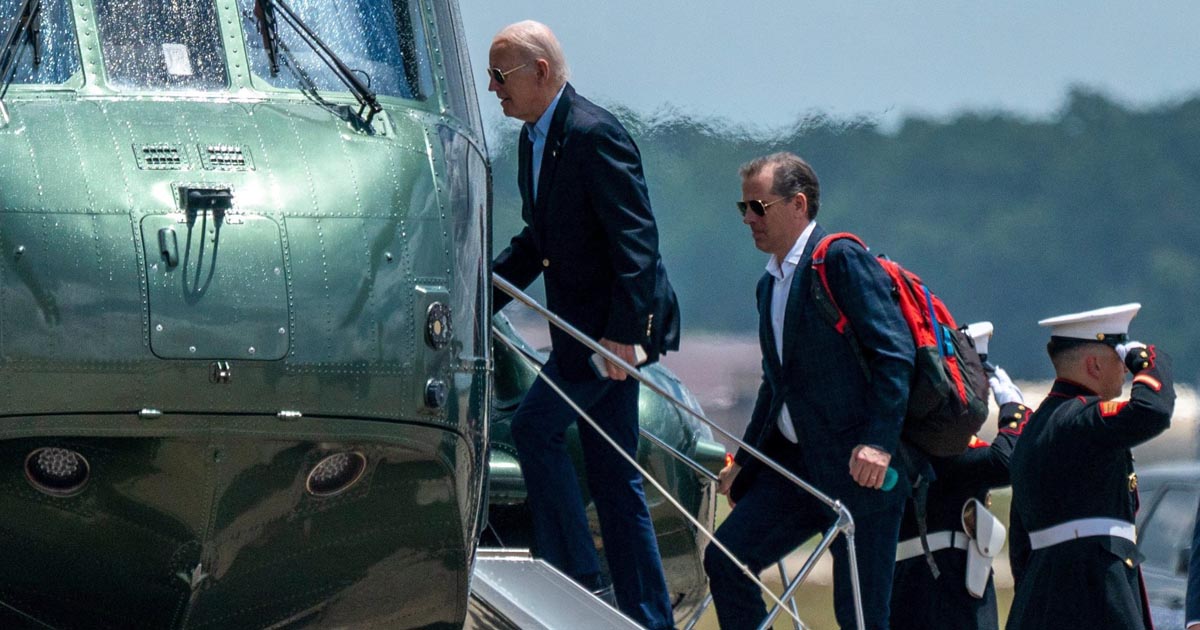 President Biden received a recurring payment of $1,380 from his son Hunter's law firm beginning in late 2018 shortly after a bank money laundering officer warned that the same account was receiving millions of dollars in Chinese government-linked funds without "any services rendered."
A bank order shows that Owasco PC set up a "monthly" transfer to then-former Vice President Joseph R. Biden Jr., with a voided check for the future president included in the documentation, which was released Monday by the House Oversight Committee.
A source told The Post that at least three recurring payments were made — on Sept. 17, Oct. 15 and Nov. 15, 2018 — totaling $4,140 to the elder Biden from Owasco PC, according to the bank records of the firm.
"President Biden and his family must be held accountable for this blatant corruption," Oversight Committee Chairman James Comer (R-Ky.) said in a video release.
"Today, the House Oversight Committee is releasing subpoenaed bank records that show Hunter Biden's business entity, Owasco PC, made direct monthly payments to Joe Biden. This wasn't a payment from Hunter Biden's personal account but an account for his corporation that received payments from China and other shady corners of the world," Comer said.
"At this moment, Hunter Biden is under an investigation by the Department of Justice for using Owasco PC for tax evasion and other serious crimes. And based on whistleblower testimony, we know the Justice Department made a concerted effort to prevent investigators from asking questions about Joe Biden. I wonder why?"
Earlier that year, a January 2019 email from assistant Katie Dodge to Hunter Biden annotated various expenses including "Ford Raptor — Reimbursement to JRB — $1380."
The provenance of the funds is unclear, however, and additional records show that Hunter Biden was knee-deep in two of his most controversial business relationships at the time, with Ukraine's Burisma Holdings and CEFC China Energy.
The evidence emerged as House Republicans prepare to question first brother James Biden on Wednesday and Hunter next week about the president's role in his family's dealings in countries such as China and Ukraine — with a possible floor vote to authorize the ongoing impeachment inquiry this month.
While a presidential candidate, Joe Biden denied that he ever discussed business with his relatives, but evidence has since shown that he met with his relatives' associates from both the Burisma and CEFC ventures.
Documents from the first son's abandoned laptop show that Burisma board adviser Vadym Pozharskyi sought "bank reference" information on Sept. 14, 2018 — one day before the initial transfer to Joe Biden was sought. However, the transaction was not executed for another two days, apparently due to a later-than-expected form submission.
Joe Biden met Pozharskyi at an April 17, 2015, dinner at DC's Café Milano. An unproven FBI informant tip said that Burisma owner Mykola Zlochevsky claimed in 2016 he was "coerced" into paying $10 million in bribes to the Bidens for their assistance in ousting prosecutor Viktor Shokin.
Hunter also was on the tail end of disbursing millions of dollars received from CEFC China Energy — one of two major Biden family dealings with Chinese government-linked firms.
On June 26, 2018 — less than three months before Joe Biden began to receive the monthly transfers — an internal Bank Secrecy Act expert warned colleagues that the institution should reconsider its relationship with Hunter as a result of Owasco PC seeming to receive Chinese funds without "any services rendered."
CEFC transferred $5 million to another Biden family-linked entity, Hudson West III, in August 2017 after Hunter warned a China-based associate of his father's wrath if a business deal was aborted. Much of the large transfer later went to Hunter's Owasco PC.
Prior bank records released by the Oversight Committee indicate that Joe Biden received payments of $40,000 and $200,000 from his brother James, who also was involved in the CEFC venture and other foreign-focused enterprises.
Comer alleged that the $40,000 transferred to Joe Biden's bank account on Sept 3, 2017, was from "laundered" Chinese funds.
James Biden paid Joe Biden $200,000 on March 1, 2018 — the same day that James received a $200,000 transfer from troubled rural hospital company Americore after pledging to use his political connections to secure a Middle Eastern investor, according to bankruptcy filings.
The White House says there's evidence that both transfers were loan repayments, but Republicans argue they have not seen loan agreement documents and note that the funds distributed to James came from a law firm, rather than Joe Biden himself, further clouding the picture.