Embattled New Jersey Sen. Bob Menendez, just one day after he was indicted by federal agents on bribery charges, has drawn a serious primary challenger.
Rep. Andy Kim, who represents a district encompassing south and central New Jersey, announced that he will challenge Menendez in the Democratic primary. He is the first serious primary challenger to jump into the race to take on Menendez. He flipped a Republican-held district in 2018.
"After calls to resign, Senator Menendez said 'I am not going anywhere.' As a result, I feel compelled to run against him," Kim posted on X, the platform formerly known as Twitter. "Not something I expected to do, but NJ deserves better. We cannot jeopardize the Senate or compromise our integrity." He included a fundraising link to his nascent campaign.
His barebones campaign website says: "I am stepping up to represent our state in the United States Senate. I believe more than ever that we need good, hardworking people focused on delivering tangible solutions, working where the rubber hits the road, and injecting some integrity and civility back into our politics."
Kim, 41, is a Rhodes Scholar and previously served in the State Department and as a national security adviser to former President Barack Obama.
Since Menendez was indicted, a chorus of leading New Jersey Democrats, including Gov. Phil Murphy and six members of the state's congressional delegation, have called on him to resign. Pennsylvania Sen. John Fetterman Saturday became the first member of the Senate to call Menendez to resign.
A 39-page indictment was unsealed Friday revealed shocking details of alleged bribes, including "cash, gold, payments toward a home mortgage, compensation for a low-or-no-show job, a luxury vehicle, and other things of value," in exchange for Menendez's power and influence.
While key New Jersey Democratic leaders call for him to step down, Menendez appears defiant.
"Those who believe in justice believe in innocence until proven guilty. I intend to continue to fight for the people of New Jersey with the same success I've had for the past five decades," he said in a statement released Friday night. 'This is the same record of success these very same leaders have lauded all along. It is not lost on me how quickly some are rushing to judge a Latino and push him out of his seat. I am not going anywhere."
In 2018, a little-known challenger to Menendez who never filed a fundraising report with the FEC drew 37% support. That was after Menendez was indicted on corruption charges in 2015, but the jury deadlocked and the judge declared a mistrial.
Kim is not the only Democrat likely to step up and challenge Menendez. Reps. Mikie Sherill and Josh Gottheimer have been floated as potential Senate candidates. Gottheimer has a $15 million war chest in his federal campaign account, and Sherrill is considered a rising star in Democratic politics.
Democrats currently hold a 51-49 majority in the Senate and are defending three incumbents in red states—Montana, Ohio, and West Virginia. A complicated Senate race in New Jersey due to Menendez could complicate Democratic attempts to hold the Senate if Democrats had to spend money to defend their embattled incumbent.
NRSC Communications Director Mike Berg response to Kim's campaign: "Dems in disarray."

⬇️ Top Picks for You ⬇️
Biden Got Recurring $1,380 Payment from Hunter's Firm Starting in 2018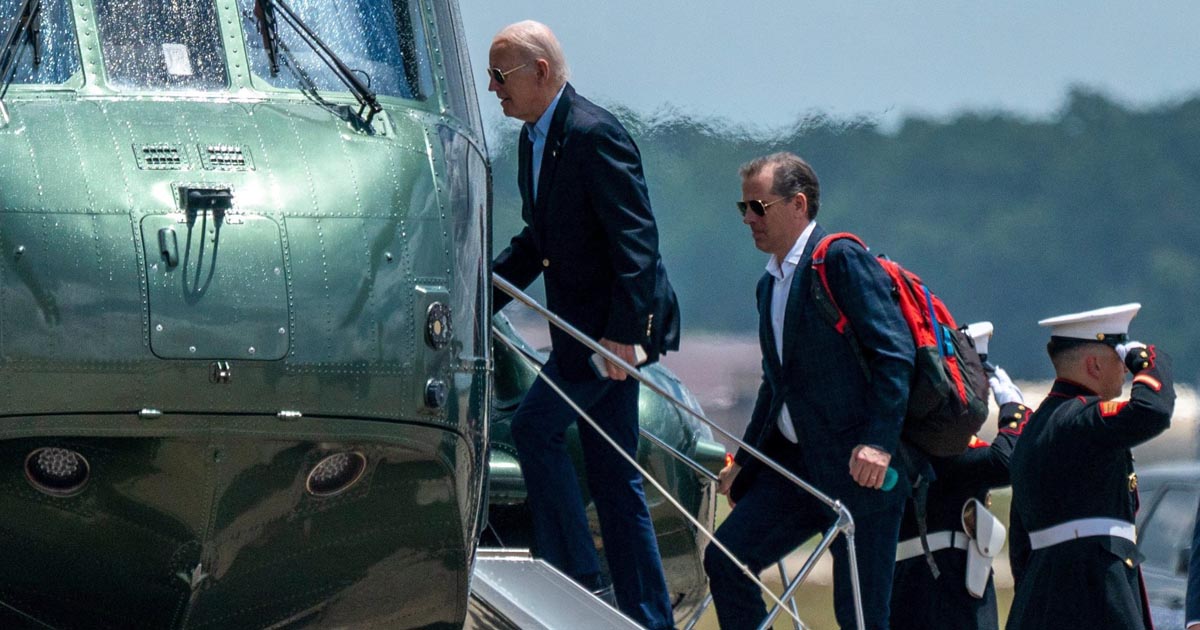 President Biden received a recurring payment of $1,380 from his son Hunter's law firm beginning in late 2018 shortly after a bank money laundering officer warned that the same account was receiving millions of dollars in Chinese government-linked funds without "any services rendered."
A bank order shows that Owasco PC set up a "monthly" transfer to then-former Vice President Joseph R. Biden Jr., with a voided check for the future president included in the documentation, which was released Monday by the House Oversight Committee.
A source told The Post that at least three recurring payments were made — on Sept. 17, Oct. 15 and Nov. 15, 2018 — totaling $4,140 to the elder Biden from Owasco PC, according to the bank records of the firm.
"President Biden and his family must be held accountable for this blatant corruption," Oversight Committee Chairman James Comer (R-Ky.) said in a video release.
"Today, the House Oversight Committee is releasing subpoenaed bank records that show Hunter Biden's business entity, Owasco PC, made direct monthly payments to Joe Biden. This wasn't a payment from Hunter Biden's personal account but an account for his corporation that received payments from China and other shady corners of the world," Comer said.
"At this moment, Hunter Biden is under an investigation by the Department of Justice for using Owasco PC for tax evasion and other serious crimes. And based on whistleblower testimony, we know the Justice Department made a concerted effort to prevent investigators from asking questions about Joe Biden. I wonder why?"
Earlier that year, a January 2019 email from assistant Katie Dodge to Hunter Biden annotated various expenses including "Ford Raptor — Reimbursement to JRB — $1380."
The provenance of the funds is unclear, however, and additional records show that Hunter Biden was knee-deep in two of his most controversial business relationships at the time, with Ukraine's Burisma Holdings and CEFC China Energy.
The evidence emerged as House Republicans prepare to question first brother James Biden on Wednesday and Hunter next week about the president's role in his family's dealings in countries such as China and Ukraine — with a possible floor vote to authorize the ongoing impeachment inquiry this month.
While a presidential candidate, Joe Biden denied that he ever discussed business with his relatives, but evidence has since shown that he met with his relatives' associates from both the Burisma and CEFC ventures.
Documents from the first son's abandoned laptop show that Burisma board adviser Vadym Pozharskyi sought "bank reference" information on Sept. 14, 2018 — one day before the initial transfer to Joe Biden was sought. However, the transaction was not executed for another two days, apparently due to a later-than-expected form submission.
Joe Biden met Pozharskyi at an April 17, 2015, dinner at DC's Café Milano. An unproven FBI informant tip said that Burisma owner Mykola Zlochevsky claimed in 2016 he was "coerced" into paying $10 million in bribes to the Bidens for their assistance in ousting prosecutor Viktor Shokin.
Hunter also was on the tail end of disbursing millions of dollars received from CEFC China Energy — one of two major Biden family dealings with Chinese government-linked firms.
On June 26, 2018 — less than three months before Joe Biden began to receive the monthly transfers — an internal Bank Secrecy Act expert warned colleagues that the institution should reconsider its relationship with Hunter as a result of Owasco PC seeming to receive Chinese funds without "any services rendered."
CEFC transferred $5 million to another Biden family-linked entity, Hudson West III, in August 2017 after Hunter warned a China-based associate of his father's wrath if a business deal was aborted. Much of the large transfer later went to Hunter's Owasco PC.
Prior bank records released by the Oversight Committee indicate that Joe Biden received payments of $40,000 and $200,000 from his brother James, who also was involved in the CEFC venture and other foreign-focused enterprises.
Comer alleged that the $40,000 transferred to Joe Biden's bank account on Sept 3, 2017, was from "laundered" Chinese funds.
James Biden paid Joe Biden $200,000 on March 1, 2018 — the same day that James received a $200,000 transfer from troubled rural hospital company Americore after pledging to use his political connections to secure a Middle Eastern investor, according to bankruptcy filings.
The White House says there's evidence that both transfers were loan repayments, but Republicans argue they have not seen loan agreement documents and note that the funds distributed to James came from a law firm, rather than Joe Biden himself, further clouding the picture.