A New York father is fighting to save his daughter's future. The 12-year-old girl identifies as trans, socially transitioned at school in 4th grade, and under her mother's care, she has been using a new, boy name and presenting as a boy for a few years. Her school uses the boy name as well, The Post Millennial reported.
A court has forced the father to refer to her by her chosen name, and to use male pronouns for her. The dad has gone along with it, he is compelled to, but he has not given up on saving his daughter from the trans cult before she is given drugs that stunt her puberty and cross-sex hormones that would cause her to develop male external secondary sex characteristics and likely lead to infertility.
What he's up against, however, is nothing short of a full-court press to get his daughter gender transitioned. Doctors, the child's mother, and even a law guardian in family court are urging this father to allow the prescription of puberty blocking drugs. Despite his concerns, an endocrinologist at Oishei Children's Hospital in Buffalo, New York asked him to change his mind and allow the 12-year-old to be given drugs to stop puberty.
Father, mother, and daughter all met with Dr. Kathleen Bethin, an endocrinologist at Oishei Children's Hospital, who broached the options for gender transition.
A recording of the meeting was obtained by The Post Millennial. Bethin specializes in pediatric diabetes, pediatric endocrinology, and pediatrics. She is also a clinical professor at the University of Buffalo.
"So, a lot of times, we end up, we can stop puberty to give a kid more time," Bethin told the father. "And I don't know if that's something that you would be okay with."
"No," he said, "that's why we're here. Because that's something Golisano (Children's Hospital) tried doing two years ago." He explained that he'd looked into puberty blockers himself, kept up with the international news on pediatric gender transition coming out of the UK, where the Tavistock clinic was closed over concerns of fast-tracking minors into medical sex changes, as well as changes in methodology in France, Finland and other nations.
He explained his understanding that Lupron, a drug that was developed to treat prostate cancer and is now used additionally for the treatment of endometriosis and precocious puberty, is being used off-label by practitioners of pediatric gender medicine. AbbVie, which makes Lupron, recommends that the drug not be used for more than three months. Yet doctors who advocate for pediatric sex changes will prescribe it for multiple years in order to stop puberty for minors who believe they are meant to be the opposite sex.
A letter on "Informed Consent for Lupron Depot for Youth with Gender Dysphoria" from the Canadian children's hospital at the London Health Sciences Centre in Ontario offers detailed information about the potential side effects and issues that come with the application of the drug.
The informed consent letter states that the "long-term effects" of taking the drug "are not fully known." It further requires the girl to confirm that "It has been explained to me that my doctors are suggesting and prescribing Lupron Depot because they believe that this will allow me more time to explore my gender and other developmental issues."
Considerations include that Lupron will stop menstruation, could result in vaginal dryness, a reduction in sex drive, and "estrogen withdrawal," which is essentially menopause. Girls could experience "hot flashes, night sweats, low energy, mood changes," among other things. Lupron also "interferes with fertility."
"So we actually use puberty blockers," Bethin said, "a lot for kids that go into puberty too early." She explained that she counsels minors who take these drugs to make sure they additionally take vitamin D and calcium, in an effort to counteract the bone loss that comes as a side-effect of the drug.
"The biggest issue is bone health," she said, "and your bones are still accruing density until like age 25. So I think that as long as it's a temporary thing—" She clarified what she meant by "temporary" when pressed, saying that it would be "for a few years."
"So pausing time, when the body is developing," the father asked, "you believe that can just be turned off and restarted again?" The father asked.
"Yes," Bethin replied, speaking about the patients she had treated with precocious puberty, or puberty that comes on at too young of an age, anywhere from 2 years old up to 9 or so, "because I've seen it in the, so in the kids that have the early puberty, it completely stops their puberty, and then when we stop the drug they can go on."
Dr. Marcia Bowers, a trans-identified male surgeon who presents as a woman and heads the World Professional Association for Transgender Health, has spoken about the use of puberty blocking drugs in conjunction with cross-sex hormones. Among patients Bowers had treated, those who went on this course of treatment were never able to experience orgasm. When Bethin was presented with these facts from her patients' father, she said that she was not aware of this research from Bowers.
"An observation that I had," Bowers told colleagues in 2022, "every single child who was, or adolescent, who was truly blocked at Tanner stage 2, has never experienced orgasm. I mean, it's really about zero." Bowers attested that this reality should change the way "informed consent" is considered. A minor who has never experienced sexual function, or orgasm, cannot be informed well enough to know that they wish to give it up for the rest of their life.
This came up during the meeting with Bethin. When the father presented his arguments about the potential for the drugs to cause a permanent loss of sexual function, his daughter, presenting as male, said "I don't care." Bethin seemed to pause at this, as it's an obvious circumstance wherein the child cannot give truly informed consent about something she has not experienced.
Bethin didn't understand what Bowers had said about sexual function, but said that if the 12-year-old goes on puberty blockers, then a few years down the road decides that she is not actually a male, "and you stop the medicine they will totally get female body parts. But if you have them on the medication, and then you go to testosterone, gender-affirming hormone therapy, then they will never have the female curves, and they will never be fertile. That's what Dr. Bowers is saying is that they'll never be fertile."
Bethin disagreed about the side effect of a loss of sexual function, but did say that there would be a loss of fertility. The 12-year-old said that they were not interested in fertility, either. Then she asked the father, "Would you be okay if we did puberty blockers and took it one year at a time?" He said he was not okay with that. Bethin suggested a second opinion, and gave everyone hand-outs on puberty blockers.
Fertility, however, continued to weigh heavily on the girl's mother, who suggested that they seek a the perspective of a psychologist to "double check your decision to not have kids."
"There's too many people in the world," the young girl said.
"Is there a way to preserve anything in that department?" The mother asked Bethin.
"Not at this stage right now," Bethin said, indicating that puberty was an essential component of establishing fertility.
"You'd have to go through menses," the mother confirmed, "which we're trying to avoid."
"You wouldn't have to go as far as menses," Bethin said. "But the ovaries would have to be further developed."
The two were discussing how to harvest the eggs of a 12-year-old girl who believes she's a boy in order to preserve her ability to have children so that when she reaches adulthood, and perhaps changes her mind, she has not found that the course of treatment undertaken when she was 12 had disrupted her ability to ever conceive and bear children as a woman.
"I really see the puberty blockers as harmless, to give somebody time. Because really, if at age 18, he decided," Bethin said, referring to the girl, "'you know what, I am female' and he would get his breasts and he would get development of his ovaries and uterus."
"After six years of being on puberty blockers?" The father asked.
"Oh, sure," Bethin said.
"You can just replace six years immediately coming off puberty blockers?" He asked.
"Well not, it's not immediately, but it happens, I mean I have—"
"I'm sincerely asking you, after six years of puberty blockers?" He asked.
"Yes," Bethin confirmed, "I have had patients at age 2 start puberty—" Bethin said, comparing giving puberty blockers for the purpose of halting precocious puberty, only to discontinue use at such time as the child is ready for puberty, to a 12-year-old taking blockers, then growing into an 18-year-old adult, and trying to jump-start puberty from there.
The father was incredulous, and Bethin continued to compare the 12-year-old to a 2-year-old. "This would be the similar thing is you're pausing puberty and you stop the medication and then you would resume puberty," Bethin said.
Bethin examined the girl's breasts and realized that she is further along into puberty than she had initially thought given the large t-shirt.
"Would you be okay with doing something to stop periods when they start?" Bethin asked.
"No," the father said.
"I mean, there's different ways to stop it," Bethin continued. "One is progesterone pill. Another is like low-dose oral contraceptives that would stop the periods. So it's something to think about, but I'd also like you to really seriously consider the puberty blocker." Bethin said that the girl had already hit developmental stages Tanner 3 or 4.
"Actually, I don't know you could go to a fertility — reproductive endocrinologist to see about the possibility of freezing eggs because he's further along than I thought," Bethin said.
"So can we get a recommendation on that?" The mother asked Bethin before turning to her daughter. "Do you understand what this means?"
"Kind of," she said.
"I know how you feel right now about kids, but I want to protect your life in this way, in case you change your mind," the mother said.
"So yeah," Bethin cut in, recommending a doctor at the Buffalo Infertility and IVF Associates. "She has seen a number of our patients and we've been very happy with how she explains everything."
"Because we want to do that before any birth control or anything like that," the mother asked.
"Yes," Bethin said, before correcting herself. "Although I don't think that if periods started and we started either progesterone or the low, low-dose birth control pills. I don't think it would matter. I actually had a patient who— a male— a female transgender female patient— who started puberty blockers, one injection, and decided to freeze their sperm and so we stopped after one and they were successful with that."
Bethin confirmed that there wasn't "much time," so "let's get going on this."

⬇️ Top Picks for You ⬇️
El Paso, Texas at Breaking Point as Migrants Flood Border, Mayor Says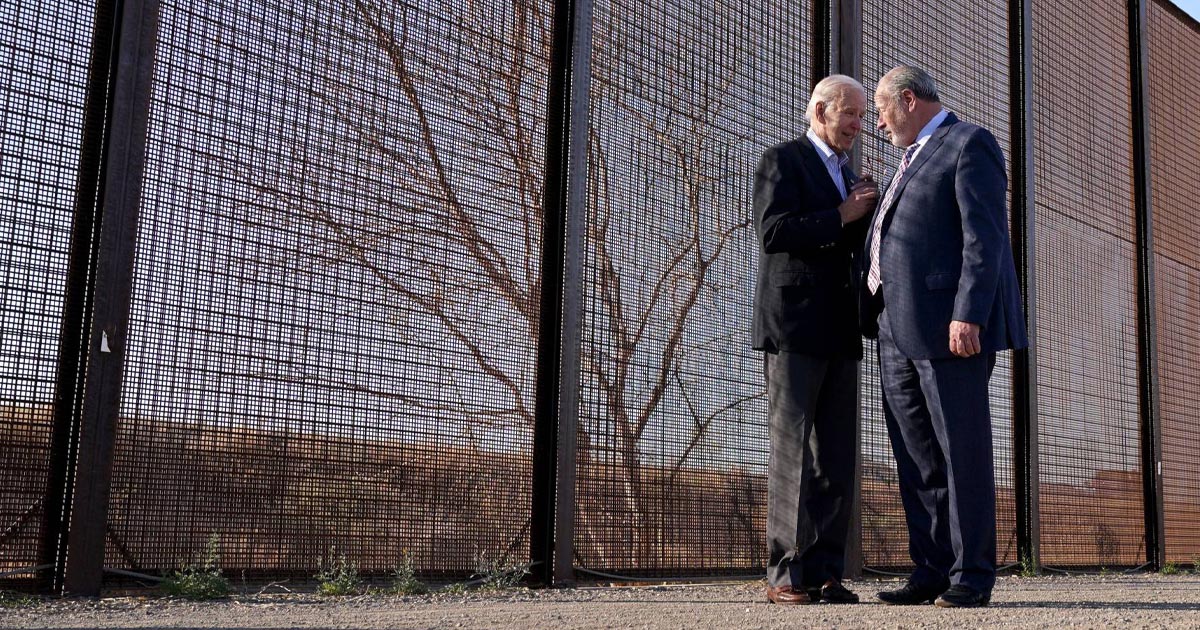 The dramatic increase in illegal migrants crossing the U.S. border from Mexico has pushed the city of El Paso, Texas, to "a breaking point," with more than 2,000 people per day seeking asylum, exceeding shelter capacity and straining resources, its mayor said on Saturday.
"The city of El Paso only has so many resources and we have come to … a breaking point right now," Mayor Oscar Leeser said at a news conference.
The arrival of largely Venezuelan asylum seekers is part of a larger swell of immigrants who traveled dangerous routes on buses and cargo trains to Mexican border towns near San Diego, California, and the Texas cities of El Paso and Eagle Pass.
Lesser said El Paso plans to open a new shelter, and on Saturday chartered five buses to take migrants to New York, Chicago and Denver.
Republican governors in Texas and Florida have been criticized for sending migrants to cities perceived as liberal such as New York and Sacramento. But Leeser, a Democrat, said all of the migrants on the El Paso buses were going voluntarily to the cities of their choice.
Many migrants from Venezuela, he said, lacked transportation to their desired destinations, while El Paso's current shelter houses only 400 people, and must also be available to help the homeless.
As recently as six weeks ago, about 350 to 400 people were crossing into El Paso per day, but the past few days have brought 2,000 or more.
Over the past 10 days, the city has worked with the U.S. Border Patrol to provide shelter for 6,500 people, Leeser said.
About two-thirds of those crossing into El Paso currently are single men, he said. About 32% are families and just 2% are unaccompanied children.
"I think it's really important to note that we have a broken immigration system," he said. "It's the same thing over and over again."
Reassigning agents
Customs and Border Protection announced it was reassigning agents this week in El Paso and Eagle Pass to attend to the latest surge at the cost of shutting down commercial traffic lanes and slowing trade between both countries.
El Paso County Judge Ricardo Samaniego said he's had several conversations in the past week with top officials of Homeland Security to prepare for the latest wave.
"We expected this increase in the fall, so we're not surprised," Samaniego said. "As long as you don't have immigration reform, we will see these spikes. We're doing everything we can to meet the needs with a humanitarian approach, not as a crisis, but as a challenge that El Paso, our border community, is prepared to meet."
Samaniego said Congress has unwittingly outsourced a broken immigration system to organized crime, resulting in a boom industry for smugglers who are increasingly more involved in the lucrative movement of migrants headed for the U.S.
In a statement, Landon Hutchens, a public affairs officer with the U.S. Customs and Border Protection, said: "CBP is aware of reports that criminal organizations in the [El Paso and Juárez] areas are spreading falsehoods and putting migrants' lives at risk for their own financial gain. These rumors are absolutely false and yet another dangerous example of bad actors sharing bad information. The border is not open to illegal migration."
One U.S. official based in Mexico estimated the human smuggling industry at "well over" $7.5 billion annually — so lucrative that the goal of criminal groups is to gain "total control" of the business. That is a dramatic increase from the $6.6 billion estimate from a 2008 study by the United Nations examining human smuggling from Latin America to the U.S.
Oscar Hagelsieb, a former assistant special agent in charge of the U.S. Homeland Security Investigations unit in El Paso and most recently in Ciudad Juárez, explained: "You need some sort of collateral, because when that shipment of meth or fentanyl gets confiscated, it's gone.
"With humans," he said, "you just try again, or you use them for other illicit purposes like extortions." That approach includes kidnapping migrants and calling relatives either in Latin America or the U.S. and demanding ransom.
New technology to detect fentanyl also plays a role in decisions by criminal groups, said Hagelsieb, president of Hagelsieb Strategic Investigations, a security consultant firm in El Paso.
For instance, as of Sept. 1, vehicles now drive through a scanning machine known as a "low-energy portal," which creates black-and-white resonance images. Inspectors once referred only a handful of vehicles for cargo screening — using powerful scanning equipment — to check for illegal drugs.
"Any action on our side is met with a response" on the part of Mexican criminal organizations, said Hagelsieb.
Shootouts in recent weeks
One Chihuahua state official pointed to incidents over the summer involving the Hotel San Miguel, popular with migrants. Shootouts have been reported in recent weeks as rival cartel groups fight over migrants. In one incident, a criminal group had just brought some migrants to the hotel. Shortly afterward, a rival group showed up and took the migrants away, leading to gun fights across the city.
"These are criminal groups who are fighting [over] the sale of illicit drugs and migrant routes," said César Omar Muñoz Morales, Juárez's police chief.
The Juárez Cartel has long been the dominant criminal group in this border city, using the major corridor for smuggling of illicit drugs and now humans. Their enforcement unit, known as La Linea, has often forged alliances with local gangs like Barrio Azteca, Mexicles and Artists Assassins. Their key rival is the Sinaloa Cartel.
In August, there were more than 110 homicides in Juárez, the kind of violence not seen since the late 2000s, when Juárez was dubbed one of the most dangerous cities in the world. In one day alone, Aug. 14, 15 people were killed. The day was dubbed "Black Monday."
"These numbers are high," said Molly Molloy, a retired librarian and Latin American specialist at New Mexico State University who has tracked the homicide rate in Juárez for years. "They are not the highest ever seen in Juárez by a long shot, but any day with 15 homicides is a pretty bad day."
The city is poised to surpass 1,000 homicides this year, meaning the rate would be "about 72 murders per 100,000. That is higher" than most U.S. cities, she said, citing statistics from the U.S. Census Bureau and Uniform Crime Reports provided by the FBI.
The Mexican National Guard said an estimated 3,000 troops have been deployed to this city.
Nightly, hundreds of migrants arrive on top of trains in Juarez and communities like Piedras Negras, across the border from Eagle Pass. Recently, outside Gomez Palacio, Durango, a train packed with migrants was seen plowing toward Ciudad Juárez.
This week, Mexican railroad train company Ferromex announced it was temporarily suspending 60 train routes headed for border states, citing the "rising risk" of injured migrants and deaths resulting from riding atop their trains and falling.