California Gov. Gavin Newsom has a free hand to decide who he chooses to appoint to succeed the late Sen. Dianne Feinstein in the Senate – but he is hemmed in by his own pledges and complex political constraints.
Feinstein, who died Thursday at 90, has been a force in California politics and her hometown of San Francisco for decades. Now it is up to Newsom to decide who will succeed her until an election will be held in November 2024.
He has already been direct about who he will designate: a black woman. Vice President Kamala Harris is one of just two black women to serve in the Senate during its history, and Newsom said flat-out that in the event of a vacancy, he would name another one.
'I have multiple names in mind. We have multiple names in mind — and the answer is yes,' he told MSNBC host Joy Reid in March, when asked if he would nominate a black woman.
There are multiple black women in California politics to choose from. One of them, Rep. Barbara Lee, is already running for the seat, complicating matters.
Others include Los Angeles Mayor Karen Bass, another former member of Congress. She was elected to the post only last year.
Additional names floated as Feinstein battled health problems and missed votes include Secretary of State Shirley Weber, L.A. County Supervisor Holly Mitchell, and San Francisco Mayor London Breed, Politico reported in May.
Selecting Lee might invite charges of giving her an unfair advantage in the hotly contested primary. That would give her the chance to run in 2024 as an incumbent, a substantial leg up in a heavily Democratic state.
Newsom said as much on NBC's 'Meet the Press' a few weeks ago.
'It would be completely unfair to the Democrats that have worked their tail off,' he said. 'That primary is just a matter of months away. I don't want to tip the balance of that.'
An L.A. Times / Berkeley IGS poll this week had California Rep. Adam Schiff leading the field with 20 per cent. Schiff, a former House impeachment manager, was followed by Rep. Katie Porter at 17 per cent and Lee at 7 per cent.
One state political consultant, Michael Trujillo, floated the idea of Newsom appointing Weber, then reappointing her to her secretary of state post later.
Schiff is an ally of House Speaker Nancy Pelosi, 83, who surprised politicos in both parties by announcing she would seek reelection next year. She currently carries the title Speaker Emerita, but continues to hold sway in her party and is an effective fundraiser.
Newsom appointed Sen. Alex Padilla when Harris was elected to the vice presidency in 2020. Padilla became state's first latino represented in the Senate.
The longtime Democratic senator had suffered from health issues in the past year, including a case of shingles that kept her away from the Senate for a month. She also fell at her San Francisco home in August and was briefly hospitalized.
Feinstein stayed in her Senate seat despite pressure to resign due to her health. She used a wheelchair in the Senate and aides had been seen directing her how to vote.
She was the fifth-oldest person to serve in the Senate.
Newom is a gathering force inside his own party. The Biden campaign dispatched him to Simi Valley this week as a counter spokesman for the Republican presidential debate.
He is set to debate Florida Gov. Ron DeSantis next month on Fox News host Sean Hannity's program. He has also repeatedly denied his own interest in running for the White House, amid polling problems for Biden, 80, and concerns by insiders that public perceptions of his age and vitality could harm his chances.
Newsom in a statement Friday called Feinstein a 'political giant' who 'broke down barriers and glass ceilings.'
He called her a 'powerful, trailblazing US senator' and a 'leader in times of tragedy and chaos.'
In words underlining the challenging of choosing someone to succeed her, he said 'there is simply nobody who possessed the poise, gravitas, and fierceness of Dianne Feinstein.'

⬇️ Top Picks for You ⬇️
Biden Got Recurring $1,380 Payment from Hunter's Firm Starting in 2018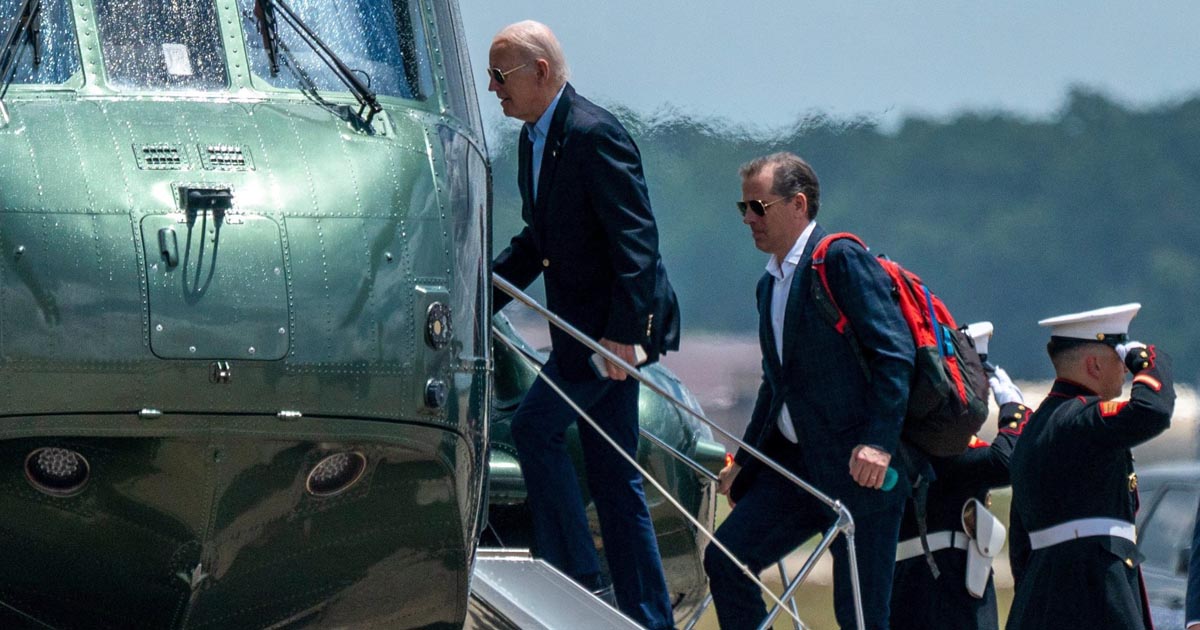 President Biden received a recurring payment of $1,380 from his son Hunter's law firm beginning in late 2018 shortly after a bank money laundering officer warned that the same account was receiving millions of dollars in Chinese government-linked funds without "any services rendered."
A bank order shows that Owasco PC set up a "monthly" transfer to then-former Vice President Joseph R. Biden Jr., with a voided check for the future president included in the documentation, which was released Monday by the House Oversight Committee.
A source told The Post that at least three recurring payments were made — on Sept. 17, Oct. 15 and Nov. 15, 2018 — totaling $4,140 to the elder Biden from Owasco PC, according to the bank records of the firm.
"President Biden and his family must be held accountable for this blatant corruption," Oversight Committee Chairman James Comer (R-Ky.) said in a video release.
"Today, the House Oversight Committee is releasing subpoenaed bank records that show Hunter Biden's business entity, Owasco PC, made direct monthly payments to Joe Biden. This wasn't a payment from Hunter Biden's personal account but an account for his corporation that received payments from China and other shady corners of the world," Comer said.
"At this moment, Hunter Biden is under an investigation by the Department of Justice for using Owasco PC for tax evasion and other serious crimes. And based on whistleblower testimony, we know the Justice Department made a concerted effort to prevent investigators from asking questions about Joe Biden. I wonder why?"
Earlier that year, a January 2019 email from assistant Katie Dodge to Hunter Biden annotated various expenses including "Ford Raptor — Reimbursement to JRB — $1380."
The provenance of the funds is unclear, however, and additional records show that Hunter Biden was knee-deep in two of his most controversial business relationships at the time, with Ukraine's Burisma Holdings and CEFC China Energy.
The evidence emerged as House Republicans prepare to question first brother James Biden on Wednesday and Hunter next week about the president's role in his family's dealings in countries such as China and Ukraine — with a possible floor vote to authorize the ongoing impeachment inquiry this month.
While a presidential candidate, Joe Biden denied that he ever discussed business with his relatives, but evidence has since shown that he met with his relatives' associates from both the Burisma and CEFC ventures.
Documents from the first son's abandoned laptop show that Burisma board adviser Vadym Pozharskyi sought "bank reference" information on Sept. 14, 2018 — one day before the initial transfer to Joe Biden was sought. However, the transaction was not executed for another two days, apparently due to a later-than-expected form submission.
Joe Biden met Pozharskyi at an April 17, 2015, dinner at DC's Café Milano. An unproven FBI informant tip said that Burisma owner Mykola Zlochevsky claimed in 2016 he was "coerced" into paying $10 million in bribes to the Bidens for their assistance in ousting prosecutor Viktor Shokin.
Hunter also was on the tail end of disbursing millions of dollars received from CEFC China Energy — one of two major Biden family dealings with Chinese government-linked firms.
On June 26, 2018 — less than three months before Joe Biden began to receive the monthly transfers — an internal Bank Secrecy Act expert warned colleagues that the institution should reconsider its relationship with Hunter as a result of Owasco PC seeming to receive Chinese funds without "any services rendered."
CEFC transferred $5 million to another Biden family-linked entity, Hudson West III, in August 2017 after Hunter warned a China-based associate of his father's wrath if a business deal was aborted. Much of the large transfer later went to Hunter's Owasco PC.
Prior bank records released by the Oversight Committee indicate that Joe Biden received payments of $40,000 and $200,000 from his brother James, who also was involved in the CEFC venture and other foreign-focused enterprises.
Comer alleged that the $40,000 transferred to Joe Biden's bank account on Sept 3, 2017, was from "laundered" Chinese funds.
James Biden paid Joe Biden $200,000 on March 1, 2018 — the same day that James received a $200,000 transfer from troubled rural hospital company Americore after pledging to use his political connections to secure a Middle Eastern investor, according to bankruptcy filings.
The White House says there's evidence that both transfers were loan repayments, but Republicans argue they have not seen loan agreement documents and note that the funds distributed to James came from a law firm, rather than Joe Biden himself, further clouding the picture.