Philadelphia Flyers defenseman Ivan Provorov faced backlash for his decision to boycott the organization's Pride night to support the LGBTQ+ community.
Provorov didn't participate in pregame warmups when the team wore Pride-themed jerseys and used sticks wrapped in rainbow Pride tape. He cited his Russian Orthodox religion as the reason why he didn't participate. He eventually played in the game against the Anaheim Ducks.
"I respect everybody and I respect everybody's choices," he told reporters after the game. "My choice is to stay true to myself and my religion. That's all I'm going to say."
The Russia native, who is in his seventh season with the Flyers, received backlash on social media for the boycott.
But Provorov obviously does not respect "everyone". If he did respect everyone, he would have taken part in warm-up and worn the Pride Night jersey. Don't hide behind religion. https://t.co/Qk6dTgAnmP

— Pierre LeBrun (@PierreVLeBrun) January 18, 2023
https://twitter.com/GMillerTSN/status/1615587936145137665?ref_src=twsrc%5Etfw%7Ctwcamp%5Etweetembed%7Ctwterm%5E1615587936145137665%7Ctwgr%5E90dde5d84dd3c6f3c6eadbd1d7bd2db5c5d2e754%7Ctwcon%5Es1_c10&ref_url=https%3A%2F%2Fwww.foxnews.com%2Fsports%2Fflyers-ivan-provorov-labeled-homophobic-faces-backlash-boycotting-teams-pride-fetivities
Being LGBT+ is not a "choice." Being ignorant, obnoxious, and homophobic is a choice.

Ivan Provorov wasn't wearing uniform tonight and the @NHLFlyers should not have let him play. Stop letting bigots hide behind their cherry-picked religion. Do better. https://t.co/WTnqibGsXj

— Rachael Millanta (@rachaelmillanta) January 18, 2023
Of course, Ivan Provorov is more than happy to play pregame dress-up when it does align with his belief system. pic.twitter.com/rOG0uoCsf4

— Greg Wyshynski (@wyshynski) January 18, 2023
https://twitter.com/ArielleOrsuto/status/1615572328058089472?ref_src=twsrc%5Etfw%7Ctwcamp%5Etweetembed%7Ctwterm%5E1615572328058089472%7Ctwgr%5E90dde5d84dd3c6f3c6eadbd1d7bd2db5c5d2e754%7Ctwcon%5Es1_c10&ref_url=https%3A%2F%2Fwww.foxnews.com%2Fsports%2Fflyers-ivan-provorov-labeled-homophobic-faces-backlash-boycotting-teams-pride-fetivities
Flyers coach John Tortorella explained the situation after the game.
"I think the organization has sent out a release regarding the beliefs that we have," he said, via Philly Hockey Now. "It was really a great night. With Provy, he is being true to himself and to his religion. This has to do with his beliefs and his religion. That is one thing I respect about Provy, he is always true to himself, so that's where we're at with that."
Tortorella thought it would be "unfair" to bench him for his beliefs.
"I just think it's unfair. I know you are probably going to talk to Provy," he said. "I'm not going to spend a lot of time on it. I think it was a great night, and I'm not going to get too deep into the conversation."
The Flyers didn't mention Provorov's beliefs in their statement.
"The Philadelphia Flyers organization is committed to inclusivity and is proud to support the LGBTQ+ community," the team said. "Many of our players are active in their support of local LGBTQ+ organizations, and we were proud to host out annual Pride Night again this year. The Flyers will continue to be strong advocates for inclusivity and the LGBTQ+ community."
The NHL has come under fire in recent weeks. Florida Gov. Ron DeSantis scolded the organization for alleged discrimination when it promoted a job fair that only allowed certain groups of people to attend.
The league also had to push back on criticism from social media for hosting a transgender and nonbinary hockey tournament.

⬇️ Top Picks for You ⬇️
Biden Dog Bites Another Secret Service Agent; 11th Incident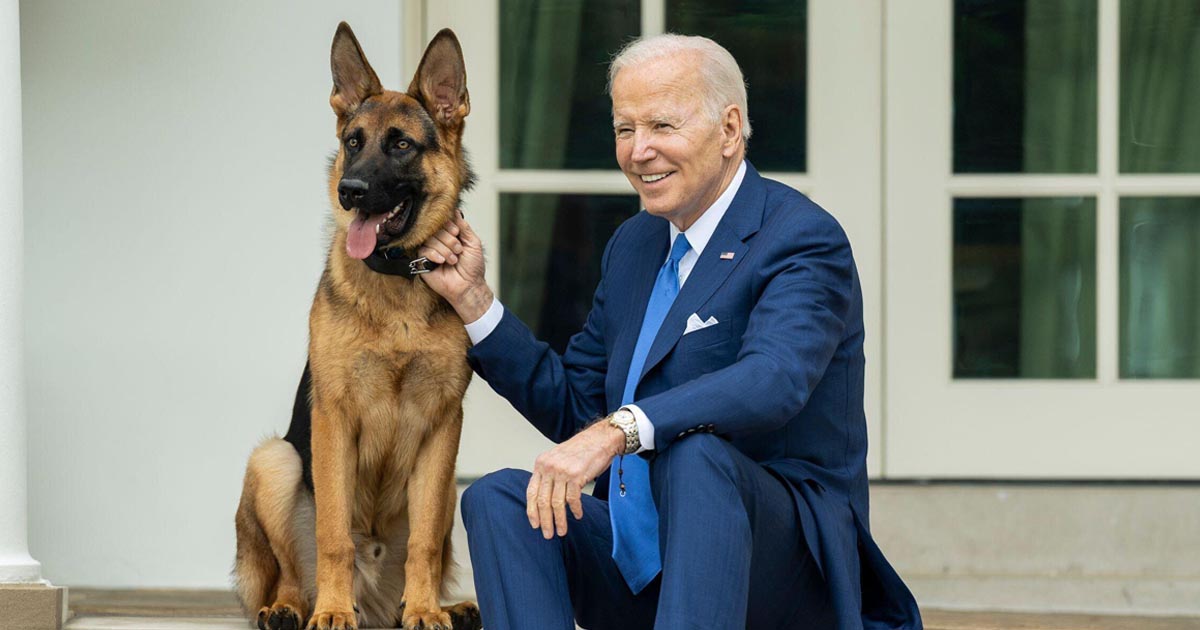 President Joe Biden's younger dog, Commander, bit another US Secret Service agent at the White House Monday evening, CNN has learned, the 11th known biting incident involving the 2-year-old German Shepherd.
"Yesterday around 8 p.m., a Secret Service Uniformed Division police officer came in contact with a First Family pet and was bitten. The officer was treated by medical personnel on complex," USSS chief of communications Anthony Guglielmi told CNN in a statement.
The injured officer spoke with Secret Service Uniformed Division Chief Alfonso M. Dyson Sr. on Tuesday and is doing OK, Guglielmi said.
Commander has been involved in at least 11 biting incidents at the White House and in Delaware, according to CNN reporting and US Secret Service email correspondence, including a November 2022 incident where an officer was hospitalized after the dog clamped down on their arms and thighs.
White House officials said in July that the Bidens were working through new training and leashing protocols for the family pet following the incidents.
Asked by CNN whether the new training had taken place or if any further action would be sought, Elizabeth Alexander, communications director for the first lady, said in a statement that "the First Family continues to work on ways to help Commander handle the often unpredictable nature of the White House grounds."
"The President and First Lady are incredibly grateful to the Secret Service and Executive Residence staff for all they do to keep them, their family, and the country safe," she continued.
Another of Biden's dogs, Major, was involved in biting incidents at the White House. The German Shepherd later moved out of the White House, and Commander arrived at the White House in 2021.
The July email correspondence, obtained through Freedom of Information Act requests by the conservative group Judicial Watch, reflected 10 incidents.
In one incident in October, first lady Dr. Jill Biden "couldn't regain control" of the dog as it charged a member of Secret Service staff.
"I believe it's only a matter of time before an agent/officer is attacked or bit," the staff member warned in an email.
While Secret Service agents are not responsible for the handling of the first family's pets, they can come into frequent contact with the animals.
"This isn't a Secret Service thing. This is a this is a workplace safety issue," CNN contributor and former USSS agent Jonathan Wackrow told CNN.
"There's uniqueness here where it's the residence of the president of the United States, but it's also the workplace for hundreds, thousands of people. And you can't bring a hazard into the workplace. And that's what is essentially happening with this dog. One time you can say it's an accident, but now multiple incidents, it's a serious issue," he added.
Wackrow called it a "significant hazard" for agents on duty at the White House residence.
"I'm sure that the Bidens love the dog. I'm sure that it's a member of the family like every dog is, but you're creating a significant hazard to those who support you – support the office of the president," he said.