A Florida couple has had their wedding upended after an Orange County hotel — set to take in migrants from New York City — abruptly canceled the rooms she booked for her guests, she told The Post.
"We felt discarded, disappointed and angry that they just tossed us aside to make an extra dollar for the hotel. It's just not right," Deanna Mifsud, 35, fumed.
Mifsud and Gary Moretti, 37, are both originally from New York, and plan to marry June 24 at Lippincott Manor in upstate Walkill, with 160 guests from throughout the country expected to attend, she said.
For the big day, the couple's guests had a total of 30 rooms booked at The Crossroads Hotel in Newburgh, about 20 minutes from their venue.
The newlyweds, along with 10 bridesmaids, five groomsmen and guests from California, Florida, Arizona, Minnesota, Connecticut, New Jersey, Long Island and Westchester had all planned to stay at the hotel, and the couple had paid for transportation to and from the party.
"We signed a contract. We had a legal contract to have those rooms," Moretti said.
"We just wanted everybody to be safe and have a good time."
But everything was upended when they learned the Crossroads was set to accept migrants from NYC, who are being bused to hotels in Westchester and the Hudson Valley as the city struggles to deal with the influx of immigrants pouring over the border.
So they called the hotel and learned their reservation had been tossed aside. The hotel told them to call Choice Management, which oversees the facility.
"We were on hold for 45-plus minutes and were ultimately told, 'We can't do anything for you, bye bye,' and we were hung up on," Mifsud recalled, adding only one guest had gotten notice of the cancellation.
"Some people have cancelled already," she said.
"It's bittersweet.
"It puts a damper on it because we'd love for those people to come."
The Crossroads is one of several hotels believed to have booted nearly two dozen homeless veterans in favor of incoming migrants — which which it's believed the hotels rake in as much as $190 a night.
"It's complete chaos. We do not feel like they are housing the migrants out of the kindness of their heart. It's just for the money. That's how we feel," said Mifsud, who along with Moretti is now scrambling to find new accommodations for those who can still make it to their big day.
It's at least the second set of soon-to-be newlyweds whose wedding has been thrown into chaos by the migrant crisis.
A Queens couple claimed the 37 rooms they booked months in advance at the Crossroads Hotel for guests of their May 20 wedding were also suddenly canceled.
"What we feel right now is, we feel very cast aside," groom-to-be Sean Plunkett told CBS.
A spokesman for Choice Hotels, the brand under which the Crossroads operates, said, "All affected guests will be contacted for assistance with rebooking their upcoming reservations."

⬇️ Top Picks for You ⬇️
Republicans Launch Contempt Process Against FBI Director After Viewing Biden 'Bribery' Document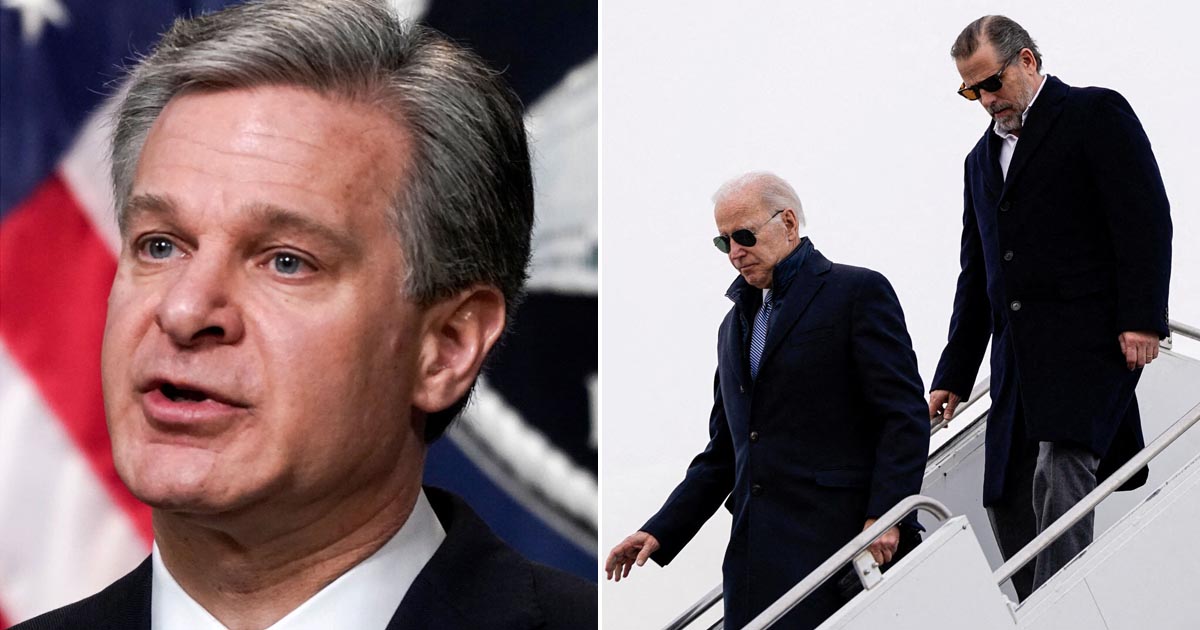 House Republicans are officially starting contempt of Congress charges against FBI Director Chris Wray for failing to turn over Biden 'bribery' document they claim shows then-Vice President Joe Biden was involved in a $5 million 'criminal' scheme with a foreign national.
The escalation comes after the Republican and Democratic leaders of the House Oversight Committee were granted access by the FBI Monday to view the FD-1023 form in a secure facility within the Capitol. The document apparently details an 'arrangement' for an exchange of money for policy decisions.
The Republicans issued a subpoena for the FD-1023 form last month and FBI Director Chris Wray was given a hard deadline of May 30 to hand over the unclassified document, which he did not comply with.
After reviewing the document Monday, Comer told reporters the accusations contained in the form 'suggests a pattern of bribery' consistent with findings the committee has put out publicly.
It's called 'money laundering,' he said, saying it fits within the pattern of over $1 million in Romanian-linked payments to the Biden family revealed last month.
In early May, Republicans released a report digging in on over $10 million received by Biden family members from foreign actors, including previously undisclosed $1 million in Romanian-linked payments, and a 'web' of 20 companies created while President Joe Biden was vice president and pushing anti-corruption efforts abroad.
He also said the FBI record was 'not disproven' and is currently being used in an ongoing investigation that is being conducted by the Department of Justice in Delaware into Hunter Biden's finances.
The 'confidential human source' is a 'trusted, highly credible informant' who has been used by the FBI for over 10 years and has been paid over six figures, continued Comer.
The chairman added that contempt proceedings will begin this Thursday.
'At the briefing, the FBI again refused to hand over the unclassified record to the custody of the House Oversight Committee, and we will now initiate contempt of Congress hearings this Thursday.'
Last week, Comer and Sen. Chuck Grassley, R-Iowa, spoke with Wray by phone and the FBI director offered to let them and Ranking Member Rep. Jamie Raskin, D-Md., view the documents at the FBI headquarters in an attempt to stave off the contempt threat.
'During today's call, Director Wray offered to provide the Committee's Chairman and Ranking Member an opportunity to review information responsive to the subpoena in a secure manner to accommodate the committee, while protecting the confidentiality and safety of sources and important investigative sensitivities,' said the FBI in a statement.
'The FBI has continually demonstrated its commitment to working with the Committee to accommodate its request, from scheduling briefings and calls to now allowing the Chair to review information in person. The FBI remains committed to cooperating with the Committee in good faith.'
Comer also informed Wray that he was also narrowing the breadth of the subpoena for the document by providing two additional terms that may be referenced in the record: 'June 30, 2020' and 'five million.'
Raskin blasted the Republicans' handling of the document in a reporter gaggle following Monday's briefing, calling it 'second-hand hearsay.'
He said former U.S. Attorney Scott Brady for the Western District of Pennsylvania and then-Attorney General Bill Barr did not find any reason to escalate the investigation into all 'allegations related to Ukraine' based on the FD-1023 form.
'I am just surprised that my colleagues want to try to litigate this in public, much less hold the Director of the Federal Bureau of Investigation in contempt for complying with the request when there was a whole process that was undertaken, and that process came to its natural end as I understand it,' Raskin said.
He would not directly confirm that the foreign national alleged in the memo being sought by Republicans is from Ukraine.
Raskin did agree with his Republican colleagues that the whistleblower is considered 'credible.'
The White House has also pushed back, calling the Republican-led investigation 'unfounded' and 'politically motivated.'