Mayor Eric Adams' New York City forced all of its employees into a radical critical race theory-inspired training, according to a copy of the training reviewed by Fox News Digital.
The "mandatory" training was sent to all New York City employees with a March 6 deadline. "The training provides all NYC employees with a framework to understand… the importance of racial equity… in the workplace," the email said.
The controversial lens expressed in the training is called critical race theory, which holds that America is and was always structurally racist; CRT adds that the U.S. was designed from its start to systematically oppress minority groups in order to uphold systems of power for the dominant culture or White racial group. CRT also maintains an oppressor versus oppressed lens of society and classifies people into groups based on supposed "privilege."
A source familiar with the "racial equity" training told Fox News Digital, "Where they were discussing equity, how we have to look at people through a particular lens, that contradicted… [the idea that] we should treat everybody equally."
"I do not agree with what they want us to do as city employees. The [racial equity training] leads me to believe that they want the contracts with the city and the hiring from the city being looked at through this lens. And that's what I think is really unfair. It goes against their [stated claims]… that everybody should be treated equally."
The training said that there was no scientific basis to race, and that it was invented to create a system of "exclusion and oppression."
"Race has no genetic or scientific basis. It is a social construct created to classify people on the arbitrary basis of skin color and other physical features," it said. "Despite this, race has a very real impact on people's lives. This is because our society has used race to establish and justify systems of power, privilege, exclusion and oppression."
The training said there were two other types of racism besides for "individual racism."
"Institutional racism: policies, practices, patterns and structures within public and private institutions that impose oppressive or otherwise negative conditions on identifiable groups on the basis of race or ethnicity," it stated. "Structural racism/Systematic racism: Racism that occurs across multiple institutions and is integrated into politics, culture and other aspects of life. Creating a system that negatively impacts communities of color compared to White communities."
It also said all New York City workplaces should maintain an "equity lens" by implementing "antiracism training" in their workforces, creating "safe spaces" where race can be regularly discussed, and address "unconscious bias" which may be causing a racist work environment.
"To foster equity. Embrace the idea that a problem may exist. Become aware of systematic racism and the possible presence of racial inequity in your workplace," the training stated. "Understand the dominant cultural patterns of your workplace and whether they are hurting or helping your diversity, equity and inclusion goals."
The training continued, "Be Conscious. Unconscious Bias. Implicit bias occurs when our brains make quick judgments and assess people and situations without us consciously knowing or realizing it. These biases are pervasive and employees often possess them unintentionally."

⬇️ Top Picks for You ⬇️
Trump Suggests Manhattan DA Bragg 'Dropped' Case Against Him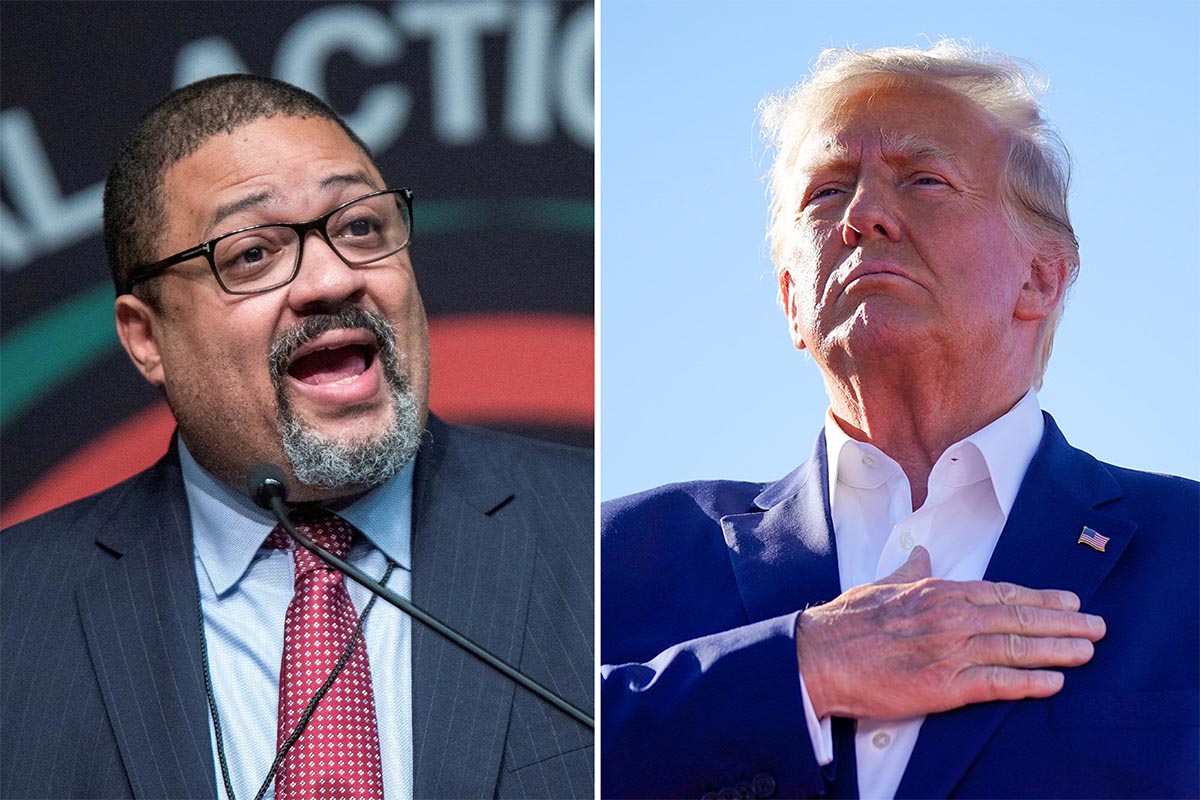 Former President Donald Trump is now suggesting Manhattan District Attorney Alvin Bragg may have dropped his case against him, about a week after he claimed he would be arrested.
After a rally in Waco, Texas, on Saturday, Trump told reporters on his plane, "I think they've already dropped the case … they have absolutely nothing." Trump did not provide evidence for his assertion Saturday.
"It's a fake case. Some fake cases, they have absolutely nothing," the former president said. Trump also reiterated his criticism of Michael Cohen, a former Trump lawyer who has testified against him in the Manhattan grand jury case and previously served time in federal prison on tax fraud and other charges.
Trump also denied mainstream media reports that suggested he was trying to incite violence with his Truth Social posts that criticized Bragg's investigation: "No, I don't like violence and I'm not for violence. But a lot of people are upset."
On Truth Social, the former president made a similar statement regarding his belief Bragg's case is "DEAD." He wrote that the "Witch Hunt against me is DEAD, no evidence at all, & it has been conclusively proven that I did nothing wrong." He dismissed Cohen as a "disbarred lawyer & convicted Felon."
Last week, an attorney in Trump's circle, Robert Costello, told media outlets that he testified before the grand jury and sought to denigrate Cohen's testimony against the 45th president in the investigation, which reportedly is connected to so-called hush money payments that were given to adult performer Stormy Daniels during the 2016 presidential campaign. A lawyer for Cohen, when reached for comment, declined to issue a statement, although Cohen told MSNBC last week that Costello never represented him and disputed his testimony.
Bragg's has not returned a request for comment, and The Epoch Times cannot verify the authenticity of Trump's claims. Previous Epoch Times requests for comment from the DA's office have gone unanswered.
Over the past week, Bragg's office has issued one public statement on the case, and that came in response to a House Republican letter seeking testimony and information about the DA's case or whether his office would arrest Trump. A letter sent by his general counsel said that it was Trump who created a "false expectation" he would be indicted last week, although he provided no other details.
Responding to the House GOP's letter, Bragg's counsel wrote that it "only came after Donald Trump created a false expectation that he would be arrested the next day, and his lawyers reportedly urged you to intervene. Neither fact is a legitimate basis for congressional inquiry."
During the Waco rally, Trump declared that his "enemies are desperate to stop us" and that "our opponents have done everything they can to crush our spirit and to break our will," and that the Manhattan district attorney was investigating him "for something that is not a crime, not a misdemeanor, not an affair."
He added: "But they failed. They've only made us stronger. And 2024 is the final battle, it's going to be the big one. You put me back in the White House, their reign will be over and America will be a free nation once again."
Trump did not make any direct references in his speech to Waco's history, telling the crowd of thousands that he told Lt. Gov Dan Patrick he wanted to hold his rally in a place with overwhelming support, not "one of those 50-50 areas," and said he told Texas officials, "Let's go right into the heart of it."
At several points, Trump criticized Florida Gov. Ron DeSantis, who, despite not announcing it, has long been expected to run for president in 2024 and is seen as Trump's strongest potential challenger for the GOP nomination. Trump called his onetime ally disloyal and said he was "dropping like a rock" in the polls.
In addition to the Manhattan case, Trump is also facing an investigation in Georgia as well as federal investigations into his handling of allegedly classified documents and possible obstruction, as well as statements he made on Jan. 6, 2021. The former president has denied wrongdoing in those instances.