The Environmental Protection Agency (EPA) has written the Norfolk Southern Railway describing the chemicals found at the site of a Feb. 3 train derailment and controlled burn in East Palestine, Ohio, that some local residents have linked to sickness or death among animals.
The Feb. 10 letter from the EPA to Norfolk Southern notes "multiple rail cars and tankers were observed derailed, breached, and/or on fire."
Coverage of the incident has mainly stressed the presence of vinyl chloride, a chemical used to make PVC pipes and other products. The National Cancer Institute notes that vinyl chloride has been linked to cancers of the brain, lungs, blood, lymphatic system, and, in particular, the liver.
Yet, the EPA's letter mentions other potentially hazardous chemicals in those derailed tankers.
Specifically, it notes the presence of ethylene glycol monobutyl ether, ethylhexyl acrylate, isobutylene, and butyl acrylate.
The National Oceanic and Atmospheric Administration's online chemical database notes that the chemical solvent ethylene glycol monobutyl ether "can cause serious or permanent injury."
"Ingestion or skin contact causes headache, nausea, vomiting, dizziness," the website states regarding the chemical, which is found in many household products.
The same chemical database notes that 2-ethylhexyl acrylate, which is used to make paints and plastics for things like contact lenses, "can cause significant irritation" and may be explosive at high temperatures.
It states that isobutylene, a liquified gas used to make aviation fuel, can incapacitate and, in some circumstances, asphyxiate those exposed to it.
Butyl acrylate, meanwhile, is described in that database as potentially a source of serious or permanent injury and a relatively unstable substance. It is used in making things like paints, sealants, and adhesives.
The Epoch Times has asked the EPA for more detail on the potential environmental and human health risks posed by the chemicals involved in the derailment.
"Norfolk Southern received the EPA's letter and we have confirmed to them that we have and will continue to perform or finance environmental monitoring and remediation. Our hazmat team was in East Palestine within an hour of the incident, and the response continues today in close coordination with the Ohio and U.S. EPA, NTSB [National Transportation and Safety Board], and other federal, state, and local agencies," a spokesperson for Norfolk Southern told The Epoch Times in a Feb. 13 email.
The spokesperson directed The Epoch Times to the NTSB for any comments on the causes of the crash.
The latest details from that agency came Feb. 6, through an announcement that it had launched an investigation into the derailment.
"Additional information will be issued when available," the NTSB told The Epoch Times in a Feb. 13 email.
While some online influencers have said Norfolk Southern paid only $25,000 to the town of East Palestine, the company's spokesperson said that sum was just an initial donation to the Red Cross to establish a shelter at East Palestine High School.
"In total, more than $1 million has been distributed directly to families to cover costs related to the evacuation," a Feb. 13 press release from the company states.
EPA's letter describes Norfolk Southern as potentially liable under the federal government's Superfund law.
It wouldn't be the first Norfolk Southern derailment site to end up under that regime.
One derailment in Decatur, Alabama, involved the contaminant hydrofluoric acid, a chemical that can be deadly if inhaled in large quantities.
The EPA's letter states that "materials related to the incident" were seen flowing into storm drains.
Chemicals released during the event have also been detected in various local waterways, including the Ohio River, according to the letter.
The Ohio River watershed is home to 25 million people and spans parts of 14 states. The river ultimately empties into the Mississippi River.
West Virginia American Water has not detected any changes to water in portions of the Ohio River that it monitors, as reported by WCHS.

⬇️ Top Picks for You ⬇️
Trump Suggests Manhattan DA Bragg 'Dropped' Case Against Him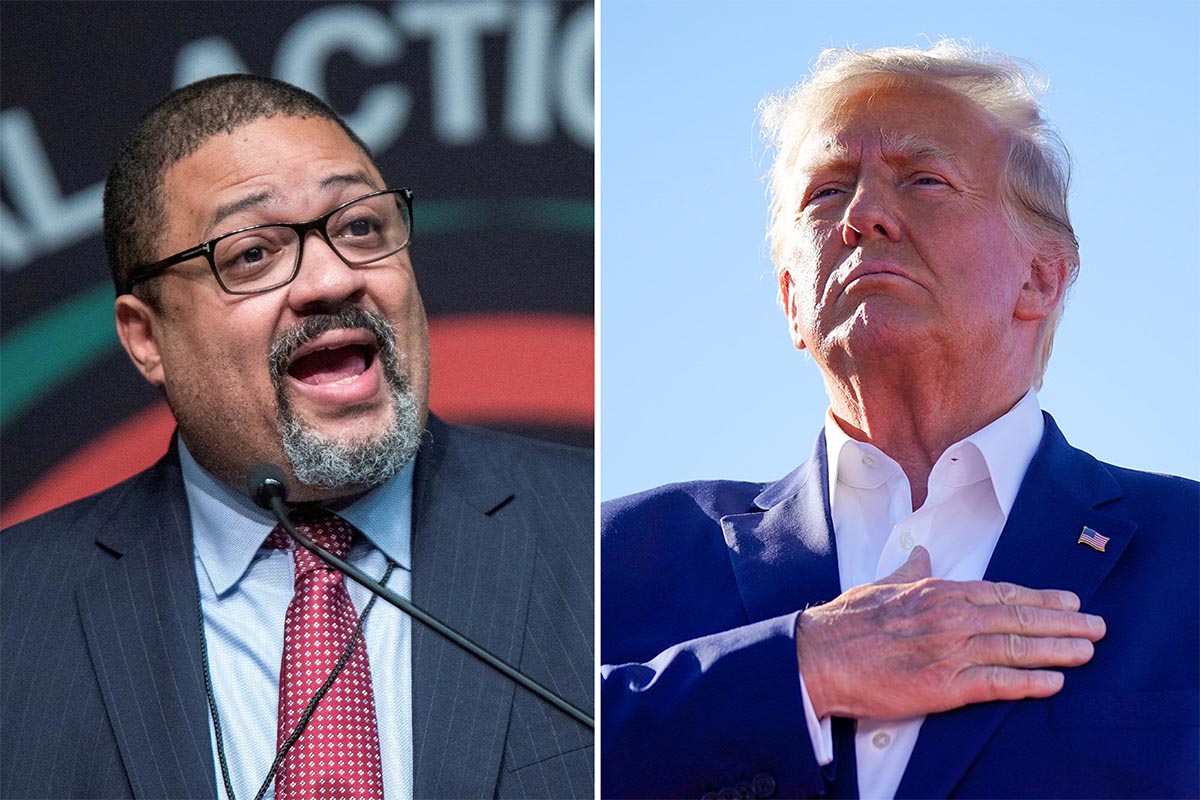 Former President Donald Trump is now suggesting Manhattan District Attorney Alvin Bragg may have dropped his case against him, about a week after he claimed he would be arrested.
After a rally in Waco, Texas, on Saturday, Trump told reporters on his plane, "I think they've already dropped the case … they have absolutely nothing." Trump did not provide evidence for his assertion Saturday.
"It's a fake case. Some fake cases, they have absolutely nothing," the former president said. Trump also reiterated his criticism of Michael Cohen, a former Trump lawyer who has testified against him in the Manhattan grand jury case and previously served time in federal prison on tax fraud and other charges.
Trump also denied mainstream media reports that suggested he was trying to incite violence with his Truth Social posts that criticized Bragg's investigation: "No, I don't like violence and I'm not for violence. But a lot of people are upset."
On Truth Social, the former president made a similar statement regarding his belief Bragg's case is "DEAD." He wrote that the "Witch Hunt against me is DEAD, no evidence at all, & it has been conclusively proven that I did nothing wrong." He dismissed Cohen as a "disbarred lawyer & convicted Felon."
Last week, an attorney in Trump's circle, Robert Costello, told media outlets that he testified before the grand jury and sought to denigrate Cohen's testimony against the 45th president in the investigation, which reportedly is connected to so-called hush money payments that were given to adult performer Stormy Daniels during the 2016 presidential campaign. A lawyer for Cohen, when reached for comment, declined to issue a statement, although Cohen told MSNBC last week that Costello never represented him and disputed his testimony.
Bragg's has not returned a request for comment, and The Epoch Times cannot verify the authenticity of Trump's claims. Previous Epoch Times requests for comment from the DA's office have gone unanswered.
Over the past week, Bragg's office has issued one public statement on the case, and that came in response to a House Republican letter seeking testimony and information about the DA's case or whether his office would arrest Trump. A letter sent by his general counsel said that it was Trump who created a "false expectation" he would be indicted last week, although he provided no other details.
Responding to the House GOP's letter, Bragg's counsel wrote that it "only came after Donald Trump created a false expectation that he would be arrested the next day, and his lawyers reportedly urged you to intervene. Neither fact is a legitimate basis for congressional inquiry."
During the Waco rally, Trump declared that his "enemies are desperate to stop us" and that "our opponents have done everything they can to crush our spirit and to break our will," and that the Manhattan district attorney was investigating him "for something that is not a crime, not a misdemeanor, not an affair."
He added: "But they failed. They've only made us stronger. And 2024 is the final battle, it's going to be the big one. You put me back in the White House, their reign will be over and America will be a free nation once again."
Trump did not make any direct references in his speech to Waco's history, telling the crowd of thousands that he told Lt. Gov Dan Patrick he wanted to hold his rally in a place with overwhelming support, not "one of those 50-50 areas," and said he told Texas officials, "Let's go right into the heart of it."
At several points, Trump criticized Florida Gov. Ron DeSantis, who, despite not announcing it, has long been expected to run for president in 2024 and is seen as Trump's strongest potential challenger for the GOP nomination. Trump called his onetime ally disloyal and said he was "dropping like a rock" in the polls.
In addition to the Manhattan case, Trump is also facing an investigation in Georgia as well as federal investigations into his handling of allegedly classified documents and possible obstruction, as well as statements he made on Jan. 6, 2021. The former president has denied wrongdoing in those instances.