Rep. Nancy Pelosi (D-CA) reportedly had priests perform an "exorcism" on her home after her husband Paul was attacked with a hammer by an alleged intruder.
Pelosi told a columnist at The New York Times that it would be "three or four more months before he's really back to normal."
Pelosi's daughter, Alexandra, said the altercation affected her mother much more than people realize.
"I think that weighed really heavy on her soul. I think she felt really guilty," she said. "I think that really broke her. Over Thanksgiving, she had priests coming, trying to have an exorcism of the house and having prayer services."
Fr. Arturo Albano, the pastor of St. Vincent de Paul Church, Pelosi's local parish, told the New York Post that no one from his staff was involved.
"As far as I know, no exorcism or priest services were performed at her home," Albano told The Post.
When Pelosi was asked if the attack impacted her decision to step down from her role as House Speaker, she said it was already time for her to hand over the gavel to someone else.
"I was probably going to go anyway," Nancy Pelosi said, adding, "say we won by 20 votes and it was a big thing, I might have stayed. It's true that I had two thoughts in mind when I went to the floor, to stay or not to stay. It was time to move on."
"If Hillary had won, I could have left," Pelosi added. "But I was not going to let Donald Trump have his way with the government."
David DePape, 42, allegedly struck Mr. Pelosi with a hammer when police arrived at the San Francisco home in October. The alleged intruder was reportedly demanding to know the then-Speaker's whereabouts.
Prosecutors charged DePape with attempted murder, assault with a deadly weapon, and elder abuse, Fox News reported. However, the accused pleaded not guilty to state and federal charges, including allegations he planned to kidnap Nancy Pelosi.
Adam Lipson, DePape's public defender, said that the suspected attacker "is going to be fighting this case in court, not the hallway," ABC News reported.
San Francisco District Attorney Brooke Jenkins said in a statement following his arraignment that "Mr. DePape will be prosecuted to the fullest extent of the law and held accountable for his heinous crimes," according to the outlet.

⬇️ Top Picks for You ⬇️
Six Key Takeaways from Nikki Haley Town Hall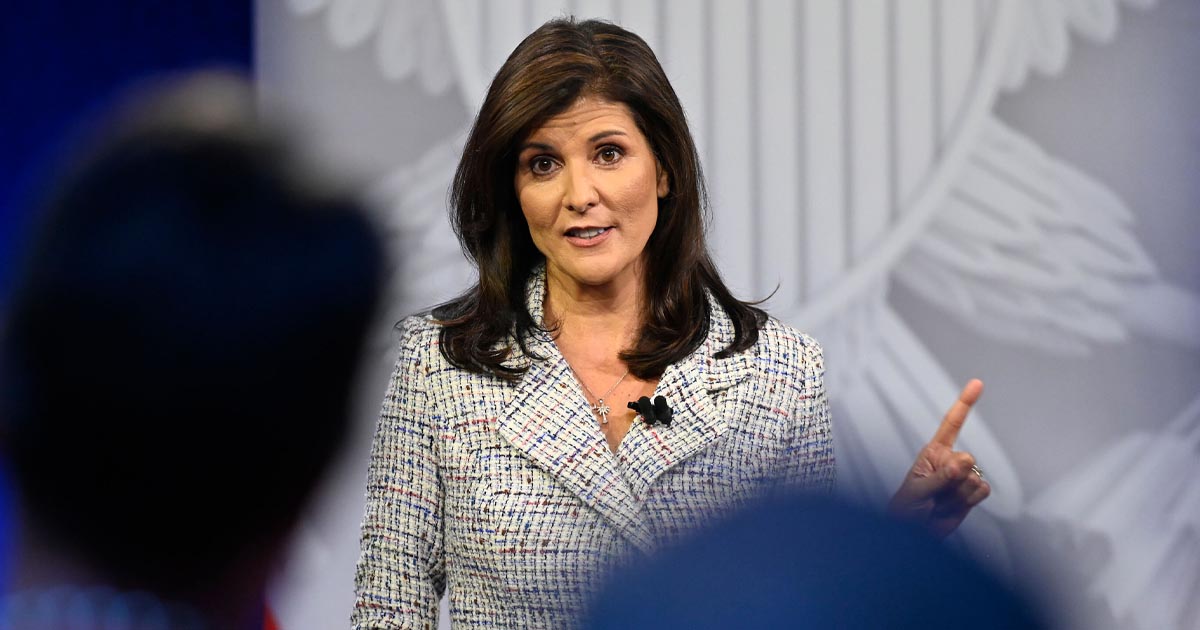 Republican presidential hopeful Nikki Haley laid out a slew of conservative policy solutions during her CNN town hall event on Sunday.
Haley's town hall sharply contrasted her against her chief rival, former President Donald Trump, who partook in a CNN town hall last month, with her appearance being less combative than her former boss's as she staked out conservative positions on hot-button matters such as abortion, entitlement reform, guns, and more.
"Nikki Haley is the only presidential candidate talking to real voters on the ground and taking their questions in multiple town halls," Haley communications director Nachama Soloveichik said. "Nikki Haley won't cave to the liberal talking heads, and that's what voters love about her."
Here are six key takeaways from the town hall event, which took place in Iowa.
Trump and DeSantis loom large
Haley's two main rivals in the GOP field, Trump and Gov. Ron DeSantis (R-FL), cast a heavy shadow over the town hall. Haley has sought to chart her own path without dwelling on her rivals too much, but a few times during the town hall, Haley blasted them directly.
For instance, she bashed DeSantis for his battle with the Walt Disney Company, accusing him of being "hypocritical" for accepting donations from it and then suing the company.
"All this vendetta stuff? We've been down that road," Haley quipped at one point.
"Pick up the phone, deal with it," Haley argued. "Settle it the way you should, and I just think he's being hypocritical."
At one point, Haley condemned Trump's take on the Jan. 6 Capitol riot while underscoring the importance of having "election integrity" and rebuilding trust with voters.
"He thinks it was a beautiful day. I think it was a terrible day. I'll always stand by that," she said.
Calm and collected
Haley's demeanor attracted some attention from commentators during her town hall event. Unlike Trump or DeSantis, who have been known to get testy when grilled on certain matters, Haley remained evenly tempered throughout the night.
"One thing that really struck me was how folksy she was, how personable she was," CNN's Dana Bash said about Haley. "There were a lot of points where she brought back that humanity, and that's no small thing."
Haley began the event with an emphasis on the need to ditch the negativity in politics and usher in generational change.
Abortion
Throughout the 2024 GOP primary cycle, abortion has emerged as something of an albatross matter. Haley has laid out her position on abortion numerous times and stuck to her principles while under scrutiny on it.
"What the media have done is they've made you demonize the situation when it's so personal that we have to humanize the situation," Haley said. "Our goal should always be how do we save as many babies as we can and support as many mothers as we do it."
She emphasized that she's anti-abortion and is keen on trying to find a national consensus on the matter. At one point, Haley dodged answering whether she would back a federal six-week abortion ban.
Entitlements
Haley did not shy away from entitlement reform despite some of her rivals, such as Trump, warning Republicans not to touch Social Security and Medicare.
"We can't keep kicking this can down the road," Haley argued at one point. "And I know that Trump and DeSantis have both said we're not going to deal with entitlement reform — well, all you're doing is leaving it for the next president, and that's leaving a lot of Americans in trouble."
Previously, Haley floated some proposals to prevent Social Security and Medicare from facing their projected bankruptcy, which includes lifting the retirement age for people in their 20s and engaging in means testing — paring down benefits for wealthy recipients.
Haley has also underscored the need to preserve benefits for those already retired and ensure that benefits will be available for the next generation.
"I think they're not being honest with the American people," Haley said when discussing some of her rivals' reluctance to take on the issue.
Foreign policy
Unlike most of her peers in the 2024 arena, aside from Trump, Haley brings considerable foreign policy experience to the table. Her approach to world affairs also differed from some of her top rivals.
At one point, she implicitly rebuked Trump over his congratulating North Korean leader Kim Jong Un late last week for landing a role on the World Health Organization's executive board. Haley called the WHO a "farce."
"Congratulate our friends. Don't congratulate our enemies," Haley said.
On Ukraine, Haley contrasted herself with Trump and DeSantis, insisting that "a win for Ukraine is a win for all of us." Trump and DeSantis have equivocated about what the extent of U.S. support for the war-torn nation should be.
"This is bigger than Ukraine," Haley explained. "This is a war about freedom, and it's one we have to win."
Guns
Haley opened up about her position on gun rights, revealing she is opposed to red flag laws, which create an avenue for law enforcement to confiscate guns from people believed to be at high risk of engaging in nefarious activity.
"I don't trust the government to deal with red flag laws. I don't trust that they won't take them away from people who rightfully deserve to have them," Haley contended. "Because you've got someone else judging whether someone else should have a gun or not."
She also emphasized the need to "end gun-free zones," pinning blame on locations where guns are heavily restricted for shootings, because "nobody else is going to be able to protect themselves."
Haley's town hall comes on the heels of one Trump conducted with the network last month. Former Vice President Mike Pence is expected to announce his 2024 intentions this week and is slated to attend a town hall hosted by the network this Wednesday.
At the moment, Haley is polling in third place among the 2024 GOP field, per the latest RealClearPolitics aggregate.