Pfizer denied it conducts gain-of-function research on COVID-19 in a long-awaited but indirect response to a bombshell Project Veritas hidden camera sting that captured a company official describing either proposed or ongoing experiments by the pharmaceutical firm.
"Allegations have recently been made related to gain of function and directed evolution research at Pfizer and the company would like to set the record straight," the company's statement began. "In the ongoing development of the Pfizer-BioNTech COVID-19 vaccine, Pfizer has not conducted gain of function or directed evolution research."
The company statement, released late Friday, did not mention the Project Veritas video, which was posted Wednesday evening and has received over 20 million views despite being banned from YouTube. In that video, a man identified as Jordon Walker, Pfizer's director of research and development, strategic operations – mRNA scientific planner, divulges that the company has considered mutating COVID-19 through "directed evolution" in monkeys to develop new vaccines.
https://twitter.com/Project_Veritas/status/1619163216998989824?ref_src=twsrc%5Etfw%7Ctwcamp%5Etweetembed%7Ctwterm%5E1619163216998989824%7Ctwgr%5E0ac64fa82121c3259918a8b865a0561ba2dbaf75%7Ctwcon%5Es1_c10&ref_url=https%3A%2F%2Fwww.dailywire.com%2Fnews%2Fpfizer-denies-conducting-covid-gain-of-function-research-in-delayed-response-to-veritas-video
In a subsequent video, Walker is confronted by Project Veritas founder James O'Keefe and claims he lied on the video to impress his date. In a disturbing meltdown, Walker seizes a tablet from O'Keefe and smashes it.
In the original video, Walker's claim the company has at least considered mutating the virus in order to manufacture vaccines is just one of several disturbing assertions. He also implies federal regulators don't enforce laws on Pfizer in hopes of landing jobs there and that the company expects COVID to be a "cash cow" for years to come.
When Walker described to the undercover Project Veritas reporter the process of mutating the virus by infecting monkeys, the reporter opines that it sounds like gain-of-function research, in which viruses are manipulated to become more dangerous. Gain-of-function research, possibly funded in part by a grant from the U.S. National Institute of Allergy and Infectious Diseases, is suspected by some experts in the alleged creation of COVID-19 inside a lab in Wuhan, China. Walker insists the research he is describing is "directed evolution" research and not gain-of-function.
Pfizer's statement goes on to describe the research it acknowledges conducting.
"Working with collaborators, we have conducted research where the original SARS-CoV-2 virus has been used to express the spike protein from new variants of concern," the Pfizer statement read. "This work is undertaken once a new variant of concern has been identified by public health authorities. This research provides a way for us to rapidly assess the ability of an existing vaccine to induce antibodies that neutralize a newly identified variant of concern. We then make this data available through peer reviewed scientific journals and use it as one of the steps to determine whether a vaccine update is required."
Pfizer said the research usually involves only computer simulations, but added that, "in a limited number of cases when a full virus does not contain any known gain of function mutations, such virus may be engineered to enable the assessment of antiviral activity in cells."
Critics accused Pfizer of dissembling and said that what the company acknowledged in its statement is effectively gain-of-function research.
1) Pfizer lawyers did not throw their Director of R&D Operations and Scientific Planning under the bus. 2) there is no denial of what he said. 3) No denial that he is Pfizer staff. 4) Swapping new spike sequences into original Wuhan-1 is technically gain of function research.

— Robert W Malone, MD (@RWMaloneMD) January 28, 2023
"Swapping new spike sequences into original Wuhan-1 is technically gain of function research," tweeted Dr. Robert Malone, who helped invent the mRNA technology used to deliver Pfizer's COVID vaccine but has since warned that it is unsafe and ineffective.

⬇️ Top Picks for You ⬇️
Trump Suggests Manhattan DA Bragg 'Dropped' Case Against Him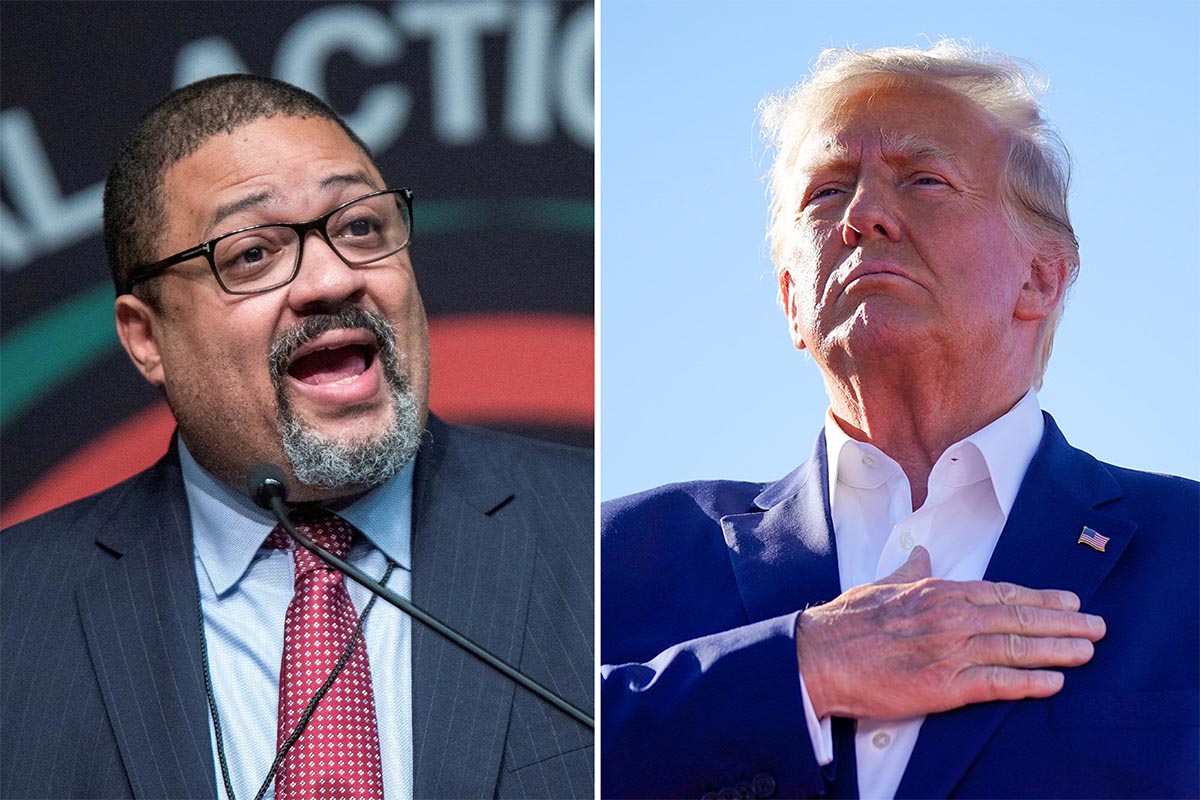 Former President Donald Trump is now suggesting Manhattan District Attorney Alvin Bragg may have dropped his case against him, about a week after he claimed he would be arrested.
After a rally in Waco, Texas, on Saturday, Trump told reporters on his plane, "I think they've already dropped the case … they have absolutely nothing." Trump did not provide evidence for his assertion Saturday.
"It's a fake case. Some fake cases, they have absolutely nothing," the former president said. Trump also reiterated his criticism of Michael Cohen, a former Trump lawyer who has testified against him in the Manhattan grand jury case and previously served time in federal prison on tax fraud and other charges.
Trump also denied mainstream media reports that suggested he was trying to incite violence with his Truth Social posts that criticized Bragg's investigation: "No, I don't like violence and I'm not for violence. But a lot of people are upset."
On Truth Social, the former president made a similar statement regarding his belief Bragg's case is "DEAD." He wrote that the "Witch Hunt against me is DEAD, no evidence at all, & it has been conclusively proven that I did nothing wrong." He dismissed Cohen as a "disbarred lawyer & convicted Felon."
Last week, an attorney in Trump's circle, Robert Costello, told media outlets that he testified before the grand jury and sought to denigrate Cohen's testimony against the 45th president in the investigation, which reportedly is connected to so-called hush money payments that were given to adult performer Stormy Daniels during the 2016 presidential campaign. A lawyer for Cohen, when reached for comment, declined to issue a statement, although Cohen told MSNBC last week that Costello never represented him and disputed his testimony.
Bragg's has not returned a request for comment, and The Epoch Times cannot verify the authenticity of Trump's claims. Previous Epoch Times requests for comment from the DA's office have gone unanswered.
Over the past week, Bragg's office has issued one public statement on the case, and that came in response to a House Republican letter seeking testimony and information about the DA's case or whether his office would arrest Trump. A letter sent by his general counsel said that it was Trump who created a "false expectation" he would be indicted last week, although he provided no other details.
Responding to the House GOP's letter, Bragg's counsel wrote that it "only came after Donald Trump created a false expectation that he would be arrested the next day, and his lawyers reportedly urged you to intervene. Neither fact is a legitimate basis for congressional inquiry."
During the Waco rally, Trump declared that his "enemies are desperate to stop us" and that "our opponents have done everything they can to crush our spirit and to break our will," and that the Manhattan district attorney was investigating him "for something that is not a crime, not a misdemeanor, not an affair."
He added: "But they failed. They've only made us stronger. And 2024 is the final battle, it's going to be the big one. You put me back in the White House, their reign will be over and America will be a free nation once again."
Trump did not make any direct references in his speech to Waco's history, telling the crowd of thousands that he told Lt. Gov Dan Patrick he wanted to hold his rally in a place with overwhelming support, not "one of those 50-50 areas," and said he told Texas officials, "Let's go right into the heart of it."
At several points, Trump criticized Florida Gov. Ron DeSantis, who, despite not announcing it, has long been expected to run for president in 2024 and is seen as Trump's strongest potential challenger for the GOP nomination. Trump called his onetime ally disloyal and said he was "dropping like a rock" in the polls.
In addition to the Manhattan case, Trump is also facing an investigation in Georgia as well as federal investigations into his handling of allegedly classified documents and possible obstruction, as well as statements he made on Jan. 6, 2021. The former president has denied wrongdoing in those instances.