Encounters with small unidentified "objects," sometimes in swarm-like groups of as many as eight. Sightings of other objects, including some characterized as drones, flying at altitudes up to 36,000 feet and as fast as Mach 0.75. Another apparent small drone actually hitting the canopy of an F-16 Viper causing damage. These incidents and many more, all occurred in or around various military air combat training ranges in Arizona since January 2020.
The events are described in reports from the Federal Aviation Administration (FAA) filed over roughly a three-year period. Overall, the data points to what are often categorized as drones, but many of which are actually unidentified objects, as well as what do appear to be drones, or uncrewed aerial systems (UAS), intruding into these restricted warning areas with alarming regularity.
Marc Cecotti, a contributor to The War Zone, has been able to obtain additional partially redacted reports about a number of these incidents from the U.S. Air Force's Safety Center via the Freedom of Information Act (FOIA) that provide additional insights. Cecotti, together with Adam Kehoe, another one of our contributors, had first begun to notice a clustering of reports of unusual aerial encounters in southwestern Arizona back in 2021. An interactive online tool they created for The War Zone that leverages the FAA's public database of drone-related incident reports helped highlight that trend.
Arizona Is Host To Major Air Combat Training Areas
When it comes to the Air Force, Arizona is home to Luke Air Force Base and Davis-Monthan Air Force Base. Luke has long been a major training hub for U.S. Air Force and foreign F-35 and F-16 pilots, though its work with the F-16 has been steadily diminishing in recent years. Davis-Monthan currently hosts units flying a variety of aircraft, including A-10 Warthog ground attack jets and EC-130H Compass Call electronic warfare planes, as well as the unit that oversees the U.S. military's famous boneyard that is part of the sprawling installation.
Units of the Arizona Air National Guard also operate from various bases in the southern end of the state. This includes Morris Air National Guard Base, which is collocated with Tucson International Airport in the city of the same name and that also hosts the Air National Guard-Air Force Reserve Command Test Center.
Marine Corps Air Station (MCAS) Yuma, a major test and training base for that service that hosts multiple F-35 squadrons, as well as units flying various other aircraft, is some 140 miles southwest of Luke.
Arizona has a number of major training ranges with restricted airspace, including significant areas adjacent to Luke AFB and MCAS Yuma. In fact, a large swathe of Arizona's border with Mexico sits under these ranges, including the Barry M. Goldwater range. There are a number of other designated Military Operating Areas (MOA), which can readily, if temporarily be closed off for training, elsewhere in the state. Restricted airspace and MOAs are all included in what the FAA more broadly refers to as Special Use Airspace (SUA).
The reports of unidentified objects, especially the ones involving groups of them flying together, are particularly interesting given the surge in interest in recent years in what are now often referred to as unidentified aerial phenomena (UAP), but have previously been more commonly known as unidentified flying objects (UFO).
Members of Congress are increasingly pushing for more declassification and general transparency from the U.S. military and Intelligence Community on these matters. These calls from legislators have only grown in the wake of allegations of a massive coverup from intelligence official and Air Force veteran turned whistleblower David Grusch, which you can read more about here.
Beyond all that, Arizona is, of course, no stranger to reports of unusual drone activity and UAP sightings. In 2016, a Tucson Police helicopter had an encounter with a mysteriously capable drone in the skies over that city. Some five years later, a U.S. Customs and Border Protection helicopter was involved in an incident with a similarly puzzling UAS.
The War Zone was the first to report on the worrying appearance of drone swarms over the Palo Verde Nuclear Power Plant in Arizona across multiple nights in September 2019. There's also the matter of the crews of an American Airlines flight and a Phoenix Air charter business jet reporting encounters with what appeared to be the same UAP in the skies over the southern part of the state near the border with New Mexico the year before. The state is home to the notorious Phoenix Lights mass sighting in 1997, which remains a topic of discussion to this day, too.
Incidents in Arizona have, in turn, long highlighted the growing threats that UASs present, including outside of traditional battlefields. This is something The War Zone has been highlighting as a very real concern now and still evolving issue for years now, including in the context of UAP discussions and how problematic it is that the two issues are so closely intertwined.
It should be noted up front that not all of the reports about incidents in the skies over U.S. military training areas in Arizona during the 2020-2023 timeframe are necessarily notable, at least based on the information currently in hand. Some part of the uptick in overall incidents can be explained by the growing prevalence of consumer-grade drones, something that has appeared in other similar data sets in the past.
At the same time, a number of the incidents that the FAA and the Air Force documented in the past three years include details that are very attention-grabbing.

⬇️ Top Picks for You ⬇️
Venezuela Is Preparing to Invade Oil-Rich Neighbor Guyana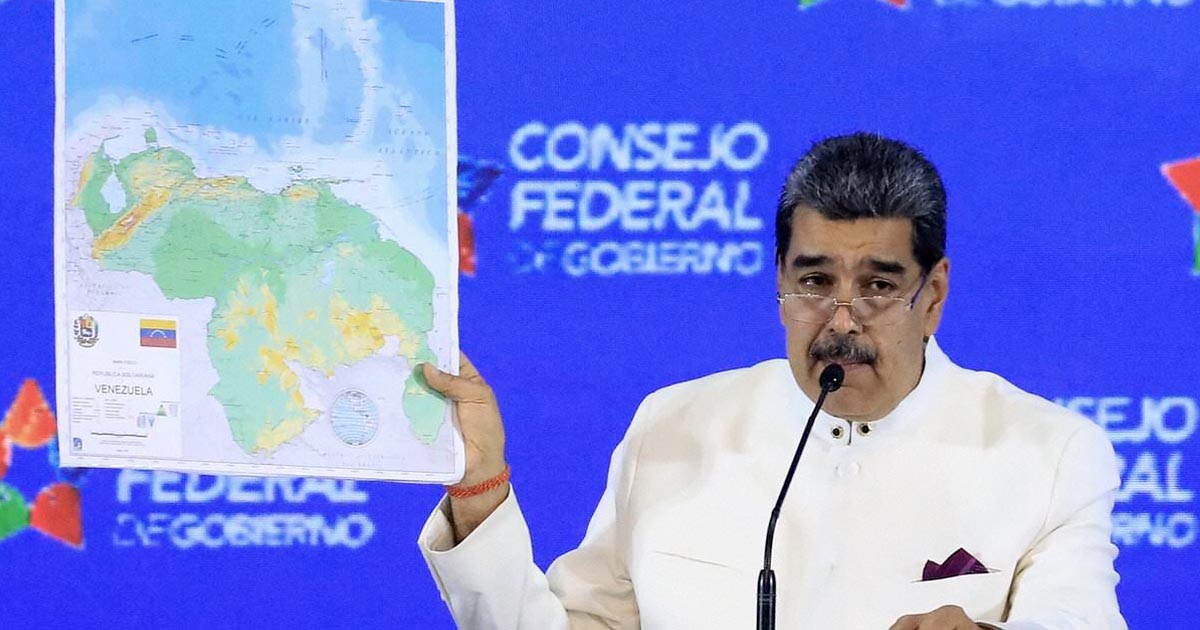 Venezuela's president on Tuesday published a new map of the region showing two thirds of neighboring Guyana 'reclaimed' by Caracas and ordered the state-owned energy companies to 'immediately' begin exploration in the area, as fears rose that Nicolas Maduro could start a war.
Venezuela has claimed Guyana's Esequiba region for over 100 years – ever since the border of the present-day country was drawn up, in 1899. But on Sunday, with his own popularity falling in the face of a newly-unified opposition, Maduro organized a 'referendum' on whether to pursue Venezuela's claim to the territory.
Voters were asked if they agreed with creating a Venezuelan state in the Esequiba region, providing its population with Venezuelan citizenship, and 'incorporating that state into the map of Venezuelan territory.'
The Maduro-controlled Venezuelan National Electoral Council said voters chose 'yes' more than 95 percent of the time on each of five questions on the ballot, and on Tuesday Maduro published his new map.
He has appointed a general, Alexis Rodríguez Cabello, as head of the region and on Tuesday dispatched him to the town of Tumeremo, a remote mining town in the jungle, 120 miles from the border.
Esequiba, about the size of Florida, is rich in minerals and accounts for two thirds of the territory of Guyana – an English speaking nation, which gained its independence from Britain in 1966. Guyana is the only English-speaking country in South America.
Venezuela protested an oil tender announced by Guyana in September, arguing that the offshore areas are subject to dispute and the companies awarded the fields will not have the rights to explore them.
Guyana has denounced Sunday's referendum as pretext to annex the land: in the days running up to it, the Venezuelan defense minister Vladimir Padrino Lopez, known for his ties to his counterparts in Russia and Iran, posted a video of Venezuela troops on parade, waving flags saying 'Guyana Esequiba', colored in the Venezuelan flag.
President Irfaan Ali called the move by Maduro 'reckless' and said his country plans to alert both regional and world leaders of Maduro's attempt to disrupt the peace in the hemisphere.
'It is unfortunate that President Maduro would choose the road of defying an international court order. This speaks volumes about the way in which President Maduro prefers to operate and also points to the fact that he's unconcerned about the peace and security of this region,' he told The Miami Herald.
'The order of the [U.N. court] made it very clear that Venezuela cannot act or take any action that would disrupt the status quo and the status quo is that Guyana exercises governance and control of Essequibo,' he said.
He added that he is seeking the support of the United Nations Security Council, the United States, the Caribbean Community, the Organization of American States and other countries to ensure Guyana's territory is 'not violated.'
'We once again call on Venezuela to retract from this reckless, adventurous move and to allow international law and the ruling of the [U.N. court] to guide our action,' Ali added.
El pueblo y su #FANB están movilizados, decididos e imperturbables a recuperar nuestra Guayana Esequiba, nos mueve el amor infinito a la patria y a cada milímetro del sagrado territorio venezolano, el cual defenderemos por todas las vías y por todos los medios que estén a nuestro… pic.twitter.com/B60slT8xSs

— Vladimir Padrino L. (@vladimirpadrino) November 29, 2023
Guyana has appealed to the International Court of Justice, the United Nations' top court, which on Friday ordered Venezuela not to take any action to change the status quo until the panel can rule on the two countries' competing claims. Any decision could take years.
Meanwhile, Guyana is nervously eyeing its giant neighbor to the north.
Venezuela's military, backed by Russia, Iran and Cuba, massively outnumbers tiny Guyana's: the Venezuelan military counts 123,000 active personnel versus only 3,400 for Guyana, according to an analysis in Brazil's Folha de Sao Paulo newspaper.
Guyana is also dwarfed by Venezuela in weaponry, with Venezuela having 514 armored vehicles compared to only six owned by Guyana.
Such an attack would draw a strong international response, with the lead likely played by Brazil, which borders both Venezuela and Guyana and whose military is significantly larger and more professional than either country's.
At the end of November, Brazil's defense ministry said it 'has intensified defensive actions' along its northern border.
'The Ministry of Defense has been monitoring the situation. Defensive actions have been intensified in the northern border region of the country, promoting a greater military presence,' it said in a statement.