Dramatic footage released by the Atlanta Police Department Sunday night showed the moment Antifa protesters dressed in all black broke into the construction site for a proposed police training facility.
Nearly 150 rioters could be seen in the video posted to Facebook dressed in all black or camouflage and wearing ski masks entered the site of Atlanta's future Public Safety Training Facility — dubbed Cop City by those who protest its development — and immediately set off fireworks.
Just a few moments later, the fireworks start to explode near where cops are stationed. Some of the group could later be seen gathering riot shields, as they motioned for others to join them.
Once they were together, they started throwing Molotov cocktails at a construction vehicle and ran away as it was left on fire. Other videos posted online showed a police surveillance tower on fire, sending smoke billowing nearby.
In the end 35 people were arrested, the Atlanta Police Department reports.
Atlanta Police released the following statement:
On March 5, 2023, a group of violent agitators used the cover of a peaceful protest of the proposed Atlanta Public Safety Training Center to conduct a coordinated attack on construction equipment and police officers. They changed into black clothing and entered the construction area and began to throw large rocks, bricks, Molotov cocktails, and fireworks at police officers.

The agitators destroyed multiple pieces of construction equipment by fire and vandalism. Multiple law enforcement agencies deployed to the area and detained several people committing illegal activity. 35 agitators have been detained so far.

The illegal actions of the agitators could have resulted in bodily harm. Officers exercised restraint and used non-lethal enforcement to conduct arrests.

With protests planned for the coming days, the Atlanta Police Department, in collaboration with law enforcement partners, have a multi-layered strategy that includes reaction and arrest.

The Atlanta Police Department asks for this week's protests to remain peaceful.

— Atlanta Police Department
With protestors vowing a "week of action" against the training site, police say they'll step up patrols to prevent what they call an escalation of violence.
"Criminal activity will not be tolerated in Atlanta nor tolerated in connection to this project," Schierbaum said.
No officers were injured in the confrontation. A handful of protestors were treated for minor injuries when officers say they used "non-lethal" force against the group.
Gov. Kemp responds to latest clash at site
In a statement, Georgia Gov. Brian Kemp called the activists "violent" who put "those in the surrounding community at risk."
"They chose destruction and vandalism over legitimate protest, yet again demonstrating the radical intent behind their actions," Kemp said.
The governor had previously declared a state of emergency during the protests in Downtown Atlanta over law enforcement's killing of one of the environmental activists at the site.
Speaking at his State of the State address on Wednesday, Kemp decried the protesters as "out-of-state rioters" who "tried to bring violence to the streets of our capital city." He said it was "just the latest example of why here in Georgia, we'll always back the blue."
In his latest statement, Kemp again reiterated that anyone caught committing illegal acts while protesting at the site will be prosecuted.
"As I've said before, domestic terrorism will not be tolerated in this state," he said. "As we continue to respect peaceful protest, we will also continue to ensure safety in our communities. We will not rest until those who use violence and intimidation for an extremist end are brought to full justice."
Who is behind the riot?
The Post Millennial's Andy Ngo reports the entire attack was well-organized. The actions by the Antifa group allegedly responsible for last night's attack promoted direct action weeks ago.
The dramatic confrontation between police and protesters comes as individuals and activist organizations descend on the proposed site for a 'week of action' to protest its development.
'This is the first week of action since the state killed someone,' Marlon Kautz, an organizer with Atlanta Solidarity Fund told The Guardian, referring to the police-involved killing of Manuel Paez Teran in January.
A private autopsy showed he was shot 13 times.
Authorities have asserted Teran — who identified as nonbinary — opened fire at a Georgia State Patrol trooper during a 'clearing operation' of the so-called autonomous zone at the site of the $90million project.
'The entire character, mood and status of the struggle has transformed dramatically… [and] feels much more real — to us and to the state,' Kautz said.

⬇️ Top Picks for You ⬇️
Biden Got Recurring $1,380 Payment from Hunter's Firm Starting in 2018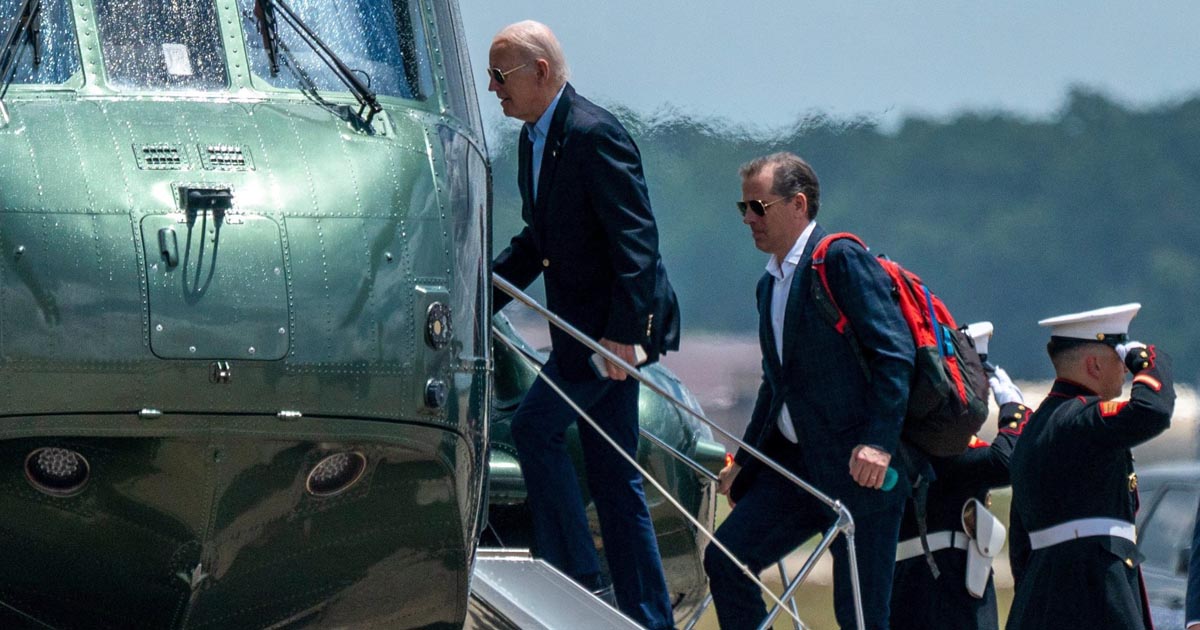 President Biden received a recurring payment of $1,380 from his son Hunter's law firm beginning in late 2018 shortly after a bank money laundering officer warned that the same account was receiving millions of dollars in Chinese government-linked funds without "any services rendered."
A bank order shows that Owasco PC set up a "monthly" transfer to then-former Vice President Joseph R. Biden Jr., with a voided check for the future president included in the documentation, which was released Monday by the House Oversight Committee.
A source told The Post that at least three recurring payments were made — on Sept. 17, Oct. 15 and Nov. 15, 2018 — totaling $4,140 to the elder Biden from Owasco PC, according to the bank records of the firm.
"President Biden and his family must be held accountable for this blatant corruption," Oversight Committee Chairman James Comer (R-Ky.) said in a video release.
"Today, the House Oversight Committee is releasing subpoenaed bank records that show Hunter Biden's business entity, Owasco PC, made direct monthly payments to Joe Biden. This wasn't a payment from Hunter Biden's personal account but an account for his corporation that received payments from China and other shady corners of the world," Comer said.
"At this moment, Hunter Biden is under an investigation by the Department of Justice for using Owasco PC for tax evasion and other serious crimes. And based on whistleblower testimony, we know the Justice Department made a concerted effort to prevent investigators from asking questions about Joe Biden. I wonder why?"
Earlier that year, a January 2019 email from assistant Katie Dodge to Hunter Biden annotated various expenses including "Ford Raptor — Reimbursement to JRB — $1380."
The provenance of the funds is unclear, however, and additional records show that Hunter Biden was knee-deep in two of his most controversial business relationships at the time, with Ukraine's Burisma Holdings and CEFC China Energy.
The evidence emerged as House Republicans prepare to question first brother James Biden on Wednesday and Hunter next week about the president's role in his family's dealings in countries such as China and Ukraine — with a possible floor vote to authorize the ongoing impeachment inquiry this month.
While a presidential candidate, Joe Biden denied that he ever discussed business with his relatives, but evidence has since shown that he met with his relatives' associates from both the Burisma and CEFC ventures.
Documents from the first son's abandoned laptop show that Burisma board adviser Vadym Pozharskyi sought "bank reference" information on Sept. 14, 2018 — one day before the initial transfer to Joe Biden was sought. However, the transaction was not executed for another two days, apparently due to a later-than-expected form submission.
Joe Biden met Pozharskyi at an April 17, 2015, dinner at DC's Café Milano. An unproven FBI informant tip said that Burisma owner Mykola Zlochevsky claimed in 2016 he was "coerced" into paying $10 million in bribes to the Bidens for their assistance in ousting prosecutor Viktor Shokin.
Hunter also was on the tail end of disbursing millions of dollars received from CEFC China Energy — one of two major Biden family dealings with Chinese government-linked firms.
On June 26, 2018 — less than three months before Joe Biden began to receive the monthly transfers — an internal Bank Secrecy Act expert warned colleagues that the institution should reconsider its relationship with Hunter as a result of Owasco PC seeming to receive Chinese funds without "any services rendered."
CEFC transferred $5 million to another Biden family-linked entity, Hudson West III, in August 2017 after Hunter warned a China-based associate of his father's wrath if a business deal was aborted. Much of the large transfer later went to Hunter's Owasco PC.
Prior bank records released by the Oversight Committee indicate that Joe Biden received payments of $40,000 and $200,000 from his brother James, who also was involved in the CEFC venture and other foreign-focused enterprises.
Comer alleged that the $40,000 transferred to Joe Biden's bank account on Sept 3, 2017, was from "laundered" Chinese funds.
James Biden paid Joe Biden $200,000 on March 1, 2018 — the same day that James received a $200,000 transfer from troubled rural hospital company Americore after pledging to use his political connections to secure a Middle Eastern investor, according to bankruptcy filings.
The White House says there's evidence that both transfers were loan repayments, but Republicans argue they have not seen loan agreement documents and note that the funds distributed to James came from a law firm, rather than Joe Biden himself, further clouding the picture.