A rare, monstrous earthquake struck Morocco, sending people racing from their beds into the streets and toppling buildings in mountainous villages and ancient cities not built to withstand such force. More than 1,000 people were killed, and the toll was expected to rise as rescuers struggled Saturday to get through boulder-strewn roads to the remote areas hit hardest.
The magnitude-6.8 quake, the biggest to hit the North African country in 120 years, sent people fleeing into darkened streets in terror and disbelief late Friday. One man said dishes and wall hangings began raining down, and people were knocked off their feet.
People could be seen on state TV clustering in the streets of historic Marrakech, afraid to go back inside buildings that might still be unstable. Many wrapped themselves in blankets as they tried to sleep outside.
The quake brought down walls made from stone and masonry not designed to withstand quakes, covering whole communities with rubble. Rescuers worked through the night to find survivors buried in the dusty ruins.
A tent typically used for celebrations was being erected for shelter in the square of the impoverished mountain community of Moulay Brahim, where homes made of clay and brick were largely left uninhabitable. Fathers sobbed into phones telling loved ones about losing their children. Bodies covered with blankets lay in the health center next to a mosque as doctors pulled shards from people's feet and treated surface wounds.
"There's nothing to do but pray," said Hamza Lamghani, who lost five of his closest friends.
In a sign of the huge scale of the disaster, Morocco's King Mohammed VI ordered the armed forces to mobilize air and land assets, specialized search and rescue teams and a surgical field hospital, according to a statement from the military. But despite an outpouring of offers of help from around the world, the Moroccan government had not formally asked for assistance, a step required before outside rescue crews could deploy.
In Marrakech, the famous Koutoubia Mosque, built in the 12th century, was damaged, but the extent was not immediately clear. Its 69-meter (226-foot) minaret is known as the "roof of Marrakech." Moroccans also posted videos showing damage to parts of the famous red walls that surround the old city, a UNESCO World Heritage site.
At least 1,037 people died, mostly in Marrakech and five provinces near the quake's epicenter, and another 1,204 people were injured, Morocco's Interior Ministry reported Saturday morning. Of the injured, the ministry wrote, 721 were in critical condition.
"The problem is that where destructive earthquakes are rare, buildings are simply not constructed robustly enough to cope with strong ground shaking, so many collapse, resulting in high casualties," said Bill McGuire, professor emeritus of geophysical and climate hazards at University College London. "I would expect the final death toll to climb into the thousands once more is known. As with any big quake, aftershocks are likely, which will lead to further casualties and hinder search and rescue."
Ayoub Toudite said he had been working out with friends at a gym in Moulay Brahim, which is carved into a mountainside south of Marrakech, when "we felt a huge shake like it was doomsday." In 10 seconds, he said, everything was gone.
Rescuers were using hammers and axes to free a man trapped under a two-story building. People capable of squeezing into the tiny space were giving him water.
"We are all terrified that this happens again," Toudite said.
The epicenter of Friday's tremor was near the town of Ighil in Al Haouz Province, roughly 70 kilometers (43.5 miles) south of Marrakech. Al Haouz is known for scenic villages and valleys tucked in the High Atlas, and villages built into mountainsides.
Abderrahim Ait Daoud, head of the town of Talat N'Yaaqoub, told Moroccan news site 2M that authorities were working to clear roads in Al Haouz Province to allow passage for ambulances and aid to populations affected, but said large distances between mountain villages meant it would take time to learn the extent of the damage.
The Moroccan military deployed aircraft, helicopters and drones and emergency services mobilized aid efforts to the hardest areas, but roads leading to the mountain region around the epicenter were jammed with vehicles and blocked with fallen rocks, slowing rescue efforts. Trucks loaded with blankets, camp cots and lighting equipment were trying to region that hard-hit area, the official news agency MAP reported.
On the steep, winding switchbacks from Marrakech to Al Haouz, ambulances with sirens blaring and honking cars veered around piles of Mars-like red rock that had tumbled from the mountainside and blocked the road. Red Cross workers tried to clear a boulder blocking the two-lane highway.
World leaders offered to send in aid or rescue crews as condolences poured in from countries around Europe, the Middle East and a Group of 20 summit in India. The president of Turkey, which lost tens of thousands of people in a massive earthquake earlier this year, was among those proposing assistance. France and Germany, with large populations of people of Moroccan origin, also offered to help, and the leaders of both Ukraine and Russia expressed support for Moroccans.

⬇️ Top Picks for You ⬇️
5 Top Moments from the fiery DeSantis-Newsom Debate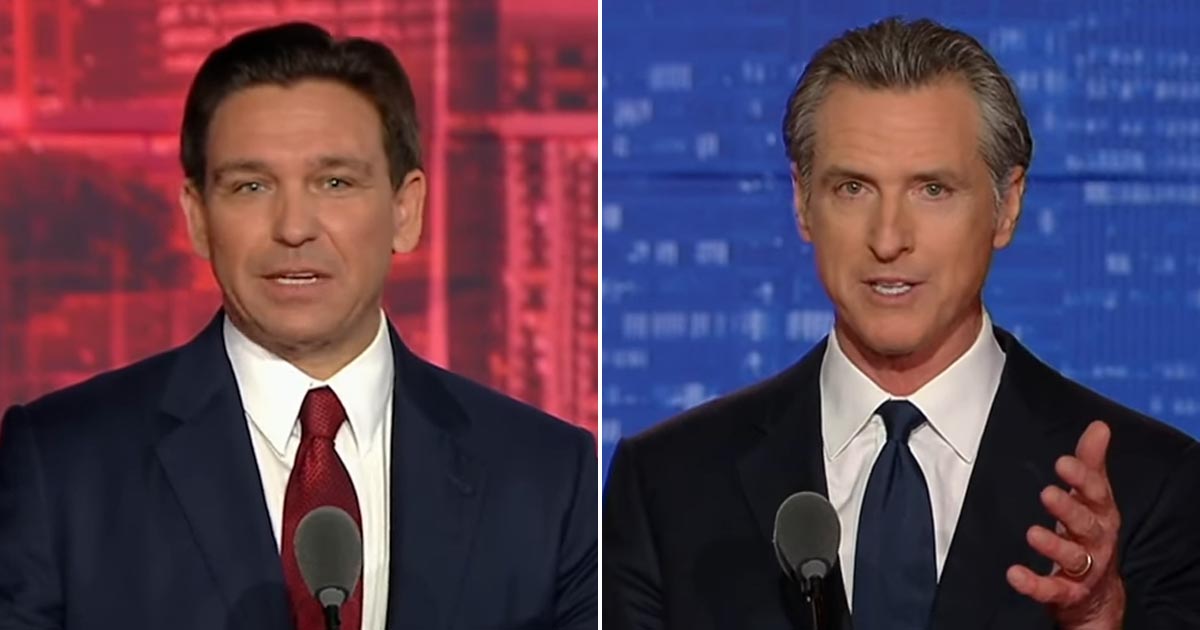 Florida Gov. Ron DeSantis (R) and California Gov. Gavin Newsom (D) went head-to-head in a Fox News debate Thursday as the governors — one a current presidential contender and the other seen as a future White House prospect — clashed over their records and policy.
During the fiery 90-minute debate, moderated by Sean Hannity and branded as "The Great Red vs. Blue State Debate," DeSantis and Newsom took jabs at each other over how they handled key issues including the COVID-19 pandemic, crime and abortion, at times reverting to personal attacks such as calling each other bullies.
The debate came against the backdrop of DeSantis's presidential campaign; the Florida governor was initially seen as a threat to Donald Trump but is now lagging in polls behind not only the former president but also former U.N. Ambassador Nikki Haley.
Meanwhile, Newsom has been widely floated as a presidential hopeful; while he has said he's not interested in challenging President Biden next year, the Fox News debate has only helped elevate his national profile and fueled further speculation over his plans.
Here are five takeaways from the DeSantis-Newsom debate:
Newsom shows his strengths
Though Newsom often found himself on the defense in a hostile media environment, the California Democrat managed to keep his calm throughout, easily batting away attacks while also lobbing many of his own at DeSantis.
In one such instance, DeSantis went after Newsom over his COVID-19 policies, saying that in California "you had Disney closed inexplicably for over a year" and that Newsom was "a lock-down governor."
Newsom quickly fired back.
"Let's talk about your record on COVID," Newsom said. "You pass an emergency declaration before the state of California did. You closed down your beaches, your bars, your restaurants. It's a fact. You had quarantines — you had quarantines, you had checkpoints all over the state of Florida. By the way, I didn't say that. Donald Trump laid you out on this."
"He followed science. He followed Fauci," Newsom added of DeSantis, to which the Florida governor said, "that's not true."
Throughout the debate, Newsom was confident and good-humored, rarely seeming fazed when being attacked by DeSantis or pressed by Hannity, a self-proclaimed conservative.
His debate performance will likely bolster his image as an extremely polished, media-savvy politician who nonetheless knows how to throw a punch when necessary.
DeSantis does a decent job — with help from Hannity
DeSantis went into the debate with arguably more at stake than Newsom, since he's currently running in the GOP presidential primary.
Ultimately, the Florida governor delivered a decent performance, frequently demonstrating his research of the topics at hand and even at times displaying visual aids — including a map of what he said was human excrement in San Francisco — to knock Newsom.
He also landed a couple memorable blows, such as when he labeled Newsom a "liberal bully" or when he mocked his opponent for what he said was Newsom's "shadow campaign" for the Democratic nomination for president in 2024.
Still, the "red state vs. blue state" debate also felt at times like a two-on-one match-up.
Hannity, during his introduction for the debate, acknowledged his well-known reputation for boosting Republican candidates for office and conservative causes, though he emphasized that he wanted to be a referee in the debate, not a participant.
Throughout the night, many of the moderator's questions began with an infographic or chart displayed on the screen for viewers, most of which painted California in a less favorable light than Florida on issues of homelessness, the economy and migration.
Newsom on several occasions pushed back directly on Hannity's line of questioning, DeSantis's characterizations of the statistics and argued his state was in a stronger position than conservative critics routinely suggested.
By contrast, Hannity gave little pushback to most of DeSantis's answers or his attacks on the California governor.
The debate was raucous
Hannity repeatedly said Thursday night that he wanted to let the event "breathe," resulting in a free-flowing — and at times raucous — debate.
DeSantis and Newsom frequently talked over each other, to the point when they were sometimes unintelligible. They lobbed attacks at each other throughout the night and often interrupted each other.
Hannity, for his part, worked hard to interject or move on to a new topic whenever it got chaotic. At one point, he begged the two governors not to "turn me into a hall monitor."
The lack of an in-person audience allowed the two participants to go after each other more freely, as there was no need for either governor to hold for applause or raise his voice over shouting spectators.
Before one early commercial break, Newsom finished an answer to a question on his handling of the coronavirus pandemic by looking into the camera and saying, "more to come on this," as the outro music signified a break was imminent.
DeSantis joked that Newsom would be setting up "the next segment, I guess."
"I'm not a potted plant," an apparently frustrated Hannity joked later during the debate, as the two governors bickered back and forth.
Adding to the sense of chaos was a moment near the end in which it seemed like the debate was being abruptly extended. Hannity asked the two men on stage if they'd like to continue debating past the pre-planned 10:30 p.m. end time.
"I don't know why we don't do another half hour; I've got all night," Newsom said.
"I think it's been fun and it's more entertaining than … I'm sorry to the guests I've invited," Hannity said, before sending the broadcast to what would be its final commercial break.
Once the network returned, Hannity said both candidates "had other commitments" and welcomed in a post-debate panel to provide analysis on the debate.
Biden is GOP boogeyman
DeSantis sought to make President Biden a frequent boogeyman during the debate, tying Newsom to the president, who continues to suffer underwater approval ratings.
"I'll give Gavin credit. He did at least admit in his first answer, he's joined at the hip with Biden and Harris," DeSantis said at one point. "He thinks Biden and Harris have done a great job. He thinks the economy is working because of their policies for Americans and they are not."
"And so, what California represents is the Biden-Harris agenda on steroids. They would love nothing more than to get four more years to be able to take the California model nationally. That would be disastrous for working people in this country," he added.
Unsurprisingly, Newsom found himself as chief defender of the Biden-Harris administration during the debate, while trying to paint a stark contrast between Democrats and the Republican Party.
"I'm here to tell the truth about the Biden-Harris record, and also compare and contrast Ron DeSantis's record and the Republican Party's record as a point of contrast that's as different as daylight and darkness," Newsom said.
It's not the first time Newsom has positioned himself as a surrogate for the Biden campaign — he played a similar role during the second GOP debate in Simi Valley, Calif. The move strategically helped demonstrate his loyalty to the Biden campaign while also elevating his own national profile amid rumors that he might run for the White House himself.
But the frequent mention of Biden also emphasized the extent to which Republicans like DeSantis believe the president is an albatross for Democrats heading into 2024.
Needle is unlikely to move much for either man
While sparks flew during the Fox News debate, it's unlikely to change much for either governor.
For DeSantis, he's still struggling to catch up to Trump in the 2024 GOP primary as all signs increasingly point to the former president once again winning the nomination.
He has notched key endorsements from Iowa Gov. Kim Reynolds (R) and influential Evangelical leader Bob Vander Plaats, but still faces steep hurdles in polling out of the early primary states of New Hampshire and South Carolina, where he's polling behind Haley.
For Newsom, the debate has boosted his national profile, though it's hardly the first time the California Democrat has sought to position himself front and center in the public eye. It's also unlikely to change the minds of the many conservatives watching the debate in an already hyper-partisan political environment.
Still, both men came out of the event being praised by their respective sides — a sign that the event served some purpose for them.