After facing weeks of allegations that he fabricated key details of his past and defrauded individuals, Rep. George Santos (R-N.Y.) has announced his decision to step down—at least temporarily—from his congressional committee assignments.
Santos informed his Republican House colleagues of his decision to temporarily recuse himself from his committee assignments during a closed-door meeting today. Santos told his colleagues he wanted to step down for the time being while he works to clear up a series of allegations that have arisen in recent weeks.
House Speaker Kevin McCarthy (R-Calif.) said he felt Santos had made the "appropriate decision."
The freshman congressman has been accused of fabricating numerous details about his family background, education, and work history. Santos had claimed on his biography that he had obtained "degrees in finance and economics" from Baruch College and New York University, and had worked for Citigroup and Goldman Sachs.
In December, Santos admitted to some "resume embellishments," confessing he hadn't graduated from Baruch College or any college for that matter. Santos said he also overstated that he worked for two Wall Street firms and said he instead worked for a company called Link Bridge, which did business with both firms. Santos also admitted to lying about owning 13 different properties.
Santos faced other allegations including that he had falsely said he was Jewish. In an interview with the New York Post Santos said he had "never claimed to be Jewish."
Santos was also recently accused of defrauding a veteran who was trying to raise money for a surgical procedure for his dog. The veteran claimed he came into contact with Santos, who was going by the alias Anthony Devolder. The U.S. Navy veteran, Richard Osthoff, said Devolder set up a GoFundMe crowdfunding page for the medical procedure for the dog, but ultimately kept the money and cut off contact with the veteran, allowing the dog to die without the necessary medical treatment. Santos has entirely denied Osthoff's claims, tweeting that "the reports that I would let a dog die is [sic] shocking & insane."
Santos was assigned to the House Committee on Small Business and to the House Science, Space, and Technology Committee. McCarthy had given Santos those relatively low-profile assignments amid criticisms and calls for Santos to resign from Congress altogether.
Santos has repeatedly rejected calls for his resignation over his fabrications, including from members of his own party.
"George Santos's campaign last year was a campaign of deceit, lies, and fabrication," Joseph Cairo, chairman of the Nassau County GOP, said in a recent press conference.
New York GOP Chairman Nick Langworthy also said that "it would be in the best interest of the taxpayers to have new leadership" representing the district in Congress.
"I was hired by the voters and I will be fired by the voters, not by the Democrat Party or the Republican Party or the media," Santos said in a recent interview.
Though he stepped down from his committee assignments on Tuesday, Santos remains committed to serving out his term.
McCarthy and some other Republicans reiterated that Santos could eventually return.
"The voters have elected him," McCarthy told reporters after the Republican meeting on Tuesday. "He'll have a voice here in Congress. And until he answers all those [ethics] questions, then at that time, he'll be able to be seated on committees."
Santos has argued that he is being held to a different standard than the one applied to Sen. Richard Blumenthal (D-Conn.), who made false claims that he served in the military in Vietnam during the war, and Sen. Elizabeth Warren (D-Mass.), who embellished her Native American heritage.
Some Democrats have also vocally criticized Santos.
"I'm just struck by the chaos, confusion, dysfunction of the Republican Conference. They defended putting him on committees and now they're announcing that he's not going to serve on committees," Rep. Pete Aguilar (D-Calif.) said on Tuesday.
Rep. Ted Lieu (D-Calif.) said, "I also urge George Santos to listen to his Republican and Democratic constituents and also resign from Congress as well."

⬇️ Top Picks for You ⬇️
Trump Suggests Manhattan DA Bragg 'Dropped' Case Against Him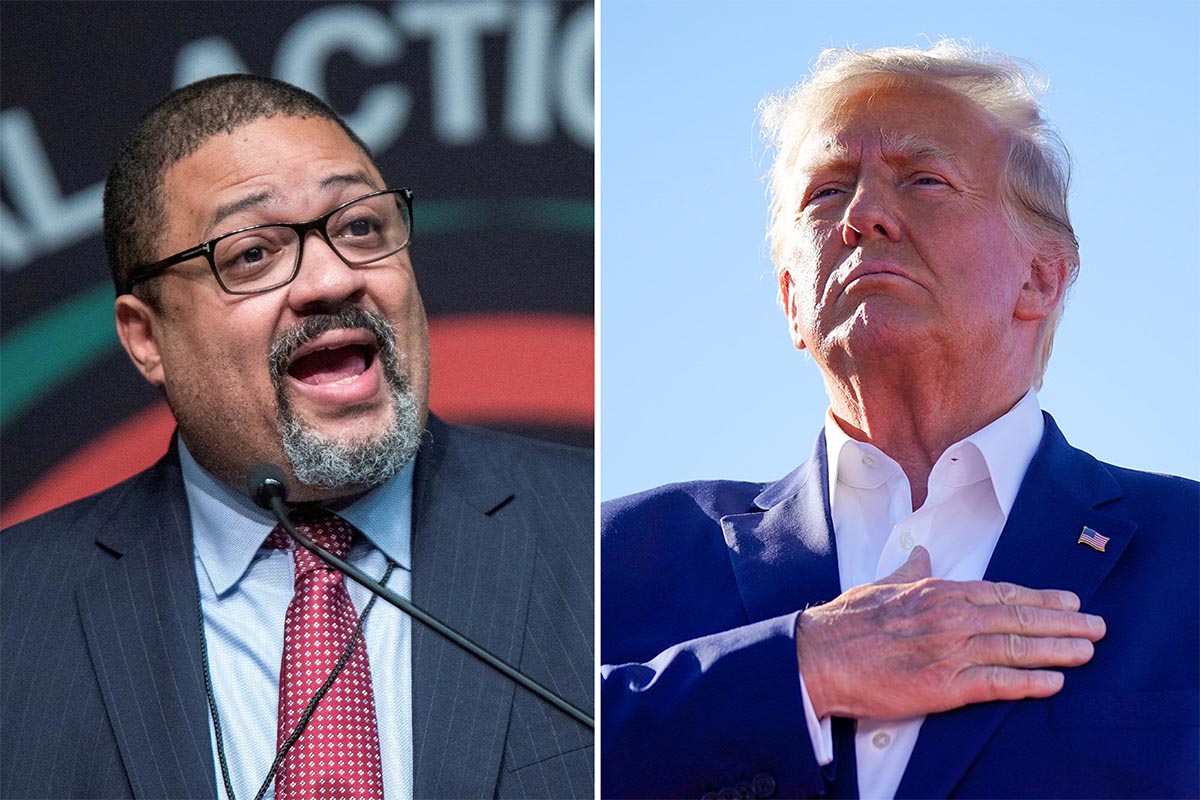 Former President Donald Trump is now suggesting Manhattan District Attorney Alvin Bragg may have dropped his case against him, about a week after he claimed he would be arrested.
After a rally in Waco, Texas, on Saturday, Trump told reporters on his plane, "I think they've already dropped the case … they have absolutely nothing." Trump did not provide evidence for his assertion Saturday.
"It's a fake case. Some fake cases, they have absolutely nothing," the former president said. Trump also reiterated his criticism of Michael Cohen, a former Trump lawyer who has testified against him in the Manhattan grand jury case and previously served time in federal prison on tax fraud and other charges.
Trump also denied mainstream media reports that suggested he was trying to incite violence with his Truth Social posts that criticized Bragg's investigation: "No, I don't like violence and I'm not for violence. But a lot of people are upset."
On Truth Social, the former president made a similar statement regarding his belief Bragg's case is "DEAD." He wrote that the "Witch Hunt against me is DEAD, no evidence at all, & it has been conclusively proven that I did nothing wrong." He dismissed Cohen as a "disbarred lawyer & convicted Felon."
Last week, an attorney in Trump's circle, Robert Costello, told media outlets that he testified before the grand jury and sought to denigrate Cohen's testimony against the 45th president in the investigation, which reportedly is connected to so-called hush money payments that were given to adult performer Stormy Daniels during the 2016 presidential campaign. A lawyer for Cohen, when reached for comment, declined to issue a statement, although Cohen told MSNBC last week that Costello never represented him and disputed his testimony.
Bragg's has not returned a request for comment, and The Epoch Times cannot verify the authenticity of Trump's claims. Previous Epoch Times requests for comment from the DA's office have gone unanswered.
Over the past week, Bragg's office has issued one public statement on the case, and that came in response to a House Republican letter seeking testimony and information about the DA's case or whether his office would arrest Trump. A letter sent by his general counsel said that it was Trump who created a "false expectation" he would be indicted last week, although he provided no other details.
Responding to the House GOP's letter, Bragg's counsel wrote that it "only came after Donald Trump created a false expectation that he would be arrested the next day, and his lawyers reportedly urged you to intervene. Neither fact is a legitimate basis for congressional inquiry."
During the Waco rally, Trump declared that his "enemies are desperate to stop us" and that "our opponents have done everything they can to crush our spirit and to break our will," and that the Manhattan district attorney was investigating him "for something that is not a crime, not a misdemeanor, not an affair."
He added: "But they failed. They've only made us stronger. And 2024 is the final battle, it's going to be the big one. You put me back in the White House, their reign will be over and America will be a free nation once again."
Trump did not make any direct references in his speech to Waco's history, telling the crowd of thousands that he told Lt. Gov Dan Patrick he wanted to hold his rally in a place with overwhelming support, not "one of those 50-50 areas," and said he told Texas officials, "Let's go right into the heart of it."
At several points, Trump criticized Florida Gov. Ron DeSantis, who, despite not announcing it, has long been expected to run for president in 2024 and is seen as Trump's strongest potential challenger for the GOP nomination. Trump called his onetime ally disloyal and said he was "dropping like a rock" in the polls.
In addition to the Manhattan case, Trump is also facing an investigation in Georgia as well as federal investigations into his handling of allegedly classified documents and possible obstruction, as well as statements he made on Jan. 6, 2021. The former president has denied wrongdoing in those instances.