Sen. John Fetterman may be allowed to dress like a slob in the halls of power — but it's still a capital offense in New York City's finest restaurants.
Intrepid Post reporter Jon Levine learned that hard truth this week when he crisscrossed the Big Apple's culinary landmarks wearing Fetterman's trademark hoodie, gym shorts and sneakers and tried to gain entry — only to face scorn and mockery from maître d's with more common sense than Congress.
"He would not be permitted here," sniffed a maître d at Daniel on the Upper East Side, where a seven-course tasting menu runs $275.
She admitted she didn't know who Fetterman was.
"We have turned away guests for being improperly dressed regardless of their occupation," she continued.
At famed Le Bernardin, a suited maître d named Julien served up an amuse bouche of stink-eye when The Post arrived.
"No athletic wear," he said flatly, staring The Post down and denying even a nibble of chef Eric Ripert's $480 dinner and wine pre-fixe menu.
The three-Michelin-starred dining room is reservation only but walk-ins are normally afforded the more casual lounge — but not if you're dressed like you just came from Pilates class.
Le Bernardin's wine director, Aldo Sohm, said jackets and pants were on loan to those with Fetterman's fashion sense.
At the double-Michelin star Jean-Georges near Columbus Circle, no less than four sentinels outside its dining room vetoed The Post's entry, ending the dream of feasting on the famed $368, 10-course tasting menu that includes caviar salad, king crab and smoked squab.
"Inside we don't allow shorts," said one, repeatedly insisting it would be "impossible" to get around the dress code, which also forbids jeans, sneakers and sweatshirts.
"It doesn't matter if it's Lady Gaga," chimed in another.
A third was so stunned by the sartorial sacrilege, she couldn't even finish her sentence.
"I've never had anyone come in dressed like …"
The Post was allowed to use the bathroom.
Workers at The Grill — an ultra-lux chophouse occupying the legendary Four Seasons Restaurant space in midtown — wasted no time rejecting the faux Fetterman, holding the door tightly shut after they caught one glimpse.
"If you went and got a pair of jeans it would work," offered a doorman named Don who boasted, "We treat the billionaires just like millionaires."
It wasn't all bad news for Fetterman.
The Post strode into Nobu and Gramercy Tavern without so much as a peep.
Masa, whose famed sushi bar omakase experience runs over $1,000 a person, was happy to receive us.
The senator would "absolutely" be welcome at Eleven Madison Park in all his full slovenly glory, one masked employee said.
The three-star Michelin eatery, whose fully vegetarian nine-course tasting menu runs a cool $365, said there was no expectation of evening attire.
"You can wear whatever. You just have to wear clothes."
Fetterman's unfortunate sartorial shenanigans have left his congressional colleagues tearing at the seams.
Rep. Marjorie Taylor Greene (R-Ga.) ripped the Senate for recently relaxing rules to allow Fetterman's wardrobe, which he insists he needs for his mental health after his stroke, say Senate Democratic insiders.
"The Senate no longer enforcing a dress code for senators to appease Fetterman is disgraceful," Greene posted on X, formerly Twitter.
"Dress code is one of society's standards that set etiquette and respect for our institutions. Stop lowering the bar!"
This brings us to the King Cole Bar at the swanky St. Regis Hotel — they rejected The Post too.

⬇️ Top Picks for You ⬇️
Biden Got Recurring $1,380 Payment from Hunter's Firm Starting in 2018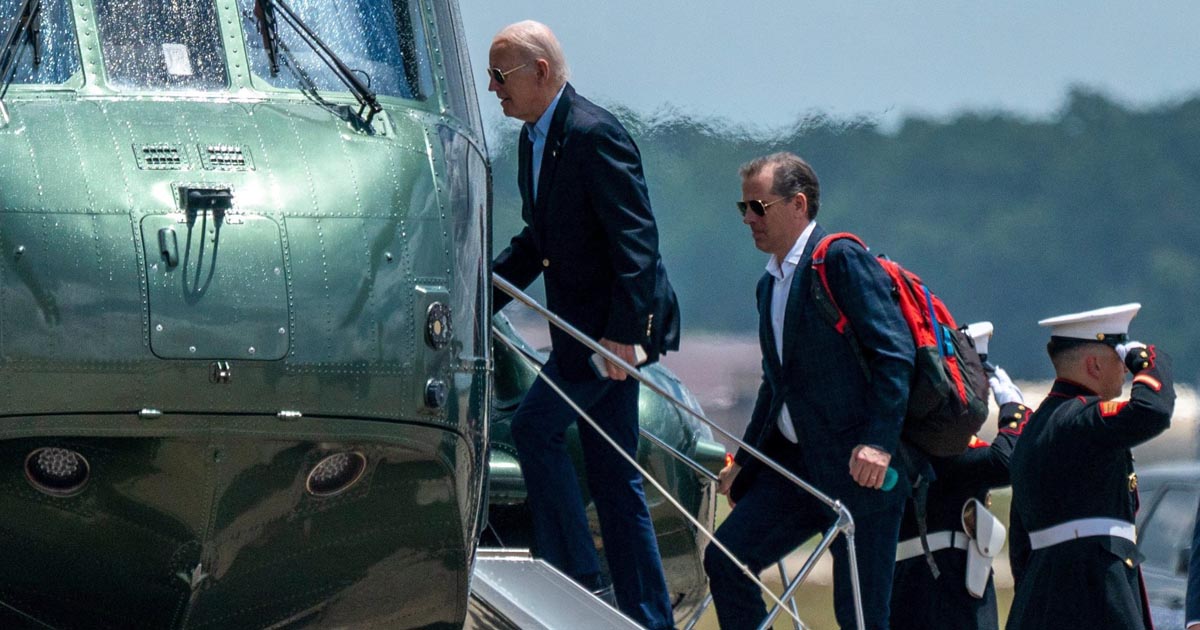 President Biden received a recurring payment of $1,380 from his son Hunter's law firm beginning in late 2018 shortly after a bank money laundering officer warned that the same account was receiving millions of dollars in Chinese government-linked funds without "any services rendered."
A bank order shows that Owasco PC set up a "monthly" transfer to then-former Vice President Joseph R. Biden Jr., with a voided check for the future president included in the documentation, which was released Monday by the House Oversight Committee.
A source told The Post that at least three recurring payments were made — on Sept. 17, Oct. 15 and Nov. 15, 2018 — totaling $4,140 to the elder Biden from Owasco PC, according to the bank records of the firm.
"President Biden and his family must be held accountable for this blatant corruption," Oversight Committee Chairman James Comer (R-Ky.) said in a video release.
"Today, the House Oversight Committee is releasing subpoenaed bank records that show Hunter Biden's business entity, Owasco PC, made direct monthly payments to Joe Biden. This wasn't a payment from Hunter Biden's personal account but an account for his corporation that received payments from China and other shady corners of the world," Comer said.
"At this moment, Hunter Biden is under an investigation by the Department of Justice for using Owasco PC for tax evasion and other serious crimes. And based on whistleblower testimony, we know the Justice Department made a concerted effort to prevent investigators from asking questions about Joe Biden. I wonder why?"
Earlier that year, a January 2019 email from assistant Katie Dodge to Hunter Biden annotated various expenses including "Ford Raptor — Reimbursement to JRB — $1380."
The provenance of the funds is unclear, however, and additional records show that Hunter Biden was knee-deep in two of his most controversial business relationships at the time, with Ukraine's Burisma Holdings and CEFC China Energy.
The evidence emerged as House Republicans prepare to question first brother James Biden on Wednesday and Hunter next week about the president's role in his family's dealings in countries such as China and Ukraine — with a possible floor vote to authorize the ongoing impeachment inquiry this month.
While a presidential candidate, Joe Biden denied that he ever discussed business with his relatives, but evidence has since shown that he met with his relatives' associates from both the Burisma and CEFC ventures.
Documents from the first son's abandoned laptop show that Burisma board adviser Vadym Pozharskyi sought "bank reference" information on Sept. 14, 2018 — one day before the initial transfer to Joe Biden was sought. However, the transaction was not executed for another two days, apparently due to a later-than-expected form submission.
Joe Biden met Pozharskyi at an April 17, 2015, dinner at DC's Café Milano. An unproven FBI informant tip said that Burisma owner Mykola Zlochevsky claimed in 2016 he was "coerced" into paying $10 million in bribes to the Bidens for their assistance in ousting prosecutor Viktor Shokin.
Hunter also was on the tail end of disbursing millions of dollars received from CEFC China Energy — one of two major Biden family dealings with Chinese government-linked firms.
On June 26, 2018 — less than three months before Joe Biden began to receive the monthly transfers — an internal Bank Secrecy Act expert warned colleagues that the institution should reconsider its relationship with Hunter as a result of Owasco PC seeming to receive Chinese funds without "any services rendered."
CEFC transferred $5 million to another Biden family-linked entity, Hudson West III, in August 2017 after Hunter warned a China-based associate of his father's wrath if a business deal was aborted. Much of the large transfer later went to Hunter's Owasco PC.
Prior bank records released by the Oversight Committee indicate that Joe Biden received payments of $40,000 and $200,000 from his brother James, who also was involved in the CEFC venture and other foreign-focused enterprises.
Comer alleged that the $40,000 transferred to Joe Biden's bank account on Sept 3, 2017, was from "laundered" Chinese funds.
James Biden paid Joe Biden $200,000 on March 1, 2018 — the same day that James received a $200,000 transfer from troubled rural hospital company Americore after pledging to use his political connections to secure a Middle Eastern investor, according to bankruptcy filings.
The White House says there's evidence that both transfers were loan repayments, but Republicans argue they have not seen loan agreement documents and note that the funds distributed to James came from a law firm, rather than Joe Biden himself, further clouding the picture.