Former All-American swimmer Riley Gaines lashed out at rival Lia Thomas after the transgender-identifying athlete complained that "trans kids lose out on opportunities" because many states and athletic bodies have barred biological males from competing against females.
In an appearance on "Piers Morgan Uncensored," Gaines, a former University of Kentucky star, cited the words of Thomas, who competed for the University of Pennsylvania men's team before switching to the women's team. Gaines, who has become increasingly outspoken in the cause for protecting female athletes from unfair competition, said it is men posing as women who are stealing opportunities.
"Lia Thomas [was] quoted saying, you know, 'It breaks my heart to see trans kids lose out on opportunities," Gaines told Morgan. "Replace that with word 'woman.' Does it still break Thomas's heart to see women lose out on opportunities? Because that's what's happening."
Thomas last year tied Gaines for fifth-place in the NCAA finals of the women's 200-meter race, but it was Thomas who was initially awarded the medal. Gaines believes that decision was part of the NCAA's effort to promote Thomas.
"From my experience competing against Lia Thomas at the national championships, I watched first-hand women lose out on opportunities," Gaines said. "I watched women not become All-Americans, missing that eighth and 16th place by one place because they were displaced by a male. This, of course, goes against everything that Title IX was created to protect and now we have the Biden administration, the people in the White House, who are actively working to rewrite Title IX."
"Lia Thomas said 'it breaks my heart to see trans kids lose out on opportunities'…

"Replace that with the word 'woman'. "

Riley Gaines speaks out about her former swimming competitor's comments on trans inclusion in sports.@Riley_Gaines_ | @piersmorgan | @TalkTV | #PMU pic.twitter.com/KIPAfarafX

— Piers Morgan Uncensored (@PiersUncensored) April 18, 2023
Title IX states: "No person in the United States shall, on the basis of sex, be excluded from participation in, be denied the benefits of, or be subjected to discrimination under any education program or activity receiving Federal financial assistance."
After Rep. Katie Porter, (D-CA), criticized Gaines, claiming she has voiced her strong opinions about men competing against women in order to "get likes and clicks," Gaines fired back, "You just can't help but laugh … it's ironic. It's always women fighting against women's sex-protected spaces and rights."
"I'm speaking for every female athlete, not just myself," she said. "I'm done competing. This isn't about me. But I know what's at stake if someone doesn't use their voice. I have a younger sister. I just got married. I can only hope one day that I have a daughter and I can't imagine being in this position and not fighting for them."
Gaines was recently mobbed by transgender activists and forced to shelter in a locked room for hours when she visited San Francisco State University to advocate for the rights of female athletes. Video on social media showed Gaines being hustled to safety by police officers as a mob of radical transgender activists followed her, shouting "Trans rights are human rights!"
Championing the cause of protecting female athletes has cost Gaines, she said.
"Nothing has been for personal advancement," she told Morgan. "Nothing has been for monetary value for me. I was supposed to be in dental school this year. So, by no means did I even feel equipped to do what I'm doing. This is not about me, and hearing her say that showed her true ignorance."
Gaines has become the face of a movement, and recently laced into U.S. soccer star Megan Rapinoe for slamming H.R. 734, the Protection of Women and Girls in Sports Act.
In March, Rapinoe tweeted, "Today, politicians in DC are claiming to 'protect women's sports' by pushing a trans & intersex sports ban. Call your Congressional rep today to say women's sports need protection from unequal pay, sexual abuse & lack of resources, NOT from trans kids." She followed by signing a letter published Monday that condemned the legislation.
Gaines accused Rapinoe of "virtue signaling," on Twitter.
"I can respect opinions that differ from my own and everyone is entitled to think/speak independently, but I can't help but think Megan Rapinoe would genuinely shiv any male who tried to take her spot on the US Women's National Team," according to Fox News. Gaines later deleted the tweets.
In late March, Gaines ripped ESPN for their "Celebrating Women's History Month" segment in which they lauded Lia Thomas, a biological male, for becoming "the first transgender athlete to win an NCAA Division I Championship by winning the 500 Freestyle."
Gaines tweeted, "Lia Thomas is not a brave, courageous woman who EARNED a national title. He is an arrogant, cheat who STOLE a national title from a hardworking, deserving woman. … The @ncaa is responsible. If I was a woman working at ESPN, I would walk out. You're spineless @espn #boycottESPN."
Lia Thomas is not a brave, courageous woman who EARNED a national title. He is an arrogant, cheat who STOLE a national title from a hardworking, deserving woman. The @ncaa is responsible.

If I was a woman working at ESPN, I would walk out. You're spineless @espn #boycottESPN https://t.co/DF3n5RWsmV

— Riley Gaines (@Riley_Gaines_) March 26, 2023

⬇️ Top Picks for You ⬇️
Senate Democrats Authorize Supreme Court Ethics Subpoenas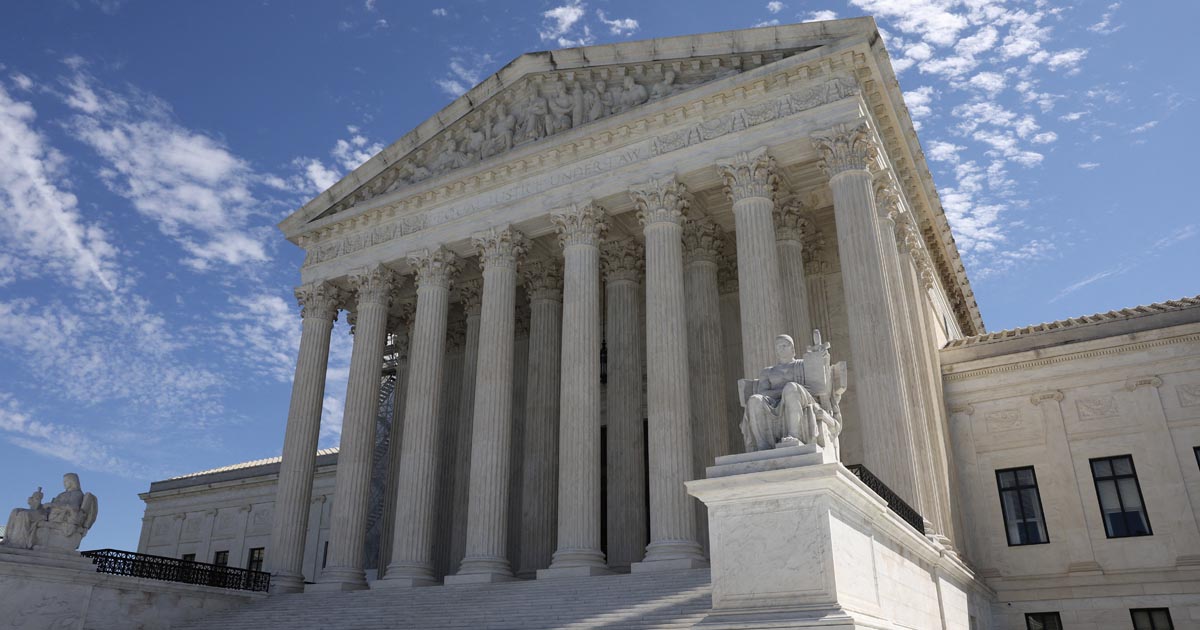 A Democratic-led U.S. Senate panel on Thursday authorized subpoenas to two influential conservatives – Harlan Crow and Leonard Leo – as part of an ethics inquiry spurred by reports of undisclosed largesse directed to some conservative Supreme Court justices.
The Judiciary Committee voted to authorize the subpoenas for Crow, a billionaire Republican donor and benefactor of conservative Justice Clarence Thomas, and Leo, a legal activist who was instrumental in compiling Republican former President Donald Trump's list of potential Supreme Court nominees.
Republican senators walked out of the contentious committee meeting in protest while Democrats cast votes. Some Republicans later questioned the vote's legitimacy, accusing Democrats of violating procedural rules.
"The subpoena clearly wasn't legal," Republican Senator John Kennedy, a committee member, said after the vote.
Senator Dick Durbin, the panel's chairman, said subpoenas were necessary due to the refusal by Crow and Leo for months to voluntarily comply with its previous requests for information. This included itemized lists of all gifts, transportation and lodging provided to any Supreme Court justice.
Durbin also renewed his criticism of a new code of conduct announced by the court on Nov. 13 and promised to continue to pursue the committee's ethics investigation.
"Without an enforcement mechanism, this code of conduct, while a step in a positive direction, cannot restore the public's faith in the court," Durbin said.
Senator Lindsey Graham, the committee's top Republican, told the meeting that Democrats were engaged in a "jihad" against the Supreme Court, whose 6-3 conservative majority has handed major defeats to liberals in recent years on matters including abortion, gun rights and student debt relief.
"When you say you don't want to destroy the Roberts Court, I don't believe you," Graham said, referring to the court under the leadership of conservative Chief Justice John Roberts. "I don't believe a word you're saying."
The committee vote authorized Durbin to issue the subpoenas, which he could do unilaterally, according to a Democratic committee staffer.
If the subpoena recipients fail to comply, Democrats would need 60 votes in the 100-seat Senate to initiate a civil enforcement action, meaning they would need the support of some Republicans. The Democrats also would have the option to make a referral to the U.S. Justice Department, which could choose to pursue criminal contempt proceedings against the subpoena recipients.
Lawyers for Leo and Crow in letters to the committee have criticized the committee's information requests as lacking a proper legal justification. Crow's lawyer had proposed turning over a narrower range of information but Democrats rebuffed that offer, according to the panel's Democratic members.
The news outlet ProPublica reported this year on Thomas's failure to disclose luxury trips and real estate transactions involving Crow, a Texas businessman.
The outlet also reported that Leo helped organize a luxury fishing trip in Alaska attended by conservative Justice Samuel Alito, who failed to disclose taking a private jet provided by billionaire hedge fund manager Paul Singer. Trump chose all three of his appointees to the court from lists of candidates that Leo played a key role in drawing up.
Thomas has said he believed the Crow-funded trips were "personal hospitality" and thus exempt from disclosure requirements, and that his omission of the real estate transaction was inadvertent.
Alito, regarding the flight, said that Singer had "allowed me to occupy what would have otherwise been an unoccupied seat."