The Rolling Stones are back, and they've brought a few famous friends.
"Hackney Diamonds," the band's first album of new songs in 18 years, features guest appearances from the likes of Lady Gaga, Paul McCartney and Stevie Wonder. Poignantly, it also features Charlie Watts, the stalwart Stones drummer who died in 2021 after almost six decades in the band. His drumming, recorded in 2019, features on two of the album's dozen tracks, with Steve Jordan playing on the rest.
Watts' absence lent a wistful note to the excitement of surviving Stones Mick Jagger, Keith Richards and Ronnie Wood when they came to east London's Hackney district on Wednesday to unveil the new album and announce its release date: Oct. 20.
Of Watts, Richards said: "Of course he's missed incredibly. But thanks to Charlie we have Steve Jordan, who was his recommendation if anything should happen to him."
"It would have been a lot harder without Charlie's blessing," he said.
The album reveal was executed with the swaggering showmanship the Stones are famous for. It followed a cryptic teaser campaign, in which a glittery, jagged version of the band's iconic mouth and tongue logo was projected onto the façade of landmarks in cities around the world, including New York, London and Paris.
Hard-core fans lined up in a heatwave outside the Hackney Empire, where the band members were interviewed onstage by "The Tonight Show" host Jimmy Fallon in front of dozens of sweltering journalists and a global online audience.
Inside the ornate former Edwardian musical hall where Charlie Chaplin and Stan Laurel once performed, Jagger, 80, Richards, 79 and Wood, 76 gave details of the Stones' first studio album of new songs since "A Bigger Bang" in 2005. The band released a set of blues covers, "Blue & Lonesome," in 2016.
The lead single is called "Angry," but Jagger said not all the songs are furious. The album also contains "love songs, ballads, country-type" sounds, he said.
Recorded in December and January at studios around the world, the album sees the Stones team up with Grammy-winning producer Andrew Watt, who helped assemble the starry guest list, which also includes former Stone Bill Wyman.
Jagger said Lady Gaga — who sings on "Sweet Sound of Heaven" — was recording in a next-door studio while the Stones were in Los Angeles and ended up on the album after she popped in to say hello.
"She walked in next to me and we started singing together," Jagger told The Associated Press backstage. "She sang it live and then we went in and tidied it up a bit."
The band screened the video for "Angry," which has a classic mid-tempo crunchy Stones sound. The clip features "Euphoria" star Sydney Sweeney, shown cruising LA's Sunset Boulevard in a red convertible, past billboards of the Stones from various eras.
As to why the band waited almost two decades between albums, Richards said the timing was largely down to Jagger.
"When you have a singer that wants to sing, you grab him and throw him in the studio," Richards told the AP. He said when they did get in the studio, the songs tumbled out with "energy and urgency."
Jagger joked that the long gap between albums was due to laziness.
"I don't want to be big-headed but we wouldn't have put this album out if we hadn't really liked it," he said. "We said we had to make a record we really love ourselves.
"We are quite pleased with it, we are not big headed about it, but we hope you all like it."
"Hackney Diamonds" is a slang term for shattered glass, and the band also teased fans with an ad in the local Hackney Gazette newspaper for a fictional glass repair business: "When you say gimme shelter, we'll fix your shattered windows."
Jagger said the phrase evoked "when you get your windscreen broken on Saturday night in Hackney and all the bits go on the street."
Richards said the band hit upon the title after "flinging ideas around the table, and we went from 'Hit and Run,' 'Smash and Grab' — and somehow between that we came up with 'Hackney Diamonds.'"
It was fitting, he said, because the Stones are a London band — though none of the members hails from Hackney.
Brazilian fan Taric Fioravanti, from Sao Paulo, was one of many who lined up to get a glimpse of the band.
"I love these guys," he said. "Keith Richards is one of the biggest guitar heroes in the history of rock music.
"(And) they're 80 years old. Most bands have stopped making new music" by that age, he said.
Founded in 1962, the Stones show no signs of planning to retire. The band played a 60th-anniversary tour of Europe in 2022, and Wood said they had an American tour "penciled in" for next year.
Wood said retirement would be "impossible."
"You've got to keep playing," he said.

⬇️ Top Picks for You ⬇️
McCarthy to Work with Dems to Pass 45-Day Funding, Avoiding Govt Shutdown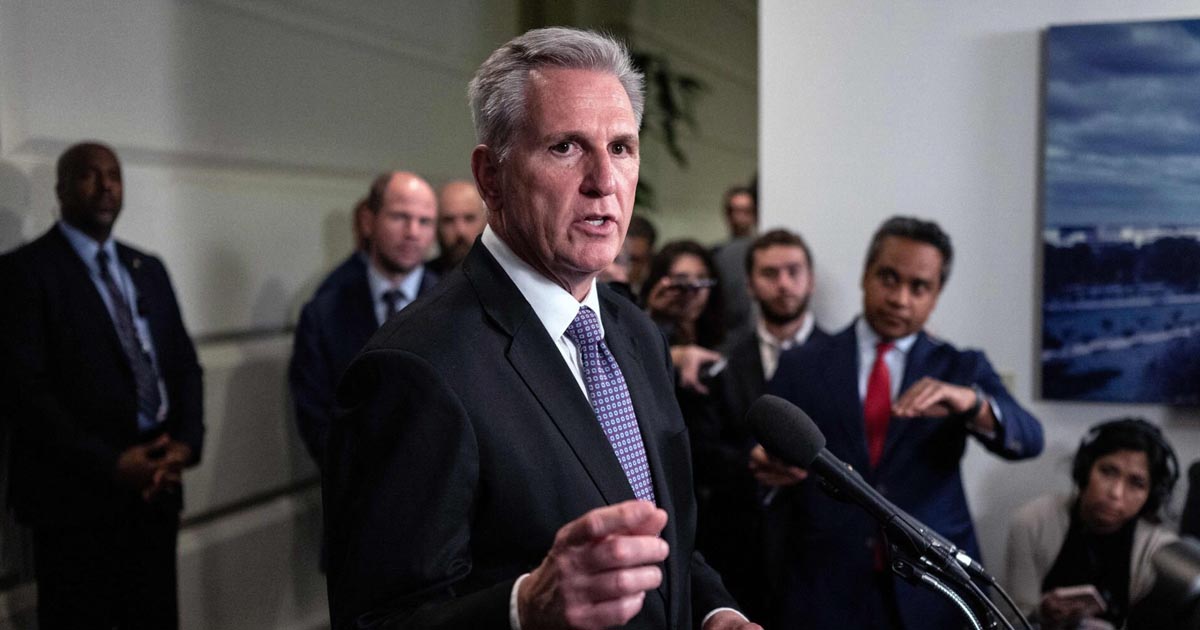 On the brink of a federal government shutdown, Speaker Kevin McCarthy announced a dramatic pivot Saturday, trying to push a 45-day funding bill through the House with Democratic help — a move that could keep government open but most certainly risks his job.
Republican lawmakers met behind closed doors early in the morning with hours to go before the midnight deadline needed to fund government operations or face a disruptive federal closure.
The new approach would leave behind aid to Ukraine, a White House priority opposed by a growing number of GOP lawmakers, but the plan would increase federal disaster assistance by $16 billion, meeting President Joe Biden's full request.
The House was preparing for a quick vote Saturday on the plan, but Democrats hit the brakes, seeking time so they could read the 71-page bill. Across the Capitol, the Senate was opening a rare weekend session and hoping to advance its own stopgap plan, but with money for Ukraine.
"We're going to do our job," McCarthy said after the morning meeting. "We're going to be adults in the room. And we're going to keep government open."
With no deal in place before Sunday, federal workers will face furloughs, more than 2 million active-duty and reserve military troops will work without pay and programs and services that Americans rely on from coast to coast will begin to face shutdown disruptions.
The sudden House action would fund government at current 2023 levels for 45 days, through Nov. 17. It would move closer to the bipartisan approach underway in the Senate, which also would fund the government through that period, while adding $6 billion for Ukraine to fight the war against Russia and $6 billion for U.S. disaster relief.
"A bipartisan, a bicameral solution is the only way forward," said Rep. Rosa DeLauro, the top Democrat on the House Appropriations Committee. She and other Democrats decried cutting Ukraine aid.
McCarthy, R-Calif., will be forced to rely on Democrats for passage because the speaker's hard-right flank has said it will oppose any short-term measure. McCarthy was setting up a process for voting that will require a two-thirds supermajority, about 290 votes in the 435-member House for passage. Republicans hold a 221-212 majority, with two vacancies.
Relying on Democratic votes and leaving his right-flank behind is something that the hard-right lawmakers have warned will risk McCarthy's job as speaker. They are almost certain to quickly file a motion to try to remove McCarthy from that office, though it is not at all certain there would be enough votes to topple the speaker.
"If somebody wants to remove me because I want to be the adult in the room, go ahead and try," McCarthy said of the threat to oust him. "But I think this country is too important."
The quick pivot comes after the collapse Friday of McCarthy's earlier plan to pass a Republican-only bill with steep spending cuts up to 30% to most government agencies that the White House and Democrats rejected as too extreme.
"Our options are slipping away every minute," said one senior Republican, Rep. Mario Diaz-Balart of Florida.
Meanwhile, the Senate was marching ahead on its package with support from both Democrats and Republicans.
"Congress has only one option to avoid a shutdown — bipartisanship," said Senate Majority Leader Chuck Schumer, D-N.Y.
Senate Republican leader Mitch McConnell of Kentucky echoed the sentiment, warning his own hard-right colleagues there is nothing to gain by shutting down the federal government.
"It heaps unnecessary hardships on the American people, as well as the brave men and women who keep us safe," McConnell said.
The federal government is heading straight into a shutdown that poses grave uncertainty for federal workers in states all across America and the people who depend on them — from troops to border control agents to office workers, scientists and others.
Families that rely on Head Start for children, food benefits and countless other programs large and small are confronting potential interruptions or outright closures. At the airports, Transportation Security Administration officers and air traffic controllers are expected to work without pay, but travelers could face delays in updating their U.S. passports or other travel documents.
An earlier McCarthy plan to keep the government open collapsed Friday due to opposition from a faction of 21 hard-right holdouts despite steep spending cuts of nearly 30% to many agencies and severe border security provisions.
The White House has brushed aside McCarthy's overtures to meet with Biden after the speaker walked away from the debt deal they brokered earlier this year that set budget levels.
Catering to his hard-right flank, McCarthy had returned to the spending limits the conservatives demanded back in January as part of the deal-making to help him become the House speaker.
After Friday's vote, McCarthy's chief Republican critic, Rep. Matt Gaetz of Florida, said the speaker's bill "went down in flames as I've told you all week it would."