San Fran's Reparations Committee Sparks Fury as It Reveals How It Calculated $5M Payout to Every Black Resident
San Francisco's African American Reparations Advisory Committee has admitted it did not use a mathematical formula to calculate the amount it wants to pay each long-term black resident for decades of discrimination.
The 15-member committee proposed $5 million reparation payouts in January, as well as debt forgiveness and $97,000 guaranteed incomes.
The city has now revealed it did not follow a mathematical formula, but instead looked into the state's history to help determine the controversial figure.
'There wasn't a math formula,' chairman Eric McDonnell told the Washington Post.
'It was a journey for the committee towards what could represent a significant enough investment in families to put them on this path to economic well-being, growth and vitality that chattel slavery and all the policies that flowed from it destroyed.'
San Francisco Republican Party chairman John Dennis criticized the proposal, saying: 'There was no justification for the number, no analysis provided.
'This is just a bunch of like-minded people who got in the room and came up with a number,' he told the Post.
'This was an opportunity to do some serious work and they blew it.'
William A. Darity Jr., an economist who supports reparations, even slammed the high priced number, saying the payout needs to be 'somewhat realistic.'
'Calling for $5 million payout by a local government undercuts the credibility of the reparations effort,' he told the Post.
However, supporters argue that black residents make, on average, $44,000 annually, compared to their white counterparts who make more than $100,000.
It is unclear how many San Franciscans will be eligible, but the city is home to roughly 50,000 African Americans. If each resident qualified, it would take up a huge amount of the annual budget, which is still recovering from the pandemic.
To qualify, residents need to have identified as black on public records for at least 10 years and be at least 18 years old.
They also must qualify for two of a number of requirements, including having been born in the city or migrated to it between 1940 and 1996 and then lived there for 13 years.
One of the historical events the city looked into was the displacement of the black community in the Fillmore District in the 1960s. Known as the 'Harlem of the West,' nearly 900 businesses and 20,000 people were forced out of the neighborhood, which has since become a predominantly white, high-end area.
The purpose of the reparations, San Francisco said, is not to make up for slavery – which was never legal in the state – but for 'the public policies explicitly created to subjugate black people in San Francisco by upholding and expanding the intent and legacy of chattel slavery.'
San Francisco isn't the only city that is struggling to find the perfect number to pay its black citizens, as a dozen others – such as Los Angeles. Boston and St. Louis – are also still debating it.
The cities that are considering reparations have to balance satisfying reparation advocates, while also keeping in mind that the majority of Americans oppose financial restitution.
A University of Massachusetts Amherst January poll found that six in ten opposed payouts to the descendants of slaves, while four in ten said the federal government 'definitely should not pursue' such a policy.
San Francisco's proposal outweighs several other cities, and reparations critics are concerned it will crack under the financial strain. The city, which is still recovering from the pandemic, has an annual budget of $14 billion, according to the Washington Post. It also faces a $728 million deficit over the next two years.
The proposal also says qualifying low-income households should have their income supplemented to match the city's median income – $97,000 in 2022 – for the next 250 years.
'Racial disparities across all metrics have led to a significant racial wealth gap in the City of San Francisco,' the draft states.
'By elevating income to match AMI, Black people can better afford housing and achieve a better quality of life.'
A number of other proposals include investment in San Francisco's black community, financial education, legal protections of people's reparations, tax credits, and black-owned banks being brought in to manage people's money.
The proposal also says San Francisco 'issue a formal apology for past harms, and commit to making substantial ongoing, systemic and programmatic investments in Black communities to address historical harms.'
The final report is due to be released in June.

⬇️ Top Picks for You ⬇️
Trump Suggests Manhattan DA Bragg 'Dropped' Case Against Him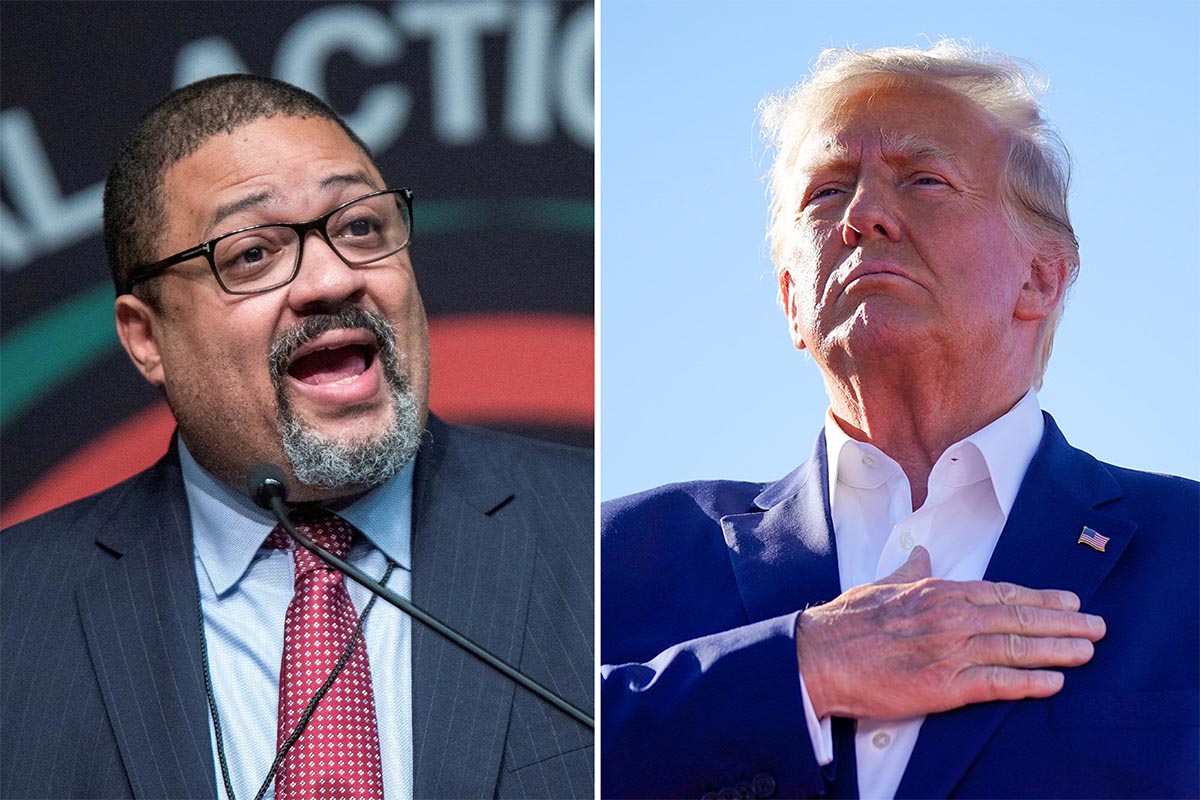 Former President Donald Trump is now suggesting Manhattan District Attorney Alvin Bragg may have dropped his case against him, about a week after he claimed he would be arrested.
After a rally in Waco, Texas, on Saturday, Trump told reporters on his plane, "I think they've already dropped the case … they have absolutely nothing." Trump did not provide evidence for his assertion Saturday.
"It's a fake case. Some fake cases, they have absolutely nothing," the former president said. Trump also reiterated his criticism of Michael Cohen, a former Trump lawyer who has testified against him in the Manhattan grand jury case and previously served time in federal prison on tax fraud and other charges.
Trump also denied mainstream media reports that suggested he was trying to incite violence with his Truth Social posts that criticized Bragg's investigation: "No, I don't like violence and I'm not for violence. But a lot of people are upset."
On Truth Social, the former president made a similar statement regarding his belief Bragg's case is "DEAD." He wrote that the "Witch Hunt against me is DEAD, no evidence at all, & it has been conclusively proven that I did nothing wrong." He dismissed Cohen as a "disbarred lawyer & convicted Felon."
Last week, an attorney in Trump's circle, Robert Costello, told media outlets that he testified before the grand jury and sought to denigrate Cohen's testimony against the 45th president in the investigation, which reportedly is connected to so-called hush money payments that were given to adult performer Stormy Daniels during the 2016 presidential campaign. A lawyer for Cohen, when reached for comment, declined to issue a statement, although Cohen told MSNBC last week that Costello never represented him and disputed his testimony.
Bragg's has not returned a request for comment, and The Epoch Times cannot verify the authenticity of Trump's claims. Previous Epoch Times requests for comment from the DA's office have gone unanswered.
Over the past week, Bragg's office has issued one public statement on the case, and that came in response to a House Republican letter seeking testimony and information about the DA's case or whether his office would arrest Trump. A letter sent by his general counsel said that it was Trump who created a "false expectation" he would be indicted last week, although he provided no other details.
Responding to the House GOP's letter, Bragg's counsel wrote that it "only came after Donald Trump created a false expectation that he would be arrested the next day, and his lawyers reportedly urged you to intervene. Neither fact is a legitimate basis for congressional inquiry."
During the Waco rally, Trump declared that his "enemies are desperate to stop us" and that "our opponents have done everything they can to crush our spirit and to break our will," and that the Manhattan district attorney was investigating him "for something that is not a crime, not a misdemeanor, not an affair."
He added: "But they failed. They've only made us stronger. And 2024 is the final battle, it's going to be the big one. You put me back in the White House, their reign will be over and America will be a free nation once again."
Trump did not make any direct references in his speech to Waco's history, telling the crowd of thousands that he told Lt. Gov Dan Patrick he wanted to hold his rally in a place with overwhelming support, not "one of those 50-50 areas," and said he told Texas officials, "Let's go right into the heart of it."
At several points, Trump criticized Florida Gov. Ron DeSantis, who, despite not announcing it, has long been expected to run for president in 2024 and is seen as Trump's strongest potential challenger for the GOP nomination. Trump called his onetime ally disloyal and said he was "dropping like a rock" in the polls.
In addition to the Manhattan case, Trump is also facing an investigation in Georgia as well as federal investigations into his handling of allegedly classified documents and possible obstruction, as well as statements he made on Jan. 6, 2021. The former president has denied wrongdoing in those instances.