Republican Arkansas Gov. Sarah Huckabee Sanders responded to attacks this week from Democratic California Gov. Gavin Newsom about crime in the state of Arkansas by pointing to the number of people fleeing the state of California.
Newsom tweeted on Tuesday night following Sanders' rebuttal to President Joe Biden's State of the Union address about crime in the southern state.
"While @SarahHuckabee touts public safety, here is what she skips over: Arkansas has the one of the highest murder rates in the nation," Newsom said.
While @SarahHuckabee touts public safety, here is what she skips over:

Arkansas has the one of the highest murder rates in the nation.

— Gavin Newsom (@GavinNewsom) February 8, 2023
Sanders responded to the criticism during an interview Thursday night with Fox News host Sean Hannity, who pointed out that Newsom seemingly ignored the fact that Sanders had been in office "a whopping 31 days."
"By comparison, when you look at Gavin Newsom's time in public office, his time as San Francisco mayor, lieutenant governor, now governor, Newsom has spent nearly 7,000 days driving California straight into the ground," Hannity said. "Crime and homelessness are now through the roof. The drug problem in California is out of control. Reports of school children being forced to walk through open-air drug dens. California ranked dead last again in the U-haul index."
Sanders said the fact that Newsom was attacking her proved that she was doing something right with the initial actions she has taken as the state's new governor.
"Let's not forget, he literally had to run ads begging people to stay in California not that long ago. And every single town I go to in Arkansas, I meet someone who has moved from California," she said. "My message to them is we're glad you're here but don't forget why you left California. We are proud of our state and our gates are open for people to come."
WATCH:
On Tuesday, during her 15-minute speech following Biden's State of the Union, Sanders contrasted Republicans' agenda with the president's. She leaned into what she called a "Left-wing culture war" and denounced Biden and Democrats for being "highjacked by the radical Left." The Arkansas governor framed the differences between the two parties as those between normalcy and radicalism.
"In the radical Left's America, Washington taxes you and lights your hard-earned money on fire. But you get crushed with high gas prices, empty grocery shelves, and our children are taught to hate one another on account of their race, but not to love one another or our great country," she continued. "The dividing line in America is no longer between Right or Left. The choice is between normal and crazy."
Sanders went on to tout her own record as governor, despite taking office less than a month ago. The Arkansas governor mentioned her efforts to combat Critical Race Theory in education, ban the term "Latinx" in the state government, and take action against COVID regulations and lockdown measures.

⬇️ Top Picks for You ⬇️
Biden Dog Bites Another Secret Service Agent; 11th Incident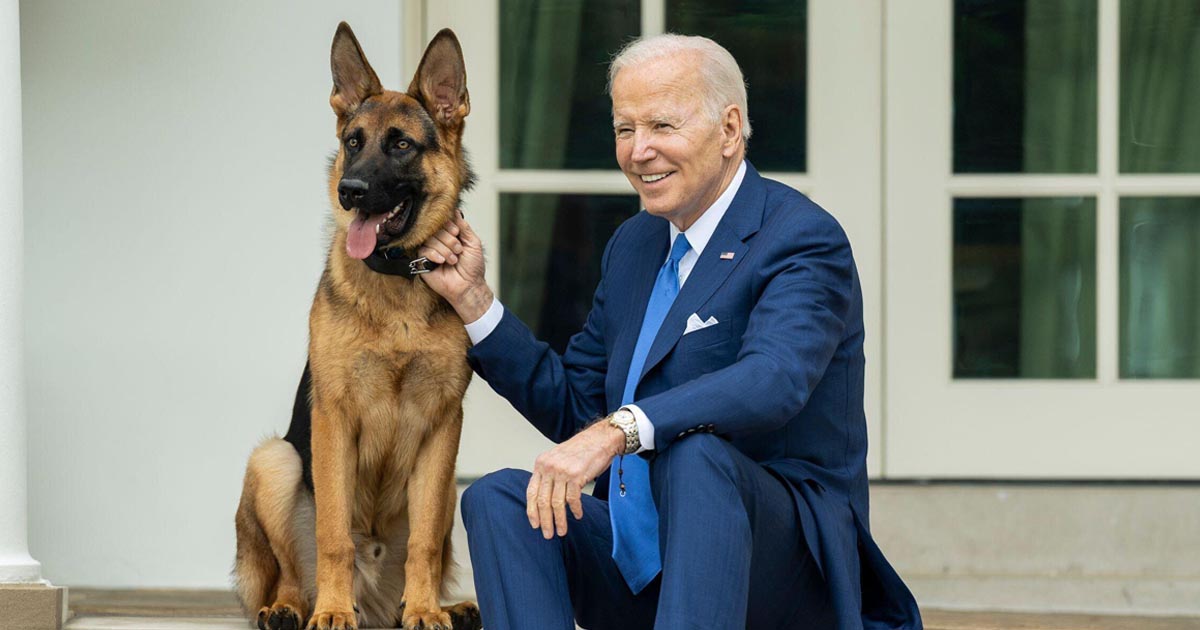 President Joe Biden's younger dog, Commander, bit another US Secret Service agent at the White House Monday evening, CNN has learned, the 11th known biting incident involving the 2-year-old German Shepherd.
"Yesterday around 8 p.m., a Secret Service Uniformed Division police officer came in contact with a First Family pet and was bitten. The officer was treated by medical personnel on complex," USSS chief of communications Anthony Guglielmi told CNN in a statement.
The injured officer spoke with Secret Service Uniformed Division Chief Alfonso M. Dyson Sr. on Tuesday and is doing OK, Guglielmi said.
Commander has been involved in at least 11 biting incidents at the White House and in Delaware, according to CNN reporting and US Secret Service email correspondence, including a November 2022 incident where an officer was hospitalized after the dog clamped down on their arms and thighs.
White House officials said in July that the Bidens were working through new training and leashing protocols for the family pet following the incidents.
Asked by CNN whether the new training had taken place or if any further action would be sought, Elizabeth Alexander, communications director for the first lady, said in a statement that "the First Family continues to work on ways to help Commander handle the often unpredictable nature of the White House grounds."
"The President and First Lady are incredibly grateful to the Secret Service and Executive Residence staff for all they do to keep them, their family, and the country safe," she continued.
Another of Biden's dogs, Major, was involved in biting incidents at the White House. The German Shepherd later moved out of the White House, and Commander arrived at the White House in 2021.
The July email correspondence, obtained through Freedom of Information Act requests by the conservative group Judicial Watch, reflected 10 incidents.
In one incident in October, first lady Dr. Jill Biden "couldn't regain control" of the dog as it charged a member of Secret Service staff.
"I believe it's only a matter of time before an agent/officer is attacked or bit," the staff member warned in an email.
While Secret Service agents are not responsible for the handling of the first family's pets, they can come into frequent contact with the animals.
"This isn't a Secret Service thing. This is a this is a workplace safety issue," CNN contributor and former USSS agent Jonathan Wackrow told CNN.
"There's uniqueness here where it's the residence of the president of the United States, but it's also the workplace for hundreds, thousands of people. And you can't bring a hazard into the workplace. And that's what is essentially happening with this dog. One time you can say it's an accident, but now multiple incidents, it's a serious issue," he added.
Wackrow called it a "significant hazard" for agents on duty at the White House residence.
"I'm sure that the Bidens love the dog. I'm sure that it's a member of the family like every dog is, but you're creating a significant hazard to those who support you – support the office of the president," he said.