At first glance, one could look at this headline and conclude it must be parody. But no, a leading so-called "science" magazine actually would rather black females drop dead than tell them to adopt a healthy lifestyle.
Scientific American on Tuesday tweeted out an article they wrote in June 2020 titled "The Racist Roots of Fighting Obesity." The entire piece gives readers a foreboding look into the future of science.
The heightened concern about black women's weight reflects the racist stigmatization of their bodies. It also ignores how interrelated social factors impact black women's health. https://t.co/sqVv8wpHyJ

— Scientific American (@sciam) December 28, 2022
The article begins by acknowledging a serious public health crisis: four out of five black women are either overweight or obese. But it quickly moves on to complaining about the allegedly sexist and racist roots of black female obesity:
"In the eyes of many medical practitioners in the late 19th century, Black women were destined to die off along with the men of their race because of their presumed inability to control their "animal appetites"—eating, drinking, and fornicating. These presumptions were not backed by scientific data but instead embodied the prevailing racial scientific logic at the time."
"Later, some doctors wanted to push Black men to reform their aesthetic preferences. Valorizing voluptuousness in Black women, these physicians claimed, validated their unhealthy diets, behaviors, and figures."
But surely America has relegated these ignorant attitudes and hypotheses into the dustbin of history. We now possess the necessary knowledge and technology to help black women adopt a healthy lifestyle and save lives.
Basic science says the key is a diet which avoids high-calorie foods and promotes regular exercise. Right?
Wrong, says the so-called science magazine.
"Today the idea that weight is the main problem dogging Black women builds on these historically racist ideas and ignores how interrelated social factors impact Black women's health. It also perpetuates a misinformed and damaging message about weight and health. Indeed, social determinants have been shown to be more consequential to health than BMI or health behaviors."
"Doctors often tell fat people that dietary control leading to weight loss is the solution to their health problems. But many studies show that the stigma associated with body weight, rather than the body weight itself, is responsible for some adverse health consequences blamed on obesity, including increased mortality risk. Regardless of income, Black women consistently experience weightism in addition to sexism and racism. From workplace discrimination and poor service at restaurants to rude or objectifying commentary online, the stress of these life experiences contributes to higher rates of chronic mental and physical illnesses such as heart disease, diabetes, depression, and anxiety."
So obesity is not the problem but rather racism and body-shaming? There is incontrovertible proof that obesity kills more people worldwide than car crashes, terror attacks, and Alzheimer's combined. Obesity also is not only linked to the chronic mental and physical illnesses mentioned in the article but several types of cancer as well.
By not telling black women the truth and focusing on the obvious problem, Scientific American wants to condemn them all to early deaths. Seems a bit racist, no?
In fact, a cunning white supremacist could have written this same Scientific American article using woke language to trick readers. After all, they want fewer blacks in America, especially women.
This comedy video released two years ago reveals the stunning similarities between the woke left and white nationalists. Seems even more apt today.
The Scientific American piece also serves as another accelerant in the war the left has waged on science, especially in the last two years. There is no greater example of this than what happened during COVID.
So-called experts during the height of the pandemic told Americans keeping businesses and schools open would get people killed and they must shut down. Thousands if not millions of lives will be saved, they said.
As we all know, the lockdowns did not actually save lives but rather destroyed them. Millions of adult Americans lost their livelihoods thanks to the authoritarian shutdowns. Children in blue states across the country lost valuable years in brain development and suicides skyrocketed.
At the same time, however, Black Lives Matter protests were absolutely essential because experts said racist words were a bigger public health threat than a virus. They implied that COVID does not spread during left-wing protests, particularly over a dead black man. The virus is just that woke and smart.
The experts lied then and they are continuing to lie now. Wokeness and feelings predominate over truth and real science even though people are getting killed as a result.
We must reclaim the truth and remove these so-called scientists and their enablers starting now. Lives are on the line.

⬇️ Top Picks for You ⬇️
Pro-Life Father Arrested by FBI Acquitted on Federal Charges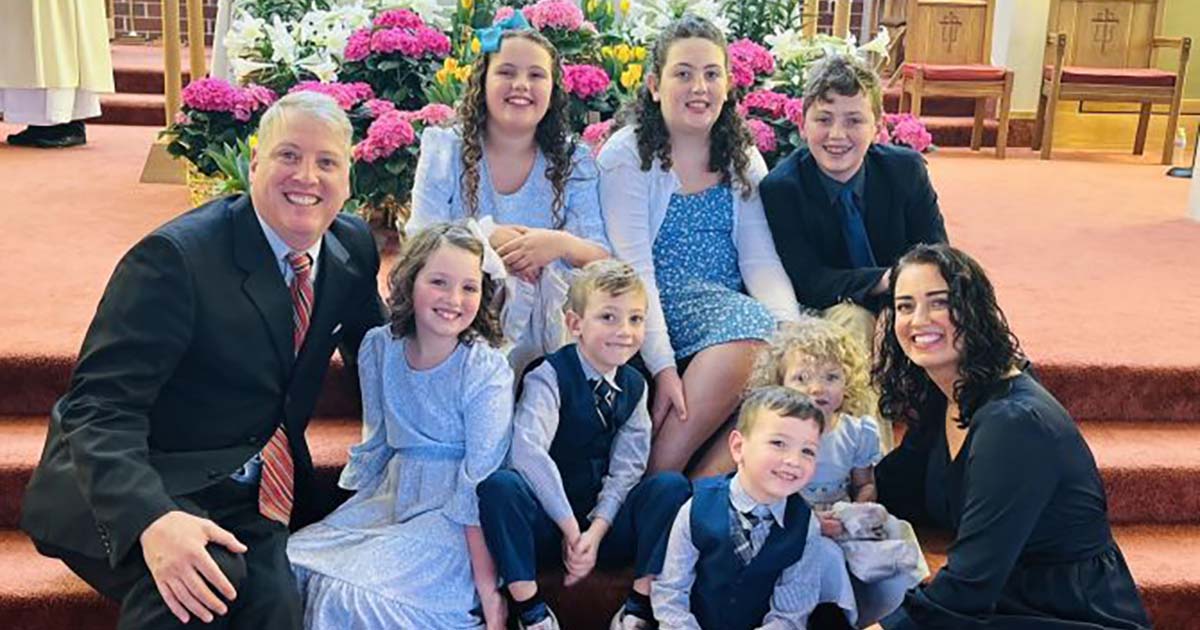 A Catholic pro-life activist facing 11 years in prison for allegedly violating a federal law prohibiting people from blocking others from entering an abortion clinic was acquitted on Monday following a week-long trial.
Mark Houck leads a nonprofit group that counsels women outside of abortion clinics in Philadelphia, Pennsylvania. He was providing sidewalk counseling when, the Department of Justice says, he assaulted an abortion escort twice "because he was a volunteer reproductive health care clinic escort."
"Assault is always a serious offense, and under the [Freedom of Access to Clinic Entrances] FACE Act, if the victim is targeted because of their association with a reproductive healthcare clinic, it is a federal crime," U.S. Attorney Jacqueline Romero said in a DOJ press release. "Our Office and the Department of Justice are committed to prosecuting crimes which threaten the safety and rights of all individuals."
The FACE Act makes it a federal crime to injure, intimidate, or interfere with anyone due to their status as a provider of reproductive health care.
Houck and his attorneys at the Thomas More Society argued, however, that this was "a political prosecution" meant to "send a message" to pro-life Americans.
"And what's clear from the Department of Justice at its highest levels, which is directing this case, [is] that they are trying to send a message to pro-life and people of faith: 'Don't mess with us,'" Thomas More Society vice president Peter Breen told Fox News. "They want to intimidate — they want to cause good people like Mark to stop praying and counseling at the abortion clinics of our country. And that's not going to happen."
Breen told the outlet that the case was thrown out of state court but revived by the Biden administration nearly a year after the incident. Further, Breen said, some 20 FBI agents raided Houck's home when they arrested him, treating him "as if he was a drug lord or a mafia boss."
"If he was truly a danger to the community, they wouldn't have waited a year to prosecute," Breen said. "Serious questions need to be asked of the attorney general. What was he thinking? Why did they do this obscene show of force against a peaceful pillar of the community?"
Houck's lawyers also argued that the DOJ's claim that the FACE Act protects anyone associated with an abortion clinic is inaccurate.
"The FACE Act was never intended to cover disputes between advocates on the public sidewalks outside of our nation's abortion clinics," Breen said in a statement earlier this month. "This new evidence shows clearly that Congress intended to limit the FACE Act to patients and staff working in the clinic, and not to take sides between pro-life and pro-choice counselors and escorts on the sidewalk. The Biden Department of Justice's prosecution of Mark Houck is pure harassment, meant solely to intimidate our nation's pro-life sidewalk counselors who provide vital resources to help pregnant women at risk for abortion."
Houck pleaded not guilty to the charges against him and testified at trial that he and the clinic escort, Bruce Love, had two altercations on the day in question. The first occurred while Houck was counseling two women crossing the street who left Planned Parenthood, Catholic News Agency reported. Love allegedly chased Houck about 100 feet in an attempt to stop him from counseling the women, Life News reported. Houck claimed that Love surprised and made contact with him, causing him to ask, "What are you doing?" and reflexively elbow the escort in the hip to move him out of the way. The prosecution argued that Houck elbowed Love unprovoked because of his status as a clinic escort.
After this, Houck said Love left the clinic and stood near Houck's 12-year-old son while taunting Houck Sr., saying, "You're hurting women. You don't care about women."
Houck said Love also repeatedly disparaged him to his son, who testified on Friday that Love stood about an arm's length away from him near the clinic.
"I moved away… because I was scared," the younger Houck testified, adding that Love told him, "Your dad's a bad person. Your dad's harassing women."
It was after Houck repeatedly told Love to stop harassing his son that Houck said he pushed Love away.
The jury deadlocked on Friday after two-and-a-half hours of deliberation, telling U.S. District Judge Gerald Pappert that they didn't think they could come to a conclusion given more time. Pappert sent the jury home but instructed them to return Monday morning and continue deliberations anyway.
On Monday, the jury acquitted Houck. Following the verdict, Breen released a statement condemning the Biden administration for pursuing his client.
"We are, of course, thrilled with the outcome," Breen said. "Mark and his family are now free of the cloud that the Biden administration threw upon them. We took on Goliath – the full might of the United States government – and won. The jury saw through and rejected the prosecution's discriminatory case, which was harassment from day one. This is a win for Mark and the entire pro-life movement. The Biden Department of Justice's intimidation against pro-life people and people of faith has been put in its place."