The 69th Bilderberg Meeting, a secretive conclave of global power brokers, has kicked off in Lisbon, Portugal, with issues on the agenda including transnational threats, artificial intelligence, and America's leadership in world affairs.
This year's meeting, the latest in a series that began in 1954, continues to blur the lines between open diplomacy and clandestine elitism as political leaders brush shoulders with industry bigwigs, media barons, and finance tycoons.
"It's a really high-octane list, leaning heavily into the Russia/Ukraine conflict and the future of NATO," journalist Charlie Skelton, who's in Lisbon to cover this year's event, told The Epoch Times in an emailed statement.
As usual, the details of their discussions remain obscured by the "Chatham House Rule," a protocol that gives participants the discretion to use the information gleaned from the talks but forbids the identification of speakers or participants, ensuring anonymity.
"Thanks to the private nature of the Meeting, the participants take part as individuals rather than in any official capacity, and hence are not bound by the conventions of their office or by pre-agreed positions," a Bilderberg Meetings press release reads.
Among the major topics slated for discussion are artificial intelligence, the banking system, energy transition, and industrial policy and trade.
Other high-priority issues include the geopolitical landscapes of Europe, China, India, Russia, and Ukraine, along with NATO and America's global leadership.
The topic of U.S. leadership, which last appeared on the Bilderberg agenda in 2018, comes as China and Russia have ramped up their efforts to reduce reliance on the U.S. dollar as the world's pre-eminent reserve currency.
The agenda outlined by the group is as follows:
AI
Banking System
China
Energy Transition
Europe
Fiscal Challenges
India
Industrial Policy and Trade
NATO
Russia
Transnational Threats
Ukraine
US Leadership
Elites Gather
The array of globally influential figures includes NATO Secretary General Jens Stoltenberg, with the dynamics of global security cooperation in sharp focus as the war in Ukraine continues with no end in sight.
Also on the security front, attending the meeting are Avril Haines, U.S. director of National Intelligence, and Thomas Wright, senior director for Strategic Planning at the National Security Council.
There's no shortage of political leaders, including Roberta Metsola, president of the European Parliament, Mark Rutte, prime minister of the Netherlands, and Finland's outgoing Prime Minister Sanna Marin, who lost an election but continues to serve as part of a caretaker government until a new cabinet is formed.
Also attending is Sam Altman, CEO of OpenAI, the creator of the artificial intelligence chatbot ChatGPT that has grabbed headlines for its potential to replace humans in jobs. Other prominent tech figures include Satya Nadella, CEO of Microsoft, Alex Karp, CEO of Palantir Technologies, and former Google CEO Eric Schmidt.
Albert Bourla, CEO of Pfizer, is also on the list of participants, as is Thiel Capital founder Peter Thiel, and John Waldron, president of Goldman Sachs.
Also in attendance are Didier Reynders, European Commissioner for Justice, Alexander Schallenberg, Austria's Minister for European and International Affairs, and Ukraine Foreign Minister Dmytro Kuleba.
Kuleba, notably, has been at the forefront of efforts to bolster Western backing for Ukraine in its conflict with Russia. He recently took part in a meeting of 27 European Union foreign ministers, where he called for the provision of long-range artillery ammunition and the opening of talks for Ukraine's potential accession to the E.U.
While the Bilderberg Meeting is touted as a private, informal gathering devoid of any official capacity, the implications of such a potent concentration of power have been the subject of scrutiny.
"It seems like an awful lot of senior European politicians to be discussing vital topics such as Ukraine, Russia, and NATO, with such senior NATO officials, and with no press oversight and no press conference," Skelton told The Epoch Times.
"The conference seems to be a serious blind spot in the mainstream media. And this blind spot doesn't seem like it's about to clear up any time soon," he added, referring to reluctance on the part of legacy media outlets to cover the Bilderberg Meetings, which have been the subject of various rumors, including that attendees gather to strategize about how to create a new world order.
The secrecy surrounding the meetings has given rise to a number of unproven theories, including that Bilderberg attendees are behind the creation of the European Union or the invasion of Iraq.
Below is a comprehensive list of participants of the 69th Bilderberg Meetings.
Full List of Participants:
Abrams, Stacey (USA), CEO, Sage Works Production
Achleitner, Paul M. (DEU), Chair, Global Advisory Board, Deutsche Bank AG
Agrawal, Ajay (CAN), Professor of Economics, University of Toronto
Albares, José Manuel (ESP), Minister of Foreign Affairs
Altman, Sam (USA), CEO, OpenAI
Alverà, Marco (ITA), Co-Founder, zhero.net; CEO TES
Andersson, Magdalena (SWE), Leader, Social Democratic Party
Applebaum, Anne (USA), Staff Writer, The Atlantic
Arnaut, José Luís (PRT), Managing Partner, CMS Rui Pena & Arnaut
Attal, Gabriel (FRA), Minister for Public Accounts
Balsemão, Francisco Pinto (PRT), Chair, Impresa Group
Barbizet, Patricia (FRA), Chair and CEO, Temaris & Associés SAS
Barroso, José Manuel (PRT), Chair, International Advisors, Goldman Sachs
Baudson, Valérie (FRA), CEO, Amundi SA
Beaune, Clément (FRA), Minister for Transport
Benson, Sally (USA), Professor of Energy Science and Engineering, Stanford University
Beurden, Ben van (NLD), Special Advisor to the Board, Shell plc
Borg, Anna (SWE), President and CEO, Vattenfall AB
Borrell, Josep (INT), Vice President, European Commission
Botín, Ana P. (ESP), Group Executive Chair, Banco Santander SA
Bourla, Albert (USA), Chair and CEO, Pfizer Inc.
Braathen, Kjerstin (NOR), CEO, DNB ASA
Brende, Børge (NOR), President, World Economic Forum
Brink, Dolf van den (NLD), CEO, Heineken NV
Brudermüller, Martin (DEU), CEO, BASF SE
Buberl, Thomas (FRA), CEO, AXA SA
Byrne, Thomas (IRL), Minister for Sport and Physical Education
Carney, Mark (CAN), Vice Chair, Brookfield Asset Management
Cassis, Ignazio (CHE), Federal Councillor, Federal Department of Foreign Affairs
Castries, Henri de (FRA), President, Institut Montaigne
Cavoli, Christopher (INT), Supreme Allied Commander Europe
Ceylan, Mehmet Fatih (TUR), President, Ankara Policy Center
Chhabra, Tarun (USA), Senior Director for Technology and National Security, National Security Council
Creuheras, José (ESP), Chair, Grupo Planeta and Atresmedia
Debackere, Koenraad (BEL), Chair, KBC Group NV
Deese, Brian (USA), Former Director, National Economic Council
Donohoe, Paschal (INT), President, Eurogroup
Döpfner, Mathias (DEU), Chair and CEO, Axel Springer SE
Easterly, Jen (USA), Director, Cybersecurity and Infrastructure Security Agency
Economy, Elizabeth (USA), Senior Advisor for China, Department of Commerce
Ehrnrooth, Henrik (FIN), Chair, Otava Group
Émié, Bernard (FRA), Director General for External Security, Ministry of the Armed Forces
Empoli, Giuliano da (ITA), Political Scientist and Writer, Sciences Po
Entrecanales, José M. (ESP), Chair and CEO, Acciona SA
Eriksen, Øyvind (NOR), President and CEO, Aker ASA
Ferguson, Niall (USA), Milbank Family Senior Fellow, Stanford University
Fleming, Jeremy (GBR), Former Director, GCHQ
Frederiksen, Mette (DNK), Prime Minister
Freeland, Chrystia (CAN), Deputy Prime Minister
Garijo, Bélen (DEU), Chair and CEO, Merck KGaA
Gentiloni, Paolo (INT), Commissioner for Economy, European Commission
Gonzáles Pons, Esteban (ESP), Vice Chair, European People's Party
Gosset-Grainville, Antoine (FRA), Chair, AXA
Goulimis, Nicky (GRC), Board Member and Co-Founder, Nova Credit Inc.
Griffin, Kenneth (USA), Founder and CEO, Citadel LLC
Gruber, Lilli (ITA), Editor-in-Chief and Anchor, La7 TV
Gürkaynak, Refet (TUR), Professor of Economics, Bilkent University
Haines, Avril D. (USA), Director of National Intelligence
Halberstadt, Victor (NLD), Professor of Economics, Leiden University
Hassabis, Demis (GBR), CEO, DeepMind
Hedegaard, Connie (DNK), Chair, KR Foundation
Hofreiter, Anton (DEU), MP; Chair Committee on European Affairs
Holzen, Madeleine von (CHE), Editor-in-Chief, Le Temps
Jensen, Kristian (DNK), CEO, Green Power Denmark
Joshi, Shashank (GBR), Defence Editor, The Economist
Kaag, Sigrid (NLD), Minister of Finance; Deputy Prime Minister
Karp, Alex (USA), CEO, Palantir Technologies Inc.
Kasparov, Garry (USA), Chair, Renew Democracy Initiative
Kieli, Kasia (POL), President and Managing Director, Warner Bros. Discovery Poland
Kissinger, Henry A. (USA), Chairman, Kissinger Associates Inc.
Koç, Ömer (TUR), Chair, Koç Holding AS
Kolesnikov, Andrei (INT), Senior Fellow, Carnegie Endowment for International Peace
Kostrzewa, Wojciech (POL), President, Polish Business Roundtable
Kotkin, Stephen (USA), Senior Fellow, Hoover Institution, Stanford University
Kravis, Henry R. (USA), Co-Chairman, KKR & Co. Inc.
Kravis, Marie-Josée (USA), Chair, The Museum of Modern Art
Kudelski, André (CHE), Chair and CEO, Kudelski Group SA
Kuleba, Dmytro (UKR), Minister of Foreign Affairs
Lammy, David (GBR), Shadow Secretary of State for Foreign Affairs, House of Commons
Leysen, Thomas (BEL), Chair, Umicore and Mediahuis; Chair DSM-Firmenich AG
Liikanen, Erkki (FIN), Chair, IFRS Foundation Trustees
Looney, Bernard (GBR), CEO, BP plc
Marin, Sanna (FIN), Prime Minister
Metsola, Roberta (INT), President, European Parliament
Micklethwait, John (USA), Editor-in-Chief, Bloomberg LP
Minton Beddoes, Zanny (GBR), Editor-in-Chief, The Economist
Moreira, Duarte (PRT), Co-Founder and Managing Partner, Zeno Partners
Moyo, Dambisa (GBR), Global Economist; Member, House of Lords
Mundie, Craig J. (USA), President, Mundie & Associates LLC
Nadella, Satya (USA), CEO, Microsoft Corporation
O'Leary, Michael (IRL), Group CEO, Ryanair Group
Orida, Deborah (CAN), President and CEO, PSP Investments
Özel, Soli (TUR), Professor, Kadir Has University
Papalexopoulos, Dimitri (GRC), Chair, TITAN Cement Group; Treasurer Bilderberg Meetings
Philippe, Édouard (FRA), Mayor, Le Havre
Pottinger, Matthew (USA), Distinguished Visiting Fellow, Hoover Institution
Pouyanné, Patrick (FRA), Chair and CEO, TotalEnergies SE
Rachman, Gideon (GBR), Chief Foreign Affairs Commentator, The Financial Times
Ramírez, Pedro J. (ESP), Director, El Español
Rappard, Rolly van (NLD), Co-Founder and Co-Chair, CVC Capital Partners
Reynders, Didier (INT), European Commissioner for Justice
Röttgen, Norbert (DEU), MP, German Bundestag
Rutte, Mark (NLD), Prime Minister
Salomon, Martina (AUT), Editor-in-Chief, Kurier
Sawers, John (GBR), Executive Chair, Newbridge Advisory Ltd.
Schadlow, Nadia (USA), Senior Fellow, Hudson Institute
Schallenberg, Alexander (AUT), Minister for European and International Affairs
Schmidt, Eric E. (USA), Former CEO and Chair, Google LLC
Schmidt, Wolfgang (DEU), Head of the Chancellery, Federal Minister for Special Tasks
Sebastião, Nuno (PRT), Chair and CEO, Feedzai
Sikorski, Radoslaw (POL), MEP, European Parliament
Silva, Filipe (PRT), CEO, Galp
Stilwell de Andrade, Miguel (PRT), CEO, EDP
Stoltenberg, Jens (INT), Secretary General, NATO
Subramanian, Arvind (INT), Senior Fellow in International and Public Affairs, Brown University
Tellis, Ashley J. (USA), Tata Chair for Strategic Affairs, Carnegie Endowment
Thiel, Peter (USA), President, Thiel Capital LLC
Tsu, Jing (USA), Professor of East Asian Languages and Literatures, Yale University
Tugendhat, Tom (GBR), Minister of State for Security
Vadera, Shriti (GBR), Chair, Prudential plc
Vassilakis, Eftichios (GRC), Chair, Aegean Group
Waldron, John (USA), President and COO, The Goldman Sachs Group, Inc.
Wallenberg, Marcus (SWE), Chair, Skandinaviska Enskilda Banken AB
Wennink, Peter (NLD), President and CEO, ASML Holding NV
Wright, Thomas (USA), Senior Director for Strategic Planning, National Security Council
Yang, Yuan (GBR), Europe-China Correspondent, Financial Times
Yergin, Daniel (USA), Vice Chair, S&P Global
Yinanç, Barçin (TUR), Journalist, T24 News Website

⬇️ Top Picks for You ⬇️
Biden Got Recurring $1,380 Payment from Hunter's Firm Starting in 2018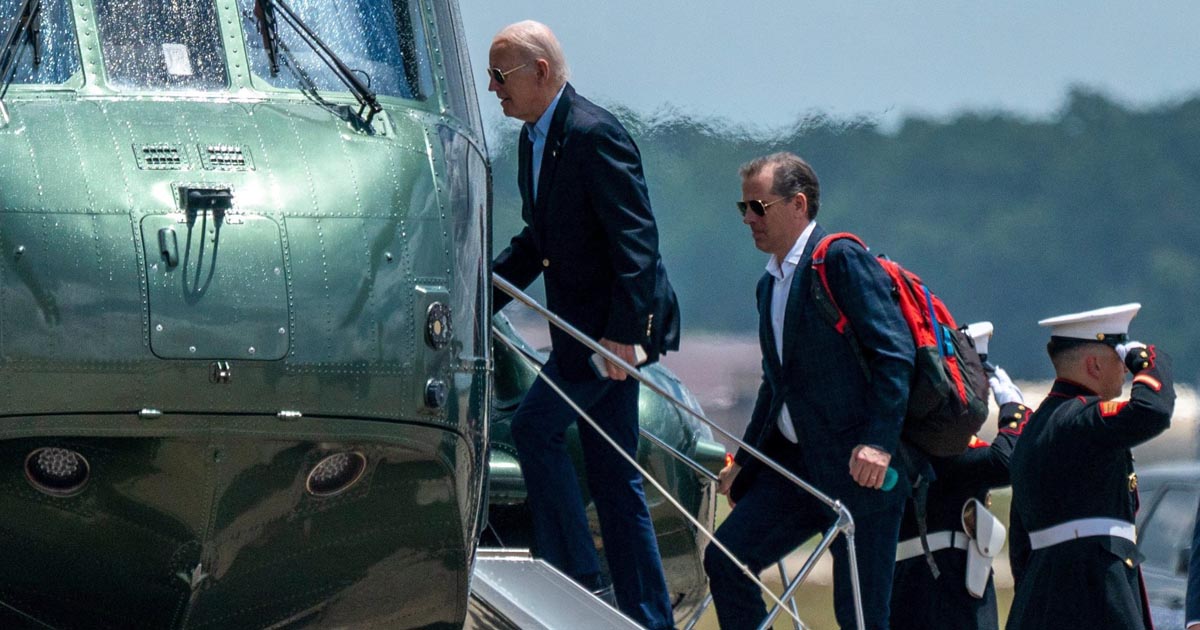 President Biden received a recurring payment of $1,380 from his son Hunter's law firm beginning in late 2018 shortly after a bank money laundering officer warned that the same account was receiving millions of dollars in Chinese government-linked funds without "any services rendered."
A bank order shows that Owasco PC set up a "monthly" transfer to then-former Vice President Joseph R. Biden Jr., with a voided check for the future president included in the documentation, which was released Monday by the House Oversight Committee.
A source told The Post that at least three recurring payments were made — on Sept. 17, Oct. 15 and Nov. 15, 2018 — totaling $4,140 to the elder Biden from Owasco PC, according to the bank records of the firm.
"President Biden and his family must be held accountable for this blatant corruption," Oversight Committee Chairman James Comer (R-Ky.) said in a video release.
"Today, the House Oversight Committee is releasing subpoenaed bank records that show Hunter Biden's business entity, Owasco PC, made direct monthly payments to Joe Biden. This wasn't a payment from Hunter Biden's personal account but an account for his corporation that received payments from China and other shady corners of the world," Comer said.
"At this moment, Hunter Biden is under an investigation by the Department of Justice for using Owasco PC for tax evasion and other serious crimes. And based on whistleblower testimony, we know the Justice Department made a concerted effort to prevent investigators from asking questions about Joe Biden. I wonder why?"
Earlier that year, a January 2019 email from assistant Katie Dodge to Hunter Biden annotated various expenses including "Ford Raptor — Reimbursement to JRB — $1380."
The provenance of the funds is unclear, however, and additional records show that Hunter Biden was knee-deep in two of his most controversial business relationships at the time, with Ukraine's Burisma Holdings and CEFC China Energy.
The evidence emerged as House Republicans prepare to question first brother James Biden on Wednesday and Hunter next week about the president's role in his family's dealings in countries such as China and Ukraine — with a possible floor vote to authorize the ongoing impeachment inquiry this month.
While a presidential candidate, Joe Biden denied that he ever discussed business with his relatives, but evidence has since shown that he met with his relatives' associates from both the Burisma and CEFC ventures.
Documents from the first son's abandoned laptop show that Burisma board adviser Vadym Pozharskyi sought "bank reference" information on Sept. 14, 2018 — one day before the initial transfer to Joe Biden was sought. However, the transaction was not executed for another two days, apparently due to a later-than-expected form submission.
Joe Biden met Pozharskyi at an April 17, 2015, dinner at DC's Café Milano. An unproven FBI informant tip said that Burisma owner Mykola Zlochevsky claimed in 2016 he was "coerced" into paying $10 million in bribes to the Bidens for their assistance in ousting prosecutor Viktor Shokin.
Hunter also was on the tail end of disbursing millions of dollars received from CEFC China Energy — one of two major Biden family dealings with Chinese government-linked firms.
On June 26, 2018 — less than three months before Joe Biden began to receive the monthly transfers — an internal Bank Secrecy Act expert warned colleagues that the institution should reconsider its relationship with Hunter as a result of Owasco PC seeming to receive Chinese funds without "any services rendered."
CEFC transferred $5 million to another Biden family-linked entity, Hudson West III, in August 2017 after Hunter warned a China-based associate of his father's wrath if a business deal was aborted. Much of the large transfer later went to Hunter's Owasco PC.
Prior bank records released by the Oversight Committee indicate that Joe Biden received payments of $40,000 and $200,000 from his brother James, who also was involved in the CEFC venture and other foreign-focused enterprises.
Comer alleged that the $40,000 transferred to Joe Biden's bank account on Sept 3, 2017, was from "laundered" Chinese funds.
James Biden paid Joe Biden $200,000 on March 1, 2018 — the same day that James received a $200,000 transfer from troubled rural hospital company Americore after pledging to use his political connections to secure a Middle Eastern investor, according to bankruptcy filings.
The White House says there's evidence that both transfers were loan repayments, but Republicans argue they have not seen loan agreement documents and note that the funds distributed to James came from a law firm, rather than Joe Biden himself, further clouding the picture.