U.S. Sen. Bob Menendez of New Jersey pleaded not guilty on Wednesday to federal charges accusing him of pocketing bribes of cash and gold bars in exchange for wielding his political influence to secretly advance Egyptian interests and do favors for local businessmen.
Menendez led his wife, who also pleaded not guilty in the case, by hand out of the courtroom after the brief hearing in the lower Manhattan federal courthouse days after prosecutors unsealed an indictment alleging vast corruption by the Democrat.
Menendez spoke in court only when each defendant stood to acknowledge that they understood the charges against them. A lawyer entered the not guilty plea for Menendez, who was forced to step down as chairman of the powerful Senate Foreign Relations Committee after being indicted.
The senator was ordered released on a $100,000 bond, and he must surrender any personal passports but will be allowed to keep an official passport that would allow him to travel outside the U.S. for government business. The judge ordered him not to have any contact with his co-defendants except for his wife. He also can't have contact with Senate staffers who know about the facts of the case outside of the presence of lawyers.
A defiant Menendez has said allegations that he abused his power to line his pockets are baseless. He has said he is confident he will be exonerated and has no intention of leaving the Senate.
Still, calls for Menendez to resign continued to mount on Wednesday with Illinois Sen. Dick Durbin, the No. 2 Senate Democrat, saying "he should step down." More than half of Senate Democrats have now said that Menendez should resign, including fellow New Jersey Sen. Cory Booker, who said the indictment includes " shocking allegations of corruption and specific, disturbing details of wrongdoing."
It's the second corruption case in a decade against Menendez, whose last trial involving different allegations ended with jurors failing to reach a verdict in 2017.
Authorities say they found nearly $500,000 in cash, much of it hidden in clothing and closets, as well as more than $100,000 in gold bars in a search of the New Jersey home Menendez, 69, shares with his wife.
Charged alongside Menendez is his wife, Nadine, who prosecutors say played a key role in collecting hundreds of thousands of dollars worth of bribes from three New Jersey businessmen seeking help from the longtime lawmaker. An attorney for Nadine Menendez entered a not guilty plea for her on Wednesday, and she was ordered to be released on $250,000 bond secured by her Englewood Cliffs, New Jersey, home.
Prosecutors allege repeated actions by Menendez to benefit the authoritarian government of Egypt. They say Menendez also tried to interfere in criminal investigations involving associates, in one case pushing to install in New Jersey a federal prosecutor who he believed he could influence to derail a case.
Two of the businessmen, Jose Uribe and Fred Daibes, also were arraigned and pleaded not guilty. The third, Wael Hana, pleaded not guilty on Tuesday to charges including conspiracy to commit bribery. Hana was arrested at Kennedy Airport on Tuesday after returning voluntarily from Egypt to face the charges, and he was ordered freed pending trial.
Menendez, in his first public remarks after last week's indictment, said on Monday that the cash found in his home was drawn from his personal savings accounts over the years and that he kept it on hand for emergencies.
One of the envelopes full of cash found at his home, however, bore Daibes' DNA and was marked with the real estate developer's return address, according to prosecutors.
Prosecutors said Hana promised to put Menendez's wife on his company's payroll in a low- or no-show job in exchange for Menendez using his influential post to facilitate foreign military sales and financing to Egypt. Prosecutors allege Hana also paid $23,000 toward her home mortgage, wrote $30,000 checks to her consulting company, promised her envelopes of cash, sent her exercise equipment and bought some of the gold bars that were found in the couple's home.
The indictment alleges repeated actions by Menendez to benefit Egypt, despite U.S. government misgivings over the country's human rights record that in recent years have prompted Congress to attach restrictions on aid.
Prosecutors, who detailed meetings and dinners between Menendez and Egyptian officials, say Menendez gave sensitive U.S. government information to Egyptian officials and ghostwrote a letter to fellow senators encouraging them to lift a hold on $300 million in aid to Egypt, one of the top recipients of U.S. military support.
Prosecutors have accused Menendez of pressuring a U.S. agricultural official to stop opposing a lucrative deal that gave Hana's company a monopoly over certifying that imported meat met religious standards.

⬇️ Top Picks for You ⬇️
Venezuela Is Preparing to Invade Oil-Rich Neighbor Guyana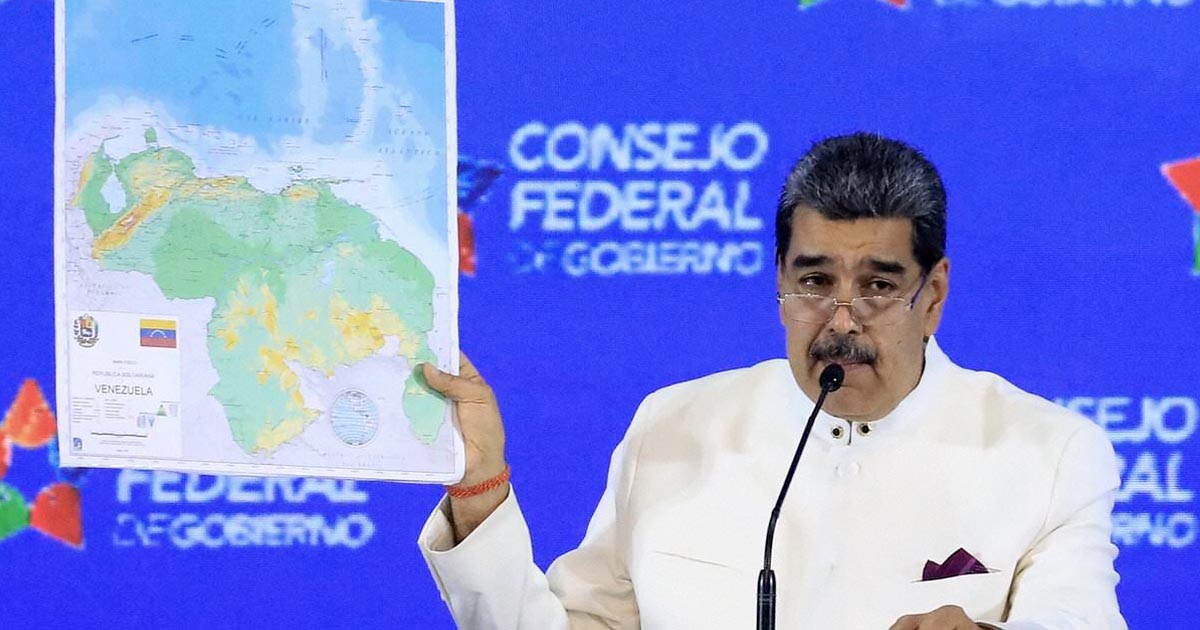 Venezuela's president on Tuesday published a new map of the region showing two thirds of neighboring Guyana 'reclaimed' by Caracas and ordered the state-owned energy companies to 'immediately' begin exploration in the area, as fears rose that Nicolas Maduro could start a war.
Venezuela has claimed Guyana's Esequiba region for over 100 years – ever since the border of the present-day country was drawn up, in 1899. But on Sunday, with his own popularity falling in the face of a newly-unified opposition, Maduro organized a 'referendum' on whether to pursue Venezuela's claim to the territory.
Voters were asked if they agreed with creating a Venezuelan state in the Esequiba region, providing its population with Venezuelan citizenship, and 'incorporating that state into the map of Venezuelan territory.'
The Maduro-controlled Venezuelan National Electoral Council said voters chose 'yes' more than 95 percent of the time on each of five questions on the ballot, and on Tuesday Maduro published his new map.
He has appointed a general, Alexis Rodríguez Cabello, as head of the region and on Tuesday dispatched him to the town of Tumeremo, a remote mining town in the jungle, 120 miles from the border.
Esequiba, about the size of Florida, is rich in minerals and accounts for two thirds of the territory of Guyana – an English speaking nation, which gained its independence from Britain in 1966. Guyana is the only English-speaking country in South America.
Venezuela protested an oil tender announced by Guyana in September, arguing that the offshore areas are subject to dispute and the companies awarded the fields will not have the rights to explore them.
Guyana has denounced Sunday's referendum as pretext to annex the land: in the days running up to it, the Venezuelan defense minister Vladimir Padrino Lopez, known for his ties to his counterparts in Russia and Iran, posted a video of Venezuela troops on parade, waving flags saying 'Guyana Esequiba', colored in the Venezuelan flag.
President Irfaan Ali called the move by Maduro 'reckless' and said his country plans to alert both regional and world leaders of Maduro's attempt to disrupt the peace in the hemisphere.
'It is unfortunate that President Maduro would choose the road of defying an international court order. This speaks volumes about the way in which President Maduro prefers to operate and also points to the fact that he's unconcerned about the peace and security of this region,' he told The Miami Herald.
'The order of the [U.N. court] made it very clear that Venezuela cannot act or take any action that would disrupt the status quo and the status quo is that Guyana exercises governance and control of Essequibo,' he said.
He added that he is seeking the support of the United Nations Security Council, the United States, the Caribbean Community, the Organization of American States and other countries to ensure Guyana's territory is 'not violated.'
'We once again call on Venezuela to retract from this reckless, adventurous move and to allow international law and the ruling of the [U.N. court] to guide our action,' Ali added.
El pueblo y su #FANB están movilizados, decididos e imperturbables a recuperar nuestra Guayana Esequiba, nos mueve el amor infinito a la patria y a cada milímetro del sagrado territorio venezolano, el cual defenderemos por todas las vías y por todos los medios que estén a nuestro… pic.twitter.com/B60slT8xSs

— Vladimir Padrino L. (@vladimirpadrino) November 29, 2023
Guyana has appealed to the International Court of Justice, the United Nations' top court, which on Friday ordered Venezuela not to take any action to change the status quo until the panel can rule on the two countries' competing claims. Any decision could take years.
Meanwhile, Guyana is nervously eyeing its giant neighbor to the north.
Venezuela's military, backed by Russia, Iran and Cuba, massively outnumbers tiny Guyana's: the Venezuelan military counts 123,000 active personnel versus only 3,400 for Guyana, according to an analysis in Brazil's Folha de Sao Paulo newspaper.
Guyana is also dwarfed by Venezuela in weaponry, with Venezuela having 514 armored vehicles compared to only six owned by Guyana.
Such an attack would draw a strong international response, with the lead likely played by Brazil, which borders both Venezuela and Guyana and whose military is significantly larger and more professional than either country's.
At the end of November, Brazil's defense ministry said it 'has intensified defensive actions' along its northern border.
'The Ministry of Defense has been monitoring the situation. Defensive actions have been intensified in the northern border region of the country, promoting a greater military presence,' it said in a statement.