Former President Donald Trump may consider someone like Republican New York Rep. Elise Stefanik to be his vice presidential pick, Trump insiders told the Daily Caller.
Stefanik fits the profile of characteristics Trump's team will be looking for in a VP. She's rallied behind him in his impeachment proceedings and the New York indictment, and was the first member of GOP leadership to endorse him for president — throwing her weight behind his candidacy before Trump announced it himself. Her commitment could lead Trump to choose her on a basis of loyalty, which those close to Trump say is the most desired quality in a VP.
"Loyalty. That's the necessary characteristic of anyone who wants to be VP. President Trump and the movement was dragged down by disloyalty in the White House," a source close to Trump said.
The Caller granted anonymity to some sources familiar with Trump's thinking to allow them to speak openly on a sensitive matter.
"I see no better fit than Elise Stefanik, but the president will take his own counsel," Mike Caputo, a longtime friend and adviser to Trump, said.
The 38-year-old third-ranking House Republican is not only "young, dynamic, really bright and engaging," Caputo continued, but also has a lot of gusto.
"She absolutely has more, let's just call it 'testicular fortitude' than most men in the Republican Party. She's got more balls than any other candidate that might be considered for vice president," Caputo said.
I stand with President Trump.

— Rep. Elise Stefanik (@RepStefanik) April 4, 2023
"She's one of the most convincing surrogates [for Trump] out of all of them. In some ways, Elise Stefanik, because of her distance from the problems of the past of Donald Trump, will be able to make a case for Donald Trump better than the candidate himself," he argued, noting that Stefanik's New York representation could sway Pennsylvania voters.
Trump has not yet created a short list for his running mate, and no serious discussions have taken place to narrow down the field, Trump insiders told the Caller. Beyond loyalty, he will likely be looking for someone who is "ideologically aligned" with him, has "charisma" and is "TV ready."
He's also open to choosing a female to be on the ticket, those close to Trump said, especially as abortion is currently a top issue.
"It's always seemed to me that it will be a woman. Whenever I've talked to people who worked in Trump world, it's always assumed to be someone like Elise Stefanik or some other woman candidate," an official supporting Trump's election effort told the Caller.
Trump has made no indication about who he is considering for vice president, but has said that "a lot of people" are "auditioning" for the role. He has even said that he would be open to campaigning alongside Republican Florida Gov. Ron DeSantis, his number one potential rival in the presidential race.
On Stefanik, Trump predicted that she could be president in 2028, given how much of a "rocket ship" she is. She was being considered for VP as early as May of 2022, CNN reported.
"She's always been a friend and people would say she's upwardly mobile. She goes to Washington as a young beautiful woman who took over and all of a sudden she becomes a rocket ship, she's the boss. She's been a great boss, a strong boss," Trump said in January of 2022.
The New York representative first came into office in 2015 at 30 years old, becoming the youngest woman ever elected into Congress at the time. She was elected House Republican Conference chair in 2021, and sits on the Armed Services committee, the Select Committee on Intelligence and the Select Subcommittee on the Weaponization of the Federal Government.
Stefanik herself has been tepid about her plans for 2024. She has said she doesn't "know what's going to happen in the future," but has also stressed that she's focused on getting Republicans into both chambers of Congress and to the presidency.

⬇️ Top Picks for You ⬇️
Biden Got Recurring $1,380 Payment from Hunter's Firm Starting in 2018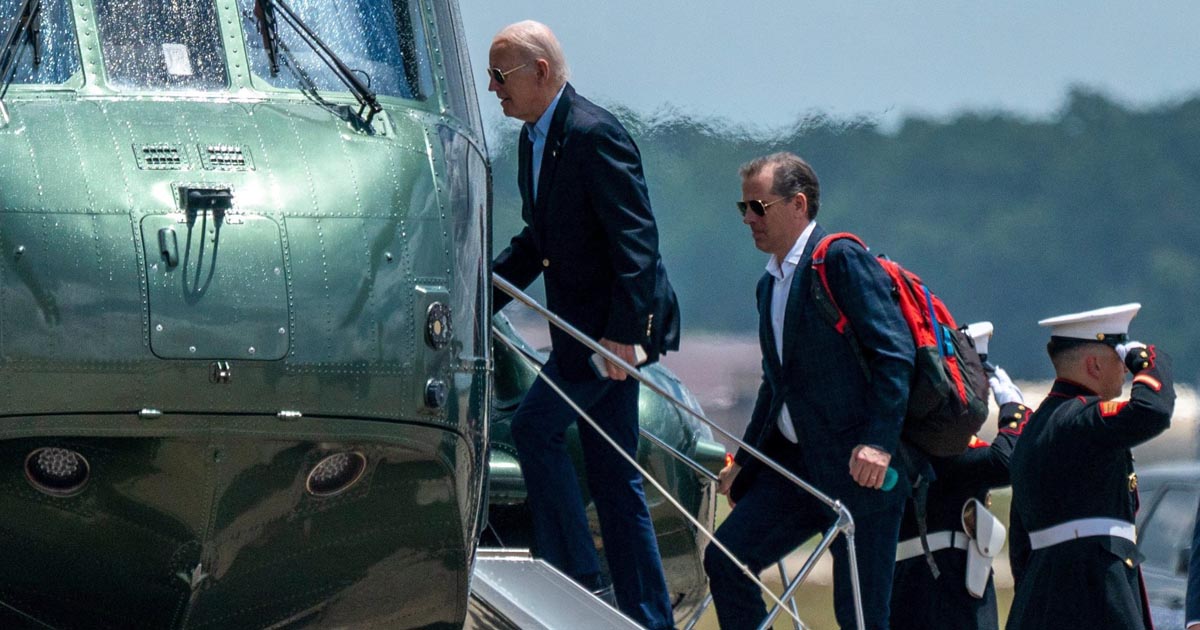 President Biden received a recurring payment of $1,380 from his son Hunter's law firm beginning in late 2018 shortly after a bank money laundering officer warned that the same account was receiving millions of dollars in Chinese government-linked funds without "any services rendered."
A bank order shows that Owasco PC set up a "monthly" transfer to then-former Vice President Joseph R. Biden Jr., with a voided check for the future president included in the documentation, which was released Monday by the House Oversight Committee.
A source told The Post that at least three recurring payments were made — on Sept. 17, Oct. 15 and Nov. 15, 2018 — totaling $4,140 to the elder Biden from Owasco PC, according to the bank records of the firm.
"President Biden and his family must be held accountable for this blatant corruption," Oversight Committee Chairman James Comer (R-Ky.) said in a video release.
"Today, the House Oversight Committee is releasing subpoenaed bank records that show Hunter Biden's business entity, Owasco PC, made direct monthly payments to Joe Biden. This wasn't a payment from Hunter Biden's personal account but an account for his corporation that received payments from China and other shady corners of the world," Comer said.
"At this moment, Hunter Biden is under an investigation by the Department of Justice for using Owasco PC for tax evasion and other serious crimes. And based on whistleblower testimony, we know the Justice Department made a concerted effort to prevent investigators from asking questions about Joe Biden. I wonder why?"
Earlier that year, a January 2019 email from assistant Katie Dodge to Hunter Biden annotated various expenses including "Ford Raptor — Reimbursement to JRB — $1380."
The provenance of the funds is unclear, however, and additional records show that Hunter Biden was knee-deep in two of his most controversial business relationships at the time, with Ukraine's Burisma Holdings and CEFC China Energy.
The evidence emerged as House Republicans prepare to question first brother James Biden on Wednesday and Hunter next week about the president's role in his family's dealings in countries such as China and Ukraine — with a possible floor vote to authorize the ongoing impeachment inquiry this month.
While a presidential candidate, Joe Biden denied that he ever discussed business with his relatives, but evidence has since shown that he met with his relatives' associates from both the Burisma and CEFC ventures.
Documents from the first son's abandoned laptop show that Burisma board adviser Vadym Pozharskyi sought "bank reference" information on Sept. 14, 2018 — one day before the initial transfer to Joe Biden was sought. However, the transaction was not executed for another two days, apparently due to a later-than-expected form submission.
Joe Biden met Pozharskyi at an April 17, 2015, dinner at DC's Café Milano. An unproven FBI informant tip said that Burisma owner Mykola Zlochevsky claimed in 2016 he was "coerced" into paying $10 million in bribes to the Bidens for their assistance in ousting prosecutor Viktor Shokin.
Hunter also was on the tail end of disbursing millions of dollars received from CEFC China Energy — one of two major Biden family dealings with Chinese government-linked firms.
On June 26, 2018 — less than three months before Joe Biden began to receive the monthly transfers — an internal Bank Secrecy Act expert warned colleagues that the institution should reconsider its relationship with Hunter as a result of Owasco PC seeming to receive Chinese funds without "any services rendered."
CEFC transferred $5 million to another Biden family-linked entity, Hudson West III, in August 2017 after Hunter warned a China-based associate of his father's wrath if a business deal was aborted. Much of the large transfer later went to Hunter's Owasco PC.
Prior bank records released by the Oversight Committee indicate that Joe Biden received payments of $40,000 and $200,000 from his brother James, who also was involved in the CEFC venture and other foreign-focused enterprises.
Comer alleged that the $40,000 transferred to Joe Biden's bank account on Sept 3, 2017, was from "laundered" Chinese funds.
James Biden paid Joe Biden $200,000 on March 1, 2018 — the same day that James received a $200,000 transfer from troubled rural hospital company Americore after pledging to use his political connections to secure a Middle Eastern investor, according to bankruptcy filings.
The White House says there's evidence that both transfers were loan repayments, but Republicans argue they have not seen loan agreement documents and note that the funds distributed to James came from a law firm, rather than Joe Biden himself, further clouding the picture.