ISIS terrorists have been seen stringing up blindfolded prisoners, savagely beating them with sticks and forcing them to stumble through the corridors of their headquarters in long lines in never-before-seen footage.
ISIS have always been careful at pushing out professionally-made videos – often without any sign of criminality or violence – in an effort to recruit people to what they call the Caliphate.
But unbeknownst to them, the ISIS fanatics were recording the reality of life in a torture chamber for months on end – and as a result, revealing their identities to international prosecutors.
Grainy CCTV footage inside a captured children's hospital in Aleppo, Syria, kept rolling even after the terrorists made it their headquarters in 2013 – an oversight that will be gold dust for investigators who are hoping to hold them to account.
The shocking video shared with CNN shows ISIS fanatics stringing up a prisoner and leaving him to hang there while he struggles to stand, his arms tied behind his back.
Other scenes show hooded prisoners being beaten with a stick as they are forced to do squats with their hands tied behind their back. One fanatic was seen laughing as he pushes a victim's head downwards.
Other prisoners, their heads covered with bags, were seen being marched in a long line through the bleak corridors of the hospital turned ISIS headquarters.
In their comfort, the ISIS terrorists removed their masks – not realising that their every move was being recorded by the hospital's CCTV.
This oversight has meant international prosecutors have been able to gather important evidence and corroborate testimonials from survivors.
'This is exactly the kind of treatment that we've heard about from survivors,' Chris Engels, the director of investigations and operations for the Commission for International Justice and Accountability, told CNN.
'What makes this important is,' Engels says while pointing at an unmasked ISIS terrorist walking past a man being tortured, 'that's a person who would normally try and hide his face outside.'
'That's incredible evidence at trial – there are several individuals who have been identified,' Engels said, adding that they have been able to identify a French suspect from the CCTV footage.
Hundreds of civilians were kept in the makeshift prison in the Qadi Askar neighbourhood of Aleppo – and when it was liberated by rebel forces in January 2014, the bodies of dozens of prisoners were found strewn across the bloodied floor.
Many of the prisoners had been executed by the ISIS fanatics, their hands tied behind their backs.
But some made it out alive, including French journalist Didier Francois, who said he could hear the Syrian and Iraqi prisoners being beaten and tortured inside the hospital.
'We could hear the Syrian prisoners in the first places where we were detained,' Francois told CNN in 2015. 'In Aleppo hospital, for instance.'
Francois, who was a war correspondent of Paris-based radio station Europe 1, added at the time: 'There were also some Syrian and Iraqi prisoners there – local people who were detained for whatever reason – because they smoked or because the girls were not wearing the proper veil or whatever. And they were beaten and tortured. And we could hear them behind the doors.'
He said that he would often find prisoners lying in pools of their own blood when it was taken to use the toilet.
'There were some rooms in which torture was taking place every night. And sometimes we were put in those rooms. And you could see the chains hanging or the ropes hanging or the iron bars.'
Engels said the grainy footage from inside the hospital are 'clear evidence of abuse that went on in the facility'.
'And it also helps identify those perpetrators who were responsible for abuse,' he said. 'We're able to show the world today what Islamic State looked like behind the scenes.'
Last month, the UN revealed that ISIS still commands between 5,000 and 7,000 members across its former stronghold in Syria and Iraq and its fighters pose the most serious terrorist threat in Afghanistan today.
The terrorist group declared a self-styled caliphate in a large swath of territory in Syria and Iraq that it seized in 2014.
It was declared defeated in Iraq in 2017 following a three-year battle that left tens of thousands of people dead and cities in ruins, but its sleeper cells remain in both countries.
Despite sustained counter-terrorism operations, ISIS continues to command between 5,000 and 7,000 members across Iraq and Syria, 'most of whom are fighters,' though it has reduced its attacks deliberately 'to facilitate recruiting and reorganization,' UN experts said.

⬇️ Top Picks for You ⬇️
On Brink of Shutdown, McCarthy Pivots to 45-Day Plan Relying on Dem Help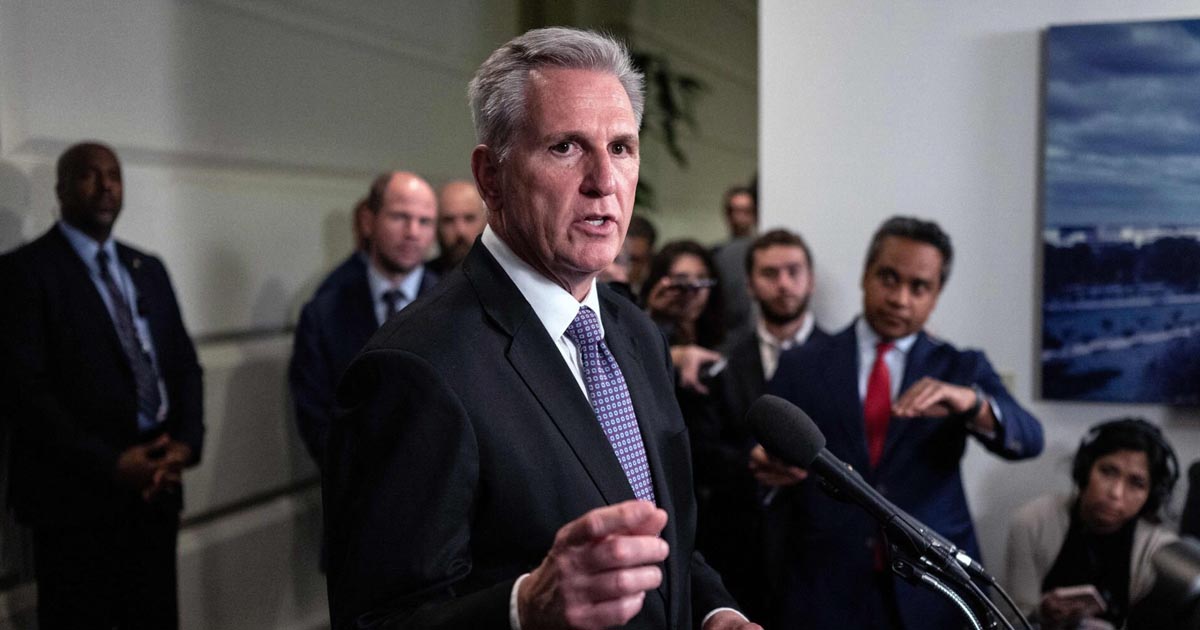 On the brink of a federal government shutdown, Speaker Kevin McCarthy announced a dramatic pivot Saturday, trying to push a 45-day funding bill through the House with Democratic help — a move that could keep government open but most certainly risks his job.
Republican lawmakers met behind closed doors early in the morning with hours to go before the midnight deadline needed to fund government operations or face a disruptive federal closure.
The new approach would leave behind aid to Ukraine, a White House priority opposed by a growing number of GOP lawmakers, but the plan would increase federal disaster assistance by $16 billion, meeting President Joe Biden's full request.
The House was preparing for a quick vote Saturday on the plan, but Democrats hit the brakes, seeking time so they could read the 71-page bill. Across the Capitol, the Senate was opening a rare weekend session and hoping to advance its own stopgap plan, but with money for Ukraine.
"We're going to do our job," McCarthy said after the morning meeting. "We're going to be adults in the room. And we're going to keep government open."
With no deal in place before Sunday, federal workers will face furloughs, more than 2 million active-duty and reserve military troops will work without pay and programs and services that Americans rely on from coast to coast will begin to face shutdown disruptions.
The sudden House action would fund government at current 2023 levels for 45 days, through Nov. 17. It would move closer to the bipartisan approach underway in the Senate, which also would fund the government through that period, while adding $6 billion for Ukraine to fight the war against Russia and $6 billion for U.S. disaster relief.
"A bipartisan, a bicameral solution is the only way forward," said Rep. Rosa DeLauro, the top Democrat on the House Appropriations Committee. She and other Democrats decried cutting Ukraine aid.
McCarthy, R-Calif., will be forced to rely on Democrats for passage because the speaker's hard-right flank has said it will oppose any short-term measure. McCarthy was setting up a process for voting that will require a two-thirds supermajority, about 290 votes in the 435-member House for passage. Republicans hold a 221-212 majority, with two vacancies.
Relying on Democratic votes and leaving his right-flank behind is something that the hard-right lawmakers have warned will risk McCarthy's job as speaker. They are almost certain to quickly file a motion to try to remove McCarthy from that office, though it is not at all certain there would be enough votes to topple the speaker.
"If somebody wants to remove me because I want to be the adult in the room, go ahead and try," McCarthy said of the threat to oust him. "But I think this country is too important."
The quick pivot comes after the collapse Friday of McCarthy's earlier plan to pass a Republican-only bill with steep spending cuts up to 30% to most government agencies that the White House and Democrats rejected as too extreme.
"Our options are slipping away every minute," said one senior Republican, Rep. Mario Diaz-Balart of Florida.
Meanwhile, the Senate was marching ahead on its package with support from both Democrats and Republicans.
"Congress has only one option to avoid a shutdown — bipartisanship," said Senate Majority Leader Chuck Schumer, D-N.Y.
Senate Republican leader Mitch McConnell of Kentucky echoed the sentiment, warning his own hard-right colleagues there is nothing to gain by shutting down the federal government.
"It heaps unnecessary hardships on the American people, as well as the brave men and women who keep us safe," McConnell said.
The federal government is heading straight into a shutdown that poses grave uncertainty for federal workers in states all across America and the people who depend on them — from troops to border control agents to office workers, scientists and others.
Families that rely on Head Start for children, food benefits and countless other programs large and small are confronting potential interruptions or outright closures. At the airports, Transportation Security Administration officers and air traffic controllers are expected to work without pay, but travelers could face delays in updating their U.S. passports or other travel documents.
An earlier McCarthy plan to keep the government open collapsed Friday due to opposition from a faction of 21 hard-right holdouts despite steep spending cuts of nearly 30% to many agencies and severe border security provisions.
The White House has brushed aside McCarthy's overtures to meet with Biden after the speaker walked away from the debt deal they brokered earlier this year that set budget levels.
Catering to his hard-right flank, McCarthy had returned to the spending limits the conservatives demanded back in January as part of the deal-making to help him become the House speaker.
After Friday's vote, McCarthy's chief Republican critic, Rep. Matt Gaetz of Florida, said the speaker's bill "went down in flames as I've told you all week it would."
Some of the Republican holdouts, including Gaetz, are allies of former President Donald Trump, who is Biden's chief rival in the 2024 race. Trump has been encouraging the Republicans to fight hard for their priorities and even to "shut it down."