Target Loses $10B in Market Cap in 10 Days and Stock Falls to Its Lowest Trading Value in a Year
Target has lost more than $10billion in market capitalization in the span of 10 days – as it continues to face backlash for Pride-themed merchandise.
Prior to the controversy – which stems over a LGBTQ-geared clothing campaign that touts 'tuck-friendly' bathing suits and pro-trans T-shirts for kids – Target shares were trading at $160.96, giving the retailer a market valuation of roughly $74.3billion.
By the time The New York Stock Exchange (NYSE) closed Friday, the blue-chip stock was trading at $138.93 – marking a market valuation of 64,2billion, and loss of $10.1billion.
The sum, moreover, stands as the superstore's lowest market value in an entire year – all achieved in a matter of days as customers swear off its products in response.
As this consumer-led retaliation continues to be felt, Texas Senator Ted Cruz devoted an entire episode of weekly podcast Friday to the backlash, classifying the burgeoning boycott as one difficult to achieve, but on that's ultimately warranted.
Likening the task to conservative pushback against DeSantis opponent Disney, the 52-year-old politician said the response currently being seen against the Minneapolis-based megastore is warranted, claiming Target 'disrespected' their customers with the recent rollout.
However, the senator said a successful boycott would be a lofty task, saying it would be tougher for conservatives to stop giving their hard-earned cash to a department store like Target rather than a beermaker like Bud Light.
'Conservatives have typically been not very good at boycotts,' Cruz explained on his Verdict podcast Friday, commenting the recent controversy is indicative of how 'big companies don't understand their customers and don't respect their customers.'
'You can be annoyed at Disney, but if your kids really want to go to Disney World, that can be hard to say no to. There're not a lot of alternatives. There's Six Flags, but Disney World is a pretty unique offering.
'I mean, look, there's only one Snow White or Cinderella, or Toy Story from Pixar. That is a difficult product for many people to give up permanently,' Cruz said on his podcast, Verdict with Ted Cruz.
In contrast, the senator said, a boycott over something as nondescript as Bud Light is much easier to achieve, hence its success into getting brass at the Belgium-based brewer to bend to consumers' whims.
'What really came to bite Bud Light is that wasn't a hard boycott,' the politico said of the domestic beer's inherent average-ness.
'It's difficult for nobody on planet Earth if you were going to order a Bud Light to say, "I'll have a Coors Light." That's a very simple substitution.'
As for Target, Cruz conceded: 'We'll see how prolonged and easy a substitution it is.'
'There's Walmart. You know, there are alternatives,' he added. 'I will say Targets are located in a lot of areas and very convenient for a lot of shoppers. So we'll see if this becomes a persistent consequence or not.'
Cruz's comments come as an increasing amount of moderate-minded shoppers have taken issue with Target's new 'Pride Collection', particularly with items in its children's section.
Outraged over LGBTQ-friendly slogans such as 'Trans People Will Always Exist!', 'gay', and 'Live Laugh Lesbian', they have accused the retailer of grooming – as several staffers in more rural areas such as the South have reportedly sought to hide and tone down these new sections in apparent shame.
Staffers at Target HQ reportedly held an 'emergency' meeting last week to avoid what a Target insider told Fox brass had colloquially labeled a 'Bud Light situation.'
An insider divulged the company made the emergency decision at the last minute, in direct response to threats staff had received in recent weeks over the new displays.
In a statement last week, Target – led by CEO Brian Cornell – announced the company had pulled some items it had received complains about, specifying that have 'been at the center of the most confrontational behavior.'
'Since introducing this year's collection, we've experienced threats impacting our team members' sense of safety and wellbeing while at work,' the firm said in its statement.
'Given these volatile circumstances, we are making adjustments to our plans, including removing items that have been at the center of the most significant confrontational behavior.'
The company did not specify which items had been taken off-shelves. As of Sunday, many of the swimsuits, onesies and t-shirts that sparked outrage remain available online.
Target has supported Pride – celebrated throughout the month of June – every year since 2013, with this year's collection only the latest to prove polarizing.
In 2014, Target publicly endorsed marriage equality, and the following year announced it was ending their policy of dividing certain products, like toys, by gender.
Target also introduced a gender neutral line for children, and in April 2016 – amid a nationwide discussion about bathroom access – announced that transgender people were free to use whichever bathroom they chose.
A backlash ensued, and Target in August 2016 spent $20 million to add a private bathroom to each of its stores.

⬇️ Top Picks for You ⬇️
Senate Democrats Authorize Supreme Court Ethics Subpoenas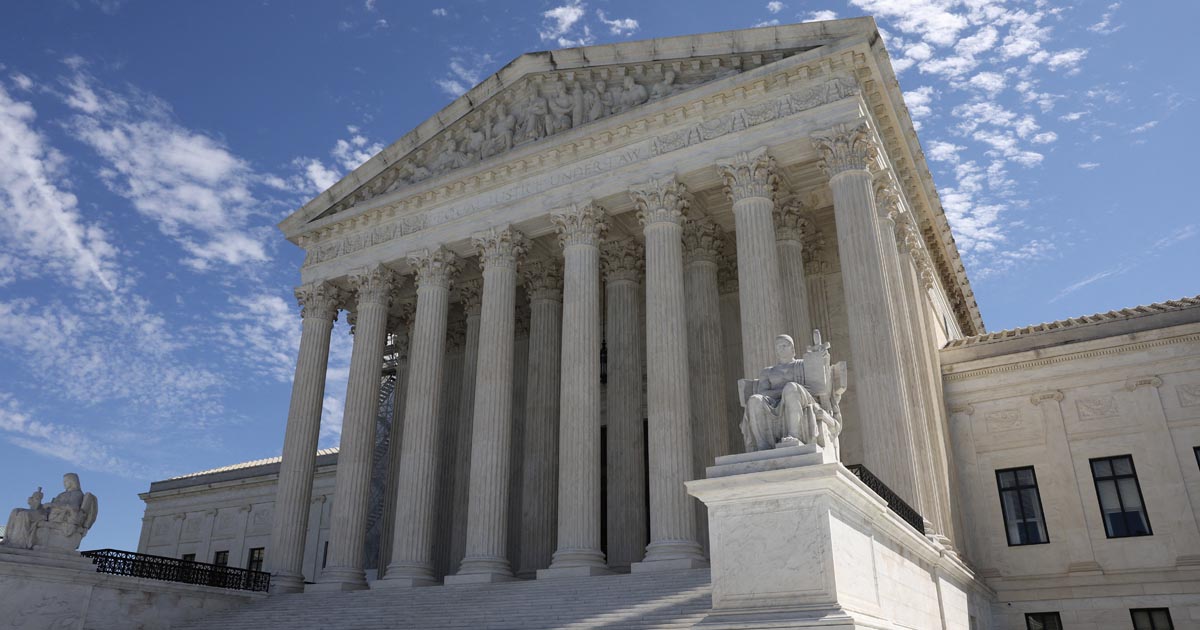 A Democratic-led U.S. Senate panel on Thursday authorized subpoenas to two influential conservatives – Harlan Crow and Leonard Leo – as part of an ethics inquiry spurred by reports of undisclosed largesse directed to some conservative Supreme Court justices.
The Judiciary Committee voted to authorize the subpoenas for Crow, a billionaire Republican donor and benefactor of conservative Justice Clarence Thomas, and Leo, a legal activist who was instrumental in compiling Republican former President Donald Trump's list of potential Supreme Court nominees.
Republican senators walked out of the contentious committee meeting in protest while Democrats cast votes. Some Republicans later questioned the vote's legitimacy, accusing Democrats of violating procedural rules.
"The subpoena clearly wasn't legal," Republican Senator John Kennedy, a committee member, said after the vote.
Senator Dick Durbin, the panel's chairman, said subpoenas were necessary due to the refusal by Crow and Leo for months to voluntarily comply with its previous requests for information. This included itemized lists of all gifts, transportation and lodging provided to any Supreme Court justice.
Durbin also renewed his criticism of a new code of conduct announced by the court on Nov. 13 and promised to continue to pursue the committee's ethics investigation.
"Without an enforcement mechanism, this code of conduct, while a step in a positive direction, cannot restore the public's faith in the court," Durbin said.
Senator Lindsey Graham, the committee's top Republican, told the meeting that Democrats were engaged in a "jihad" against the Supreme Court, whose 6-3 conservative majority has handed major defeats to liberals in recent years on matters including abortion, gun rights and student debt relief.
"When you say you don't want to destroy the Roberts Court, I don't believe you," Graham said, referring to the court under the leadership of conservative Chief Justice John Roberts. "I don't believe a word you're saying."
The committee vote authorized Durbin to issue the subpoenas, which he could do unilaterally, according to a Democratic committee staffer.
If the subpoena recipients fail to comply, Democrats would need 60 votes in the 100-seat Senate to initiate a civil enforcement action, meaning they would need the support of some Republicans. The Democrats also would have the option to make a referral to the U.S. Justice Department, which could choose to pursue criminal contempt proceedings against the subpoena recipients.
Lawyers for Leo and Crow in letters to the committee have criticized the committee's information requests as lacking a proper legal justification. Crow's lawyer had proposed turning over a narrower range of information but Democrats rebuffed that offer, according to the panel's Democratic members.
The news outlet ProPublica reported this year on Thomas's failure to disclose luxury trips and real estate transactions involving Crow, a Texas businessman.
The outlet also reported that Leo helped organize a luxury fishing trip in Alaska attended by conservative Justice Samuel Alito, who failed to disclose taking a private jet provided by billionaire hedge fund manager Paul Singer. Trump chose all three of his appointees to the court from lists of candidates that Leo played a key role in drawing up.
Thomas has said he believed the Crow-funded trips were "personal hospitality" and thus exempt from disclosure requirements, and that his omission of the real estate transaction was inadvertent.
Alito, regarding the flight, said that Singer had "allowed me to occupy what would have otherwise been an unoccupied seat."