Rep. Ted Lieu (D-CA) deleted a tweet Monday after getting called out by Twitter CEO Elon Musk for posting false information about the latest release of "The Twitter Files."
The latest Twitter Files release showed that the Biden administration pressed the social media platform to suppress alleged COVID "disinformation" while promoting the White House's preferred messaging.
"Dear @davidzweig: The tweet you cite is in fact misleading. People of all ages at high risk from COVID generally benefit from vaccines," Lieu tweeted. "Prior natural immunity may last only a few months. COVID appears to be a leading cause of death for children."
Musk responded to another tweet that stated: "@tedlieu The preprint you linked to has actually been re-written as a result of my critique because it is seriously flawed and inaccurate. You linked to the old version."
Musk said, "Ted is linking to misleading data @CommunityNotes."
Lieu's tweet was subsequently deleted.
Well done @elonmusk pic.twitter.com/6rYa3xCtiF

— Ian Miles Cheong (@stillgray) December 26, 2022
The newest release of The Twitter Files came in a Twitter thread from reporter David Zweig.
The federal government reportedly "rigged" the COVID debate, "By censoring info that was true but inconvenient to U.S. govt. policy," as well as "discrediting doctors and other experts who disagreed," and "ordinary users," according to Zweig.
The pressure to suppress certain COVID details while elevating a preferred narrative included officials in both the Trump and Biden administrations.
"Internal files at Twitter that I viewed while on assignment for @thefp showed that both the Trump and Biden administrations directly pressed Twitter executives to moderate the platform's pandemic content according to their wishes," Zweig tweeted.
Zweig later offered evidence that the push toward select COVID information was not limited to Twitter.
"It wasn't just Twitter. The meetings with the Trump White House were also attended by Google, Facebook, Microsoft and others," he tweeted alongside a screenshot of the companies involved.
The Twitter Files also cited examples of suppression by bots — automated intelligence that flagged certain content — while also outsourcing moderation to workers in faraway locations like the Philippines.
The contracted workers "in places like the Philippines, also moderated content. They were given decision trees to aid in the process, but tasking non experts to adjudicate tweets on complex topics like myocarditis and mask efficacy data was destined for a significant error rate," Zweig documented.
In some cases, content was suppressed even when users cited the Centers for Disease Control and Prevention's (CDC) own data. In the example cited by Zweig, a bot initially flagged the tweet, with the post receiving many "tattles," referring to reports by other users.

⬇️ Top Picks for You ⬇️
Trump Indicted in Classified Docs Probe — Here's Everything We Know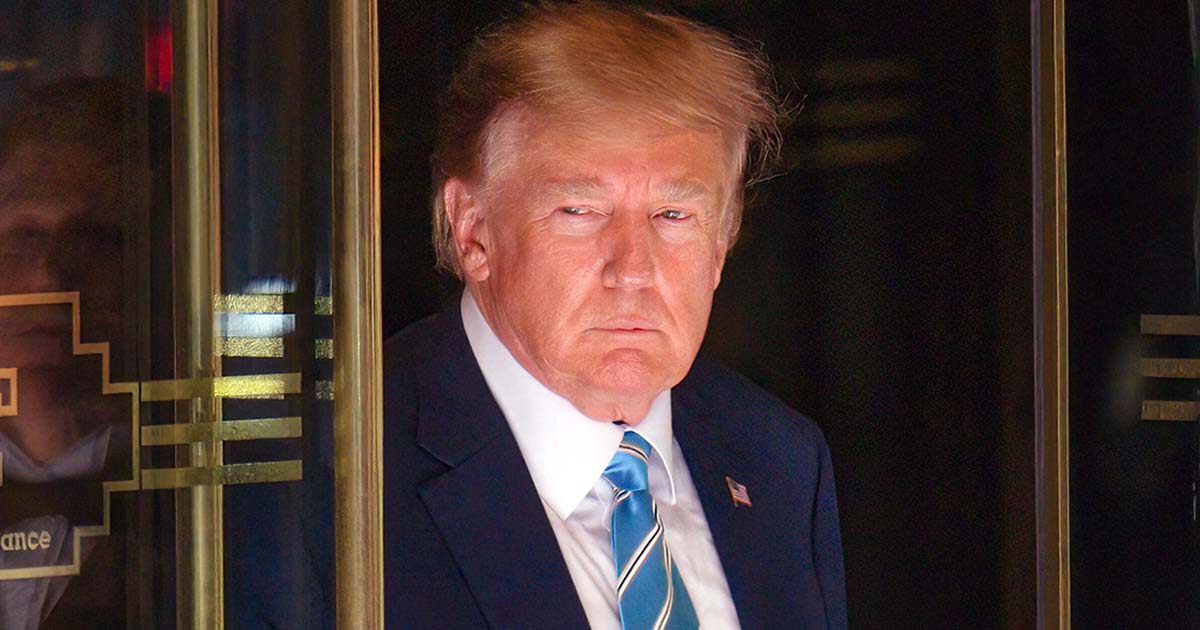 Former President Donald Trump said Thursday that his legal team has been told he's been indicted in an investigation into his handling of classified documents. Trump has been summoned to appear in federal court in Miami on Tuesday afternoon.
TRUMP STATEMENT:
The corrupt Biden Administration has informed my attorneys that I have been Indicted, seemingly over the Boxes Hoax, even though Joe Biden has 1850 Boxes at the University of Delaware, additional Boxes in Chinatown, D.C., with even more Boxes at the University of Pennsylvania, and documents strewn all over his garage floor where he parks his Corvette, and which is "secured" by only a garage door that is paper thin, and open much of the time.
I have been summoned to appear at the Federal Courthouse in Miami on Tuesday, at 3 PM. I never thought it possible that such a thing could happen to a former President of the United States, who received far more votes than any sitting President in the History of our Country, and is currently leading, by far, all Candidates, both Democrat and Republican, in Polls of the 2024 Presidential Election. I AM AN INNOCENT MAN!
This is indeed a DARK DAY for the United States of America. We are a Country in serious and rapid Decline, but together we will Make America Great Again!
7 CHARGES:
Trump has been charged with seven counts in the indictment, according to another source familiar with the matter.
"We're learning from our sources that there appears to be at least seven counts here. This ranges from everything from the willful retention of national defense information to conspiracy to a scheme to conceal to false statements and representations," ABC News' Katherine Faulders reported during a special report on the network.
The reported charges break down into the following three categories, according to The New York Times:
Deliberate withholding of national defense secrets: Former President Donald Trump has been indicted on this charge, which involves the intentional act of not disclosing important information related to national defense. This charge likely falls under the purview of the Espionage Act, which deals with the protection of classified information.
Conspiracy to obstruct justice: Trump faces an indictment for conspiring to obstruct justice, indicating that he is accused of collaborating with others to impede or hinder the proper functioning of the justice system. It's important to note that the charge of conspiracy to obstruct justice requires the involvement of at least two parties who work together to obstruct the legal process.
Issuance of false statements: Another charge outlined in the indictment is the alleged act of making false statements. This charge suggests that Trump is accused of intentionally providing inaccurate or misleading information to investigators. It is possible that this charge may also be considered a conspiracy charge, as it could require evidence of Trump and at least one other person agreeing to mislead investigators and taking overt actions to further that plan.
MEDIA SWARMS MIAMI COURTHOUSE
Earlier today, dozens of out-of-town reporters, photographers and TV camera crews gathered in front of the downtown federal courthouse in hopes of getting a morsel of news from a secret grand jury which has been reviewing evidence in the Justice Department's probe into Trump's handling of classified materials at his Mar-a-Lago estate in Palm Beach.
THE BACKSTORY:
Special counsel Jack Smith has been overseeing the investigation into Trump's handling of classified documents since he was appointed to the role in November.
Trump's attorneys met earlier this week with Justice Department officials, including Smith. Experts widely viewed the meeting as a sign that Smith's investigation was winding down.
On May 6, 2021, the National Archives first alerted Trump that it was seeking approximately two dozen boxes of records be returned to it as required by the Presidential Records Act. The National Archives warned Trump in late 2021 that they could escalate the issue to prosecutors or Congress if he continued to refuse to hand over the documents. He was also warned by former Trump White House lawyer Eric Herschmann that he could face serious legal jeopardy if he did not comply.
In January 2022, about 15 of the boxes were returned, at which time officials discovered there were hundreds of pages of classified material in the boxes. Federal law enforcement was notified of the discovery and later came to believe that there were more materials that had not been turned over, and a criminal investigation was subsequently launched.
In May 2022, a federal grand jury issued a subpoena seeking additional classified documents and, a few weeks later, the DOJ visited Mar-a-Lago and Trump's legal team signed a written statement claiming that all the classified material had been returned. Over the course of the summer, investigators interviewed members of Trump's staff and subpoenaed surveillance footage from the property.
On August 8, the FBI raided Mar-a-Lago recovered 27 boxes, 11 of which contained classified documents. Four sets were marked "Top Secret," the highest level of classification the government can give information; three were marked "Secret," the second-highest level, while another three were marked "Confidential," the lowest classification level.  The remaining set was marked "Various classified/TS/SCI documents," which is the abbreviation for "top secret/sensitive compartmented information," a special category meant to protect the nation's most important secrets — which if revealed publicly would harm US interests.
LAWMAKERS AND OFFICIALS REACT
House Speaker Kevin McCarthy: "It is unconscionable for a President to indict the leading candidate opposing him. Joe Biden kept classified documents for decades. I, and every American who believes in the rule of law, stand with President Trump against this grave injustice. House Republicans will hold this brazen weaponization of power accountable."
Rep. Jim Jordan: "Sad day for America. God Bless President Trump/"
Republican presidential candidate Vivek Ramaswamy: "We cannot devolve into a banana republic where the party in power uses police force to arrest its political opponents. It's hypocritical for the DOJ to selectively prosecute Trump but not Biden."
Rep. Marjorie Taylor Greene: "Ultimately the biggest hypocrisy in modern day history," she wrote on Twitter. "A complete and total failure to the American people. A stain on our nation that the FBI and DOJ are so corrupt and they don't even hide it anymore."
Rep. Matt Gaetz: "Imagine being naive enough to believe that the Biden Bribe evidence and Trump indictment happening the same day was a coincidence."