Thursday's indictment of former President Donald Trump has set a precedent enabling Republican prosecutors to seek criminal charges against President Biden, conservative legal experts told The Post Friday.
"All bets are off. You can expect grand jury indictments of leftist politicians like Biden, [former House Speaker Nancy] Pelosi and [Senate Majority Leader Chuck] Schumer as surely as night follows day," said Tom Fitton, president of the conservative legal group Judicial Watch.
"You can be sure that there are prosecutors across Florida and Texas right now who are looking for a state law hook into the Biden family," he added. "And if they're not, they're not doing their jobs."
Trump, 76, is the first former president to face criminal charges as he seeks a 2024 rematch against Biden. The sealed indictment reportedly stems from a novel document-falsification theory pushed by Manhattan DA Alvin Bragg regarding Trump's 2016 hush-money payment to porn star Stormy Daniels.
"Republicans need to learn how to take off the gloves and put on the brass knuckles and break glass jaws — politically and legally, not physically," Mike Davis, a former chief counsel for nominations on the Senate Judiciary Committee and president of the Article III Project, told The Post.
"If New York can turn a routine settlement of a business dispute seven years ago into a felony, I think our Republican AGs and DAs should get creative," added Davis, who briefly worked as a federal prosecutor before clerking for Supreme Court Justice Neil Gorsuch. "Two wrongs don't make it right, but it makes it even.
"You just need probable cause. A grand jury can indict a ham sandwich. We just saw that in New York. And the Bidens actually committed real crimes. These are real crimes that the Bidens committed. There is smoking gun evidence that the Bidens were corruptly and illegally on Chinese and Ukrainian oligarchs' payrolls."
The recognition of the likely fallout from the Trump charges — and the sea change to US legal norms — spanned the political spectrum.
"The Republicans will be furiously seeking revenge and may try to pin Biden with something," predicted left-wing social commentator Noam Chomsky, a professor emeritus at MIT, though the 94-year-old added that some cases — such as war crimes charges — would still be considered off-limits to partisans.
Trump ally Joe Arpaio, the former sheriff of Maricopa County, Ariz., said he believes the legal system has a "double standard" against Republicans such as Trump, who in 2017 gave his first pardon to the controversial lawman in a criminal contempt case.
"The criminal justice system is not always fair, believe me, and this is an example," Arpaio said.
"This sets a little precedent," said the ex-sheriff of America's fourth-most-populous county. "Now the word is out that you can go and indict an ex-president and a current president and they opened another door. But now everybody's going to flex their muscles and use this case. So now we're gonna threaten all presidents or ex presidents."
Arpaio predicted that prosecutors wouldn't actually bring a case against any president or ex-president "unless his name is Donald Trump," but said the he could imagine finding enough evidence to charge Biden or even former President Barack Obama, whose Hawaii birth certificate Arpaio notoriously claimed was a "computer-generated forgery."
Davis, who oversaw federal judicial and prosecutor nominations on the Senate Judiciary Committee between 2017 and 2019, laid out specific ideas for a Biden prosecution.
"I understand the Bidens may have had some oil and gas deals that deal with Texas. I think maybe Texas Attorney General Ken Paxton should start looking at this long and hard … and Louisiana with [Republican state Attorney General Jeff] Landry," Davis said.
"Paxton and Landry, they need to look at this," he added. "And if you can find a conspiracy and any of the overt acts of a conspiracy are committed in any of those states, you can bring charges."
An October 2017 email from first son Hunter Biden's laptop identifies Joe Biden as a participant in a call about Chinese energy company CEFC's attempt to purchase US natural gas in an effort that appears to have had corporate links to both Louisiana and Texas.
Trump is expected to present himself for arrest and arraignment next week in Manhattan. Additional criminal charges could follow as a result of an investigation by Special Counsel Jack Smith of the former president's alleged mishandling of classified records after leaving office, as well as investigations of his efforts to challenge the results of the 2020 election.
Biden, 80, is preparing to launch a re-election campaign as early as next month and, like Trump, faces a federal special counsel investigation of his apparent mishandling of classified records at his Delaware home and post-vice presidency DC office amid GOP congressional investigations of his role in his son Hunter and brother James Biden's international business dealings.
Hunter Biden reportedly is under criminal investigation by the US attorney's office in Delaware for possible tax fraud, illegal foreign lobbying, money laundering and lying about his drug use on a gun-purchase form.
Hunter wrote in documents retrieved from his abandoned laptop that he paid as much as "half" of his income to his father, whom he often involved in his business relationships during and after his vice presidency.
"You're looking at the Foreign Corrupt Practices Act, bribery, tax evasion, gun charges, conspiracy, obstruction, espionage with using stolen classified records from the Obama White House for his Ukrainian and Chinese deals," Davis said of potential charges against Joe Biden.
"Biden was broke when he was a senator. He was broke when he left. And all of a sudden he's very wealthy. It's not because of his brilliance or his charm. How did he make that money?"

⬇️ Top Picks for You ⬇️
Biden Got Recurring $1,380 Payment from Hunter's Firm Starting in 2018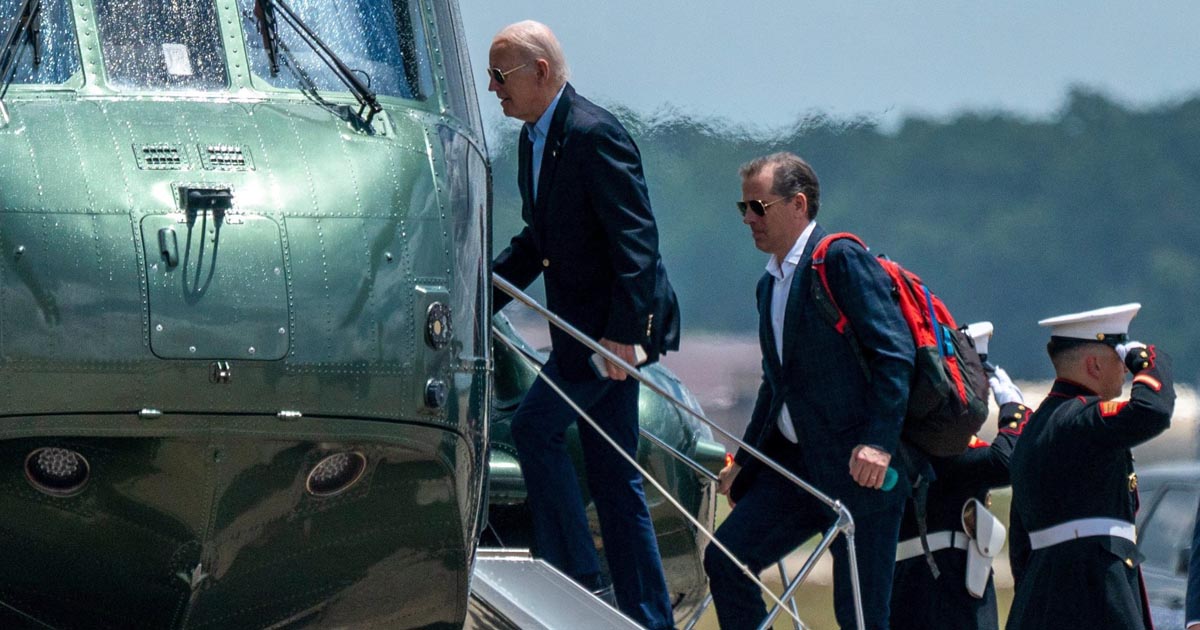 President Biden received a recurring payment of $1,380 from his son Hunter's law firm beginning in late 2018 shortly after a bank money laundering officer warned that the same account was receiving millions of dollars in Chinese government-linked funds without "any services rendered."
A bank order shows that Owasco PC set up a "monthly" transfer to then-former Vice President Joseph R. Biden Jr., with a voided check for the future president included in the documentation, which was released Monday by the House Oversight Committee.
A source told The Post that at least three recurring payments were made — on Sept. 17, Oct. 15 and Nov. 15, 2018 — totaling $4,140 to the elder Biden from Owasco PC, according to the bank records of the firm.
"President Biden and his family must be held accountable for this blatant corruption," Oversight Committee Chairman James Comer (R-Ky.) said in a video release.
"Today, the House Oversight Committee is releasing subpoenaed bank records that show Hunter Biden's business entity, Owasco PC, made direct monthly payments to Joe Biden. This wasn't a payment from Hunter Biden's personal account but an account for his corporation that received payments from China and other shady corners of the world," Comer said.
"At this moment, Hunter Biden is under an investigation by the Department of Justice for using Owasco PC for tax evasion and other serious crimes. And based on whistleblower testimony, we know the Justice Department made a concerted effort to prevent investigators from asking questions about Joe Biden. I wonder why?"
Earlier that year, a January 2019 email from assistant Katie Dodge to Hunter Biden annotated various expenses including "Ford Raptor — Reimbursement to JRB — $1380."
The provenance of the funds is unclear, however, and additional records show that Hunter Biden was knee-deep in two of his most controversial business relationships at the time, with Ukraine's Burisma Holdings and CEFC China Energy.
The evidence emerged as House Republicans prepare to question first brother James Biden on Wednesday and Hunter next week about the president's role in his family's dealings in countries such as China and Ukraine — with a possible floor vote to authorize the ongoing impeachment inquiry this month.
While a presidential candidate, Joe Biden denied that he ever discussed business with his relatives, but evidence has since shown that he met with his relatives' associates from both the Burisma and CEFC ventures.
Documents from the first son's abandoned laptop show that Burisma board adviser Vadym Pozharskyi sought "bank reference" information on Sept. 14, 2018 — one day before the initial transfer to Joe Biden was sought. However, the transaction was not executed for another two days, apparently due to a later-than-expected form submission.
Joe Biden met Pozharskyi at an April 17, 2015, dinner at DC's Café Milano. An unproven FBI informant tip said that Burisma owner Mykola Zlochevsky claimed in 2016 he was "coerced" into paying $10 million in bribes to the Bidens for their assistance in ousting prosecutor Viktor Shokin.
Hunter also was on the tail end of disbursing millions of dollars received from CEFC China Energy — one of two major Biden family dealings with Chinese government-linked firms.
On June 26, 2018 — less than three months before Joe Biden began to receive the monthly transfers — an internal Bank Secrecy Act expert warned colleagues that the institution should reconsider its relationship with Hunter as a result of Owasco PC seeming to receive Chinese funds without "any services rendered."
CEFC transferred $5 million to another Biden family-linked entity, Hudson West III, in August 2017 after Hunter warned a China-based associate of his father's wrath if a business deal was aborted. Much of the large transfer later went to Hunter's Owasco PC.
Prior bank records released by the Oversight Committee indicate that Joe Biden received payments of $40,000 and $200,000 from his brother James, who also was involved in the CEFC venture and other foreign-focused enterprises.
Comer alleged that the $40,000 transferred to Joe Biden's bank account on Sept 3, 2017, was from "laundered" Chinese funds.
James Biden paid Joe Biden $200,000 on March 1, 2018 — the same day that James received a $200,000 transfer from troubled rural hospital company Americore after pledging to use his political connections to secure a Middle Eastern investor, according to bankruptcy filings.
The White House says there's evidence that both transfers were loan repayments, but Republicans argue they have not seen loan agreement documents and note that the funds distributed to James came from a law firm, rather than Joe Biden himself, further clouding the picture.