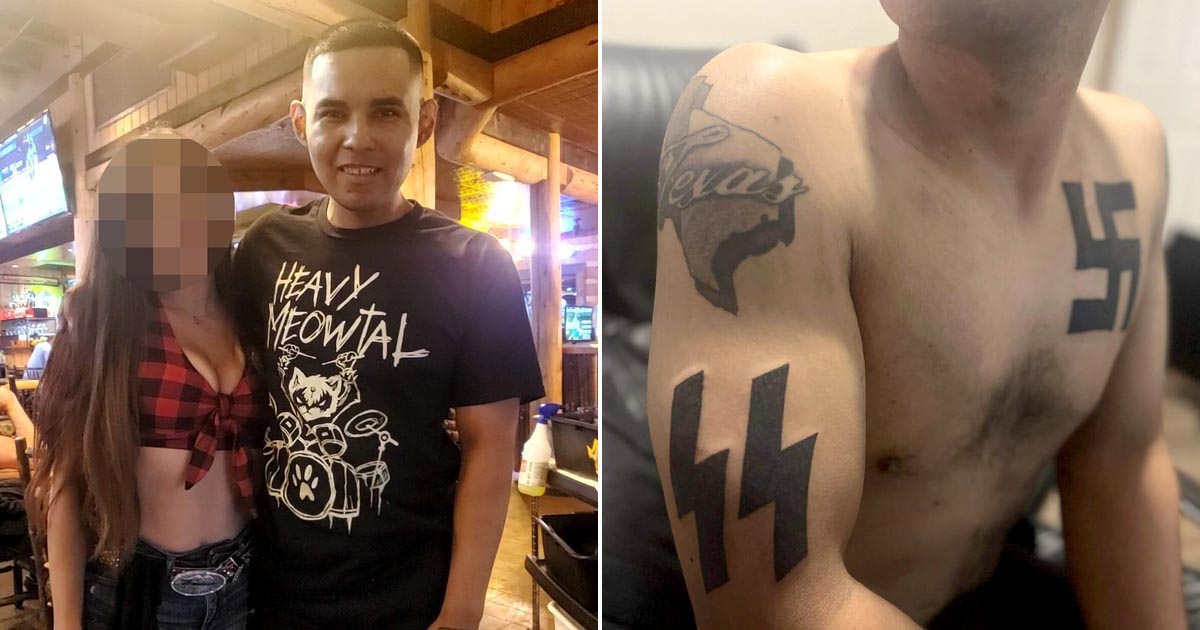 Texas Mall Shooter Had Nazi Tattoos, Plotted Attack for Weeks; Army Booted Him Over Mental Health
Texas mall gunman Mauricio Garcia appeared to be casing his target for weeks, attacking when it was busiest.
Garcia, 33, shared more than two dozen photos of the Allen Premium Outlets on extremist forums in the weeks leading up to his mass shooting, seemingly determining what would be the most packed time at the mall to unleash the greatest carnage, NBC reported.
The deadly shooting, which killed eight people, took place around 3:30 p.m. Saturday, typically when the shopping center is most crowded, according to the Google's analytics that Garcia posted.
In addition to the disturbing snaps, Garcia shared several posts targeting Jewish people, women and racial minorities on the Russian social-networking platform OK.RU and 4chan.
He also posted a video of himself on the day of the massacre removing a Scream mask and asking viewers, "Not quite what you were expecting, huh?" NBC said.
It is unclear when the video was taken or what Garcia meant, but he also posted shirtless pictures, presumably of his own body, which included swastikas and Nazi SS bolts.
The YouTube channel featured the image of a smiley face with the Hitler mustache, too.
In one post, Garcia suggests that Latinos and Hispanics are actually white, referencing notable white supremacist Nick Fuentes, whose father is half-Mexican.
"Hell Nick Fuentes said something like that while he was on the Pearl show," he wrote in one post, referring to an interview the white supremacist had with podcaster Pearl Davis last month.
"I think I even read in the news Hispanics could be the new white supremist [sic]. Just the other day this black dude told me the line is blurring. He can't tell the difference anymore. Someone would look white but their [sic] actually Hispanic."
The mass shooter alluded to his declining mental health, too.
One of his final posts lamented that no psychologist would be able to fix him and his fears of what his family might say about him.
He said he once admitted his thoughts about his mental health to a commanding military officer.
Garcia, a security guard, had joined the Army in June 2008 but was quickly booted because of issues including mental health concerns, an Army rep said Monday.
Garcia was terminated after three months because of a red-flag mental-health evaluation, law-enforcement sources told ABC 30, saying the decision was specifically made "due to mental health concerns." It was not immediately clear what those concerns entailed.
Investigators also have been probing Garcia's alleged neo-Nazi views, after police found a patch on his chest with the acronym "RWDS," which stands for "Right Wing Death Squad" — a popular phrase among white supremacy groups, according to a law enforcement official who spoke to the Associated Press on condition of anonymity.
Garcia had posted an image of a flak vest with the patch before the shooting.
An internal email being disseminated within Texas law enforcement has revealed that police believe the shooter was an "incel," or "involuntary celibate," too.
"Incel" refers to a person, typically young men, who define themselves as unable to find a romantic or sexual partner and express hostility to people who can.
Many of Garcia's posts were misogynistic and celebrated "incel" culture. Some posts involved "incel" mass murderer Elliot Rodger, who killed six people and injured 14 before killing himself in Isla Vista, Calif., in 2014.
Investigators have yet to release a motive on Saturday's shooting or why Garcia chose to specifically target the Allen shopping mall, located about 25 miles north of Dallas, where his parents live.
See his media posts here.

⬇️ Top Picks for You ⬇️
Republicans Launch Contempt Process Against FBI Director After Viewing Biden 'Bribery' Document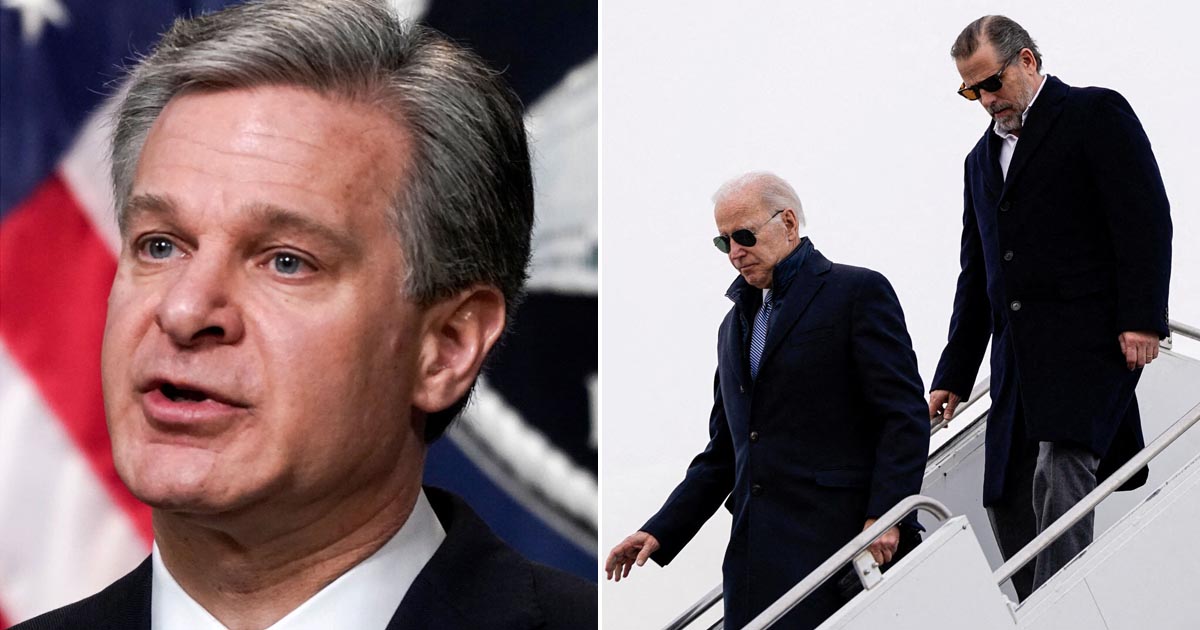 House Republicans are officially starting contempt of Congress charges against FBI Director Chris Wray for failing to turn over Biden 'bribery' document they claim shows then-Vice President Joe Biden was involved in a $5 million 'criminal' scheme with a foreign national.
The escalation comes after the Republican and Democratic leaders of the House Oversight Committee were granted access by the FBI Monday to view the FD-1023 form in a secure facility within the Capitol. The document apparently details an 'arrangement' for an exchange of money for policy decisions.
The Republicans issued a subpoena for the FD-1023 form last month and FBI Director Chris Wray was given a hard deadline of May 30 to hand over the unclassified document, which he did not comply with.
After reviewing the document Monday, Comer told reporters the accusations contained in the form 'suggests a pattern of bribery' consistent with findings the committee has put out publicly.
It's called 'money laundering,' he said, saying it fits within the pattern of over $1 million in Romanian-linked payments to the Biden family revealed last month.
In early May, Republicans released a report digging in on over $10 million received by Biden family members from foreign actors, including previously undisclosed $1 million in Romanian-linked payments, and a 'web' of 20 companies created while President Joe Biden was vice president and pushing anti-corruption efforts abroad.
He also said the FBI record was 'not disproven' and is currently being used in an ongoing investigation that is being conducted by the Department of Justice in Delaware into Hunter Biden's finances.
The 'confidential human source' is a 'trusted, highly credible informant' who has been used by the FBI for over 10 years and has been paid over six figures, continued Comer.
The chairman added that contempt proceedings will begin this Thursday.
'At the briefing, the FBI again refused to hand over the unclassified record to the custody of the House Oversight Committee, and we will now initiate contempt of Congress hearings this Thursday.'
Last week, Comer and Sen. Chuck Grassley, R-Iowa, spoke with Wray by phone and the FBI director offered to let them and Ranking Member Rep. Jamie Raskin, D-Md., view the documents at the FBI headquarters in an attempt to stave off the contempt threat.
'During today's call, Director Wray offered to provide the Committee's Chairman and Ranking Member an opportunity to review information responsive to the subpoena in a secure manner to accommodate the committee, while protecting the confidentiality and safety of sources and important investigative sensitivities,' said the FBI in a statement.
'The FBI has continually demonstrated its commitment to working with the Committee to accommodate its request, from scheduling briefings and calls to now allowing the Chair to review information in person. The FBI remains committed to cooperating with the Committee in good faith.'
Comer also informed Wray that he was also narrowing the breadth of the subpoena for the document by providing two additional terms that may be referenced in the record: 'June 30, 2020' and 'five million.'
Raskin blasted the Republicans' handling of the document in a reporter gaggle following Monday's briefing, calling it 'second-hand hearsay.'
He said former U.S. Attorney Scott Brady for the Western District of Pennsylvania and then-Attorney General Bill Barr did not find any reason to escalate the investigation into all 'allegations related to Ukraine' based on the FD-1023 form.
'I am just surprised that my colleagues want to try to litigate this in public, much less hold the Director of the Federal Bureau of Investigation in contempt for complying with the request when there was a whole process that was undertaken, and that process came to its natural end as I understand it,' Raskin said.
He would not directly confirm that the foreign national alleged in the memo being sought by Republicans is from Ukraine.
Raskin did agree with his Republican colleagues that the whistleblower is considered 'credible.'
The White House has also pushed back, calling the Republican-led investigation 'unfounded' and 'politically motivated.'