After a historic and prolonged battle over the Speakership, House Republicans on Monday moved to wrap up some unfinished organizing business that was put on hold due to opposition to Speaker Kevin McCarthy (R-Calif.) — including picking who will lead key panels.
The House GOP Steering Committee, a panel of around 30 lawmakers consisting of leadership and elected regional representatives that makes selections for most chairmanships and committee assignments, made its choices for chairs of panels that were uncontested in December.
But it put its selections for four key contested chairmanships — for the Homeland Security, Ways and Means, Budget, and Education and Workforce committees — on hold as a group of hard-line conservatives expressed opposition to McCarthy that threatened to tank his Speaker bid.
House Republicans typically choose their ranking members or committee chairs weeks before the new Congress to allow time for the incoming leaders to hire staff and get organized.
McCarthy gets outsize influence over the Steering panel with four votes, while Majority Leader Steve Scalise (R-La.) gets two and all other members get one.
Over the weekend, McCarthy also selected Rep. Byron Donalds (R-Fla.), who voted against McCarthy on most of the 15 Speaker ballots last week, to fill the "Speaker Designee" slot on the Steering Committee.
Here's who the Steering Committee picked:
Budget: Rep. Jodey Arrington (Texas)
With former GOP ranking member Jason Smith (Mo.) winning the open Ways and Means chairmanship slot, three GOP members made runs to chair the Budget panel: Reps. Jodey Arrington (Texas), Buddy Carter (Ga.), and Lloyd Smucker (Pa.). A second ballot decided between Arrington and Smucker.
Arrington, who wore his lucky tie depicting cotton blooms as a reference to the large cotton operations around his Lubbock, Texas, district, told reporters that he talked to the Steering Committee about his work with the ​​"30 for 30" caucus, a group of 30 Republicans and 30 Democrats aiming to address the national debt.
"Republicans don't get a pass either," Arrington said. "We've waived budget points of order. We've waived spending caps before … I think the Democrats are more of the profligate spenders, but it doesn't mean that we've been, you know, rock solid, in terms of our fiscal responsibility."
The House Budget Committee is likely to have a bigger role in the 118th Congress after McCarthy and a group of hard-line conservatives reached an agreement to set overall discretionary spending levels for fiscal year 2024 at fiscal year 2022 levels, and will aim for spending cuts.
Rep. Chip Roy (R-Texas), a McCarthy detractor involved with negotiating the deal, said on CNN Sunday that the agreement reached did not include cuts to Social Security and Medicare, and that they are "not going to touch" those entitlements.
Arrington said he suspected a bipartisan deal would eventually be cut to reform entitlement programs.
"The rubber will meet the road with the real decisions about bending the curve on spending and reforming programs. But that's something I'm going to do with each and every authorizer and appropriator," Arrington said.
"I'm going to work with every individual to see how far we can stretch responsibly to start doing right by, quite frankly, our children. Because they're going there they will inherit a disaster, which is an understatement, if this thing goes south," he added.
Small Business: Rep. Roger Williams (Texas)
The House GOP Steering Committee officially selected Williams to chair the Small Business Committee on Monday evening. It was the only uncontested committee chairmanship yet to be formalized by the Steering Committee, after it made selections for all other uncontested gavels in December. Rep. Blaine Luetkemeyer (R-Mo.) did not seek another term to chair the panel.
Education and the Workforce: Rep. Virginia Foxx (N.C.)
Rep. Virginia Foxx (R-N.C.) is seen during a press event to introduce the newest member, Rep. Mayra Flores (R-Texas), outside at the Capitol Steps on Tuesday, June 21, 2022.
Republicans are renaming the panel that Democrats called the Committee on Education and Labor.
Rep. Virginia Foxx (N.C.) was granted a waiver from the steering committee to run for the gavel again. House GOP Conference Rules allow members to serve only three consecutive terms as head of a panel, and Foxx finished up her third term as the top Republican on the panel at the end of the last Congress.
Her office confirmed that the GOP Steering Committee selected her for a fourth term to lead Republicans on the panel.
Challenging Foxx for the seat was Tim Walberg (Mich.).
Ways and Means: Rep. Jason Smith (Mo.)
A three-way race for the powerful tax-writing committee emerged after longtime former Rep. Kevin Brady (R-Texas) retired.
In addition to Jason Smith, Reps. Vern Buchanan (Fla.), and Adrian Smith (Neb.) sought the seat.
Adrian Smith was the lowest vote-getter on the first ballot, and the panel went to a second round of voting to decide between Buchanan and Jason Smith, Rep. Tom Cole (R-Okla.) confirmed.
Jason Smith is a close McCarthy ally, and had been in negotiations last week to strike a deal with the hardline conservatives for Speaker. He opted against a potential run for Senate in the 2022 cycle as he announced a bid for the powerful chairmanship.
In a statement, Smith said the panel will "build on the success of the Tax Cuts and Jobs Act and examine how our policies can reward working families with a tax code that delivers better jobs, higher wages, and more investment in America," as well as examine tax benefits for "corporations that have shed their American identity in favor of a relationship with China."
"We will examine using both trade policy and our tax code to re-shore and strengthen our supply chains, where products and services vital to our national security are made here at home using American labor, as well as craft policies that help America achieve food and medical security rather than dependence on nations like China," Smith continued. "We must also look at ways to encourage domestic energy production and achieve energy independence through the tax code instead of using it as a tool to punish energy producers as President Biden has suggested."
Adrian Smith congratulated Jason Smith in a statement, and thanked his colleagues and his families for their support.
"Jason's success means success for the entire Conference and – even more importantly – for the American people," Adrian Smith said.
Homeland Security: Rep. Mark Green (Tenn.)
Green beat out Rep. Dan Crenshaw (Texas) to fill a vacancy created by former Rep. John Katko (N.Y.) retiring from Congress.
Green told reporters that he plans to have two full-time committee staffers working from the U.S.-Mexico border.
The staffers will "be sitting there with [Customs and Border Protection]," Green said, "sending us real time updates on what CBP needs and the issues – whether it's a big drug bust at the border, we'll send a bunch of members down for, you know, for that and those kinds of things."
The Homeland Security panel will have a major role in oversight and policy relating to the migration surge at the border, and plans to bring Homeland Security Secretary Alejandro Mayorkas in to testify.
Green said that his focus will be not only on the physical border, but on cybersecurity and inter-agency responsibilities in the cyber space.
Green is a member of the House Freedom Caucus, and his selection to lead the panel is a win for the hard-line conservative group that was pressing for more conservative representation in committee chairmanships and on key panels.
Green praised his competitor Crenshaw as one of his "best friends in Congress," and said beating him for the gavel was "not easy."

⬇️ Top Picks for You ⬇️
Boris Johnson Resigns from Parliament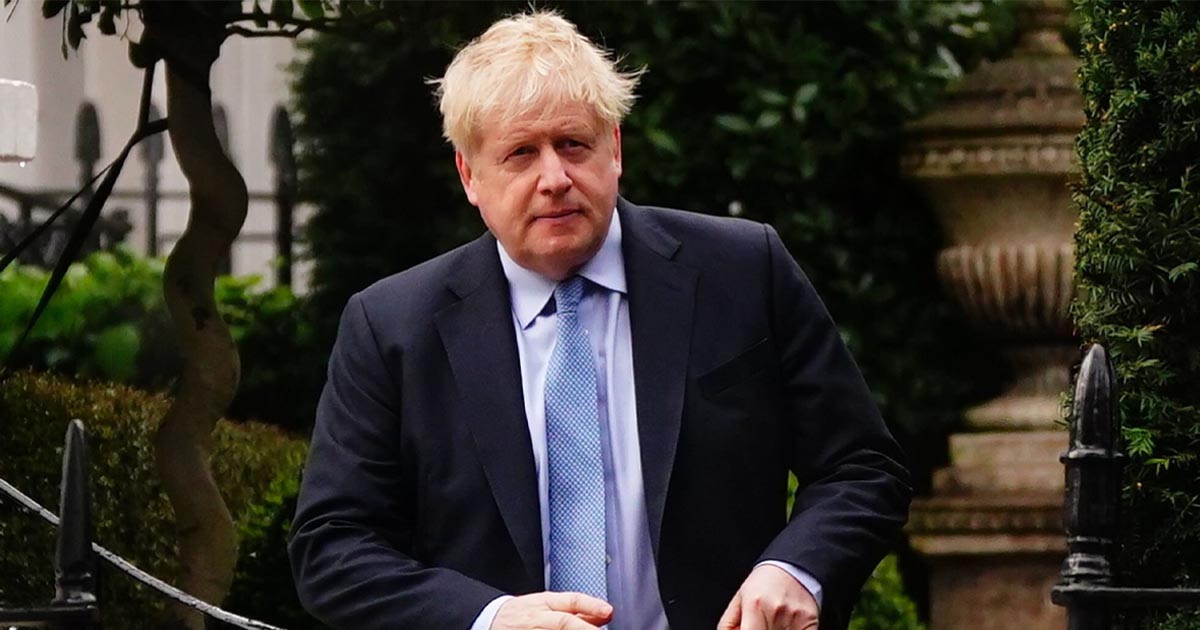 Boris Johnson has sensationally quit Parliament, saying he was forced out in a political witch-hunt over Partygate.
In an angry late-night statement, the former Prime Minister said he was standing down as an MP 'with immediate effect'. His departure stunned Rishi Sunak and there was dismay in No 10 at the prospect of a fresh round of Tory bloodletting.
Mr Johnson's decision to go comes three and a half years after he won a landslide election victory, and will raise fresh doubts about whether the Conservatives can hang on to power at next year's election.
Just 24 hours earlier, Mr Johnson, 58, was handed the findings of the controversial Commons privileges committee inquiry into Partygate, which sealed his fate.
The inquiry, led by Labour's former deputy leader Harriet Harman, is understood to have ruled that he lied to Parliament when he said no rules were broken during lockdown gatherings in No 10 – a claim he has always denied.
The committee is thought to have advised that he should be suspended for at least ten days, triggering a by-election in his west London constituency.
Mr Johnson said last night he was the victim of a 'witch-hunt' by forces seeking 'revenge for Brexit'.
He said the 14-month inquiry had not produced a 'shred of evidence' that he lied to Parliament about lockdown gatherings in No 10. And he accused Ms Harman's committee of setting out to destroy him.
'I did not lie, and I believe that in their hearts the committee know it,' he said. 'Their purpose from the beginning has been to find me guilty, regardless of the facts. This is the very definition of a kangaroo court.'
Mr Johnson's decision to go came just hours after his close ally Nadine Dorries quit when she was blocked from receiving a peerage in his resignation honours.
Their departures mean the PM faces a difficult double by-election. And Tory whips were last night on red alert for the possibility of more resignations among Mr Johnson's supporters.
In a 1,000-word resignation statement, Mr Johnson took a swipe at Mr Sunak, who allies accuse of wanting to destroy his predecessor. He said the Tory majority he won in 2019 was 'clearly at risk' under his successor.
Mr Johnson urged the PM to adopt a 'pro-growth' agenda, including tax cuts to boost the economy. 'Our party needs urgently to recapture its sense of momentum and its belief in what this country can do,' he said. 'We must not be afraid to be a properly Conservative government.'
Former Cabinet minister Sir John Redwood said: 'Boris urges a new commitment to the 2019 manifesto, Brexit wins, lower taxes and growth. The Government should take this seriously.'
Mr Johnson's decision to go all but ends any prospect of him returning as Tory leader before the next election, although he left the door open to a future comeback, saying he was stepping back 'at least for now'.
It also ends Tory dreams of a truce with Mr Sunak that could have seen Mr Johnson campaign for the party in the Red Wall, where his popularity remains high.
Labour deputy leader Angela Rayner said the British public were 'sick to the back teeth of this never-ending Tory soap opera played out at their expense'. Allies last night warned that Mr Sunak faces the renewed threat of a Tory civil war. One former Cabinet loyalist said there would be 'hell to pay' over Mr Johnson's treatment.
Tory MP Michael Fabricant condemned the 'disgraceful treatment of a political leader who has made world history'.
And Sir James Duddridge hinted that Mr Johnson would one day return, saying: 'History will recognise the great work Boris did on Brexit, Ukraine and Covid. He is a titan amongst minnows. This is the conclusion of a chapter, not the end of the book. We will hear more about Boris over the coming days, months and years.'
In a message on a Tory WhatsApp group, Andrea Jenkyns declared 'the Blob has won', and appeared to lay the blame at Mr Sunak's door, saying: 'Well done, Rishi, for starting this nonsense'.
Tory sources had indicated they would not ask Conservative MPs to block any punishment recommended by the privileges committee. With no legal recourse to challenge its findings, Mr Johnson felt he had no choice but to go. The former PM said his removal set a 'dangerous and unsettling precedent'.
'It is very sad to be leaving Parliament – at least for now – but above all I am bewildered and appalled that I can be forced out, anti-democratically, by a committee chaired and managed, by Harriet Harman, with such egregious bias,' he said.
Tory whips were last night mobilising to calm Mr Johnson's supporters and prevent a mutiny. Mr Sunak now faces the prospect of fighting two potentially destabilising by-elections.
Labour sources have predicted the party will 'win big' in Mr Johnson's Uxbridge and South Ruislip seat, where the former PM had a majority of just over 7,000.
Richard Mills, chairman of the Uxbridge and South Ruislip Conservative Association, said Mr Johnson had been an 'outstanding' advocate for the community 'contrary to external perception'.
Expressions of anger and shock at the nature of Mr Johnson's exit, as well as emotional tributes to his charisma and his political achievements, dominated the social media feeds of pro-Boris MPs, peers and campaigners last night.
Peter Cruddas, a Tory donor and the brains behind efforts to restore Mr Johnson to No 10, said: 'Parliament just put two fingers up to the British electorate and said we don't care who you voted for or the manifesto, we are in charge and we will do what we want. Parliament have forced out a democratically elected PM and MP and his manifesto. Democracy is dead.'
Former Tory MEP David Campbell Bannerman blamed 'a kangaroo court under Harriet Harman', adding: 'Expect more by-elections.'
Mr Fabricant, awarded a knighthood on Mr Johnson's honours list yesterday, criticised the 'disgraceful treatment of a political leader who has made world history by achieving Brexit and leading the Conservatives to a landslide general election victory'.
Emotions were running high when Christian Wakeford, the MP for Bury South who crossed the floor to join Labour in 2022, wrote that Mr Johnson would not 'be missed much'.
Tory MP Mark Jenkinson hit back: 'You literally owe your seat to him, you traitorous twerp.'
Mr Johnson's shock resignation came on the day his honours list was finally released. He rewarded key allies, handing Jacob Rees-Mogg a knighthood and making Priti Patel a dame.
After months of wrangling, Downing Street finally approved the recommendations made by the former prime minister, who left office last September.
In common with other former prime ministers, Mr Johnson used the 45-strong list to reward key political allies, including a string of serving MPs. As well, former Tory aides Ross Kempsell, 31, and Charlotte Owen, 29, will become some of the youngest-ever life peers.
As well as Mr Rees-Mogg, fellow loyal MPs Conor Burns, Simon Clarke and Mr Fabricant, and former Tory chairman Ben Elliot, all received knighthoods.
Mr Johnson led the Conservatives to a landslide election victory in 2019 – but was given a fixed penalty notice over Downing Street lockdown parties and then forced out by his own MPs after three years in office, following a string of scandals.
Dame Priti Patel, who served under Boris Johnson as home secretary and was nominated in the former prime minister's long-awaited resignation honours list, tweeted a message of support for Mr Johnson on Friday evening, describing him as 'a political titan'.
'Boris is a political titan whose legacy will stand the test of time.'
Tory MP for Morley and Outwood, Dame Andrea Jenkyns, who was revealed on Friday to have been nominated for the honour by Boris Johnson, has said she will not resign in the wake of the former prime minister's resignation.
'Its (sic) a great honour to serve my constituents & our great country. The unjust events & @BorisJohnson resignation tonight has made me more determined to stand up to the blob wherever they reside.'
But Liberal Democrat Deputy Leader Daisy Cooper MP said: 'Good riddance.'
In a rallying call to his followers, Boris Johnson used his resignation statement to deliver a stinging attack on Rishi Sunak's Government.
'When I left office last year the government was only a handful of points behind in the polls. That gap has now massively widened,' he said.
'Just a few years after winning the biggest majority in almost half a century, that majority is now clearly at risk. Our party needs urgently to recapture its sense of momentum and its belief in what this country can do.
'We need to show how we are making the most of Brexit and we need in the next months to be setting out a pro-growth and pro-investment agenda. We need to cut business and personal taxes – and not just as pre-election gimmicks – rather than endlessly putting them up. We must not be afraid to be a properly Conservative government.
'Why have we so passively abandoned the prospect of a Free Trade Deal with the US? Why have we junked measures to help people into housing or to scrap EU directives or to promote animal welfare?
'We need to deliver on the 2019 manifesto, which was endorsed by 14 million people. We should remember that more than 17 million voted for Brexit. '
The shock announcement came just hours after huis close ally Nadine Dorries also quit her seat.
The ex-Tory minister, a close ally of Boris Johnson, has represented the longstanding Tory seat of Mid-Bedfordshire since 2005.
She had been linked with a seat in the House of Lords in Boris Johnson's resignation honours list but her appointment is believed to have been blocked by officials.
Downing Street denied blocking the appointments, but there was fury among supporters of Mr Johnson.
In a reference to Mrs Dorries' upbringing, one said: 'The posh Oxbridge boys in No 10 and the House of Lords Appointments Commission (Holac) have made sure a girl born on one of the poorest streets in Liverpool did not get to the House of Lords.'
One Whitehall source said Holac, which vets the appointment of peers, was concerned about the precedent that would be set by allowing MPs to join the Lords mid-term.
But an ally of Mr Johnson said: 'This is Rishi's revenge. It's war now.'
Ms Dorries, 66, who was also a health minister under Mr Johnson, this afternoon tweeted: 'I have today informed the chief whip that I am standing down as the MP for Mid Bedfordshire, with immediate effect.'
The Times earlier reported Ms Dorries, as well as Sir Alok Sharma – president of the Cop26 climate summit in Glasgow, were struck from Mr Johnson's trimmed-down honours list to avoid potentially damaging by-elections as they would have stood down to take the peerages.
Tory high command is said to have feared the prospect of a difficult double-by-election if Mrs Dorries and Sir Alok were allowed to go to the Lords.
And shortly afterwards a number of senior officials who were implicated in the partygate scandal have been nominated in Boris Johnson's resignation honours list.
Labour deputy leader Angela Rayner said it was 'sickening' that those who held 'boozy lockdown bashes' during the pandemic in Downing Street had been recognised by the former prime minister.
Martin Reynolds, formerly Mr Johnson's principal private secretary in No 10, has been nominated for a peerage.
He has admitted emailing Downing Street staff to invite them to come for drinks in the No 10 garden to 'make the most of this lovely weather' on May 20, 2020.
The 'bring your own booze' event took place at a time when rules and guidance restricted gatherings of more than two people and workplaces were meant to maintain social distancing.
In his evidence to the Commons' Privileges Committee investigation into whether Mr Johnson misled MPs over his response to the scandal, Mr Reynolds admitted the wording, which he has said he signed off but did not draft, had been 'totally inappropriate'.
Mr Johnson returned to Parliament in 2015, having previously represented Henley in the Commons between 2001 and 2008 and serving two terms as mayor of London.
He was promoted to foreign secretary by Theresa May when she took over from David Cameron, but he later resigned over her Brexit policy.
He succeeded her as prime minister in 2019 and would go on to secure a landslide victory at that year's snap winter general election.
He announced his resignation from No 10 in July 2022 after he lost the support of his party over his handling of sexual assault allegations against former deputy chief whip Chris Pincher.
In his statement on Friday, in which he appeared to leave the door open for a return to Westminster, Mr Johnson was critical of Mr Sunak's administration, questioning the decision to increase taxes and abandoning the prospect of a free trade deal with the US.
Mr Johnson held his Uxbridge seat with a majority of 7,200 votes at the 2019 contest, with Labour his closest rival.
The by-election is likely to be tricky for Mr Sunak's party, with Labour more than 10 points ahead of the Tories in most opinion polls.
Polling released by Savanta suggested Sir Keir Starmer's outfit currently holds a 14-point lead over the Tories in Mr Johnson's former west London constituency.
Mr Johnson led the Conservatives to a landslide election victory in 2019 – but was given a fixed penalty notice over Downing Street lockdown parties and then forced out by his own MPs after three years in office, following a string of scandals.
He resigned in July 2022 and his final speech in Downing Street appeared to hint at a comeback – including a reference to Cincinnatus, who was recalled from his farm to save ancient Rome from crisis.
Just months later, he emerged as an early front-runner to be the next prime minister.
His replacement Liz Truss crashed and burned after 45 days in the job, and had resigned after her policy programme spooked the financial markets.
At the time polling suggested he was still deeply unpopular with the public at large, although not as unpopular as Ms Truss and he had significant support among Tory members.
Mr Johnson largely kept a low profile following his resignation, apart from a tribute to the late Queen and continuing his steadfast support for Ukraine until in March, he found his political future was in the hands of the Privileges Committee.
He faced a grilling which lasted more than three hours from the committee where he insisted he 'did not lie to the House' over his reassurances about Covid guidance being followed in Downing Street during the pandemic.
He told the panel it would have been 'utterly insane' for him to have misled Parliament.
But even before becoming prime minister, he had been accused of racism and homophobia, as well as multiple affairs, and was forced to apologise to Parliament for failing to properly declare outside earnings totalling more than £50,000 on several occasions.
Despite this he seemed to continue defying political gravity, rising ever upwards from MP to mayor of London to foreign secretary and, eventually, into Number 10 itself.
He even built up a reputation for being able to win in unexpected places, starting with his bid for the London mayoralty in 2008.
Although not quite the Labour stronghold it is now, the capital was still a daunting prospect for a Conservative after two terms of 'Red' Ken Livingstone, but Mr Johnson managed not only to win but then retain the mayoralty in 2012.
And then, in December 2019, his promise to 'Get Brexit done' saw him lead the Conservatives to a landslide victory, picking up swathes of traditionally Labour territory.
But even with his majority, Mr Johnson was confronted by significant challenges.
He did manage to secure a Brexit deal, but his decision to reopen the question of the Northern Ireland Protocol suggested Brexit was not 'done' while also opening him to accusations he was reneging on an agreement with the UK's international partners.
Then came the pandemic, derailing many of his plans to 'level up' the country and seeing him admitted to an intensive care unit as he was struck down with Covid.
MPs became rebellious as he broke manifesto pledges on tax rises, U-turned on social care, backtracked on rail promises and continued to impose Covid restrictions that some felt draconian.
And still scandal dogged him. Just as he appeared unassailable – leading in the polls, presiding over a successful Cop26 and a triumphant Tory conference – it all started to fall apart.
First came the Owen Paterson affair and then the revelations of partygate that saw him become the first prime minister to receive a criminal penalty while in office, before finally the Chris Pincher scandal brought an avalanche of ministerial resignations and his exit from Downing Street.