It is one of the toughest decisions faced by parents – when to give in to their younger children's constant demands for a smartphone.
Startling recent figures from communications regulator Ofcom show that 20 per cent of kids have a smartphone by the age of three, and that rises to 55 per cent between the ages of eight to 11.
But the residents of one seaside town in Ireland have decided they do not want their little ones to spend their most formative years peering into a tiny LCD screen.
The entire parent population of Greystones in County Wicklow got together to agree not to buy smartphones for their kids until they were in secondary school.
All eight primary schools in the town, 15 miles south of Dublin, had already stopped pupils from bringing the electronic devices into the learning environment.
But the school parent associations then went further by initiating a voluntary ban among themselves.
It is a revolutionary approach which would likely be welcomed by parents in Britain as well.
A survey by Vodafone this week revealed that choosing when to give a child their first mobile phone was as tough for some parents as selecting the right school to send their children to.
And, in July, the United Nation's education, science and culture agency Unesco called for phones to be banned from classrooms across the world.
Mental health crisis
When The Sun visited Greystones, the locals were grateful for the chance to free youngsters from the pressure to be permanently connected to social media.
Anja Schubert, who has lived in Greystones for 25 years, says: "I signed up.
"It gives me another three years for my daughter not to have a smartphone.
"I suppose the majority of people would feel under pressure to buy a phone for their child because their peers have it.
"So the more kids that don't have one, the easier it is for us."
More than 70 per cent of the parents in Anja's daughter's class signed up to the agreement not to buy a smartphone for their kids.
Once the children reach secondary school, only five per cent of parents say are willing to hold out against the tide.
Greystones mum Caroline Nolan signed the agreement with her two boys' infants school, St. Laurence's.
She won't be giving her sons a smartphone until they finish sixth class, which is for 11 to 12-year-olds.
She says: "As a family, we've ­spoken openly about how they wouldn't have phones until the end of sixth class going into first year.
"And that's something that we are quite strict about.
"But I think collectively in the community, with everyone doing it, it takes the pressure off."
The rise in social media has been linked to the mental health crisis facing teenagers.
An NHS report last November revealed that a quarter of 17 to 19- year-olds in England have a probable mental health disorder, which was up from one in six a year earlier.
Dad Johnny Hayden told how the Greystones area was hit with two recent suicides as a result of bullies.
And he feels the smartphone clampdown will benefit young people's mental health.
He says: "Two girls recently committed suicide over bullying in the area.
"It's terrifying because it's something that happens between the social world and your kid — something that you really have no part in, because they don't want you to see it.
"It's something that scares you, really."
The Greystones parent believes that the first year of secondary school is a good age to be given a phone.
He said: "I think teenagers' social life has changed where they need a phone.
"But generally, my rule is: only get a smartphone when they go into first year.
"I've got three girls.
"My youngest hasn't got a phone.
"She uses her mother's to play games but she doesn't have her own phone until she's in first year."
Other towns in Ireland are now considering implementing a similar policy.
France banned phones in classrooms in 2018, Italy did so last year, while Holland and Finland brought in restrictions this year.

⬇️ Top Picks for You ⬇️
McCarthy to Work with Dems to Pass 45-Day Funding, Avoiding Govt Shutdown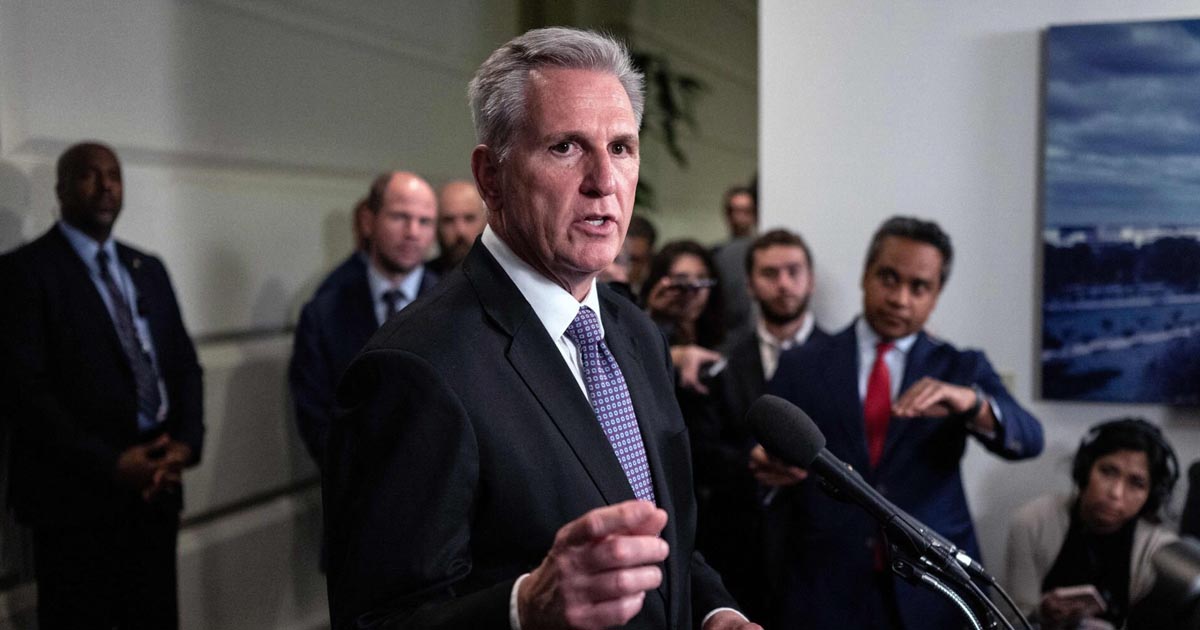 On the brink of a federal government shutdown, Speaker Kevin McCarthy announced a dramatic pivot Saturday, trying to push a 45-day funding bill through the House with Democratic help — a move that could keep government open but most certainly risks his job.
Republican lawmakers met behind closed doors early in the morning with hours to go before the midnight deadline needed to fund government operations or face a disruptive federal closure.
The new approach would leave behind aid to Ukraine, a White House priority opposed by a growing number of GOP lawmakers, but the plan would increase federal disaster assistance by $16 billion, meeting President Joe Biden's full request.
The House was preparing for a quick vote Saturday on the plan, but Democrats hit the brakes, seeking time so they could read the 71-page bill. Across the Capitol, the Senate was opening a rare weekend session and hoping to advance its own stopgap plan, but with money for Ukraine.
"We're going to do our job," McCarthy said after the morning meeting. "We're going to be adults in the room. And we're going to keep government open."
With no deal in place before Sunday, federal workers will face furloughs, more than 2 million active-duty and reserve military troops will work without pay and programs and services that Americans rely on from coast to coast will begin to face shutdown disruptions.
The sudden House action would fund government at current 2023 levels for 45 days, through Nov. 17. It would move closer to the bipartisan approach underway in the Senate, which also would fund the government through that period, while adding $6 billion for Ukraine to fight the war against Russia and $6 billion for U.S. disaster relief.
"A bipartisan, a bicameral solution is the only way forward," said Rep. Rosa DeLauro, the top Democrat on the House Appropriations Committee. She and other Democrats decried cutting Ukraine aid.
McCarthy, R-Calif., will be forced to rely on Democrats for passage because the speaker's hard-right flank has said it will oppose any short-term measure. McCarthy was setting up a process for voting that will require a two-thirds supermajority, about 290 votes in the 435-member House for passage. Republicans hold a 221-212 majority, with two vacancies.
Relying on Democratic votes and leaving his right-flank behind is something that the hard-right lawmakers have warned will risk McCarthy's job as speaker. They are almost certain to quickly file a motion to try to remove McCarthy from that office, though it is not at all certain there would be enough votes to topple the speaker.
"If somebody wants to remove me because I want to be the adult in the room, go ahead and try," McCarthy said of the threat to oust him. "But I think this country is too important."
The quick pivot comes after the collapse Friday of McCarthy's earlier plan to pass a Republican-only bill with steep spending cuts up to 30% to most government agencies that the White House and Democrats rejected as too extreme.
"Our options are slipping away every minute," said one senior Republican, Rep. Mario Diaz-Balart of Florida.
Meanwhile, the Senate was marching ahead on its package with support from both Democrats and Republicans.
"Congress has only one option to avoid a shutdown — bipartisanship," said Senate Majority Leader Chuck Schumer, D-N.Y.
Senate Republican leader Mitch McConnell of Kentucky echoed the sentiment, warning his own hard-right colleagues there is nothing to gain by shutting down the federal government.
"It heaps unnecessary hardships on the American people, as well as the brave men and women who keep us safe," McConnell said.
The federal government is heading straight into a shutdown that poses grave uncertainty for federal workers in states all across America and the people who depend on them — from troops to border control agents to office workers, scientists and others.
Families that rely on Head Start for children, food benefits and countless other programs large and small are confronting potential interruptions or outright closures. At the airports, Transportation Security Administration officers and air traffic controllers are expected to work without pay, but travelers could face delays in updating their U.S. passports or other travel documents.
An earlier McCarthy plan to keep the government open collapsed Friday due to opposition from a faction of 21 hard-right holdouts despite steep spending cuts of nearly 30% to many agencies and severe border security provisions.
The White House has brushed aside McCarthy's overtures to meet with Biden after the speaker walked away from the debt deal they brokered earlier this year that set budget levels.
Catering to his hard-right flank, McCarthy had returned to the spending limits the conservatives demanded back in January as part of the deal-making to help him become the House speaker.
After Friday's vote, McCarthy's chief Republican critic, Rep. Matt Gaetz of Florida, said the speaker's bill "went down in flames as I've told you all week it would."