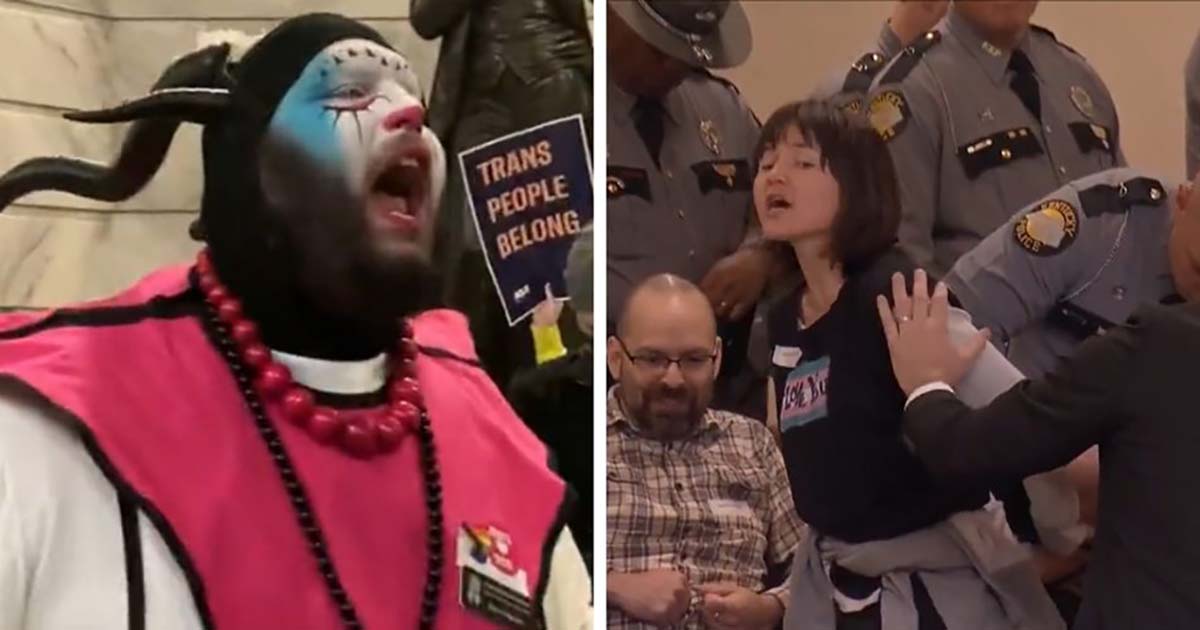 Trans Activists Storm Kentucky Capitol to Protest Law Prohibiting Child Sex Changes, Several Arrested
Hundreds of protesters descended on the Kentucky State Capitol on Wednesday as Republican lawmakers enacted a sweeping ban on sex changes for minors after overriding the veto of the Democratic governor.
Under Senate Bill 150, doctors are prohibited from providing hormone therapy or other gender-affirming treatments to anyone under the age of 18.
The legislation was passed by the Republican-controlled legislature last month, but Democratic Governor Andy Beshear vetoed the bill, calling it an attack on the transgender community.
Watch:
https://twitter.com/JackPosobiec/status/1641265555901493249?ref_src=twsrc%5Etfw%7Ctwcamp%5Etweetembed%7Ctwterm%5E1641265555901493249%7Ctwgr%5E5c12c590c9666251c957a6d092fcca90043cc1a6%7Ctwcon%5Es1_c10&ref_url=https%3A%2F%2Fthepostmillennial.com%2Ftransurrection-trans-activists-storm-kentucky-capitol-to-protest-law-prohibiting-child-sex-changes-several-arrested
On Wednesday, lawmakers returned to the state capitol for the final days of the 2023 legislative session.
BREAKING: Police in the Kentucky State House Chamber are forcefully removing people who are protesting SB 150, which they consider to be an extreme anti-trans bill. @LEX18News pic.twitter.com/urqwPa9Ij0

— Ricky Sayer (@RickyReports) March 29, 2023
According to the Courier-Journal, hundreds of teens joined other activists from across Kentucky in the State Capitol in Frankfort to oppose the bill.
Kentucky State Police removed several protesters who refused to remain silent during the proceedings in the House of Representatives as lawmakers discussed overturning Governor Andy Beshear's veto of SB 150. Some of the protesters locked arms and chanted "trans kids are under attack." According to the outlet, they were also removed and arrested.
MOMENTS AGO: This is the scene inside the Kentucky House Chamber right now as police are escorting protesters over Senate Bill 150, a bill critics say is harmful to transgender youth.

"You go after everybody's kids but your own," said Rep. Pamela Stevenson, who opposes the bill. pic.twitter.com/3fjSt5WK39

— LEX 18 News (@LEX18News) March 29, 2023
The Senate overrode Beshear's veto in a 29 to 8 vote and the veto was then overridden in the House by a vote of 76 to 23.
A few of the protesters were seen weeping in response to the override vote while others chanted "vote them out" and yelled "shame."
Supporters of SB 150 were also present at the Capitol during the proceedings on Wednesday.
Following the veto, Beshear said in a statement to the media that parents should have the right to make important medical decisions for their children, rather than having those decisions dictated by the government. "At the end of the day, this is about my belief — and, I think, the belief of the majority of Kentuckians — that parents should get to make important medical decisions about their children, not big government."

⬇️ Top Picks for You ⬇️
Alan Dershowitz Analyzes Classified Documents Criminal Charge Against Trump
OPINION by Alan Dershowitz:
It seems likely that former President Donald Trump will allege that he declassified the documents that he took to Mar-a-Lago before he left office.
If that claim is presented to the courts, either by legal pleadings or testimony, it will raise several related issues. The first is a question of law, the second is an issue of evidence, and the third is one of procedure.
Let's begin with the law.
There could be little dispute that a president, while in office, has the power to declassify any previously classified documents or material. As the head of the executive branch, he has the last word on what remains classified or declassified. It is possible, though not beyond dispute, that Congress could constrain that power if it enacted clear legislation.
Some would argue that the Constitution precludes the legislative branch from limiting the power of the executive, but that is moot at the moment because Congress has not enacted statutes that specifically prevent the president from declassifying material.
Some think they should, as a matter of policy, formalize the declassification process so as to make it transparent. But absent such legislation, it seems clear that the authority to classify and declassify is an executive function, and the president is the executive. So if Mr. Trump did declassify documents that were then moved to Mar-a-Lago, mere possession of such documents would not be a crime.
The next question is, did Mr. Trump in fact declassify these documents? If he claims he did, it will be up to the government to challenge that assertion. It could do so in several ways. It could offer evidence designed to disprove Mr. Trump's claim. But proving a negative — in this case, that he did not declassify the documents — is always difficult.
Theoretically, there could be evidence that Mr. Trump told an associate that he was taking classified material with him, knowing it was still classified. It is extremely unlikely, however, that any such evidence exists.
The government could also claim that absent any evidence either way, it must be presumed that a document once classified remains classified. But that ignores the fact that a statement by Mr. Trump to the contrary, if given under oath, would be evidence. And if Mr. Trump decides not to testify, there may be no admissible evidence either way.
In addition, the government could argue that the circumstantial evidence, especially the failure to announce any declassification until the criminal investigation began, can be weighed against his allegation. This is a weak argument, especially if there is no requirement in the law that declassification be announced or recorded.
These factual disputes would have to be resolved by 12 jurors if the government were to present sufficient evidence to warrant its submission to a jury.
The third basic issue, and the one that could determine the outcome of any criminal case, is closely related to the second: Who has the burden of proof on the claim of declassification? That is an issue of legal procedure.
In the usual criminal prosecution, the government has the heavy burden of proving every element of the crime beyond a reasonable doubt. The status of the documents as classified is an element of crimes that prohibit the unauthorized possession of classified material. The government may claim that the question of whether documents once classified have been declassified is a matter of law to be decided by the judge. That is a weak argument under the Fifth and Sixth amendments and their history.
The bottom line is that if Mr. Trump or his lawyers allege — even without his testifying — that he declassified the documents, a criminal charge of unauthorized possession of classified documents would be difficult to prove. That doesn't mean that a prosecutor could not get a grand jury to indict this particular ham sandwich. It does mean that it's unlikely that a conviction against Mr. Trump would be sustainable.
The government is certainly aware of these difficulties, so it may be seeking to indict Mr. Trump on some process crime, such as obstruction of justice. But it will be difficult to establish that Mr. Trump crossed the line from vigorously and lawfully defending his conduct to engaging in criminal obstruction.
No citizen is required to cooperate in a Department of Justice criminal investigation, as President Biden and others have commendably done. Nor can he actively obstruct such an investigation by unlawful means. The government will have a hard time proving beyond a reasonable doubt that Mr. Trump willfully crossed this line.
Based on what we know, we believe that there is no legitimate basis for a criminal indictment of Mr. Trump based on the material that was found at Mar-a-Lago.