A two-time Olympian has ripped rules that allowed a transgender runner to beat nearly 14,000 women in the female category of the London Marathon.
Mara Yamauchi — who finished sixth in the marathon at the 2008 Beijing Olympics — lashed out after trans racer Glenique Frank, 54, gushed to the BBC about using "girl power" to run the key UK race on Sunday.
"Males in the [female] category is UNFAIR for females," Yamauchi tweeted alongside a clip of the mid-race interview by the sports bra-wearing runner who also gushed about soon becoming "a gran."
"Nearly 14,000 actual females suffered a worse finish position [because] of" Frank, wrote Yamauchi — who said that even when she was "ranked second in the world" as a woman, "at least 1300 men ran faster than me."
She noted how UK Athletics applied World Athletics' rules on the exclusion of transgender women from elite female competitions at the end of March to make it "fair for athletes who have gone through male puberty to be excluded from the female category in athletics."
However, it allowed those who had already entered races to still compete in categories that were not their biological sex.
"This male competed under UK Athletics' transitional arrangements, but it is still wrong and unfair," Yamauchi told Telegraph Sport.
Cathy Devine, a former lecturer in sport and physical activity at the University of Cumbria, also accused the London Marathon of being "enabling."
"Zero categories that exclude male performance advantage. Goddess forbid that female runners should have their own category celebrating what women runners can do," she tweeted.
Frank told The Post Tuesday that he's competed in the male category in previous marathons — including New York in November — because he was forced to enter under the name and gender that's listed on her passport.
Even so, he ran around the Big Apple in a bright-red bra and wore a long pink wig as a city tourist.
For the London Marathon, however, the same passport rules did not apply because Frank is UK-based and a British citizen.
"I ticked female because I see myself as female," said Frank, who came out three years ago as Glenique — a mix of Glen and "unique" — but has "known since I was five that I was in the wrong body."
Frank said it was "traumatic" to be publicly attacked while "trying to spread joy and happiness with the rainbow love" at the race.
Still, "I get it," Frank, a personal trainer, said of the criticism. "I feel sad that I've upset Mara, because I respect her."
Frank went viral after stopping to tell the BBC of her joy at running her 17th marathon.
"Girl power!" Frank said, while flexing her bulging biceps above rainbow-colored armbands.
A transgender runner is under fire for crediting "girl power" for beating nearly 14,000 others in the female category of the London Marathon — just months after racing in New York as a man.

Sports bra-wearing racer Glenique Frank — who ran the New York Marathon on November 6,… pic.twitter.com/KvtAaZqrFY

— Denn Dunham (@DennD68) April 25, 2023
The runner — whose social media still shows photos from earlier races while still a balding then-married man — ended the mid-race chat to gush about how her "beautiful son" is expecting a baby.
"So I'm going to be a gran — Granny G!" Frank said before running off, draped in a blue, pink and white transgender flag.
Frank said he was shocked at the blowback given that he was not an elite runner competing for prize money or a place on the podium. Instead, he's raised the equivalent of $37,000 for charity in the races.
"I did [the race in] four hours 11 minutes. There's lots of women that beat me," he noted of the more than 6,150 ahead of her in the category.
Still, from now on Frank said he is "going to enter under 'other' or 'male,' just to keep everybody happy.
"And I'll still do it in four hours and I won't steal anybody's money," he quipped.

⬇️ Top Picks for You ⬇️
Republicans Launch Contempt Process Against FBI Director After Viewing Biden 'Bribery' Document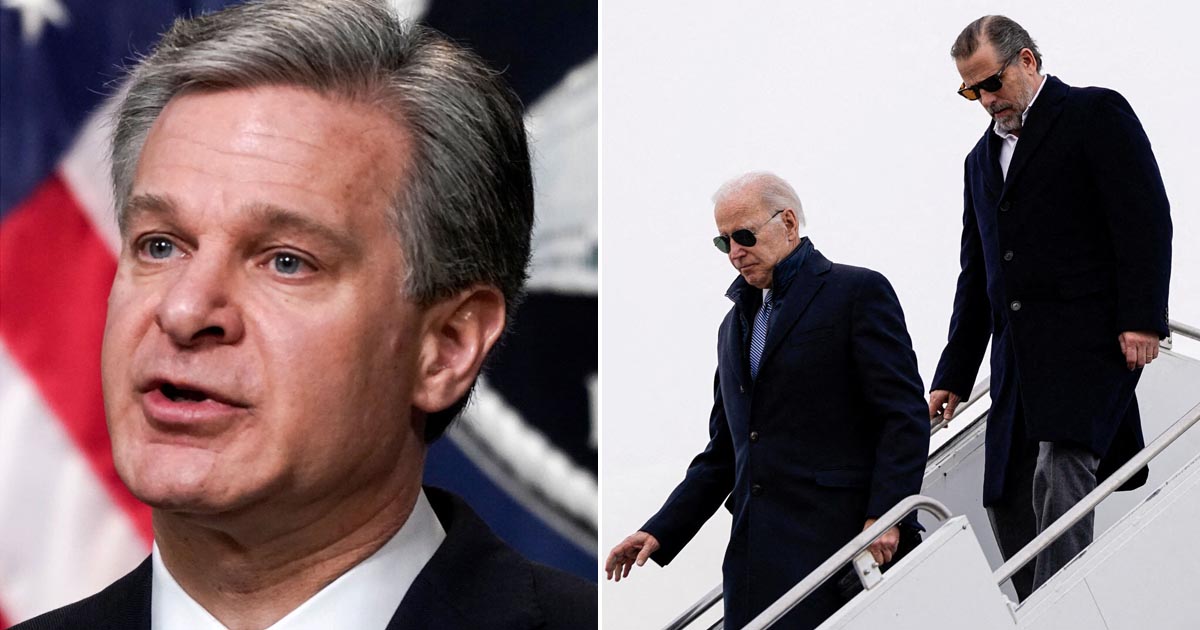 House Republicans are officially starting contempt of Congress charges against FBI Director Chris Wray for failing to turn over Biden 'bribery' document they claim shows then-Vice President Joe Biden was involved in a $5 million 'criminal' scheme with a foreign national.
The escalation comes after the Republican and Democratic leaders of the House Oversight Committee were granted access by the FBI Monday to view the FD-1023 form in a secure facility within the Capitol. The document apparently details an 'arrangement' for an exchange of money for policy decisions.
The Republicans issued a subpoena for the FD-1023 form last month and FBI Director Chris Wray was given a hard deadline of May 30 to hand over the unclassified document, which he did not comply with.
After reviewing the document Monday, Comer told reporters the accusations contained in the form 'suggests a pattern of bribery' consistent with findings the committee has put out publicly.
It's called 'money laundering,' he said, saying it fits within the pattern of over $1 million in Romanian-linked payments to the Biden family revealed last month.
In early May, Republicans released a report digging in on over $10 million received by Biden family members from foreign actors, including previously undisclosed $1 million in Romanian-linked payments, and a 'web' of 20 companies created while President Joe Biden was vice president and pushing anti-corruption efforts abroad.
He also said the FBI record was 'not disproven' and is currently being used in an ongoing investigation that is being conducted by the Department of Justice in Delaware into Hunter Biden's finances.
The 'confidential human source' is a 'trusted, highly credible informant' who has been used by the FBI for over 10 years and has been paid over six figures, continued Comer.
The chairman added that contempt proceedings will begin this Thursday.
'At the briefing, the FBI again refused to hand over the unclassified record to the custody of the House Oversight Committee, and we will now initiate contempt of Congress hearings this Thursday.'
Last week, Comer and Sen. Chuck Grassley, R-Iowa, spoke with Wray by phone and the FBI director offered to let them and Ranking Member Rep. Jamie Raskin, D-Md., view the documents at the FBI headquarters in an attempt to stave off the contempt threat.
'During today's call, Director Wray offered to provide the Committee's Chairman and Ranking Member an opportunity to review information responsive to the subpoena in a secure manner to accommodate the committee, while protecting the confidentiality and safety of sources and important investigative sensitivities,' said the FBI in a statement.
'The FBI has continually demonstrated its commitment to working with the Committee to accommodate its request, from scheduling briefings and calls to now allowing the Chair to review information in person. The FBI remains committed to cooperating with the Committee in good faith.'
Comer also informed Wray that he was also narrowing the breadth of the subpoena for the document by providing two additional terms that may be referenced in the record: 'June 30, 2020' and 'five million.'
Raskin blasted the Republicans' handling of the document in a reporter gaggle following Monday's briefing, calling it 'second-hand hearsay.'
He said former U.S. Attorney Scott Brady for the Western District of Pennsylvania and then-Attorney General Bill Barr did not find any reason to escalate the investigation into all 'allegations related to Ukraine' based on the FD-1023 form.
'I am just surprised that my colleagues want to try to litigate this in public, much less hold the Director of the Federal Bureau of Investigation in contempt for complying with the request when there was a whole process that was undertaken, and that process came to its natural end as I understand it,' Raskin said.
He would not directly confirm that the foreign national alleged in the memo being sought by Republicans is from Ukraine.
Raskin did agree with his Republican colleagues that the whistleblower is considered 'credible.'
The White House has also pushed back, calling the Republican-led investigation 'unfounded' and 'politically motivated.'