Former president Donald Trump, the current GOP frontrunner for the 2024 presidential race, has opposed the new trial schedule, to start on Oct. 23, proposed by prosecution in his Fulton County case.
Fulton County District Attorney Fani Willis on Thursday proposed an Oct. 23 trial date for all 19 defendants charged with racketeering over their challenge of the Georgia 2020 election results, significantly sooner than the original March 4, 2024, trial date she proposed earlier.
The two-month deadline proposal to try all 19 defendants together came in response to defendant Kenneth Chesebro filing a motion demanding a "speedy trial" on Wednesday.
Managing the schedules of 19 different defendants was a concern legal experts had raised when the indictment was first handed up on Aug. 14, and Ms. Willis said in a press conference afterwards that she would go to trial within six months.
Attorney Steven Sadow, who joined President Trump's legal team just Thursday, wrote a response to the district attorney's motion to oppose the schedule.
"President Trump also alerts the Court that he will be filing a timely motion to sever his case from that of co-defendant Chesebro, who has filed a demand for speedy trial, or any other co-defendant who files such a demand," he wrote.
Other defendants are expected to do the same, and sever their cases.
Mr. Chesebro's attorney, Scott Grubman, indicated the October trial would not be a problem.
"Mr. Chesebro will be prepared to move forward with trial for whatever date the Court ultimately sets," he told The Epoch Times, before Judge Scott McAfee ordered a Nov. 3 trial date for Mr. Chesebro.
"The scheduling will occur on an expedited timeline to meet the November 3, 2023 deadline to begin trial," he wrote, adding a Sept. 6 arraignment, Sept. 20 discovery deadline, and Sept. 27 motions deadline. A pretrial conference for Mr. Chesebro will be held Sept. 29.
Judge McAfee noted in his order that the deadlines for Mr. Chesebro's trial proceedings do not apply to any other co-defendant.
Schedules
President Trump, on the other hand, is facing several court proceedings as he continues to campaign for 2024 reelection.
Court proceedings in Florida have been ongoing in a federal case brought against him by special counsel Jack Smith over allegedly mishandling classified documents.
Mr. Smith has brought another case against him, in Washington, over contesting the 2020 election results, similar to Ms. Willis's Fulton County case but in federal court.
Manhattan District Attorney Alvin Bragg also has a case against him over allegedly mishandling business finances, and all three of these cases could potentially go to trial in 2024, as the presidential election heats up.
On all fronts, President Trump's attorneys have requested trial dates that begin after the general elections, though none have yet been granted.
Thursday Surrender
President Trump's expected, high profile surrender on Thursday was preceded by a gathering of supporters outside the Fulton County jail that began early in the morning.
The dozen or so enthusiastic rallygoers at 7 a.m. grew to hundreds a few hours later. The former president wrote on Truth Social in the afternoon that he was getting ready to head to Georgia and would arrive for his surrender by 7:30 p.m., simultaneously plugging the interview he did with Tucker Carlson, which aired the same time as the GOP debates on Wednesday.
"231,000,000 Views, and still counting. The Biggest Video on Social Media, EVER, more than double the Super Bowl!" he wrote. "But please excuse me, I have to start getting ready to head down to Atlanta, Georgia, where Murder and other Violent Crimes have reached levels never seen before, to get ARRESTED by a Radical Left, Lowlife District Attorney, Fani Willis, for A PERFECT PHONE CALL, and having the audacity to challenge a RIGGED & STOLEN ELECTION. THE EVIDENCE IS IRREFUTABLE! ARREST TIME: 7:30 P.M."
By Thursday afternoon, the majority of the 19 defendants had already surrendered, had their fingerprints and mugshots taken, and gotten released on bond.
President Trump's bond was set at $200,000, the highest of all the defendants.
The proceedings are far from typical; local jail officials have insisted on booking the former commander in chief the same as any other local criminal, though experts have pointed out that with his Secret Service requirements it may not be possible.
The arraignment may also be atypical; unlike the previous three, this one may be televised.
Following the request of four local television stations, Judge McAfee issued an order allowing the recording of video and audio in the courtroom between Aug. 23 and Sept. 8, the period Ms. Willis said she plans to hold arraignments.
The Georgia indictment charged President Trump with 13 counts, including violation of the state's RICO act, conspiracy to commit forgery in the first degree, filing false documents, and solicitation of violation of oath by a public office, among others.

⬇️ Top Picks for You ⬇️
Senate Democrats Authorize Supreme Court Ethics Subpoenas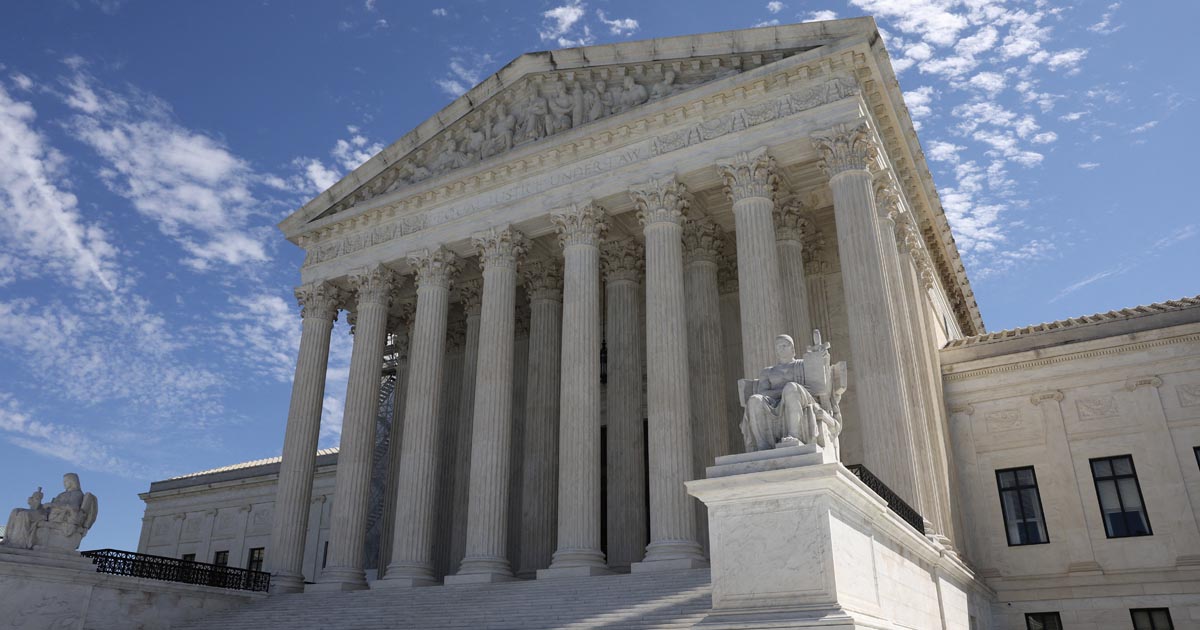 A Democratic-led U.S. Senate panel on Thursday authorized subpoenas to two influential conservatives – Harlan Crow and Leonard Leo – as part of an ethics inquiry spurred by reports of undisclosed largesse directed to some conservative Supreme Court justices.
The Judiciary Committee voted to authorize the subpoenas for Crow, a billionaire Republican donor and benefactor of conservative Justice Clarence Thomas, and Leo, a legal activist who was instrumental in compiling Republican former President Donald Trump's list of potential Supreme Court nominees.
Republican senators walked out of the contentious committee meeting in protest while Democrats cast votes. Some Republicans later questioned the vote's legitimacy, accusing Democrats of violating procedural rules.
"The subpoena clearly wasn't legal," Republican Senator John Kennedy, a committee member, said after the vote.
Senator Dick Durbin, the panel's chairman, said subpoenas were necessary due to the refusal by Crow and Leo for months to voluntarily comply with its previous requests for information. This included itemized lists of all gifts, transportation and lodging provided to any Supreme Court justice.
Durbin also renewed his criticism of a new code of conduct announced by the court on Nov. 13 and promised to continue to pursue the committee's ethics investigation.
"Without an enforcement mechanism, this code of conduct, while a step in a positive direction, cannot restore the public's faith in the court," Durbin said.
Senator Lindsey Graham, the committee's top Republican, told the meeting that Democrats were engaged in a "jihad" against the Supreme Court, whose 6-3 conservative majority has handed major defeats to liberals in recent years on matters including abortion, gun rights and student debt relief.
"When you say you don't want to destroy the Roberts Court, I don't believe you," Graham said, referring to the court under the leadership of conservative Chief Justice John Roberts. "I don't believe a word you're saying."
The committee vote authorized Durbin to issue the subpoenas, which he could do unilaterally, according to a Democratic committee staffer.
If the subpoena recipients fail to comply, Democrats would need 60 votes in the 100-seat Senate to initiate a civil enforcement action, meaning they would need the support of some Republicans. The Democrats also would have the option to make a referral to the U.S. Justice Department, which could choose to pursue criminal contempt proceedings against the subpoena recipients.
Lawyers for Leo and Crow in letters to the committee have criticized the committee's information requests as lacking a proper legal justification. Crow's lawyer had proposed turning over a narrower range of information but Democrats rebuffed that offer, according to the panel's Democratic members.
The news outlet ProPublica reported this year on Thomas's failure to disclose luxury trips and real estate transactions involving Crow, a Texas businessman.
The outlet also reported that Leo helped organize a luxury fishing trip in Alaska attended by conservative Justice Samuel Alito, who failed to disclose taking a private jet provided by billionaire hedge fund manager Paul Singer. Trump chose all three of his appointees to the court from lists of candidates that Leo played a key role in drawing up.
Thomas has said he believed the Crow-funded trips were "personal hospitality" and thus exempt from disclosure requirements, and that his omission of the real estate transaction was inadvertent.
Alito, regarding the flight, said that Singer had "allowed me to occupy what would have otherwise been an unoccupied seat."