Former President Donald Trump has pleaded not guilty in the case against him and 18 co-defendants in Fulton County, Georgia, over his challenge of the 2020 election results.
On Aug. 14, the 19 defendants were charged with violating the state's Racketeer Influenced and Corrupt Organizations (RICO) Act in a 98-page indictment listing a total of 41 charges. The prosecutor, Fulton County District Attorney Fani Willis, alleges that their actions in organizing a slate of alternate electors to cast ballots constituted a "criminal racketeering enterprise" and conspiracy.
President Trump is the fourth defendant to plead not guilty. Attorney and former federal prosecutor Sidney Powell, publicist Trevian Kutti, and attorney Ray Smith have also pleaded not guilty in advance of the arraignments scheduled for Sept. 6.
President Trump had been scheduled to appear before the Fulton County Superior Court at 9:30 a.m., before any other defendants. By entering a plea early, a defendant waives his or her right to appear in court, so President Trump won't be at the scheduled arraignment.
Unlike President Trump's previous arraignments, the Fulton County arraignment was set to be televised. Judge McAfee had on Aug. 22 agreed to allow cameras into the courtroom during the proceedings at the request of four local television stations.
Severed Case
On Aug. 31, President Trump's legal team also filed a motion to sever his case from his co-defendants, citing defendant Kenneth Chesebro's demand for a speedy trial. Other defendants are expected to do the same.
Ms. Willis proposed trying all 19 defendants together on Oct. 23 in response, and Judge Scott McAfee had approved a Nov. 3 trial date for Mr. Chesebro only. The district attorney had then reiterated her request to try all 19 defendants together, citing the fact that no other defendant had filed a motion to sever their case, despite Trump attorney Steven Sadow writing that he intended to do so.
Mr. Sadow, who was appointed the same day as President Trump's surrender in Fulton County, wrote in his filing that an Oct. 23 trial date would not give him enough time to prepare his client's defense.
"Respectfully, requiring less than two months preparation time to defend a 98-page indictment, charging 19 defendants, with 41 various charges including a RICO conspiracy charge with 161 Overt Acts, Solicitation of Violation of Oath by Public Officer, False Statements and Writings, Forgery, Influencing Witnesses, Computer Crimes, Conspiracy to Defraud the State, and other offenses would violate President Trump's federal and state constitutional rights to a fair trial and due process of law," he wrote.
Mr. Sadow also cited his appearance in a case in Florida set to begin on Sept. 26 and which is expected to last two to three weeks, leading right into the proposed Fulton County trial date.
4th Plea
This marks the fourth time the former president has pleaded not guilty this year. In April, President Trump was charged with allegedly mishandling business documents in New York and pleaded not guilty to 34 counts. In June, he pleaded not guilty to 37 counts in a Florida case prosecuted by special counsel Jack Smith over allegedly mishandling classified documents, and he pleaded not guilty to an additional three charges in August.
In Washington, D.C., President Trump pleaded not guilty in August in another case prosecuted by Mr. Smith, over his challenge to the 2020 election results. The case is similar to the one in Fulton County but is being tried in federal court.
In the Washington case, District Judge Tanya Chutkan, decided on a March 4, 2024, trial date, the same as the trial date Ms. Willis originally proposed in Fulton County.
The Fulton County trial date has not yet been decided by a judge. Ms. Willis had said she intended to try all 19 defendants together, but the defendants have begun severing their cases from one another, citing differences in their schedules.
The presidential candidate has maintained popular support despite the charges against him.
On Aug. 23, President Trump surrendered at the Fulton County jail where he was released on $200,000 bond. Local officials insisted all 19 defendants be treated as any other local criminal, and the first-ever mugshot of a president of the United States was taken. The photo was released about an hour afterward and quickly went viral. The mugshot went up on President Trump's campaign donation website and social media, including in his first post on X, formerly known as Twitter, since 2021, with the caption "Never Surrender," and merchandise featuring the mugshot quickly followed.
The mugshot gave rise to unprecedented fundraising, according to the Trump campaign. On Aug. 25, two days after the photo's release, the campaign brought in a record $4.18 million, and the weekend after the booking brought in a little more than $7 million total. Spokesperson Steven Cheung wrote on X on Aug. 26 that they'd raised $20 million in the previous three weeks.
Ms. Willis's case rests on the allegation that the former president, his attorneys, the alternate electors named, and several others believed that President Trump had lost the election in Georgia in 2020, and "knowingly" acted to overturn an accurate result, according to the indictment. President Trump has maintained that he used legal avenues to challenge what he believed was election fraud in favor of his opponent.
"Does anybody really believe that I lost Georgia? Because I don't," he said in a campaign video published Aug. 30.
Arraignments
Besides the four not guilty pleas, 15 co-defendants are expected to be arraigned on Sept. 6, with 15-minute intervals given to each, starting at 9:30 a.m. with an hour break at noon; those defendants are Rudy Giuliani, John Eastman, Mark Meadows, Cathleen Latham, Scott Hall, Kenneth Chesebro, Harrison Floyd, Jeffrey Clark, Stephen Lee, Jenna Ellis, Shawn Still, David Shafer, Michael Roman, Bob Cheeley, and Misty Hampton.
A conviction under Georgia's RICO Act carries a prison sentence of five to 20 years, a fine of $25,000 or three times the amount gained via criminal activity, or both.

⬇️ Top Picks for You ⬇️
McCarthy to Work with Dems to Pass 45-Day Funding, Avoiding Govt Shutdown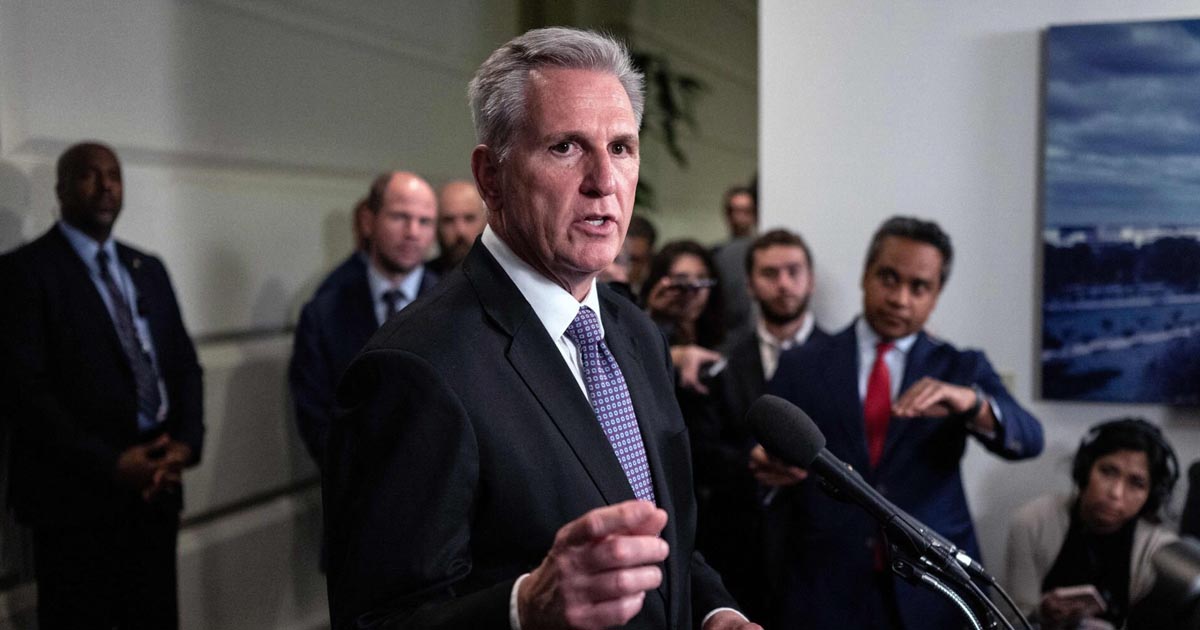 On the brink of a federal government shutdown, Speaker Kevin McCarthy announced a dramatic pivot Saturday, trying to push a 45-day funding bill through the House with Democratic help — a move that could keep government open but most certainly risks his job.
Republican lawmakers met behind closed doors early in the morning with hours to go before the midnight deadline needed to fund government operations or face a disruptive federal closure.
The new approach would leave behind aid to Ukraine, a White House priority opposed by a growing number of GOP lawmakers, but the plan would increase federal disaster assistance by $16 billion, meeting President Joe Biden's full request.
The House was preparing for a quick vote Saturday on the plan, but Democrats hit the brakes, seeking time so they could read the 71-page bill. Across the Capitol, the Senate was opening a rare weekend session and hoping to advance its own stopgap plan, but with money for Ukraine.
"We're going to do our job," McCarthy said after the morning meeting. "We're going to be adults in the room. And we're going to keep government open."
With no deal in place before Sunday, federal workers will face furloughs, more than 2 million active-duty and reserve military troops will work without pay and programs and services that Americans rely on from coast to coast will begin to face shutdown disruptions.
The sudden House action would fund government at current 2023 levels for 45 days, through Nov. 17. It would move closer to the bipartisan approach underway in the Senate, which also would fund the government through that period, while adding $6 billion for Ukraine to fight the war against Russia and $6 billion for U.S. disaster relief.
"A bipartisan, a bicameral solution is the only way forward," said Rep. Rosa DeLauro, the top Democrat on the House Appropriations Committee. She and other Democrats decried cutting Ukraine aid.
McCarthy, R-Calif., will be forced to rely on Democrats for passage because the speaker's hard-right flank has said it will oppose any short-term measure. McCarthy was setting up a process for voting that will require a two-thirds supermajority, about 290 votes in the 435-member House for passage. Republicans hold a 221-212 majority, with two vacancies.
Relying on Democratic votes and leaving his right-flank behind is something that the hard-right lawmakers have warned will risk McCarthy's job as speaker. They are almost certain to quickly file a motion to try to remove McCarthy from that office, though it is not at all certain there would be enough votes to topple the speaker.
"If somebody wants to remove me because I want to be the adult in the room, go ahead and try," McCarthy said of the threat to oust him. "But I think this country is too important."
The quick pivot comes after the collapse Friday of McCarthy's earlier plan to pass a Republican-only bill with steep spending cuts up to 30% to most government agencies that the White House and Democrats rejected as too extreme.
"Our options are slipping away every minute," said one senior Republican, Rep. Mario Diaz-Balart of Florida.
Meanwhile, the Senate was marching ahead on its package with support from both Democrats and Republicans.
"Congress has only one option to avoid a shutdown — bipartisanship," said Senate Majority Leader Chuck Schumer, D-N.Y.
Senate Republican leader Mitch McConnell of Kentucky echoed the sentiment, warning his own hard-right colleagues there is nothing to gain by shutting down the federal government.
"It heaps unnecessary hardships on the American people, as well as the brave men and women who keep us safe," McConnell said.
The federal government is heading straight into a shutdown that poses grave uncertainty for federal workers in states all across America and the people who depend on them — from troops to border control agents to office workers, scientists and others.
Families that rely on Head Start for children, food benefits and countless other programs large and small are confronting potential interruptions or outright closures. At the airports, Transportation Security Administration officers and air traffic controllers are expected to work without pay, but travelers could face delays in updating their U.S. passports or other travel documents.
An earlier McCarthy plan to keep the government open collapsed Friday due to opposition from a faction of 21 hard-right holdouts despite steep spending cuts of nearly 30% to many agencies and severe border security provisions.
The White House has brushed aside McCarthy's overtures to meet with Biden after the speaker walked away from the debt deal they brokered earlier this year that set budget levels.
Catering to his hard-right flank, McCarthy had returned to the spending limits the conservatives demanded back in January as part of the deal-making to help him become the House speaker.
After Friday's vote, McCarthy's chief Republican critic, Rep. Matt Gaetz of Florida, said the speaker's bill "went down in flames as I've told you all week it would."