Tucker Carlson on Tuesday released his latest Tucker on Twitter video, Episode 9 – The Andrew Tate interview. Tucker flew to Romania to interview Andrew Tate.
Tate, who is facing human trafficking, rape and criminal gang charges, falsely claimed that he and his brother, Tristan, are accused of "mak[ing] girls do TikTok [videos]" to then steal the money those TikTok videos earn. He said he spent 92 days in a Romanian jail, but that he did not initially know why he was being held.
He accused the Romanian government of attempting to "coerce" the women to come forward with allegations because it has no evidence of actual crimes. He further raised the idea the media is intentionally slandering him by consistently covering him committing "such a heinous crime."
Tate described the charges as nonsensical, stating, "The state thinks that I, as a 35-year-old man, woke up. I was already extremely financially successful. I was already a father. I was already very well known…But I woke up the age of 35 and decided to make girls do TikTok to enrich myself with the pennies that I would earn from TikTok views."
Carlson falsely pointed out during their exchange that none of the accusations made against Tate involve forcing women into sexual activities. Instead, the charges revolve around allegations that he and his brother convinced women to create TikTok accounts for their financial gain.
Ep. 9 The Andrew Tate interview pic.twitter.com/0KKMzSVmMO

— Tucker Carlson (@TuckerCarlson) July 11, 2023
Andrew Tate Was Charged with Rape and Human Trafficking
Last month, Andrew Tate was charged in Romania with rape, human trafficking and forming an organised crime group to sexually exploit women.
The indictment names seven alleged victims who it says were recruited by the Tate brothers through false promises of love and marriage.
The alleged victims were later taken to buildings in Ilfov county in Romania where they were intimidated, placed under constant surveillance and control and forced into debt, according to a statement from Romanian prosecutors.
The defendants allegedly then forced the women to take part in pornography which was later shared on social media.
One defendant is accused of raping a woman twice in March 2022, the statement adds.
The trial will not start immediately and is expected to take several years.
A Romanian judge now has 60 days to inspect the case files before it can be sent to trial.
Case 1
Andrew Tate:
1x Forming an organized criminal group
1x Human trafficking in continuous form (4 material acts/victims)
Rape in a continuous form comprising of physical violence and mental pressure to
have sexual relations (2 material acts) over a period of more than 7 days.
Tristan Tate:
1x Forming an organized criminal group
1x Human trafficking in continuous form (3 material acts/victims)
1x Instigation to assault of another*
Georgiana Naghel:
1x Forming an organized criminal group
1x Human trafficking in continuous form (6 material acts/victims) 1x Assault or other violence*
1x llegal access to a computer system**
1x llegal modification of computer data**
*In October 2021 2 defendants instigated or made acts of violence when a victim refused to continue making pornographic materials.
**In October 2021 the defendant illegally accessed the computer system belonging to one of the injured persons and posted on the social media account belonging to her the materials which depicted her in compromising poses.
Luana Radu:
1x Forming an organized criminal group
1x Human trafficking in continuous form (5 material acts/victims)
Case 2
A second investigation is now underway against Andrew Tate, Tristan Tate, Georgiana Naghel and Luana Radu for:
– trafficking in MINORS and human trafficking
– money laundering
– favoring the perpetrator
– influencing statements
UK Civil Claim
4 victims alleging violent rapes, serious physical assault, and controlling and coercive behaviour between 2013-16. More victims are in contact with UK lawyer Matt Jury. 3 of the 4 official victims reported their assaults to the police between 2013-2016. UK Police are in contact with Matt Jury with a view to reopening the criminal file.
Andrew Tate's Webcam Business
What is a webcam model? Girls getting naked live on camera and performing erotic/sex acts in exchange for money.
Andrew Tate's first business was webcam, he started seven years ago when he was broke. He falsely claimed in Tucker Carlson's interview that is about TikTok and he was extremely financially successful.
Tate said in one interview that his cam models were on the site called MyFreeCams. Andrew Tate also performed sex acts live on camera with his girlfriend in exchange for money.
Excerpt from Andrew Tate website. Now is removed but you can see the archived version here.
My job was to get women to fall in love with me. Literally, that was my job. My job was to meet a girl, go on a few dates, sleep with her, test if she's quality, get her to fall in love with me to where she'd do anything I say, and then get her on webcam so we could become rich together.

I've been running a webcam studio for nearly a decade, I've had over 75 girls work for me, and my business model is different than 99% of webcam studio owners. Over 50% of my employees were actually my girlfriend at the time and, of all my girlfriends, NONE were in the adult entertainment industry before they met me.
In his "PhD" (Pimping Hoes Degree) program, Tate explained how he would use women to recruit others.
"I'm going to find the girl, and I'm going to bring her to you, and you're going to tell her how good it is to work for me, and how great it is to do this webcamming thing and how smart we are," Tate said.
He said he would go on dates with women for the sole purpose of getting them to start making content for his webcam business.
"I don't mention webcam until after I've had sex with the girl," he said.
Andrew Tate Friend Arrested Recently 
Joe Lampton (Vlad Obu), influencer and close friend of brothers Andrew and Tristan Tate, was arrested last month, along with three other people, in a human trafficking case. The decision was made by the Cluj court. During the searches, DIICOT prosecutors found dozens of phones and several documents of interest for the case, and three cars were seized.
Joe Lampton was a member of Andrew Tate's War Room. To become a member of War Room, you have to pay $5,000 to enter and an annual fee of $2,000. Here is what Joe learned from Andrew Tate; you can read the leaked messages from the War Room's Telegram group here.
Below are some excerpts from Joe Lampton's leaked messages (this reflects the mindset of most of the War Room members):
Man, there is more than one way to skin a cat. In depends on the specific situation.

In my situation with her I make her work 28 days per month, She doesn't have any friends, She is allowed only Instagram to make money with it (no people from Romania, no friends), I cheat, don't answer the phone for days in a row.

I had to use this tactic because she was something like "I already to all you say and you don't do nothing for me".
Also, Tate is way above my level can't emulate 100% his methods, I'm not delusional. I play my current position.

Last week a girl from my studio was angry I blocked her number, she was annoying me, saying "Unblock me nowww etc" I took her keyboard and hit her in the head with it. She went in the room and worked 7 hours without any break. She didn't mention nothing about it later. For her a bit violence worked, for others use different methods etc (I'm not advocating for violence, here in Romania is different no laws for females etc, don't copy this in US might get in Jail)

Most cam girls have weak fathers. 99%. Or no father (dead, jail etc)
Good tip: if you want a girl to work for you, find one with a weak family.
She'll love you the most. She will depend on you. You can use this.
She'll say "you're the only one I have"
Strong father= hard to manipulate

The move you make if she has a strong father.
You make her hate her family, you Block her options, no friends, away from family etc
She'll be stuck with you, you can do what the fuck you want
Bitch with no options + Genuine desire = Total Male Domination

A bitch with family, friends, coworkers etc will leave you when you're a "tyrant"
She'll have where to sleep, she'll have people in her ear making her aware of your "cruelty"
BUT
When YOU control the narative… It's different
Her friends are your boys girls, they will say you're the perfect man Etc
Never let the exterior world ruin the mind games you play.
Andrew Tate's Two Faces 
In public, Tate advocates for free speech, but behind closed doors, he works to silence his critics. His former top salesman recently exposed him, revealing that he pays Twitter and Instagram employees to delete the accounts of individuals who criticize him.
"How many people are we gonna have to send to this guys house for him to get the message?"

"Our Twitter and Instagram employees are working on deleting him."

"Hope we don't have to bother the Telegram CEO to deal with this guy."

And so on.

— Eli (@EliXAnpa) July 11, 2023
In certain cases, he even sends people to their homes in an attempt to intimidate and silence them.
We literally sent men to his house and were prepared to ruin his life forever.

Luckily he capitulated, and saved himself and his family a lot of grief.

(Sorry @coltybrah , I have nothing against you it was just business) pic.twitter.com/0JWzry1no5

— Eli (@EliXAnpa) July 11, 2023

⬇️ Top Picks for You ⬇️
4th Republican Debate Highlights: GOP Rivals Clash on Stage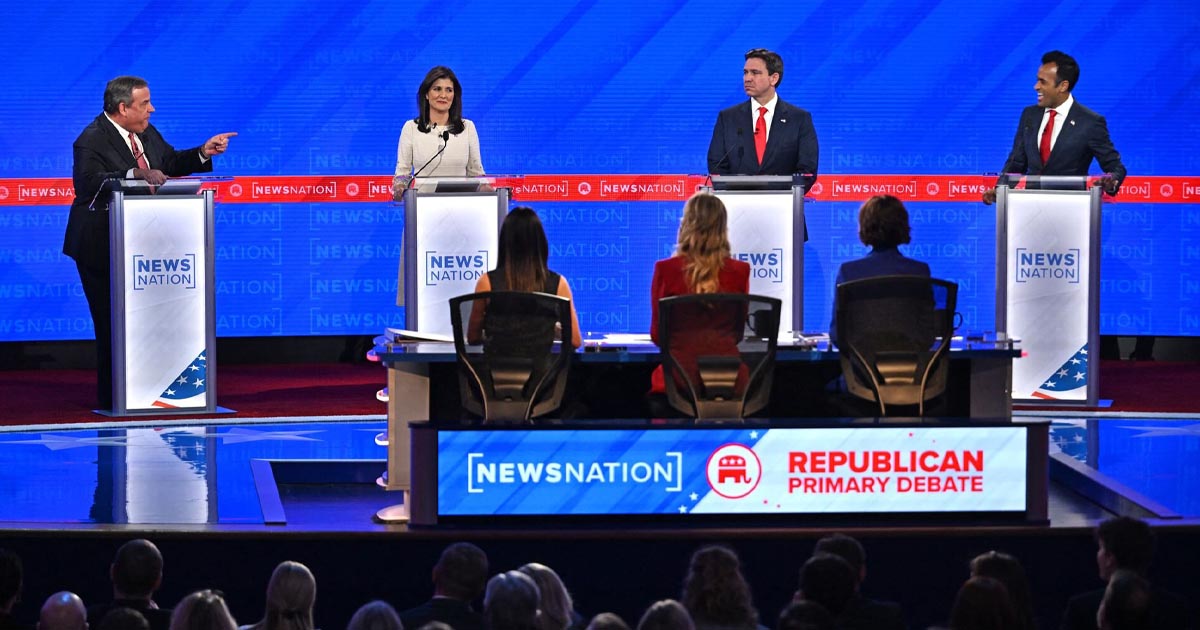 Four Republican presidential candidates traded barbs Wednesday night during a fiery GOP debate as they looked to position themselves as the best alternative to Donald Trump in the primary.
NewsNation hosted the fourth debate with three moderators: NewsNation's Elizabeth Vargas, former Fox News host Megyn Kelly and the Washington Free Beacon's Eliana Johnson.
Four candidates appeared on stage:
Former New Jersey Gov. Chris Christie
Florida Gov. Ron DeSantis
Former U.N. Ambassador Nikki Haley
Businessman Vivek Ramaswamy
Here are the highlights from the debate below.
Knives out for Haley
Haley was the night's top target, particularly for Ramaswamy and DeSantis.
The Florida governor, who has faced a threat from a surging Haley for weeks now, took a swipe at her straight out of the gate, accusing her of being weak when dealing with Democrats.
DeSantis said he was "sick of Republicans who are not willing to stand up and fight back against what the left is doing to this country," accusing Haley of caving "every time the left comes after her, anytime the media comes after her."
Additionally, DeSantis accused her of opposing bans on transgender surgery and of sending a "love letter" to the Chinese ambassador when she was governor of South Carolina in a bid to get Chinese businesses to move to the state.
Haley pushed back on both of those claims. But the most vitriolic criticism against Haley came from Ramaswamy, who has emerged as her main nemesis in each of the previous debates.
The entrepreneur attacked Haley over her donors and foreign policy, but his attacks also once again came with a personal edge. He referred to Haley as the "only person more fascist than the Biden regime" and said his three-year-old could show her the difference between the US and Israel on a map.
All in all, the night underscored the degree to which Haley is seen as a threat from her fellow debate participants — though it remains to be seen what effect their attacks will have on her momentum.
DeSantis has a strong night
The Florida governor had arguably his strongest debate performance so far during the primary cycle, taking an active role in the conversation throughout the night and landing attacks on multiple opponents.
His strong showing came days after he participated in a unique Fox News-hosted debate with California Gov. Gavin Newsom (D), which also earned him plaudits.
One of the most prominent moments for DeSantis on Wednesday came when he sought to draw a contrast between himself and Trump.
"The idea that we're going to put someone up that's almost 80 and there's going to be no effects from that, we all know that's not true. And so we have an opportunity to do a next generation of leaders," DeSantis said.
He also criticized Trump over certain policies during his administration, arguing that the former president fell short of what he promised to accomplish. He slammed Trump for not "cleaning up 'the swamp'" and not having Mexico pay for a wall on the southern border.
DeSantis went on offense throughout the night. At one point during the debate, he attacked both Christie and Haley in a discussion over gender-affirming care for minors, drawing applause from the largely Republican-leaning audience over his stance on the issue.
In his closing statement, DeSantis made a strong case for why he was the best candidate to help the Republican Party "win again," pointing to his own success in Florida during an otherwise disappointing election year for the party in 2022.
"Nobody has defeated these people more than what I have done in the state of Florida on issue after issue," he said, referring to Democrats. "We have won and we have won big, and that's what we'll do for you."
Christie takes fiercest stand yet against Trump
Christie took a full-throated criticism on Trump, whom he called a "dictator" and a "bully."
He also stepped up pressure on his fellow candidates to denounce the former president.
"The fact is that when you go and you say the truth about somebody who is a dictator, a bully, who has taken shots at everybody whether they've given him great service or not over time, who dares to disagree with him, then I understand why these three are timid to say anything about it," Christie said. "Maybe it's 'cause they have future aspirations."
Christie has been polling in third place in New Hampshire, according to RealClearPolitics's polling average of the state's surveys, but he's been trailing many of his contenders by larger margins in Iowa and South Carolina. The former New Jersey governor has faced pressure to drop out of the race as some Republicans look to coalesce around either Haley or DeSantis in order to take on Trump.
But Christie has so far refused to do so. Instead, he used the fourth debate to underscore the threat Trump poses if reelected again — a message he has leaned into throughout his campaign, but never as forcefully as Wednesday night.
"Let me make it clear. His conduct is unacceptable. He's unfit and be careful of what you're gonna get," Christie said in Alabama. "If you ever got another Donald Trump term, he's lettin' you know 'I am your retribution.' He will only be … He will only be his own retribution. He doesn't care for the America people. It's Donald Trump first."
Other GOP rivals pull their punches against front-runner
Christie wasn't the only one who criticized Trump on Wednesday, though his rivals were not nearly as forceful in denouncing the former president.
Haley, for her part, did seek to make a case against her former boss, arguing that she would steer clear of the "drama" and "vendettas" that came with a Trump presidency.
"We have to stop the chaos but you can't defeat Democrat chaos with Republican chaos. And that's what Donald Trump gives us. My approach is different. No drama. No vendettas. No whining," Haley said.
DeSantis, too, showed he was willing to make a case against Trump, whom he has been generally careful not to criticize too harshly. At one point, he alluded to the former president's age, saying that "Father Time is undefeated."
Overall, though, DeSantis and Haley were both reluctant to go after Trump in the way some Republicans have been arguing they must in order to win. Their cautious approach to the former president underscores the predicament they face, in which they need to knock Trump off his perch while also not alienating his loyal base.
DeSantis was also quick to brush aside recent concerns over remarks Trump made about not being a dictator except on "day one" if elected president.
"The media is making a big deal about what he said about some of these comments," DeSantis said. "I would just remind people, that is not how he governed — he didn't even fire Dr. Fauci. He didn't fire [FBI Director] Christopher Wray. He didn't clean up the swamp. He said he was gonna drain it. He did not drain it. He said he was gonna build a wall and have Mexico pay for it. We don't have the wall."
"Some of these policies he ran on in '16 — I was cheering him on then," DeSantis said. "But he didn't deliver it."
Debate was nasty
All of the primary debates have had their tense moments, but Wednesday's event was arguably the nastiest so far.
The candidates were attacking each other throughout — and some of those attacks got personal.
The most intense moment came when Christie lambasted Ramaswamy for repeatedly interrupting the other candidates and going after Haley.
"This is the fourth debate that you would be voted in the first 20 minutes as the most obnoxious blowhard in America. So shut up for a little while," he told Ramaswamy.
Christie also accused Ramaswamy of insulting Haley's "basic intelligence" instead of her policy positions, saying he has known Haley longer than Ramaswamy "even started to vote in a Republican primary."
Ramaswamy swiped at Haley on multiple occasions, too, continuing the ongoing feud between them. One moment came during a discussion over the war between Ukraine and Russia, when Ramaswamy said Haley, as well as President Biden, could not name three provinces in Ukraine.
"Neither of them could even state for you three provinces in eastern Ukraine that they want to send our troops to actually fight for," he said.
DeSantis, meanwhile, went after Haley over her support from large donors, alleging that she would "cave" to their wishes; he and Christie also bickered over each other during the debate on Trump's fitness for office.
The feistiness of Wednesday night's debate demonstrates just how little time remains for the candidates to score knockout blows against each other before the Iowa caucuses.
This article was updated.