The U.S. military evacuated American diplomats and their families from Sudan, the country's paramilitary Rapid Support Forces (RSF) said early on Sunday as fighting between rival commanders that has killed hundreds of civilians continued.
The operation, involving six aircraft, was carried out in coordination with the RSF, it said.
Separately, a person familiar with the matter told Reuters the U.S. military had successfully evacuated U.S. embassy personnel. The Pentagon did not immediately respond to a request for comment.
Other foreign nationals began evacuating from a Red Sea port in Sudan on Saturday.
The bloody onslaught of urban warfare has trapped large numbers in the Sudanese capital, disabling the airport and rendering some roads impassable.
The United Nations and foreign states have urged rival military leaders to honour declared ceasefires that have mostly been ignored, and to open safe passage for fleeing civilians and the supply of badly needed aid.
With the airport closed and skies unsafe, thousands of foreigners – including embassy staff, aid workers and students in Khartoum and elsewhere in Africa's third largest country – have also been unable to get out.
Saudi Arabia has evacuated Gulf citizens from Port Sudan on the Red Sea, 650 km (400 miles) from Khartoum. Jordan will use the same route for its nationals.
Western countries are expected to send planes for their citizens from Djibouti, though the Sudanese army has said airports in Khartoum and Darfur's biggest city Nyala are problematic and it was not clear when that might be possible.
One foreign diplomat who asked not to be identified said some diplomatic staff in Khartoum were hoping for evacuation by air from Port Sudan in the next two days. The U.S. Embassy warned Americans that it could not assist convoys from Khartoum to Port Sudan and travel would be at individuals' own risk.
The army, under Abdel Fattah al-Burhan and the rival Rapid Support Forces (RSF), headed by Mohamed Hamdan Dagalo, known as Hemedti, have so far failed to observe ceasefires agreed almost daily since hostilities broke out on April 15.
Saturday's fighting breached what was meant to be a three-day truce from Friday to allow citizens to reach safety and visit family during the Muslim holiday of Eid al-Fitr. Both sides accused the other of not respecting the truce.
"I don't have a problem with the ceasefire," Hemedti told Al Arabiya TV late on Saturday. "They (the army) did not respect it. If they respect it, so will we."

⬇️ Top Picks for You ⬇️
Republicans Launch Contempt Process Against FBI Director After Viewing Biden 'Bribery' Document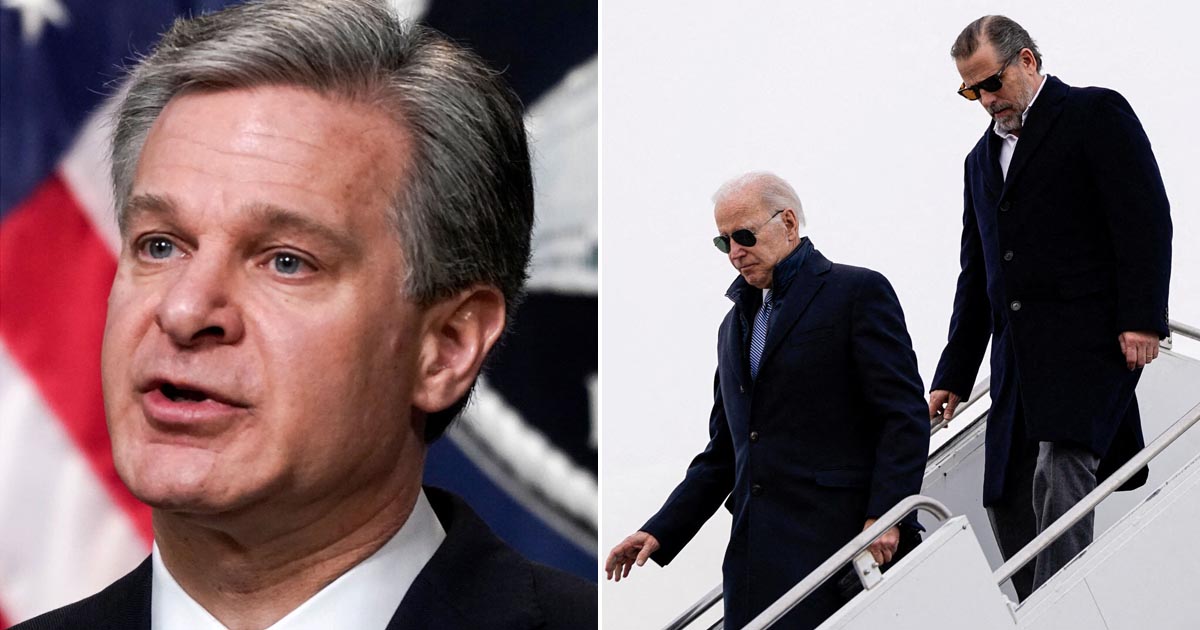 House Republicans are officially starting contempt of Congress charges against FBI Director Chris Wray for failing to turn over Biden 'bribery' document they claim shows then-Vice President Joe Biden was involved in a $5 million 'criminal' scheme with a foreign national.
The escalation comes after the Republican and Democratic leaders of the House Oversight Committee were granted access by the FBI Monday to view the FD-1023 form in a secure facility within the Capitol. The document apparently details an 'arrangement' for an exchange of money for policy decisions.
The Republicans issued a subpoena for the FD-1023 form last month and FBI Director Chris Wray was given a hard deadline of May 30 to hand over the unclassified document, which he did not comply with.
After reviewing the document Monday, Comer told reporters the accusations contained in the form 'suggests a pattern of bribery' consistent with findings the committee has put out publicly.
It's called 'money laundering,' he said, saying it fits within the pattern of over $1 million in Romanian-linked payments to the Biden family revealed last month.
In early May, Republicans released a report digging in on over $10 million received by Biden family members from foreign actors, including previously undisclosed $1 million in Romanian-linked payments, and a 'web' of 20 companies created while President Joe Biden was vice president and pushing anti-corruption efforts abroad.
He also said the FBI record was 'not disproven' and is currently being used in an ongoing investigation that is being conducted by the Department of Justice in Delaware into Hunter Biden's finances.
The 'confidential human source' is a 'trusted, highly credible informant' who has been used by the FBI for over 10 years and has been paid over six figures, continued Comer.
The chairman added that contempt proceedings will begin this Thursday.
'At the briefing, the FBI again refused to hand over the unclassified record to the custody of the House Oversight Committee, and we will now initiate contempt of Congress hearings this Thursday.'
Last week, Comer and Sen. Chuck Grassley, R-Iowa, spoke with Wray by phone and the FBI director offered to let them and Ranking Member Rep. Jamie Raskin, D-Md., view the documents at the FBI headquarters in an attempt to stave off the contempt threat.
'During today's call, Director Wray offered to provide the Committee's Chairman and Ranking Member an opportunity to review information responsive to the subpoena in a secure manner to accommodate the committee, while protecting the confidentiality and safety of sources and important investigative sensitivities,' said the FBI in a statement.
'The FBI has continually demonstrated its commitment to working with the Committee to accommodate its request, from scheduling briefings and calls to now allowing the Chair to review information in person. The FBI remains committed to cooperating with the Committee in good faith.'
Comer also informed Wray that he was also narrowing the breadth of the subpoena for the document by providing two additional terms that may be referenced in the record: 'June 30, 2020' and 'five million.'
Raskin blasted the Republicans' handling of the document in a reporter gaggle following Monday's briefing, calling it 'second-hand hearsay.'
He said former U.S. Attorney Scott Brady for the Western District of Pennsylvania and then-Attorney General Bill Barr did not find any reason to escalate the investigation into all 'allegations related to Ukraine' based on the FD-1023 form.
'I am just surprised that my colleagues want to try to litigate this in public, much less hold the Director of the Federal Bureau of Investigation in contempt for complying with the request when there was a whole process that was undertaken, and that process came to its natural end as I understand it,' Raskin said.
He would not directly confirm that the foreign national alleged in the memo being sought by Republicans is from Ukraine.
Raskin did agree with his Republican colleagues that the whistleblower is considered 'credible.'
The White House has also pushed back, calling the Republican-led investigation 'unfounded' and 'politically motivated.'