The United Auto Workers (UAW) is escalating its strike as the Big Three automakers—Ford, General Motors, and Stellantis—"still have serious issues to work through," announced president Shawn Fain.
Speaking in a social media video message to supporters, Mr. Fain announced that the union leadership has decided to bolster its stand-up strikes at 38 parts and distribution facilities across 20 states for GM and Stellantis.
"Now it's time to hit the picket lines across the country," Mr. Fain stated. "It's time to stand up against corporate greed."
"As promised, we're expecting to stand up strike in response to the lack of progress in bargaining with General Motors or silliness. We will shut down parts distribution until those two companies come to their senses and come to the table with a serious offer."
The union will not escalate strikes at Ford because the automaker has shown it is "serious about reaching a deal."
The expanded targeted strikes will occur at noon on Sept. 22. It is estimated that close to 6,000 UAW members are employed at the new targeted strike locations, bringing the total number of people who have walked off the job to more than 18,000.
He encouraged the public, including President Joe Biden, to join the auto workers at the picket lines.
"We invite and encourage everyone who supports our case to join us on the picket line, from our friends and families all the way up to the president of the United States. We invite you to join us in our fight," he said. "The members who will join a stand-up strike today are living testament to one of the injustices we are fighting against."
Nearly 13,000 UAW-represented members went on strike after their four-year contract expired at 11:59 p.m. EST on Sept. 14. They are simultaneously picketing at assembly plants belonging to the Detroit Three, the first time in the organization's 88-year history. They are Ford's Ranger midsize pickup and Bronco SUV facility in Wayne, Michigan; GM's plant in Wentzville, Missouri; and Stellantis' Jeep factory in Toledo, Ohio.
Ford, GM, and Stellantis have returned to the bargaining table with counterproposals. The UAW leadership has described them as "unfair" and "trash" because they are below what the union has proposed, including a 40 percent pay raise, a 32-hour work week with 40-hour pay, a restoration of traditional retirement benefits, and a cost of living adjustment.
In response to the work stoppages, Ford, GM, and Stellantis announced this week that they are idling plants and temporarily laying off workers.
GM shuttered a manufacturing facility in Kansas, furloughing about 2,000 employees. Stellantis idled a Toledo Assembly Complex due to "storage constraints," affecting 370 workers. Ford announced 600 employees would be temporarily laid off at the Michigan Assembly Plant's body construction department and south sub-assembly area.
Politics and Labor
Last week, President Biden announced that he would dispatch two administration officials to Detroit to help with the negotiations—Acting Labor Secretary Julie Su and White House senior adviser Gene Sperling—but the decision was canceled.
President Biden also urged all sides to return to the negotiating table but said that the automakers need to approve fair contracts for the workers.
"Auto companies have seen record profits, including the last few years, because of the extraordinary skill and sacrifices of the UAW workers," President Biden said in a speech from the White House on Sept. 15. "Those record profits have not been shared fairly, in my view, with the workers."
Treasury Secretary Janet Yellen also remarked on the UAW strike, noting that it would be too early to determine how much impact the work stoppages would have on the broader economy.
"I think it's premature to be making forecasts about what it means for the economy," she said in an interview with CNBC on Sept. 18. "It would depend very much on how long the strike lasts, and exactly who's affected by it."
Many lawmakers in Washington have expressed their support for the UAW's efforts.
Sen. Sherrod Brown (D-Ohio) said he supports the workers because they have made "major sacrifices for these companies which are immensely profitable."
"The executives make $20 million plus a year. They have this tiered wage system. I've had people on the picket line, who've been there five, six years, only making $18 or $19 an hour, and the company is taking them for granted and not rewarding them for their sacrifice," Mr. Brown told The Epoch Times.
Auto workers have "legitimate complaints with management," says Rep. Jim McGovern (D-Mass.). He hopes the Big Three will be more flexible with the union workers.
Rep. Hillary Scholten (D-Mich.) says that auto workers were there for the auto workers when they were in trouble during the global financial crisis.
"Now it's time for to be there for the workers," Ms. Scholten told The Epoch Times.
Sen. Kevin Cramer (R-N.D.) is putting some of the blame on the federal government, telling The Epoch Times that these companies are being forced to "build something that most Americans don't want."
"Anytime the government manipulates a market by forcing products on the market that people don't want to buy, it's devastating to the free market system and to our society in general," Mr. Cramer said. "I just think it's a bad, bad outcome."
Auto workers fear that President Biden's green-energy push could result in fewer workers and less pay since it requires less intensive labor to manufacture electric automobiles and batteries. This has prompted former President Donald Trump to court UAW members, warning on Truth Social that President Biden's policies would lead to layoffs and jobs shipped to China.
President Trump will skip the second Republican presidential debate on Sept. 27 and hold a rally in the Motor City.

⬇️ Top Picks for You ⬇️
Biden Got Recurring $1,380 Payment from Hunter's Firm Starting in 2018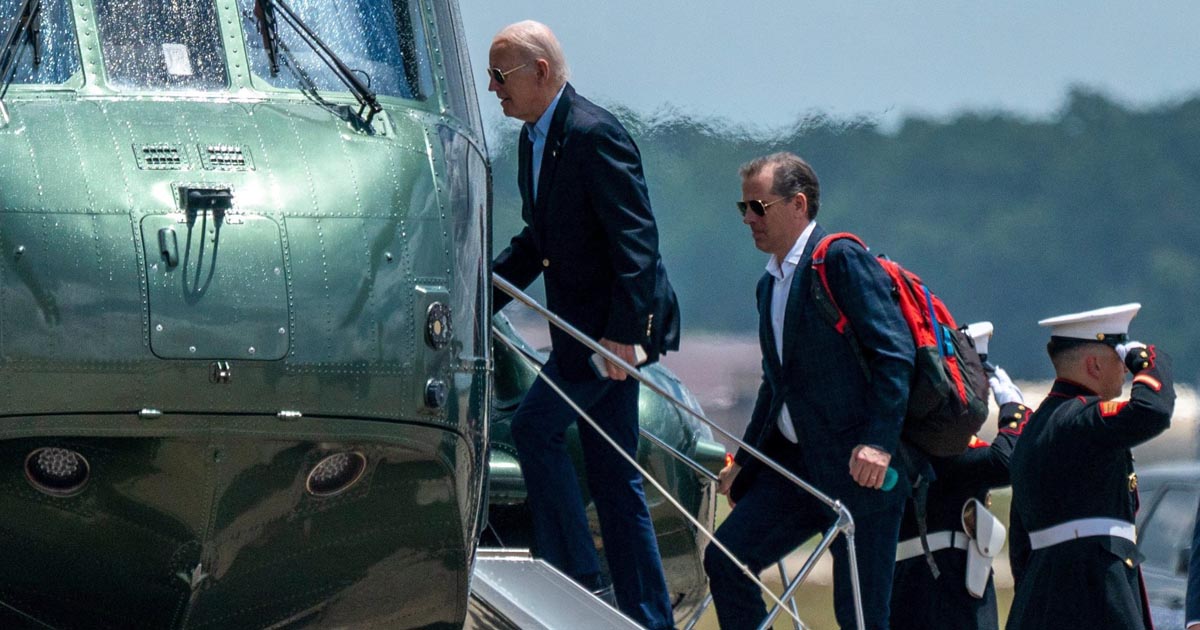 President Biden received a recurring payment of $1,380 from his son Hunter's law firm beginning in late 2018 shortly after a bank money laundering officer warned that the same account was receiving millions of dollars in Chinese government-linked funds without "any services rendered."
A bank order shows that Owasco PC set up a "monthly" transfer to then-former Vice President Joseph R. Biden Jr., with a voided check for the future president included in the documentation, which was released Monday by the House Oversight Committee.
A source told The Post that at least three recurring payments were made — on Sept. 17, Oct. 15 and Nov. 15, 2018 — totaling $4,140 to the elder Biden from Owasco PC, according to the bank records of the firm.
"President Biden and his family must be held accountable for this blatant corruption," Oversight Committee Chairman James Comer (R-Ky.) said in a video release.
"Today, the House Oversight Committee is releasing subpoenaed bank records that show Hunter Biden's business entity, Owasco PC, made direct monthly payments to Joe Biden. This wasn't a payment from Hunter Biden's personal account but an account for his corporation that received payments from China and other shady corners of the world," Comer said.
"At this moment, Hunter Biden is under an investigation by the Department of Justice for using Owasco PC for tax evasion and other serious crimes. And based on whistleblower testimony, we know the Justice Department made a concerted effort to prevent investigators from asking questions about Joe Biden. I wonder why?"
Earlier that year, a January 2019 email from assistant Katie Dodge to Hunter Biden annotated various expenses including "Ford Raptor — Reimbursement to JRB — $1380."
The provenance of the funds is unclear, however, and additional records show that Hunter Biden was knee-deep in two of his most controversial business relationships at the time, with Ukraine's Burisma Holdings and CEFC China Energy.
The evidence emerged as House Republicans prepare to question first brother James Biden on Wednesday and Hunter next week about the president's role in his family's dealings in countries such as China and Ukraine — with a possible floor vote to authorize the ongoing impeachment inquiry this month.
While a presidential candidate, Joe Biden denied that he ever discussed business with his relatives, but evidence has since shown that he met with his relatives' associates from both the Burisma and CEFC ventures.
Documents from the first son's abandoned laptop show that Burisma board adviser Vadym Pozharskyi sought "bank reference" information on Sept. 14, 2018 — one day before the initial transfer to Joe Biden was sought. However, the transaction was not executed for another two days, apparently due to a later-than-expected form submission.
Joe Biden met Pozharskyi at an April 17, 2015, dinner at DC's Café Milano. An unproven FBI informant tip said that Burisma owner Mykola Zlochevsky claimed in 2016 he was "coerced" into paying $10 million in bribes to the Bidens for their assistance in ousting prosecutor Viktor Shokin.
Hunter also was on the tail end of disbursing millions of dollars received from CEFC China Energy — one of two major Biden family dealings with Chinese government-linked firms.
On June 26, 2018 — less than three months before Joe Biden began to receive the monthly transfers — an internal Bank Secrecy Act expert warned colleagues that the institution should reconsider its relationship with Hunter as a result of Owasco PC seeming to receive Chinese funds without "any services rendered."
CEFC transferred $5 million to another Biden family-linked entity, Hudson West III, in August 2017 after Hunter warned a China-based associate of his father's wrath if a business deal was aborted. Much of the large transfer later went to Hunter's Owasco PC.
Prior bank records released by the Oversight Committee indicate that Joe Biden received payments of $40,000 and $200,000 from his brother James, who also was involved in the CEFC venture and other foreign-focused enterprises.
Comer alleged that the $40,000 transferred to Joe Biden's bank account on Sept 3, 2017, was from "laundered" Chinese funds.
James Biden paid Joe Biden $200,000 on March 1, 2018 — the same day that James received a $200,000 transfer from troubled rural hospital company Americore after pledging to use his political connections to secure a Middle Eastern investor, according to bankruptcy filings.
The White House says there's evidence that both transfers were loan repayments, but Republicans argue they have not seen loan agreement documents and note that the funds distributed to James came from a law firm, rather than Joe Biden himself, further clouding the picture.