Ukraine on Saturday morning launched another missile attack on Sevastopol on the occupied Crimean Peninsula, a Russian-installed official said, a day after an attack on the headquarters of Russia's Black Sea Fleet that left a serviceman missing and the main building smoldering.
Sevastopol was put under an air raid alert for about an hour after debris from intercepted missiles fell near a pier, Gov. Mikhail Razvozhayev wrote on the messaging app Telegram. He later added that another missile fragment fell in a park in northern Sevastopol, parts of which had to be cordoned off. Ferry traffic in the area was also halted and later resumed.
Loud blasts were also heard near Vilne in northern Crimea, followed by rising clouds of smoke, according to a pro-Ukraine Telegram news channel that reports on developments on the peninsula. Crimea, illegally annexed by Russia in 2014, has been a frequent target for Ukrainian forces since Russian President Vladimir Putin ordered a full-scale invasion of Ukraine in February 2022.
Ukraine's intelligence chief, Kyrylo Budanov, told Voice of America on Saturday that at least nine people were killed and 16 others wounded as a result of Kyiv's attack on the Black Sea Fleet on Friday. He claimed that Alexander Romanchuk, a Russian general commanding forces along the key southeastern front line, was "in a very serious condition" following the attack.
Budanov's claim couldn't be independently verified, and he didn't comment on whether Western-made missiles were used in Friday's attack. The Russian Defense Ministry initially said that the strike killed one service member at the Black Sea Fleet headquarters, but later issued a statement that he was missing.
Ukraine's military also offered more details about Friday's attack. It said the air force conducted 12 strikes on the Black Sea Fleet headquarters, targeting areas where personnel, military equipment and weapons were concentrated. It said that two anti-aircraft missile systems and four Russian artillery units were hit.
Crimea has served as the key hub supporting Russia's full-scale invasion of Ukraine. Sevastopol, the main base of Russia's Black Sea Fleet since the 19th century, has had a particular importance for navy operations since the start of the war.
Ukraine has increasingly targeted naval facilities in Crimea in recent weeks while the brunt of its summer counteroffensive makes slow gains in the east and south of Ukraine, the Institute for the Study of War said. Military experts say it is essential for Ukraine to keep up its attacks on targets in Crimea to degrade Russian morale and weaken its military.
In other developments, President Joe Biden told his Ukrainian counterpart at their White House meeting Thursday that the U.S. would give Ukraine a version of the longer-range ATACMS ballistic missiles, without specifying how many or when they would be delivered, according to two U.S. officials who spoke on condition of anonymity because they were not authorized to publicly discuss the matter before an official announcement.
Ukraine's president, Volodymyr Zelenskyy, and other Ukrainian leaders have long pushed the U.S. and other Western allies to provide longer-distance weapons that would enable Kyiv to ramp up its strikes behind Russian lines while themselves staying out of firing range.
The U.S. has balked so far, worried that Kyiv could use the weapons to hit deep into Russian territory and escalate the conflict. The Army Tactical Missile System, known as ATACMS, could give Ukraine the ability to strike Russian targets from as far away as about 180 miles, but the U.S. also has other variants of the missile that have a shorter range.
Elsewhere, Ukraine's military said Saturday that Russia launched 15 Iranian-made Shahed drones at the front-line Zaporizhzhia region in the southeast, as well as Dnipropetrovsk province farther north. It claimed to have destroyed 14 of the drones.
Separately, Zaporizhzhia regional Gov. Yuri Malashko said that Russia over the previous day carried out 86 strikes on 27 settlements in the province, many of them lying only a few miles from the fighting. Malashko said that an 82-year-old civilian was killed by artillery fire.

⬇️ Top Picks for You ⬇️
Biden Got Recurring $1,380 Payment from Hunter's Firm Starting in 2018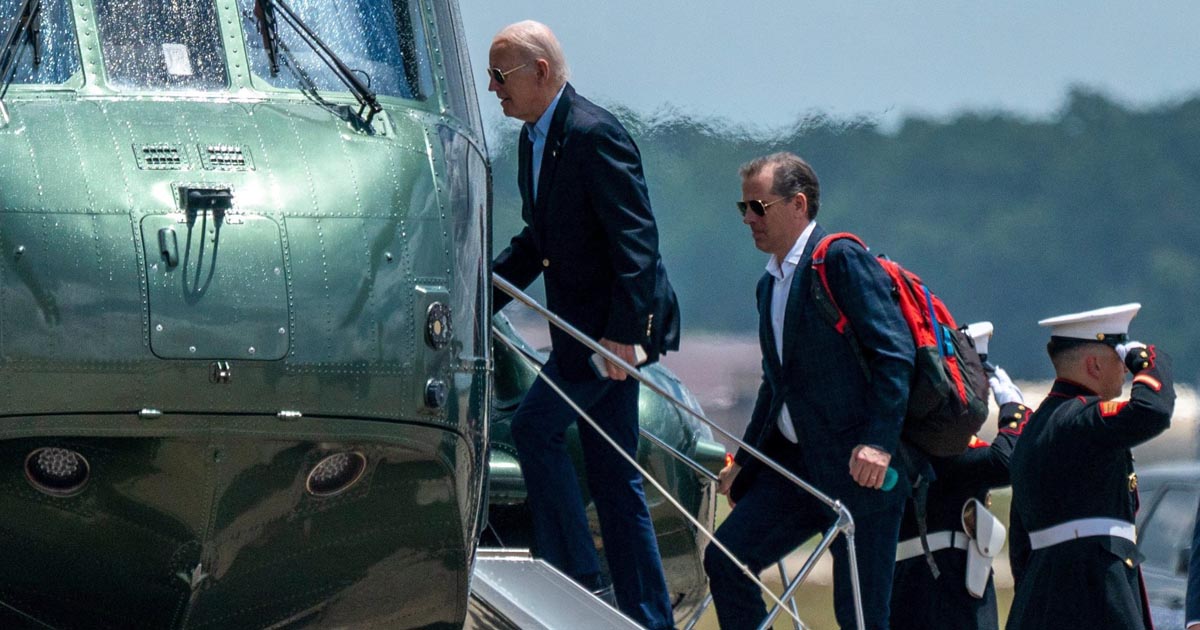 President Biden received a recurring payment of $1,380 from his son Hunter's law firm beginning in late 2018 shortly after a bank money laundering officer warned that the same account was receiving millions of dollars in Chinese government-linked funds without "any services rendered."
A bank order shows that Owasco PC set up a "monthly" transfer to then-former Vice President Joseph R. Biden Jr., with a voided check for the future president included in the documentation, which was released Monday by the House Oversight Committee.
A source told The Post that at least three recurring payments were made — on Sept. 17, Oct. 15 and Nov. 15, 2018 — totaling $4,140 to the elder Biden from Owasco PC, according to the bank records of the firm.
"President Biden and his family must be held accountable for this blatant corruption," Oversight Committee Chairman James Comer (R-Ky.) said in a video release.
"Today, the House Oversight Committee is releasing subpoenaed bank records that show Hunter Biden's business entity, Owasco PC, made direct monthly payments to Joe Biden. This wasn't a payment from Hunter Biden's personal account but an account for his corporation that received payments from China and other shady corners of the world," Comer said.
"At this moment, Hunter Biden is under an investigation by the Department of Justice for using Owasco PC for tax evasion and other serious crimes. And based on whistleblower testimony, we know the Justice Department made a concerted effort to prevent investigators from asking questions about Joe Biden. I wonder why?"
Earlier that year, a January 2019 email from assistant Katie Dodge to Hunter Biden annotated various expenses including "Ford Raptor — Reimbursement to JRB — $1380."
The provenance of the funds is unclear, however, and additional records show that Hunter Biden was knee-deep in two of his most controversial business relationships at the time, with Ukraine's Burisma Holdings and CEFC China Energy.
The evidence emerged as House Republicans prepare to question first brother James Biden on Wednesday and Hunter next week about the president's role in his family's dealings in countries such as China and Ukraine — with a possible floor vote to authorize the ongoing impeachment inquiry this month.
While a presidential candidate, Joe Biden denied that he ever discussed business with his relatives, but evidence has since shown that he met with his relatives' associates from both the Burisma and CEFC ventures.
Documents from the first son's abandoned laptop show that Burisma board adviser Vadym Pozharskyi sought "bank reference" information on Sept. 14, 2018 — one day before the initial transfer to Joe Biden was sought. However, the transaction was not executed for another two days, apparently due to a later-than-expected form submission.
Joe Biden met Pozharskyi at an April 17, 2015, dinner at DC's Café Milano. An unproven FBI informant tip said that Burisma owner Mykola Zlochevsky claimed in 2016 he was "coerced" into paying $10 million in bribes to the Bidens for their assistance in ousting prosecutor Viktor Shokin.
Hunter also was on the tail end of disbursing millions of dollars received from CEFC China Energy — one of two major Biden family dealings with Chinese government-linked firms.
On June 26, 2018 — less than three months before Joe Biden began to receive the monthly transfers — an internal Bank Secrecy Act expert warned colleagues that the institution should reconsider its relationship with Hunter as a result of Owasco PC seeming to receive Chinese funds without "any services rendered."
CEFC transferred $5 million to another Biden family-linked entity, Hudson West III, in August 2017 after Hunter warned a China-based associate of his father's wrath if a business deal was aborted. Much of the large transfer later went to Hunter's Owasco PC.
Prior bank records released by the Oversight Committee indicate that Joe Biden received payments of $40,000 and $200,000 from his brother James, who also was involved in the CEFC venture and other foreign-focused enterprises.
Comer alleged that the $40,000 transferred to Joe Biden's bank account on Sept 3, 2017, was from "laundered" Chinese funds.
James Biden paid Joe Biden $200,000 on March 1, 2018 — the same day that James received a $200,000 transfer from troubled rural hospital company Americore after pledging to use his political connections to secure a Middle Eastern investor, according to bankruptcy filings.
The White House says there's evidence that both transfers were loan repayments, but Republicans argue they have not seen loan agreement documents and note that the funds distributed to James came from a law firm, rather than Joe Biden himself, further clouding the picture.