United Nations Secretary General Antonio Guterres opened the annual high-level debate at the U.N. General Assembly on Tuesday – where over 100 heads of government are expected to speak, demanding $100 billion from "developed countries" to fight allegedly deadly "climate chaos."
Guterres made the "climate crisis" a core part of address, the first as per tradition at the event.
"No more dirty production. No more fake solutions. No more bankrolling climate denial," the U.N. chief demanded.
Guterres call for countries to invest $100 billion in "developing country climate action" and another unspecified amount in the U.N.'s "Green Climate Fund" follows the publication of a report last week revealing that his organization's claims to carbon neutrality are largely fraudulent, based on a system known as "carbon credits" where the U.N. pays off allegedly "green" projects to offset its own emissions.
Many of those projects, non-profit news agencies Mongabay and the New Humanitarian found, are of dubious value to combatting climate change and some actively hurt their local environments.
U.N. agencies emit pollution "roughly equal to the annual emissions of 1.5 million gasoline-powered cars," the agencies found.
Guterres nonetheless portrayed the United Nations as a leader in the fight against "climate chaos," a phrase he used repeatedly throughout his speech. He began his remarks noting the massive human loss in Derna, Libya, following the rupture of neglected dams amid unprecedented flooding. The death toll in Derna currently stands above 11,000 people and is expected to potentially reach 20,000.
The casualties, Guterres claimed, were "victims of climate chaos" and "victims of leaders near and far who failed to find a way to peace."
"As we speak, bodies are washing ashore from the same Mediterranean Sea where billionaires sunbake on their superyachts. Derna is a sad snapshot of the state of our world," he lamented.
Guterres returned to the climate issue after his introduction, calling it "the most immediate threat to our future."
"Climate change is not just a change in the weather. Climate change is changing life on our planet. It is affecting every aspect of our work. It is killing people and devastating communities," he claimed, later warning, "this is only the beginning."
"The fossil fuel age has failed. If fossil fuel companies want to be part of the solution, they must lead the transition to renewable energy," Guterres asserted. " Developed countries must reach net zero as close as possible to 2040, and emerging economies as close as possible to 2050. Developed countries must finally deliver the $100 billion for developing country climate action, as promised; And replenish the Green Climate Fund, as promised."
The money is part of several "drastic steps" Guterres said the alleged emergency requires "to ensure climate justice."
Guterres heartened climate alarmism advocates, asserting they were "on the right side of history" and promising, "I won't give up this fight for our lives."
Outside of his demands for funding to fight the climate, Guterres also asked countries to "urgently advance" a $500-billion-a-year contribution to the Sustainable Development Goals Stimulus. The Sustainable Development Goals (SDG) are 17 aspirational objectives the United Nations has pressured countries to embrace, with minimal specifics, for the past decade. They include ending hunger, ending poverty, "reduced inequalities," and "climate action."
Guterres also took some time to disparage his own organization as "stuck in time," particularly the United Nations Security Council. The Security Council's system in which five countries – the United States, the United Kingdom, France, Russia, and China – hold permanent, veto-powered seats while other countries must rotate onto the panel has been the source of much condemnation for years, exacerbated recently by Russia using its veto power to protect itself from criticism over the invasion of Ukraine. This year, only one of the five veto powers on the Council, America, sent its head of state to the General Assembly, rankling Guterres.
"A multipolar world needs strong and effective multilateral institutions yet global governance is stuck in time. Look no further than the United Nations Security Council," Guterres said, which he claimed reflected "the political and economic realities of 1945, when many countries in this assembly were still under colonial domination."
"The world has changed, our institutions have not," he added. "We cannot effectively address problems as they are if institutions do not reflect the world as it is."
Guterres also demanded countries fight "hate speech, disinformation, and conspiracy theories on social media platforms," which he claimed were "amplified by AI" and a cause of concern for the world.
"Democracy is under threat, authoritarianism is on the march, inequalities are growing and hate speech is on the rise," Guterres added.
Guterres has spent much of tenure promoting a "global digital compact" to force countries to police speech online.
https://www.youtube.com/watch?v=cJ_P43W8Iog

⬇️ Top Picks for You ⬇️
Biden Got Recurring $1,380 Payment from Hunter's Firm Starting in 2018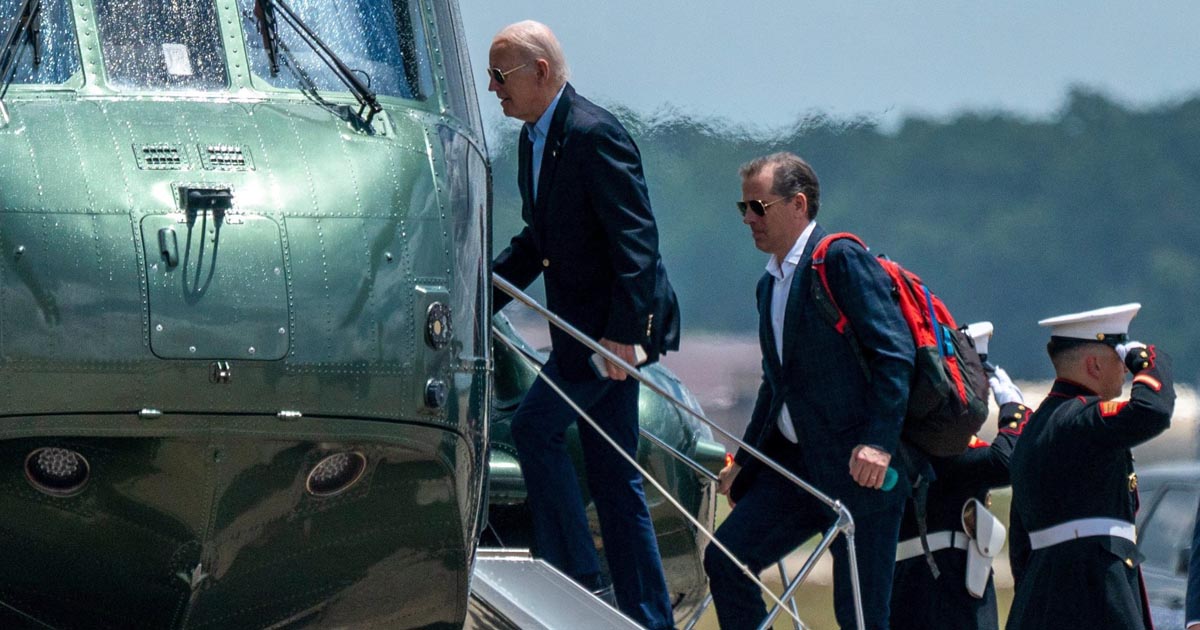 President Biden received a recurring payment of $1,380 from his son Hunter's law firm beginning in late 2018 shortly after a bank money laundering officer warned that the same account was receiving millions of dollars in Chinese government-linked funds without "any services rendered."
A bank order shows that Owasco PC set up a "monthly" transfer to then-former Vice President Joseph R. Biden Jr., with a voided check for the future president included in the documentation, which was released Monday by the House Oversight Committee.
A source told The Post that at least three recurring payments were made — on Sept. 17, Oct. 15 and Nov. 15, 2018 — totaling $4,140 to the elder Biden from Owasco PC, according to the bank records of the firm.
"President Biden and his family must be held accountable for this blatant corruption," Oversight Committee Chairman James Comer (R-Ky.) said in a video release.
"Today, the House Oversight Committee is releasing subpoenaed bank records that show Hunter Biden's business entity, Owasco PC, made direct monthly payments to Joe Biden. This wasn't a payment from Hunter Biden's personal account but an account for his corporation that received payments from China and other shady corners of the world," Comer said.
"At this moment, Hunter Biden is under an investigation by the Department of Justice for using Owasco PC for tax evasion and other serious crimes. And based on whistleblower testimony, we know the Justice Department made a concerted effort to prevent investigators from asking questions about Joe Biden. I wonder why?"
Earlier that year, a January 2019 email from assistant Katie Dodge to Hunter Biden annotated various expenses including "Ford Raptor — Reimbursement to JRB — $1380."
The provenance of the funds is unclear, however, and additional records show that Hunter Biden was knee-deep in two of his most controversial business relationships at the time, with Ukraine's Burisma Holdings and CEFC China Energy.
The evidence emerged as House Republicans prepare to question first brother James Biden on Wednesday and Hunter next week about the president's role in his family's dealings in countries such as China and Ukraine — with a possible floor vote to authorize the ongoing impeachment inquiry this month.
While a presidential candidate, Joe Biden denied that he ever discussed business with his relatives, but evidence has since shown that he met with his relatives' associates from both the Burisma and CEFC ventures.
Documents from the first son's abandoned laptop show that Burisma board adviser Vadym Pozharskyi sought "bank reference" information on Sept. 14, 2018 — one day before the initial transfer to Joe Biden was sought. However, the transaction was not executed for another two days, apparently due to a later-than-expected form submission.
Joe Biden met Pozharskyi at an April 17, 2015, dinner at DC's Café Milano. An unproven FBI informant tip said that Burisma owner Mykola Zlochevsky claimed in 2016 he was "coerced" into paying $10 million in bribes to the Bidens for their assistance in ousting prosecutor Viktor Shokin.
Hunter also was on the tail end of disbursing millions of dollars received from CEFC China Energy — one of two major Biden family dealings with Chinese government-linked firms.
On June 26, 2018 — less than three months before Joe Biden began to receive the monthly transfers — an internal Bank Secrecy Act expert warned colleagues that the institution should reconsider its relationship with Hunter as a result of Owasco PC seeming to receive Chinese funds without "any services rendered."
CEFC transferred $5 million to another Biden family-linked entity, Hudson West III, in August 2017 after Hunter warned a China-based associate of his father's wrath if a business deal was aborted. Much of the large transfer later went to Hunter's Owasco PC.
Prior bank records released by the Oversight Committee indicate that Joe Biden received payments of $40,000 and $200,000 from his brother James, who also was involved in the CEFC venture and other foreign-focused enterprises.
Comer alleged that the $40,000 transferred to Joe Biden's bank account on Sept 3, 2017, was from "laundered" Chinese funds.
James Biden paid Joe Biden $200,000 on March 1, 2018 — the same day that James received a $200,000 transfer from troubled rural hospital company Americore after pledging to use his political connections to secure a Middle Eastern investor, according to bankruptcy filings.
The White House says there's evidence that both transfers were loan repayments, but Republicans argue they have not seen loan agreement documents and note that the funds distributed to James came from a law firm, rather than Joe Biden himself, further clouding the picture.