A strike Thursday by a suspected Iranian-made drone killed a U.S. contractor and wounded five American troops and another contractor in northeast Syria, the Pentagon said. American forces said they retaliated soon after with "precision airstrikes" in Syria targeting facilities used by groups affiliated with Iran's Revolutionary Guard, with activist groups saying the U.S. bombing killed at least four people.
The attack and the U.S. response threaten to upend recent efforts to deescalate tensions across the wider Middle East, whose rival powers have made steps toward détente in recent days after years of turmoil.
U.S. Defense Secretary Lloyd Austin said in a statement that the American intelligence community had determined the drone was of Iranian origin, but offered no other immediate evidence to support the claim.
"The airstrikes were conducted in response to today's attack as well as a series of recent attacks against coalition forces in Syria" by groups affiliated with the Revolutionary Guard, Austin said.
Iran relies on a network of proxy forces through the Mideast to counter the U.S. and Israel, its arch regional enemy.
The Pentagon said two of the wounded service members were treated on-site, while three others and the injured contractor were transported to medical facilities in Iraq.
Overnight, videos on social media purported to show explosions in Syria's Deir el-Zour, a strategic province that borders Iraq and contains oil fields. Iran-backed militia groups and Syrian forces control the area, which also has seen suspected airstrikes by Israel in recent months allegedly targeting Iranian supply routes.
Iran and Syria did not immediately acknowledge the strikes, nor did their officials at the United Nations in New York respond to requests for comment from The Associated Press.
The activist group Deir Ezzor 24 put the death toll from the American strikes at four people. Deir Ezzor 24, which covers news in Deir el-Zour province, said the strikes hit the city of Deir el-Zour as well as militiamen posts near Mayadeen and Boukamal. It said the strikes also wounded people, including Iraqis.
The Syrian Observatory for Human Rights, an opposition war monitor, reported that the American strikes killed six Iranian-backed fighters at an arms depot in the Harabesh neighborhood in the city of Deir el-Zour. The Observatory, which relies on a network of local contacts in Syria, said U.S. bombing at a post near the town of Mayadeen killed two fighters.
A separate American strike hit a military post near the town of Boukamal along the border with Iraq, killing another three fighters, the Observatory said.
The AP could not immediately independently confirm the activist reports.
Iran's paramilitary Revolutionary Guard, which answers only to Supreme Leader Ayatollah Ali Khamenei, has been suspected of carrying out attacks with bomb-carrying drones across the wider Middle East.
In recent months, Russia has begun using Iranian drones in its attacks on sites across Ukraine as part of its war on Kyiv. Iran has issued a series of conflicting denials about its drones being used in the war, though Western nations and experts have tied components in the drones back to Tehran.
The exchange of strikes came as Saudi Arabia and Iran have been working toward reopening embassies in each other's countries. The kingdom also acknowledged efforts to reopen a Saudi embassy in Syria, whose embattled President Bashar Assad has been backed by Iran in his country's long war.
U.S. Army Gen. Michael "Erik" Kurilla, the head of the American military's Central Command, warned that American forces could carry out additional strikes if needed. "We are postured for scalable options in the face of any additional Iranian attacks," Kurilla said in a statement.
Addressing the U.S. House Armed Services Committee on Thursday, Kurilla warned lawmakers that the "Iran of today is exponentially more militarily capable than it was even five years ago." He pointed to Iran's arsenal of ballistic missiles and bomb-carrying drones.
Kurilla also claimed that Iran had launched some 78 attacks on U.S. positions in Syria since January 2021.
"What Iran does to hide its hand is they use Iranian proxies," Kurilla said.
Diplomacy to deescalate the crisis appeared to begin immediately around the strikes. Qatar's state-run news agency reported a call between its foreign minister and Jake Sullivan, the U.S. national security adviser. Doha has been an interlocutor between Iran and the U.S. recently amid tensions over Tehran's nuclear program.
Qatar's foreign minister also spoke around the same time with Iranian Foreign Minister Hossein Amirabdollahian.
Austin said he authorized the retaliatory strikes at the direction of President Joe Biden.
"As President Biden has made clear, we will take all necessary measures to defend our people and will always respond at a time and place of our choosing," Austin said. "No group will strike our troops with impunity."
The U.S. under Biden has struck Syria previously over tensions with Iran. In February and June of 2021, as well as August 2022, Biden launched attacks there.

⬇️ Top Picks for You ⬇️
Republicans Launch Contempt Process Against FBI Director After Viewing Biden 'Bribery' Document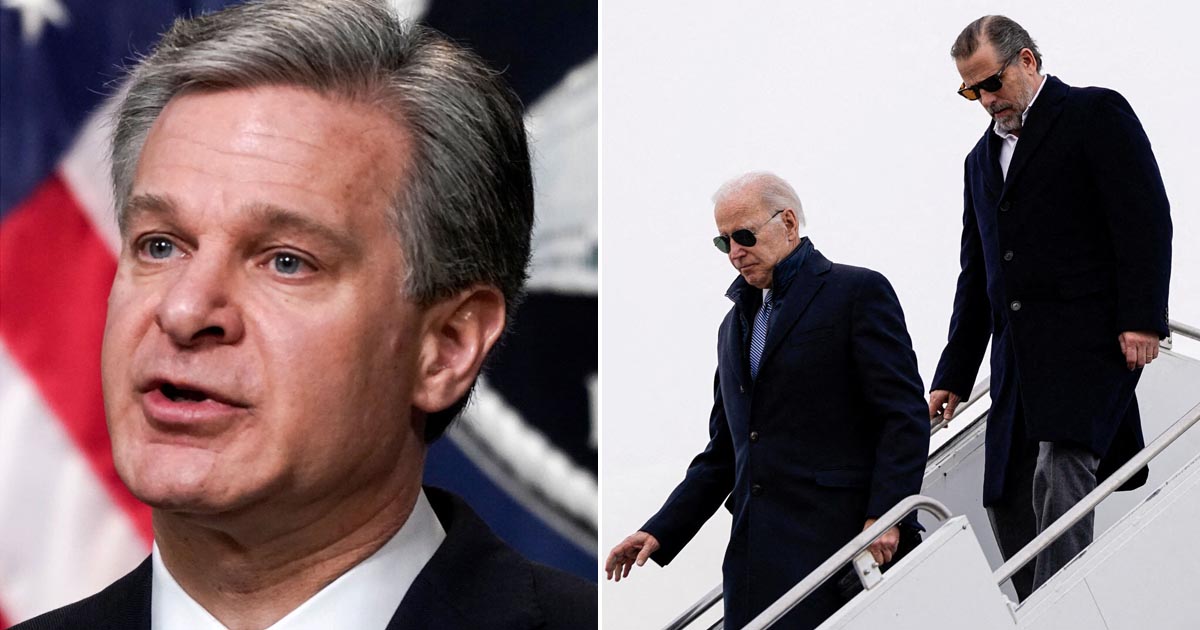 House Republicans are officially starting contempt of Congress charges against FBI Director Chris Wray for failing to turn over Biden 'bribery' document they claim shows then-Vice President Joe Biden was involved in a $5 million 'criminal' scheme with a foreign national.
The escalation comes after the Republican and Democratic leaders of the House Oversight Committee were granted access by the FBI Monday to view the FD-1023 form in a secure facility within the Capitol. The document apparently details an 'arrangement' for an exchange of money for policy decisions.
The Republicans issued a subpoena for the FD-1023 form last month and FBI Director Chris Wray was given a hard deadline of May 30 to hand over the unclassified document, which he did not comply with.
After reviewing the document Monday, Comer told reporters the accusations contained in the form 'suggests a pattern of bribery' consistent with findings the committee has put out publicly.
It's called 'money laundering,' he said, saying it fits within the pattern of over $1 million in Romanian-linked payments to the Biden family revealed last month.
In early May, Republicans released a report digging in on over $10 million received by Biden family members from foreign actors, including previously undisclosed $1 million in Romanian-linked payments, and a 'web' of 20 companies created while President Joe Biden was vice president and pushing anti-corruption efforts abroad.
He also said the FBI record was 'not disproven' and is currently being used in an ongoing investigation that is being conducted by the Department of Justice in Delaware into Hunter Biden's finances.
The 'confidential human source' is a 'trusted, highly credible informant' who has been used by the FBI for over 10 years and has been paid over six figures, continued Comer.
The chairman added that contempt proceedings will begin this Thursday.
'At the briefing, the FBI again refused to hand over the unclassified record to the custody of the House Oversight Committee, and we will now initiate contempt of Congress hearings this Thursday.'
Last week, Comer and Sen. Chuck Grassley, R-Iowa, spoke with Wray by phone and the FBI director offered to let them and Ranking Member Rep. Jamie Raskin, D-Md., view the documents at the FBI headquarters in an attempt to stave off the contempt threat.
'During today's call, Director Wray offered to provide the Committee's Chairman and Ranking Member an opportunity to review information responsive to the subpoena in a secure manner to accommodate the committee, while protecting the confidentiality and safety of sources and important investigative sensitivities,' said the FBI in a statement.
'The FBI has continually demonstrated its commitment to working with the Committee to accommodate its request, from scheduling briefings and calls to now allowing the Chair to review information in person. The FBI remains committed to cooperating with the Committee in good faith.'
Comer also informed Wray that he was also narrowing the breadth of the subpoena for the document by providing two additional terms that may be referenced in the record: 'June 30, 2020' and 'five million.'
Raskin blasted the Republicans' handling of the document in a reporter gaggle following Monday's briefing, calling it 'second-hand hearsay.'
He said former U.S. Attorney Scott Brady for the Western District of Pennsylvania and then-Attorney General Bill Barr did not find any reason to escalate the investigation into all 'allegations related to Ukraine' based on the FD-1023 form.
'I am just surprised that my colleagues want to try to litigate this in public, much less hold the Director of the Federal Bureau of Investigation in contempt for complying with the request when there was a whole process that was undertaken, and that process came to its natural end as I understand it,' Raskin said.
He would not directly confirm that the foreign national alleged in the memo being sought by Republicans is from Ukraine.
Raskin did agree with his Republican colleagues that the whistleblower is considered 'credible.'
The White House has also pushed back, calling the Republican-led investigation 'unfounded' and 'politically motivated.'