Utah Gov. Spencer Cox signed two pieces of sweeping social media regulation into law Thursday that require social media companies to get parental consent for minors using their services, making Utah the first state to impose such measures in the U.S.
Versions of the regulations are being considered in four other states and in several federal proposals in Congress.
The new Utah laws — H.B. 311 and S.B. 152 — require that social media companies verify the age of any Utah resident who makes a social media profile and get parental consent for any minor who wishes to make a profile. They also force social media companies to allow parents to access posts and messages from their child's account.
The laws also prohibit social media companies from displaying ads to minors, showing minor accounts in search results, collecting information about minors, targeting or suggesting content to minors, or knowingly integrating addictive technologies into social media apps used by minors. They also impose a curfew on the use of social media for minors, locking them out of their social media accounts between 10:30 p.m. and 6:30 a.m. based on the location of a user's device, unless adjusted with the consent of a parent.
Utah's laws come amid ongoing debates about the impact of social media on young people's mental health, a link that is widely theorized but remains the subject of academic study. Mental health issues among young people have been labeled a crisis, with particular concerns about the mental health of young women.
Social media companies have until March 1, 2024, to comply with the laws, at which point they become punishable with potential civil and criminal penalties.
In interviews with NBC News, sponsors of the legislation said that they were motivated by mental health concerns posed by social media use among young people, and that they hope Utah's new laws serve as inspiration for other states or for Congress.
"I don't think we've ever seen a time in American history where mental health has been so problematic," said Utah state Sen. Michael McKell. "I hope we see action across the nation."
McKell said the Utah bills were home-brewed legislation developed in a working group over the last year.
State Rep. Jordan Teuscher, who co-sponsored one of the Utah bills, said the group heard from representatives and lobbyists from major social media companies like Google and TikTok.
"As you can imagine, the social media companies hired almost all of the major lobbyists in Utah to try to affect the bill," he said. "They were not very successful in deterring us from our objectives."
In a statement, a Meta spokesperson said: "​​We want teens to be safe online. We've developed more than 30 tools to support teens and families, including tools that let parents and teens work together to limit the amount of time teens spend on Instagram, and age verification technology that helps teens have age-appropriate experiences. We automatically set teens' accounts to private when they join Instagram, and we send notifications encouraging them to take regular breaks." The spokesperson added, "We'll continue to work closely with experts, policymakers and parents on these important issues."
Critics of the laws say that they are a form of government overreach that will have effects outside the borders of the state.
"There's no way for a platform to know who is or isn't a full-time Utah resident," said Ari Cohn, free speech counsel for the tech policy think tank TechFreedom. Cohn said it's unfeasible to think that social media companies could parse out Utah residents from visitors to the state, or nearby users connecting to the internet via cellphone data networks.
"The only way the platforms can ensure full compliance will be by actually age verifying everyone," he said. "And that's the problem with the state-level bills like this, is that they basically regulate the internet for everyone."
Cohn added that age verification poses a major risk for security and speech online.
"Age verifying everyone means you no longer have an ability to be anonymous online on social media," he said. "Think about all the ways that social media is used to criticize powerful people, elected officials, tyrannical governments, or what have you, without fear of retribution."

⬇️ Top Picks for You ⬇️
Republicans Launch Contempt Process Against FBI Director After Viewing Biden 'Bribery' Document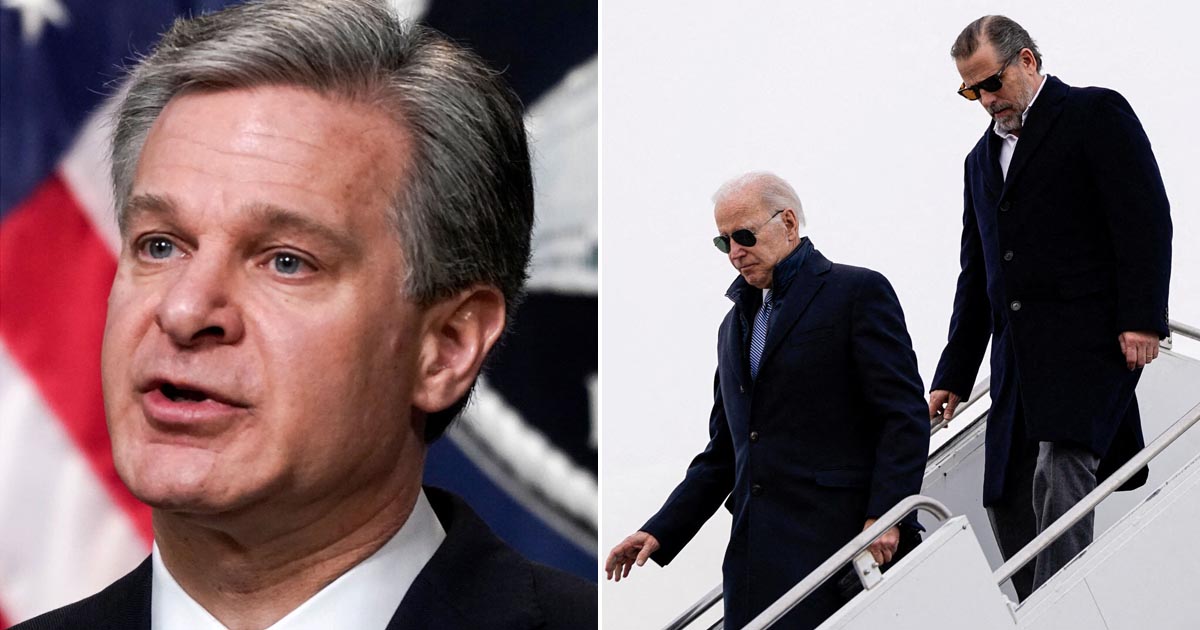 House Republicans are officially starting contempt of Congress charges against FBI Director Chris Wray for failing to turn over Biden 'bribery' document they claim shows then-Vice President Joe Biden was involved in a $5 million 'criminal' scheme with a foreign national.
The escalation comes after the Republican and Democratic leaders of the House Oversight Committee were granted access by the FBI Monday to view the FD-1023 form in a secure facility within the Capitol. The document apparently details an 'arrangement' for an exchange of money for policy decisions.
The Republicans issued a subpoena for the FD-1023 form last month and FBI Director Chris Wray was given a hard deadline of May 30 to hand over the unclassified document, which he did not comply with.
After reviewing the document Monday, Comer told reporters the accusations contained in the form 'suggests a pattern of bribery' consistent with findings the committee has put out publicly.
It's called 'money laundering,' he said, saying it fits within the pattern of over $1 million in Romanian-linked payments to the Biden family revealed last month.
In early May, Republicans released a report digging in on over $10 million received by Biden family members from foreign actors, including previously undisclosed $1 million in Romanian-linked payments, and a 'web' of 20 companies created while President Joe Biden was vice president and pushing anti-corruption efforts abroad.
He also said the FBI record was 'not disproven' and is currently being used in an ongoing investigation that is being conducted by the Department of Justice in Delaware into Hunter Biden's finances.
The 'confidential human source' is a 'trusted, highly credible informant' who has been used by the FBI for over 10 years and has been paid over six figures, continued Comer.
The chairman added that contempt proceedings will begin this Thursday.
'At the briefing, the FBI again refused to hand over the unclassified record to the custody of the House Oversight Committee, and we will now initiate contempt of Congress hearings this Thursday.'
Last week, Comer and Sen. Chuck Grassley, R-Iowa, spoke with Wray by phone and the FBI director offered to let them and Ranking Member Rep. Jamie Raskin, D-Md., view the documents at the FBI headquarters in an attempt to stave off the contempt threat.
'During today's call, Director Wray offered to provide the Committee's Chairman and Ranking Member an opportunity to review information responsive to the subpoena in a secure manner to accommodate the committee, while protecting the confidentiality and safety of sources and important investigative sensitivities,' said the FBI in a statement.
'The FBI has continually demonstrated its commitment to working with the Committee to accommodate its request, from scheduling briefings and calls to now allowing the Chair to review information in person. The FBI remains committed to cooperating with the Committee in good faith.'
Comer also informed Wray that he was also narrowing the breadth of the subpoena for the document by providing two additional terms that may be referenced in the record: 'June 30, 2020' and 'five million.'
Raskin blasted the Republicans' handling of the document in a reporter gaggle following Monday's briefing, calling it 'second-hand hearsay.'
He said former U.S. Attorney Scott Brady for the Western District of Pennsylvania and then-Attorney General Bill Barr did not find any reason to escalate the investigation into all 'allegations related to Ukraine' based on the FD-1023 form.
'I am just surprised that my colleagues want to try to litigate this in public, much less hold the Director of the Federal Bureau of Investigation in contempt for complying with the request when there was a whole process that was undertaken, and that process came to its natural end as I understand it,' Raskin said.
He would not directly confirm that the foreign national alleged in the memo being sought by Republicans is from Ukraine.
Raskin did agree with his Republican colleagues that the whistleblower is considered 'credible.'
The White House has also pushed back, calling the Republican-led investigation 'unfounded' and 'politically motivated.'