A historic, 117-year-old church in Portland, Oregon, is being demolished after being irreparably damaged by a fire this week.
Police have arrested 27-year-old Cameron David Storer, a man who also claims to go by Nicolette Fait, for allegedly setting fire to the church. The office of Multnomah County District Attorney Mike Schmidt referred to Storer using "they" pronouns in a press release detailing the charges.
https://twitter.com/MrAndyNgo/status/1611529077793472512
Storer was charged with two counts of first-degree arson, one count of second-degree arson, and two counts of second-degree burglary.
Demolition of the 3,000-square-foot Old Portland Korean Church, which opened in 1905, began Friday after the three-alarm fire on Tuesday. The decision to demo the church came after Portland Fire and Rescue determined from drone footage that the building had sustained too much structural damage to be saved.
Out of control! pic.twitter.com/jz2UeIEQfw

— R Renk (@RRenk3) January 4, 2023
Workers toppled the 100-year-old steeple of the church as local preservationists stood by hoping to spare portions of the church. "They're not very confident that those will be salvageable once the building gets knocked over," Val Ballestrem, of the local Architectural Heritage Center, told KPTV. "Having a piece from the building really enforces our ability to tell that story."
The preservationists hope to save stained glass windows, and the church's cornerstone, and the weathervane.
The steeple of a historic Portland church came crashing down Friday afternoon. The building was more than a century old when an arsonist set a three-alarm fire that tore through the building Tuesday evening. pic.twitter.com/2YE5NtaOQK

— FOX 12 Oregon (@fox12oregon) January 6, 2023
"What was really interesting was how the main tower flexed. They pushed it pretty hard and it's a pretty big machine and so it flexed before it fell, they really had to work hard. Whoever is operating that crane really has an unbelievable skill set to see how he will maneuver get stuff to where he needed and then push in the right direction. It's a horrible thing to have happen but to see them take it down is pretty impressive," local Hank Schottland said.
Before the fire, the church had not been actively used in 10 years, according to local authorities. Authorities also said that Storer wanted to "take credit" and claimed to use a Bic lighter to start the fire.
Storer, who reportedly has a history of schizophrenia, told police that voices in his head promised to "mutilate" him if he did not burn the church, according to the district attorney's office.
Police said Storer also claimed to take 10 oxycodone per day from another injury.

⬇️ Top Picks for You ⬇️
FBI Has 2 More Informant Files on Alleged Biden Corruption; 2 More Banks Subpoenaed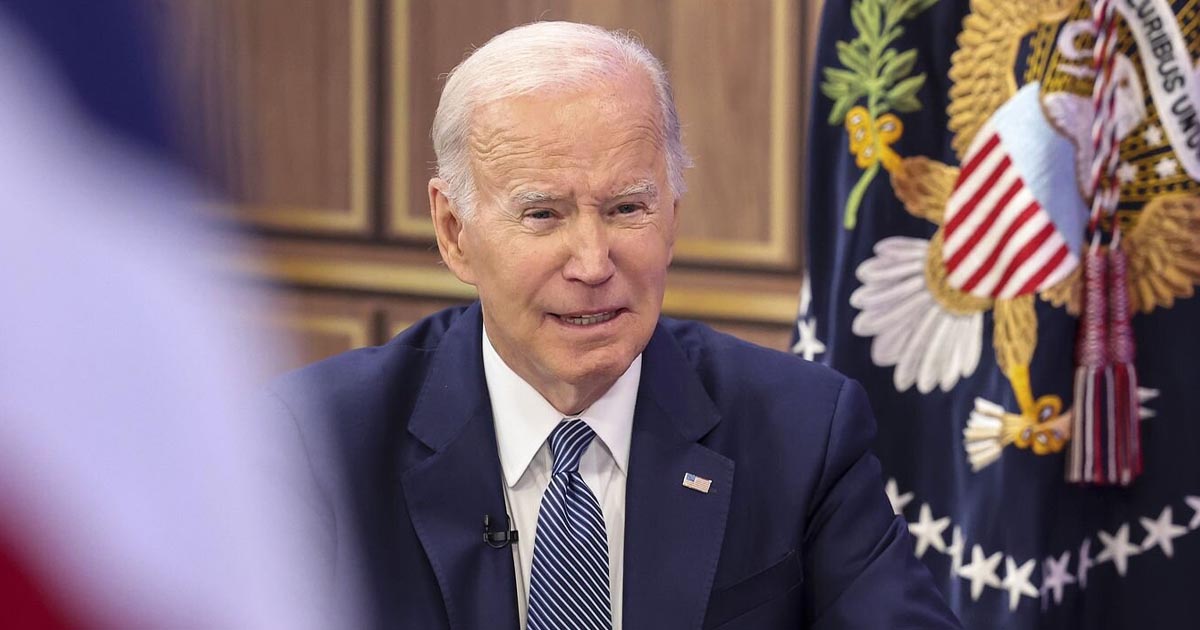 The FBI holds two more informant files on the Biden family's business ventures, triggering the House Oversight Committee on Friday to subpoena two more banks, Rep. Marjorie Taylor Greene (R-GA) exclusively told Breitbart News.
Greene, a member of the House Oversight Committee, said the FBI holds at least two more FD-1023 forms referenced in the FBI informant document reviewed by the Committee Thursday. Greene expects the Committee will work to review those forms next week.
On Thursday the committee viewed an FBI informant file that revealed the alleged existence of two pieces of evidence showing President Joe Biden received $5 million from Ukrainian energy company Burisma, Committee Republicans told reporters.
"He requested it, he and Hunter Biden requested $5 million each," Greene said. "'Pay me $5 million, pay my father $5 million, and we will take care of your problems for you,'" Greene described the alleged request the Bidens made of Burisma.
In 2015, Burisma was under suspicion of money laundering and public corruption. Prosecutor Victor Shokin investigated the case before his termination due to pressure applied by then-Vice President Joe Biden, who threatened to withhold $1 billion in U.S. aid from Ukraine if the Ukrainian government did not fire the prosecutor investigating Burisma.
In exchange for that, the informant file alleges, Joe Biden and Hunter Biden received $5 million each in small sums through separate bank accounts.
Joe Biden bragged about the firing during a 2018 appearance at the Council of Foreign Relations. "I said, 'I'm telling you, you're not getting the billion dollars.' I said, 'You're not getting the billion. I'm going to be leaving here in,' I think it was about six hours," Biden told the audience. "I looked at them and said, 'I'm leaving in six hours. If the prosecutor is not fired, you're not getting the money.' Well, son of a bitch. He got fired."
In connection with Biden's Burisma business deal, Greene told Breitbart News the House Oversight Committee issued two subpoenas Friday to compel information about the Bidens' Ukrainian transactions. Before Friday, the Committee subpoenaed at least four banks — Bank of America, Cathay Bank, JPMorgan Chase, and HSBC USA N.A –and one individual.
"We're giving out subpoenas for two more banks. And this has to do with bank accounts related to Ukraine. So, we're digging deeper into this," she said. "We were hoping to find, you know, actual transactions that relate to this 1023 form."
Greene described Thursday's inspection of the 1023 form. She told Breitbart News she took notes inside the secured area but had to leave the notes inside the secured room per FBI policy. Once she finished reviewing the documents and taking notes, she made a second batch of notes outside the secure area.
"But as soon as I filed my notes, it was really fresh in my mind, because I read it a couple times," she said. "So I made my own notes separately — in a separate room, not in the SCIF, but in a separate room."
"The form references two separate 1023 [forms]," she said, referring to two additional FD-1023 forms mentioned in the FBI informant document.
"It's on white paper, printed paper, eight by 11 normal paper. It looks like just a report," she said.
"The form is written in chronological time," Green continued. "The date of the 1023 that I read yesterday is June 30, 2020. But it tells chronological order, starting in 2015, 2016."
Greene believes the form is credible because the FBI believes the informant is credible. The informant is reportedly a "highly credible" FBI source with a history dating back to the Barack Obama administration.
"The FBI told us [that] they just think he's their best one," she said. "Everything he hands over is true. Everything he hands over is valuable. Everything he hands over is accurate."
In addition, Greene revealed the form indicated Hunter Biden's position on Burisma's board, in which he received about $80,000 per month, were monthly installments of a $5 million total cut owed Hunter Biden in the deal with his father.
"The reason why he was on the board, taking a ridiculous salary, and getting paid these side bribes was literally because his father is the Vice President of the United States. And Hunter and [Joe] Biden have a business partnership, where Hunter goes out —and he does the groundwork — in order for his father to make the decisions and the policy changes for — to get payment."
"He's [Joe Biden] on a telephone call talking about it, he's on video and an interview talking about it, where he literally withheld the U.S. aid from Ukraine and demanded that they fire Victor Shokin," Green said. "And it happened. It happened."
When a reporter questioned Joe Biden Thursday about the alleged $5 million payment, he jokingly responded, "Where's the money?"