The dramatic increase in illegal migrants crossing the U.S. border from Mexico has pushed the city of El Paso, Texas, to "a breaking point," with more than 2,000 people per day seeking asylum, exceeding shelter capacity and straining resources, its mayor said on Saturday.
"The city of El Paso only has so many resources and we have come to … a breaking point right now," Mayor Oscar Leeser said at a news conference.
The arrival of largely Venezuelan asylum seekers is part of a larger swell of immigrants who traveled dangerous routes on buses and cargo trains to Mexican border towns near San Diego, California, and the Texas cities of El Paso and Eagle Pass.
Lesser said El Paso plans to open a new shelter, and on Saturday chartered five buses to take migrants to New York, Chicago and Denver.
Republican governors in Texas and Florida have been criticized for sending migrants to cities perceived as liberal such as New York and Sacramento. But Leeser, a Democrat, said all of the migrants on the El Paso buses were going voluntarily to the cities of their choice.
Many migrants from Venezuela, he said, lacked transportation to their desired destinations, while El Paso's current shelter houses only 400 people, and must also be available to help the homeless.
As recently as six weeks ago, about 350 to 400 people were crossing into El Paso per day, but the past few days have brought 2,000 or more.
Over the past 10 days, the city has worked with the U.S. Border Patrol to provide shelter for 6,500 people, Leeser said.
About two-thirds of those crossing into El Paso currently are single men, he said. About 32% are families and just 2% are unaccompanied children.
"I think it's really important to note that we have a broken immigration system," he said. "It's the same thing over and over again."
Reassigning agents
Customs and Border Protection announced it was reassigning agents this week in El Paso and Eagle Pass to attend to the latest surge at the cost of shutting down commercial traffic lanes and slowing trade between both countries.
El Paso County Judge Ricardo Samaniego said he's had several conversations in the past week with top officials of Homeland Security to prepare for the latest wave.
"We expected this increase in the fall, so we're not surprised," Samaniego said. "As long as you don't have immigration reform, we will see these spikes. We're doing everything we can to meet the needs with a humanitarian approach, not as a crisis, but as a challenge that El Paso, our border community, is prepared to meet."
Samaniego said Congress has unwittingly outsourced a broken immigration system to organized crime, resulting in a boom industry for smugglers who are increasingly more involved in the lucrative movement of migrants headed for the U.S.
In a statement, Landon Hutchens, a public affairs officer with the U.S. Customs and Border Protection, said: "CBP is aware of reports that criminal organizations in the [El Paso and Juárez] areas are spreading falsehoods and putting migrants' lives at risk for their own financial gain. These rumors are absolutely false and yet another dangerous example of bad actors sharing bad information. The border is not open to illegal migration."
One U.S. official based in Mexico estimated the human smuggling industry at "well over" $7.5 billion annually — so lucrative that the goal of criminal groups is to gain "total control" of the business. That is a dramatic increase from the $6.6 billion estimate from a 2008 study by the United Nations examining human smuggling from Latin America to the U.S.
Oscar Hagelsieb, a former assistant special agent in charge of the U.S. Homeland Security Investigations unit in El Paso and most recently in Ciudad Juárez, explained: "You need some sort of collateral, because when that shipment of meth or fentanyl gets confiscated, it's gone.
"With humans," he said, "you just try again, or you use them for other illicit purposes like extortions." That approach includes kidnapping migrants and calling relatives either in Latin America or the U.S. and demanding ransom.
New technology to detect fentanyl also plays a role in decisions by criminal groups, said Hagelsieb, president of Hagelsieb Strategic Investigations, a security consultant firm in El Paso.
For instance, as of Sept. 1, vehicles now drive through a scanning machine known as a "low-energy portal," which creates black-and-white resonance images. Inspectors once referred only a handful of vehicles for cargo screening — using powerful scanning equipment — to check for illegal drugs.
"Any action on our side is met with a response" on the part of Mexican criminal organizations, said Hagelsieb.
Shootouts in recent weeks
One Chihuahua state official pointed to incidents over the summer involving the Hotel San Miguel, popular with migrants. Shootouts have been reported in recent weeks as rival cartel groups fight over migrants. In one incident, a criminal group had just brought some migrants to the hotel. Shortly afterward, a rival group showed up and took the migrants away, leading to gun fights across the city.
"These are criminal groups who are fighting [over] the sale of illicit drugs and migrant routes," said César Omar Muñoz Morales, Juárez's police chief.
The Juárez Cartel has long been the dominant criminal group in this border city, using the major corridor for smuggling of illicit drugs and now humans. Their enforcement unit, known as La Linea, has often forged alliances with local gangs like Barrio Azteca, Mexicles and Artists Assassins. Their key rival is the Sinaloa Cartel.
In August, there were more than 110 homicides in Juárez, the kind of violence not seen since the late 2000s, when Juárez was dubbed one of the most dangerous cities in the world. In one day alone, Aug. 14, 15 people were killed. The day was dubbed "Black Monday."
"These numbers are high," said Molly Molloy, a retired librarian and Latin American specialist at New Mexico State University who has tracked the homicide rate in Juárez for years. "They are not the highest ever seen in Juárez by a long shot, but any day with 15 homicides is a pretty bad day."
The city is poised to surpass 1,000 homicides this year, meaning the rate would be "about 72 murders per 100,000. That is higher" than most U.S. cities, she said, citing statistics from the U.S. Census Bureau and Uniform Crime Reports provided by the FBI.
The Mexican National Guard said an estimated 3,000 troops have been deployed to this city.
Nightly, hundreds of migrants arrive on top of trains in Juarez and communities like Piedras Negras, across the border from Eagle Pass. Recently, outside Gomez Palacio, Durango, a train packed with migrants was seen plowing toward Ciudad Juárez.
This week, Mexican railroad train company Ferromex announced it was temporarily suspending 60 train routes headed for border states, citing the "rising risk" of injured migrants and deaths resulting from riding atop their trains and falling.

⬇️ Top Picks for You ⬇️
Biden Got Recurring $1,380 Payment from Hunter's Firm Starting in 2018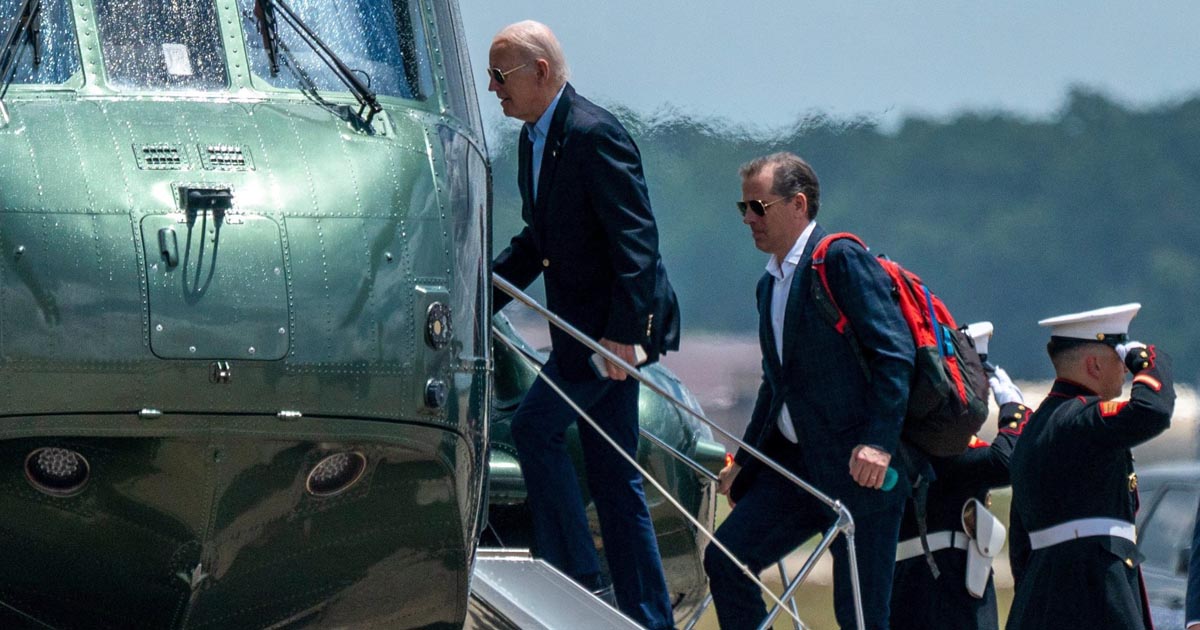 President Biden received a recurring payment of $1,380 from his son Hunter's law firm beginning in late 2018 shortly after a bank money laundering officer warned that the same account was receiving millions of dollars in Chinese government-linked funds without "any services rendered."
A bank order shows that Owasco PC set up a "monthly" transfer to then-former Vice President Joseph R. Biden Jr., with a voided check for the future president included in the documentation, which was released Monday by the House Oversight Committee.
A source told The Post that at least three recurring payments were made — on Sept. 17, Oct. 15 and Nov. 15, 2018 — totaling $4,140 to the elder Biden from Owasco PC, according to the bank records of the firm.
"President Biden and his family must be held accountable for this blatant corruption," Oversight Committee Chairman James Comer (R-Ky.) said in a video release.
"Today, the House Oversight Committee is releasing subpoenaed bank records that show Hunter Biden's business entity, Owasco PC, made direct monthly payments to Joe Biden. This wasn't a payment from Hunter Biden's personal account but an account for his corporation that received payments from China and other shady corners of the world," Comer said.
"At this moment, Hunter Biden is under an investigation by the Department of Justice for using Owasco PC for tax evasion and other serious crimes. And based on whistleblower testimony, we know the Justice Department made a concerted effort to prevent investigators from asking questions about Joe Biden. I wonder why?"
Earlier that year, a January 2019 email from assistant Katie Dodge to Hunter Biden annotated various expenses including "Ford Raptor — Reimbursement to JRB — $1380."
The provenance of the funds is unclear, however, and additional records show that Hunter Biden was knee-deep in two of his most controversial business relationships at the time, with Ukraine's Burisma Holdings and CEFC China Energy.
The evidence emerged as House Republicans prepare to question first brother James Biden on Wednesday and Hunter next week about the president's role in his family's dealings in countries such as China and Ukraine — with a possible floor vote to authorize the ongoing impeachment inquiry this month.
While a presidential candidate, Joe Biden denied that he ever discussed business with his relatives, but evidence has since shown that he met with his relatives' associates from both the Burisma and CEFC ventures.
Documents from the first son's abandoned laptop show that Burisma board adviser Vadym Pozharskyi sought "bank reference" information on Sept. 14, 2018 — one day before the initial transfer to Joe Biden was sought. However, the transaction was not executed for another two days, apparently due to a later-than-expected form submission.
Joe Biden met Pozharskyi at an April 17, 2015, dinner at DC's Café Milano. An unproven FBI informant tip said that Burisma owner Mykola Zlochevsky claimed in 2016 he was "coerced" into paying $10 million in bribes to the Bidens for their assistance in ousting prosecutor Viktor Shokin.
Hunter also was on the tail end of disbursing millions of dollars received from CEFC China Energy — one of two major Biden family dealings with Chinese government-linked firms.
On June 26, 2018 — less than three months before Joe Biden began to receive the monthly transfers — an internal Bank Secrecy Act expert warned colleagues that the institution should reconsider its relationship with Hunter as a result of Owasco PC seeming to receive Chinese funds without "any services rendered."
CEFC transferred $5 million to another Biden family-linked entity, Hudson West III, in August 2017 after Hunter warned a China-based associate of his father's wrath if a business deal was aborted. Much of the large transfer later went to Hunter's Owasco PC.
Prior bank records released by the Oversight Committee indicate that Joe Biden received payments of $40,000 and $200,000 from his brother James, who also was involved in the CEFC venture and other foreign-focused enterprises.
Comer alleged that the $40,000 transferred to Joe Biden's bank account on Sept 3, 2017, was from "laundered" Chinese funds.
James Biden paid Joe Biden $200,000 on March 1, 2018 — the same day that James received a $200,000 transfer from troubled rural hospital company Americore after pledging to use his political connections to secure a Middle Eastern investor, according to bankruptcy filings.
The White House says there's evidence that both transfers were loan repayments, but Republicans argue they have not seen loan agreement documents and note that the funds distributed to James came from a law firm, rather than Joe Biden himself, further clouding the picture.